This Breakfast Stuffed French Bread is like a huge breakfast sandwich stuffed with soft scrambled eggs, meaty sausage, and sharp cheddar cheese inside a fresh baked loaf of French bread. (Substitute your favorite meats or cheeses to create your own!)
*This post is brought to you by Rhodes Bake-N-Serv. Thanks for supporting the brands that make Dessert Now Dinner Later possible.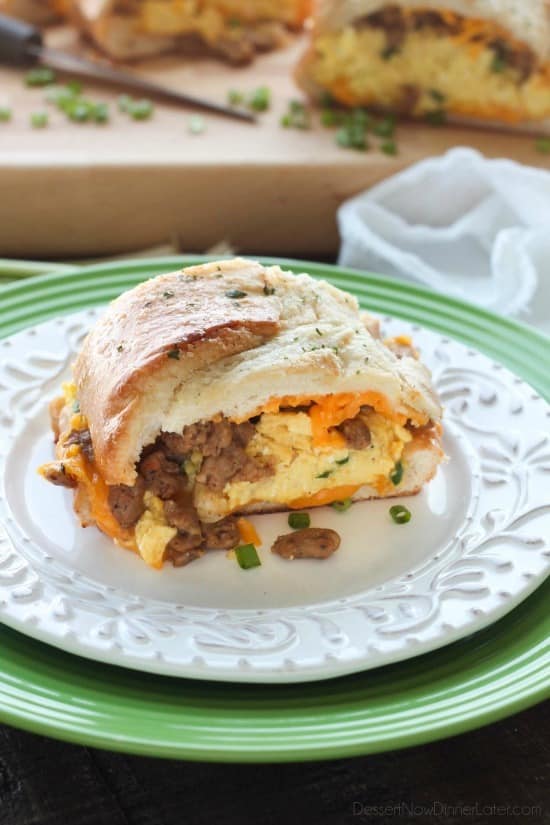 Breakfast for dinner is a twice a month or even weekly event at our house. It's definitely one of those meals that I can count on everyone eating because our family LOVES breakfast food.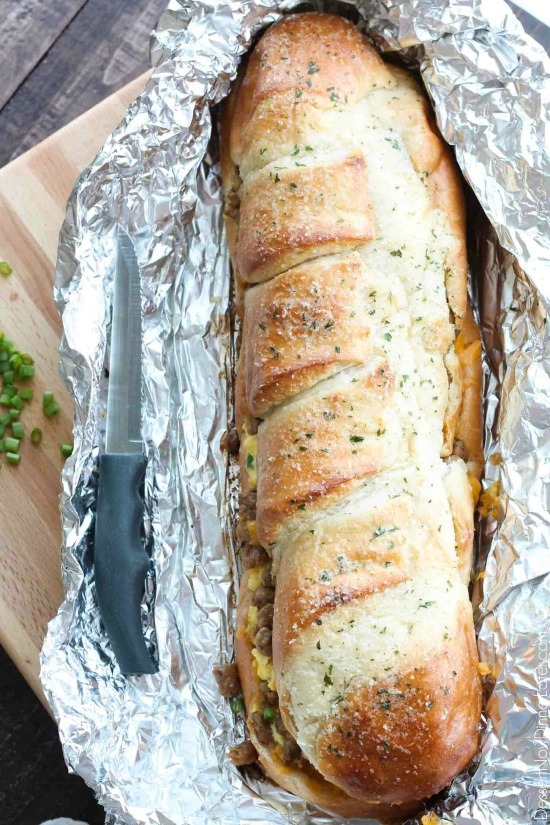 We typically have pancakes or French toast with scrambled eggs on the side. My kids love that sticky-sweet syrup, but I was craving a breakfast completely savory, so I decided on this Breakfast Stuffed French Bread and it was AMAZING!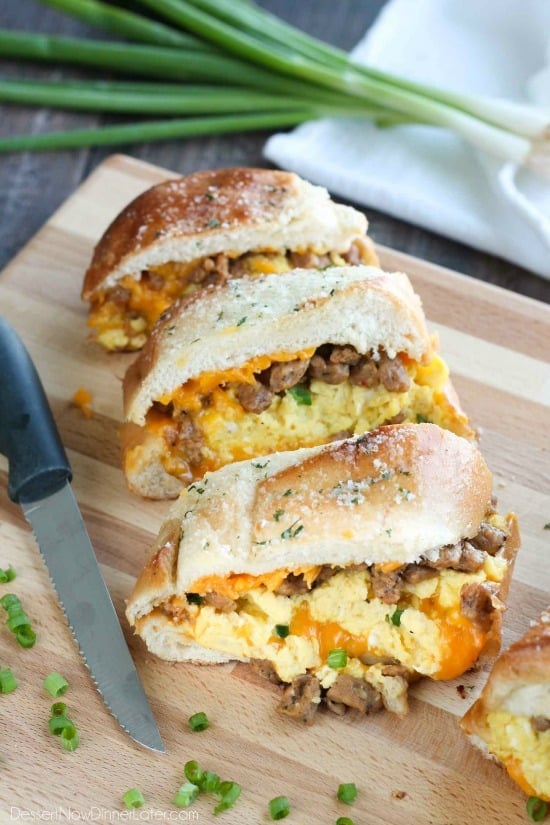 I can't tell you how nice it is to make one big breakfast sandwich for everyone instead of a bunch of pancakes or French toast slices. This was a cinch to make, and that buttery garlic salt topping was the icing on the cake so to speak.
My husband and oldest child (7 year old boy) have already requested that I make it again. My boy ate 2 SLICES! And these slices are mega stuffed with eggs, sausage and cheese. I even bought the sausage crumbles pre-cooked, which makes it nice and easy.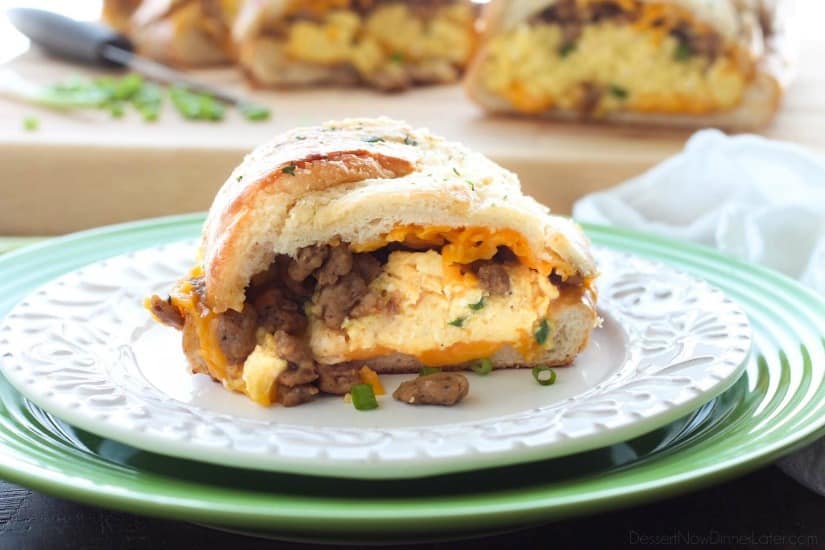 The one thing I won't skimp on in this recipe, is the bread. Store-bought, pre-made French bread is convenient, yes, but tastes too much like cardboard to me. I use Rhodes bread for my pizza, dinner rolls, and pretty much anything requiring yeast dough, so I absolutely used it for this Breakfast Stuffed French Bread too.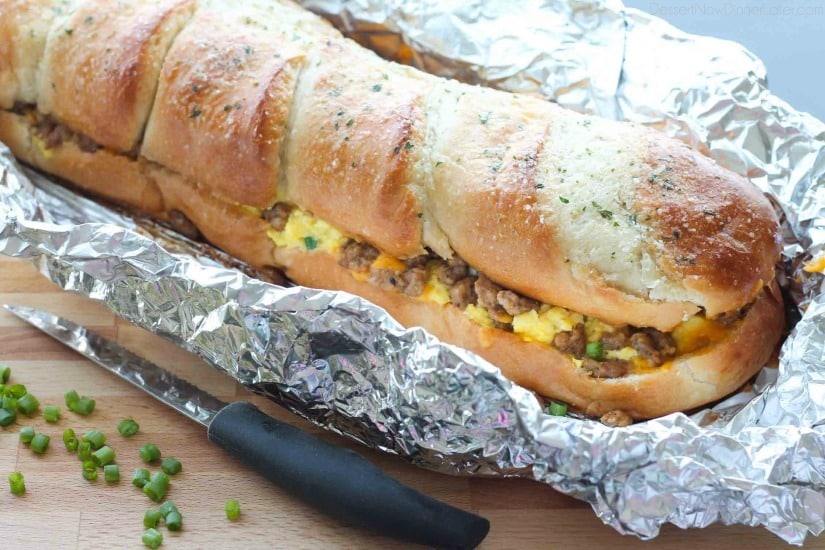 We have made "French bread" loaves with Rhodes bread before. We sometimes do that with soup. I've even given neighbors soup and French bread loaves of Rhodes white bread. It's so fresh and tasty! You can definitely tell a difference. Also, I've found the best trick to making scrambled eggs fluffy and amazing! SOUR CREAM! Legit folks! These were the best scrambled eggs I've had in a while.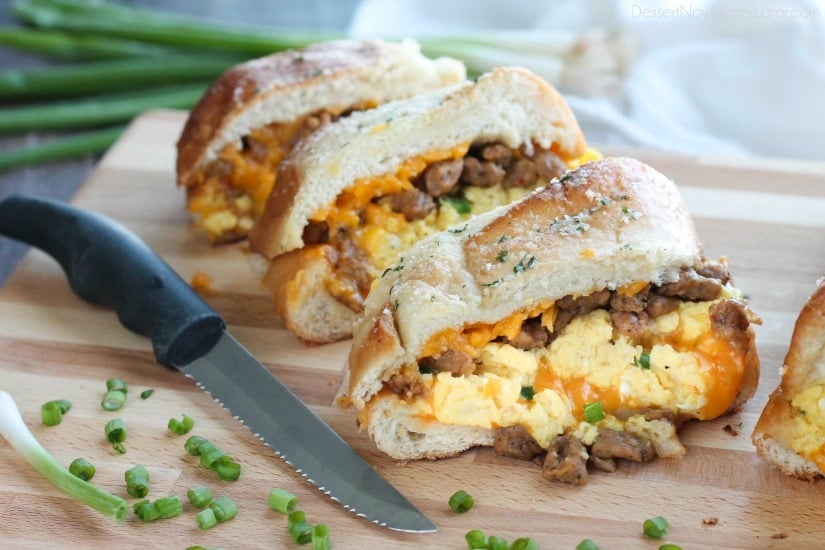 Are you a breakfast foods person? Do you eat it just for breakfast, or do you like brunch and brinner (breakfast for dinner) too? We are all of the above! LOVE IT! Enjoy this recipe! It's a good one! We'll definitely be making it again!