Build Your Blog Conference 2015
This post may contain affiliate links, meaning that I may receive a commission at no cost to you if you use a link provided. All opinions shared are my own. You can review my full disclosure policy here.
Meet Aimee (Like Mother Like Daughter), Yvonne (Tried and Tasty), ME, and Allison (Cupcake Diaries). We like to call each other, "Blogging Besties!" These are the girls who I go to for blog talk, which helps keep me sane during this crazy blogging business aspect of my life.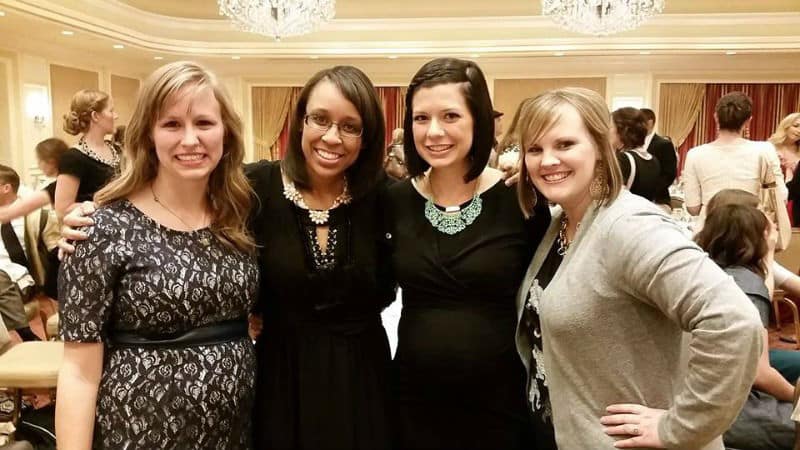 Today's post is a little sneak peak behind the scenes of being a blogger! This last weekend, Taste of Home sponsored me to attend Build Your Blog Conference (BYBC) 2015 at the Little America Hotel in SLC, Utah. I had gone to the first two years of the conference so this was my 3rd year attending, and I think it was my favorite year by far!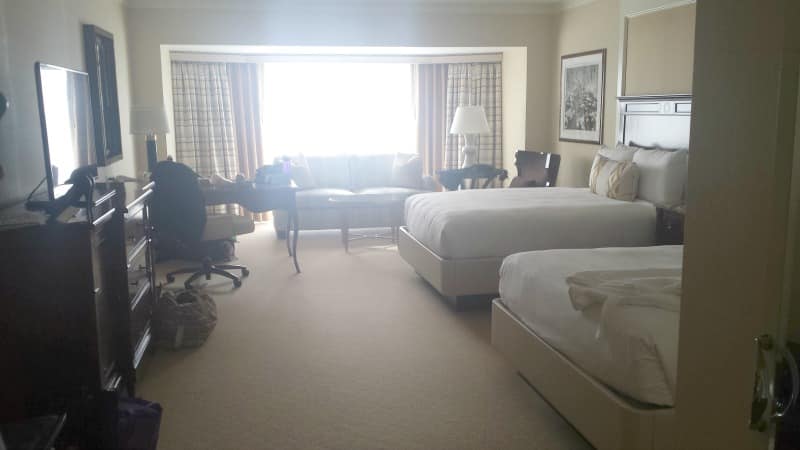 This is the first year I stayed in the hotel of the conference, which was nice to be able to run up to my room when I needed to drop something off or pick something up, and I could stay up as late as I wanted to network, or rather chat and have fun with the girls! I am having a slight conference hangover from the lack of sleep still, but it was totally worth it! Good times!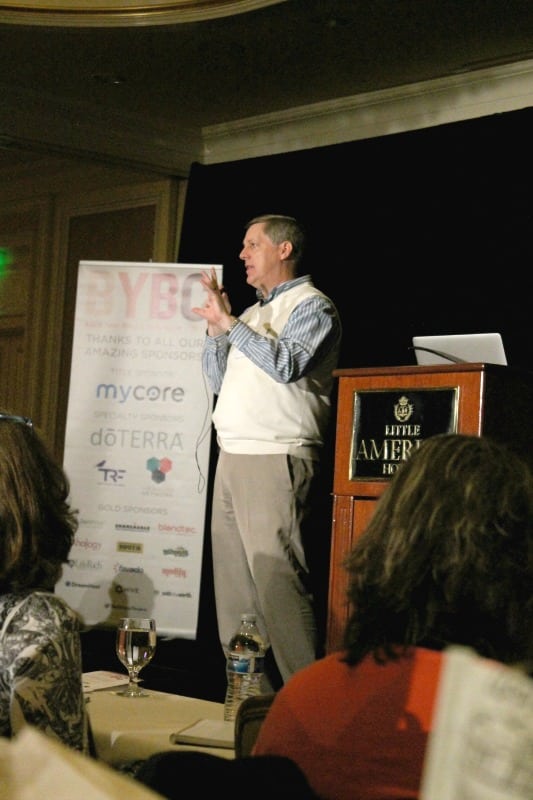 Larry Adamson CEO of The Blogger Network opened up the conference which was followed by Chris Jones and a touching story about his son, known worldwide as "Mitchell's Journey." Mitchell was diagnosed with Duchenne Muscular Dystrophy, a catastrophic muscle wasting disease which results in progressive muscle deterioration and is fatal by late teens/early twenties.
By the age of 10, Mitchell's heart function had deteriorated much sooner than expected. In less than a year he passed away from acute heart failure. Needless to say we were all full of tears. Then Chris introduced us to his company MyCore which is in the business of turning values into habits.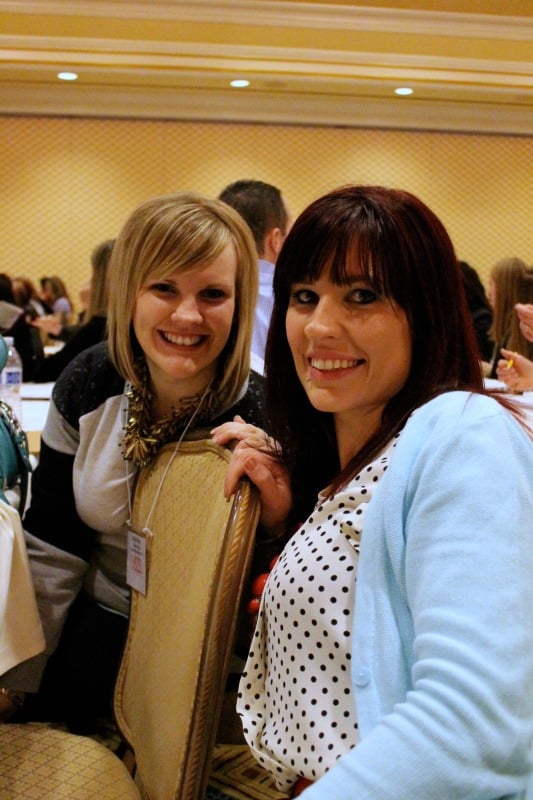 The conference rooms at BYBC were A LOT bigger this year. There was a grand ballroom that separated into 3 separate rooms and then there were 3 or more smaller classrooms across the hall. My friends and roommates Allison (Cupcake Diaries) and Holly (Happy Food, Healthy Life) are pictured above. There were rows and rows of tables and chairs set up for us to spend the weekend learning and networking.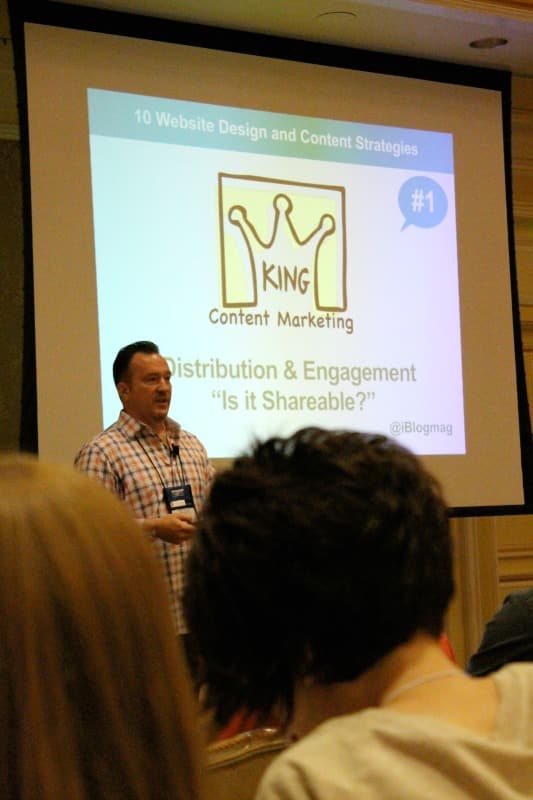 The first class I attended was "30 Ways to Get Real Growth" from Matt Cherry CEO of iBlog Magazine. It blew my mind to say the least! I'm so glad these classes are video recorded so I can go back and watch them again later because there was just so much good information!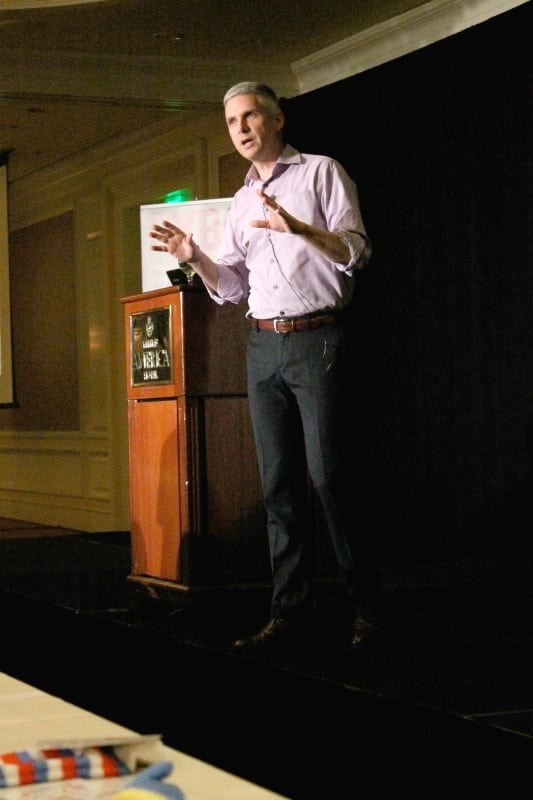 After the first class there was a Taste of Home (TOH) Trends Workshop which was PERFECT for food bloggers! James Schend (pictured above and below) shared what recipes and food trends resonate with TOH readers, which is really going to help me decide what to make for you all!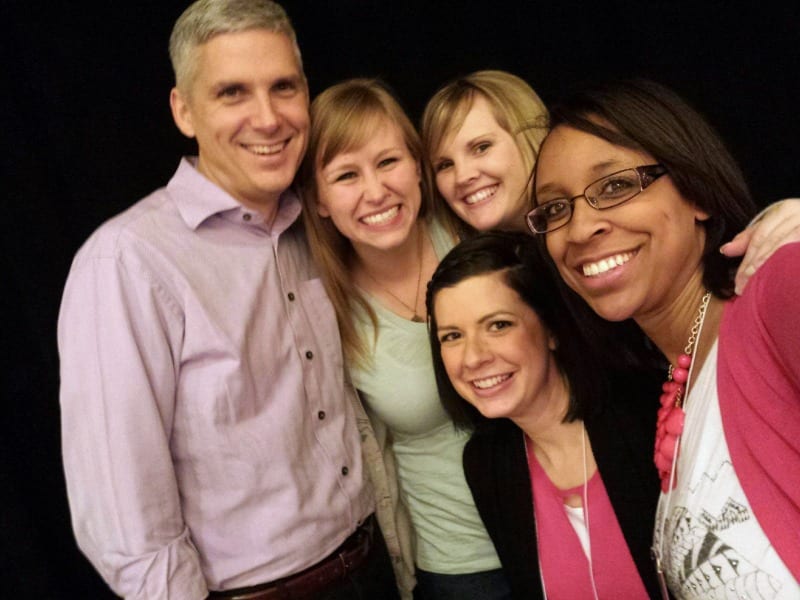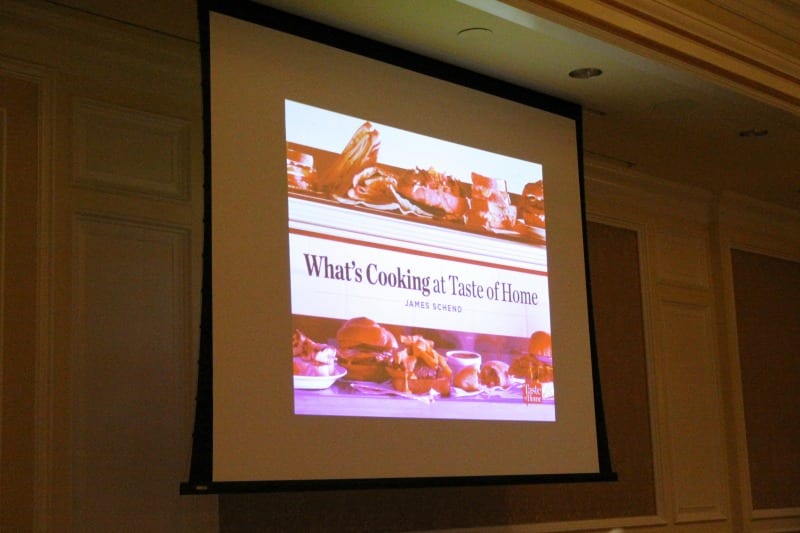 Are you a Taste of Home (TOH) reader? I know I've tried several TOH recipes, but the one that we've tried, and made again and again, is this Cheeseburger Soup that I've altered with pepper jack cheese! Delicious! It was interesting to see the most popular recipes from Taste of Home. I love to hear what's popular on other foodie sites, so I can better understand what people are looking for.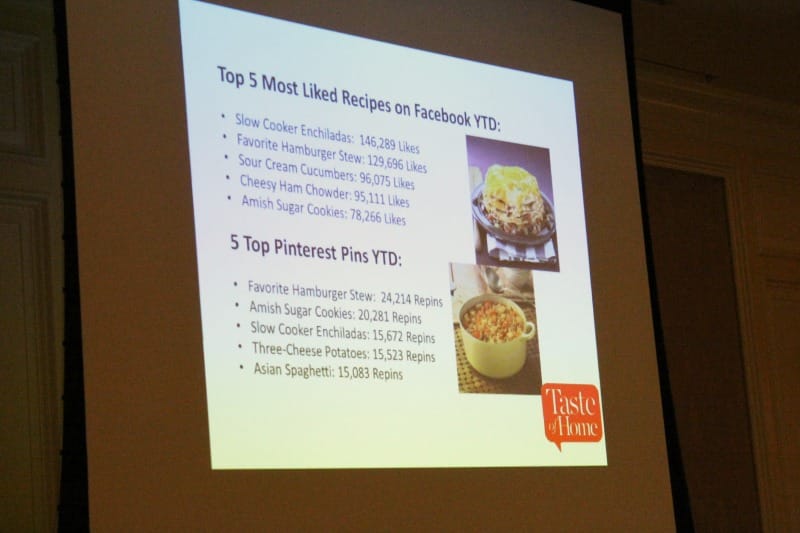 One trend I was excited to hear is the breakfast for dinner trend. I like to call it, "brinner," which we have a lot! Good old classics with a twist stood out to me as well. There was one thing James said, that I'm not so sure about… that the bacon trend is pretty much over. Really?! I will forever eat bacon and put it in everything, including desserts! Haha. Overall, some really useful information for me and my foodie friends!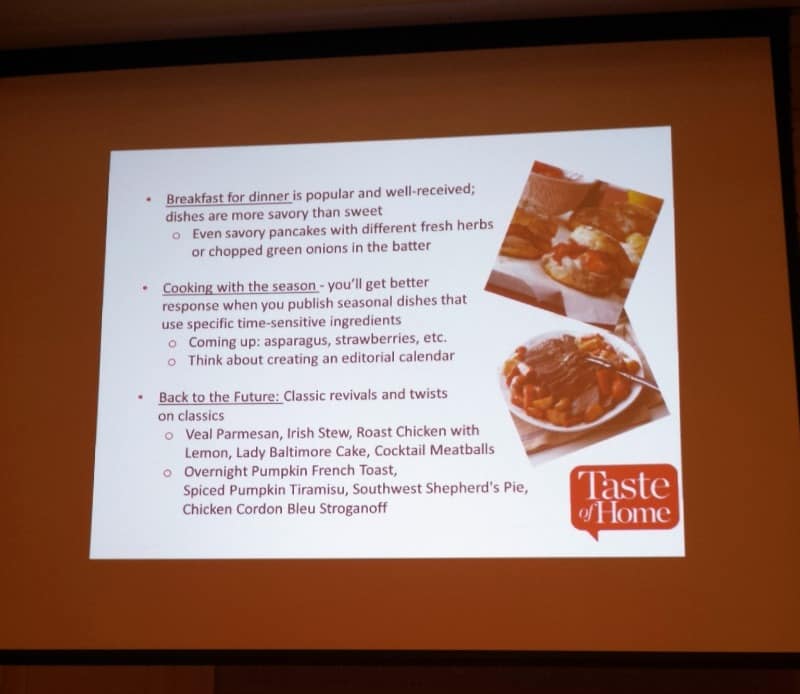 After the Taste of Home Trends Workshop, we had lunch provided by the conference, which for 700-ish bloggers, was a little hectic with long lines, but was tasty nonetheless with sandwiches, salads, and desserts.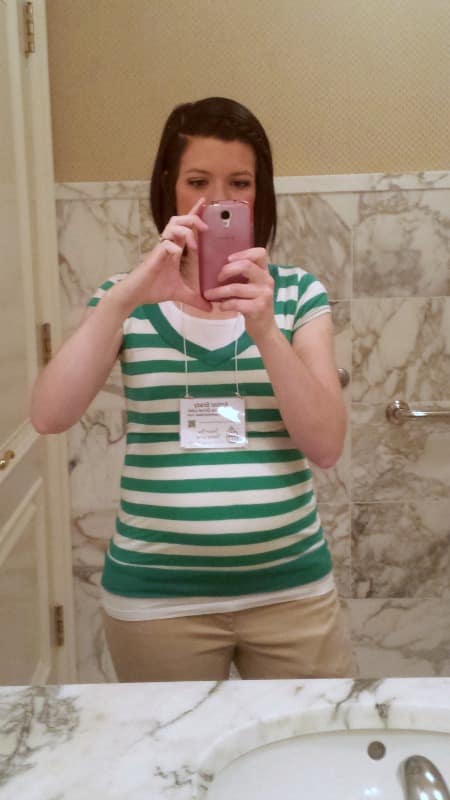 Blog conferences are all about selfies and meeting your online friends. 😀 I was rocking my baby bump, which everyone kept telling me was small (I'm 5 months along right now). I guess it feels bigger when you're the one who is pregnant. 😉 I absolutely love this picture below! This was at breakfast with my friends Holly (Happy Food, Healthy Life) and Yvonne (Tried and Tasty) who was also one of my roomies at the hotel.
Later the first day there was a networking session broken into niches, so I could visit exclusively with other food bloggers like myself, which was so nice! Then I took a class on "How to Pitch Yourself" by Jyl Pattee from Mom It Forward. Having a blog and turning it into a business can be intimidating, so it was great to hear what helps bloggers to connect and work with brands.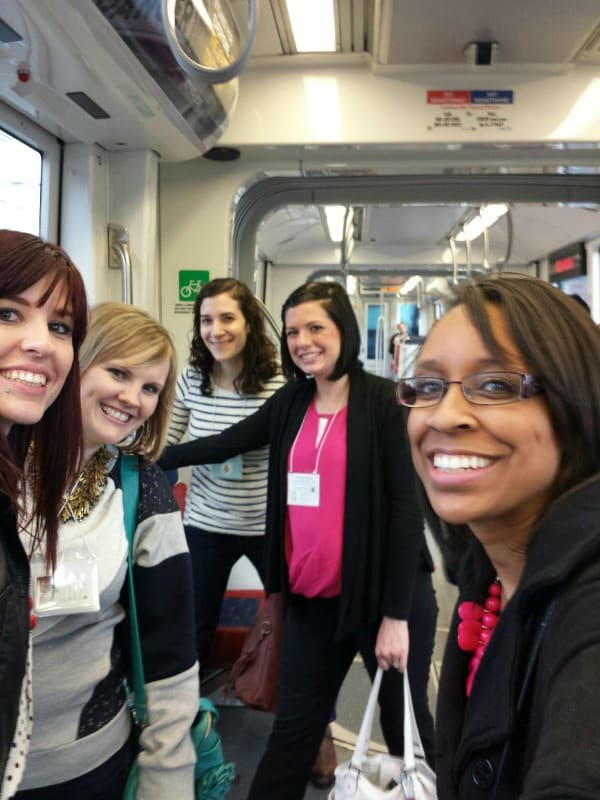 That evening I went to a small group dinner at The Lion House, which was delicious, filling, and full of fun people (some of whom are pictured below)! We totally got on the wrong Trax train to get there and had to walk quite a ways, but we made it on the right train on the way home, so we had to take a picture to document our success (above).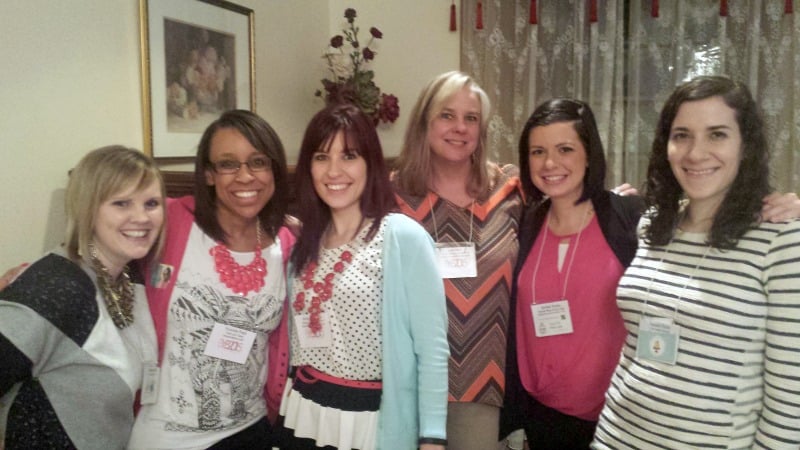 Later that night there was a brand speed dating to meet and hear what brands are already working with bloggers and how we can get involved. A great opportunity!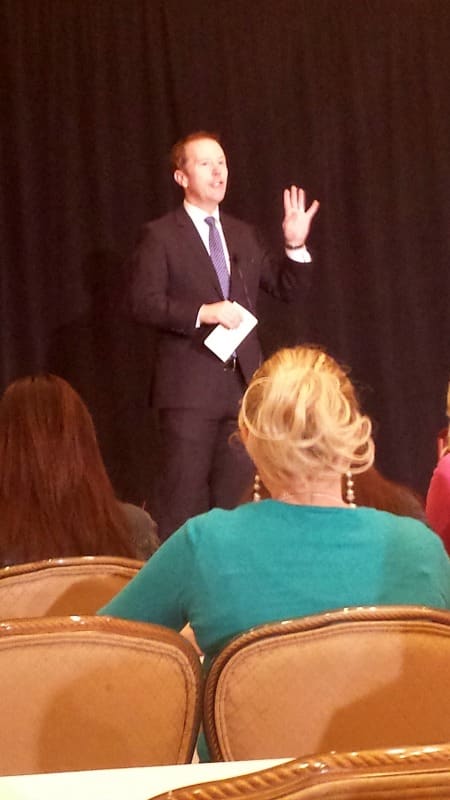 Darin Adams got us excited for day 2 of classes and events, he even sang to us TWICE that day, and the songs were hilarious! The keynote speaker the second day was David Mead who talked about starting with our why (beliefs and inner goals), as opposed to what we do or how we do things, and it was really encouraging and inspiring. Day 2 classes consisted of Food Photography from Lindsey Johnson (Cafe Johnsonia), because I can always learn more about that, Advanced Blogging with Maria Litchy (Two Peas and Their Pod), and Facebook for Bloggers from Amy and Natalie of Super Healthy Kids. All so informational! I really felt like I learned A LOT this year!!!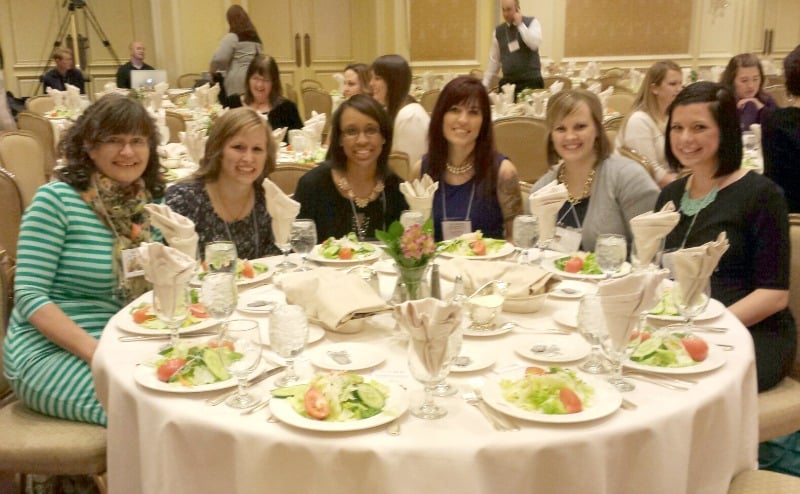 That night there was a gala and short presentation about the Tyler Robinson Foundation, complete with a fancy dinner, band, and blogger awards! It was a great time to visit with my favorite people, make some last connections, say goodbye to some of my friends, and take LOTS of pictures.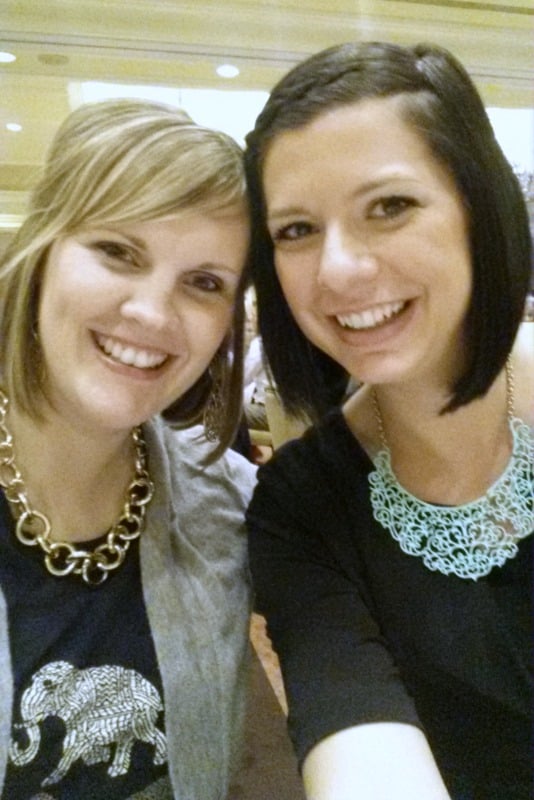 I didn't dance, but the band, The Str!ke, was pretty good and very enjoyable to listen to!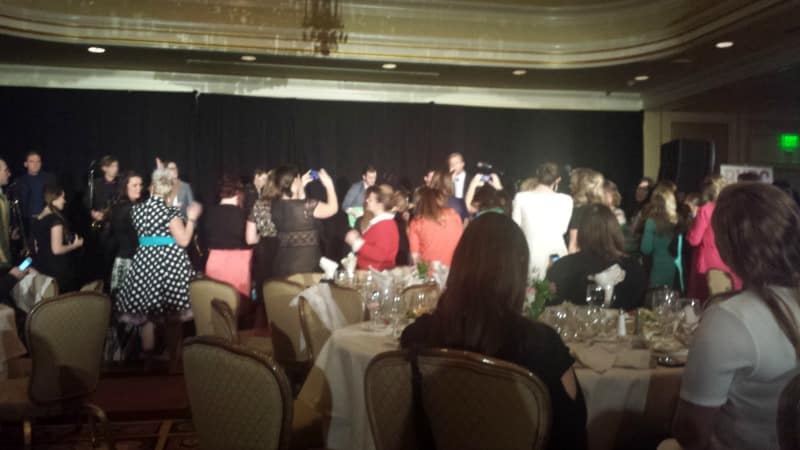 And last, but not least, we had to grab a picture with the Six Sisters because they are just darling girls inside and out! It was a memorable conference! I was happy to attend and I learned a lot to keep my blog moving forward to be the best source of recipes and culinary education for you, my readers!