Chicken and Broccoli Alfredo Soup
This post may contain affiliate links, meaning that I may receive a commission at no cost to you if you use a link provided. All opinions shared are my own. You can review my full disclosure policy here.
Chicken, broccoli florets, and noodles come together in this easy, creamy, garlic and parmesan alfredo broth to create Chicken and Broccoli Alfredo Soup!
This post brought to you by Swanson®. All opinions and text are 100% mine.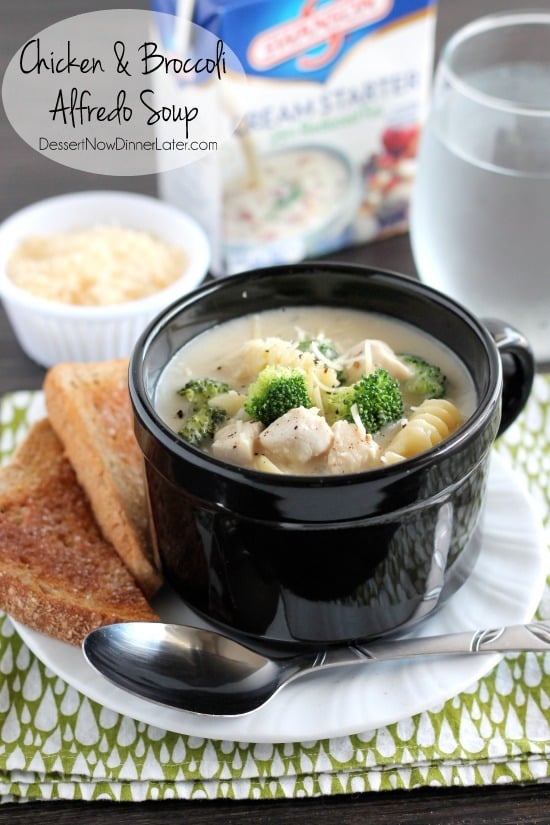 One of my favorite meals is hands down, Chicken Alfredo! I especially like it with broccoli, or blackened chicken. There's just something wonderful and comforting about a creamy, garlic and Parmesan sauce atop noodles, that Chicken Alfredo continues to pop up in the dinner rotation for our family at LEAST once a month. Plus, my kids love white sauce over red, any day!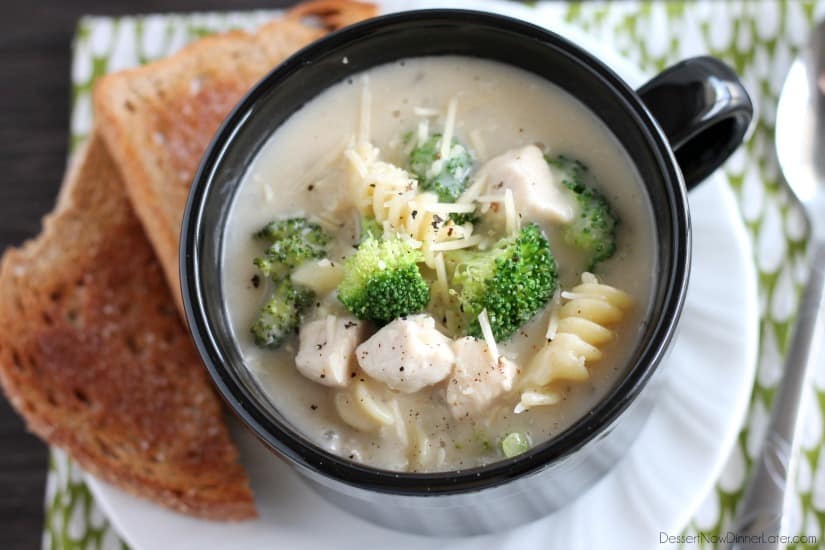 Today's recipe, is Chicken Alfredo, turned into soup, and it's so easy! I like to gather all my ingredients first, they call it mise en place in French, or "putting in place," and with how fast this recipe comes together, you will need to have everything ready to go!
All you need is cubed chicken, finely diced onion, minced garlic, some noodles, some broccoli florets, Parmesan cheese, seasonings, and the time saver of the dish, Swanson Cream StarterTM! No stressing about making a roux and whisking in your liquid, hoping you get out all the lumps, and praying that it will thicken properly! Yay!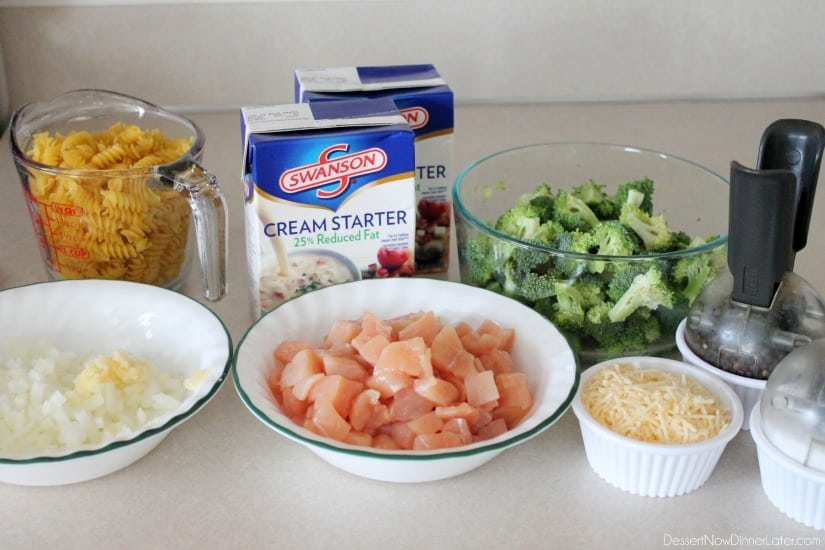 I'm a big fan of fresh broccoli, but it can be a bit tricky to cook just right, especially in soup. My trick for cooking broccoli that goes into any dish, is to put it in a bowl with a lid, add some water, and zap it in the microwave for 2 minutes! You can always add more time if you want it softer, but I like it to still have a little bite to it! Frozen broccoli florets will work just fine in this recipe as well, steam them the same way, but you will most likely need more time, around 5 minutes.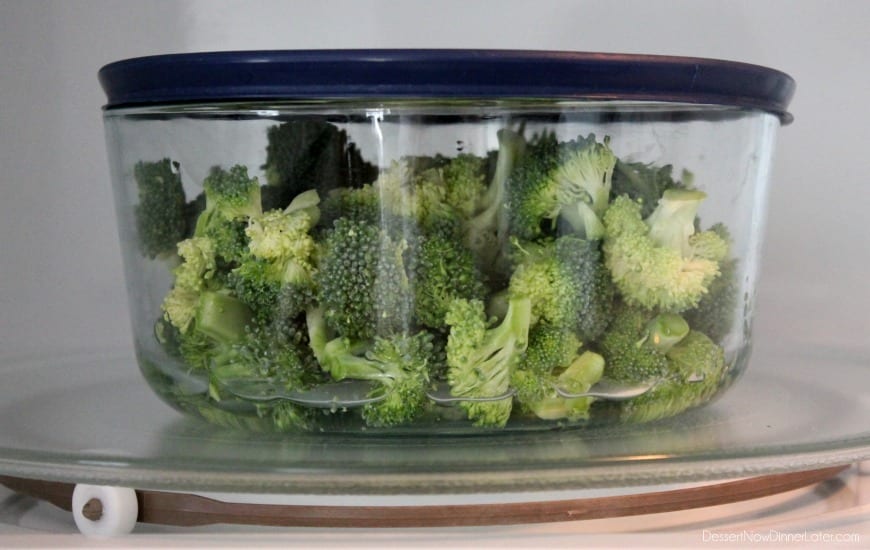 Soups are my favorite because you are basically dumping everything in one pot! This recipe isn't temperamental, just cook up the onion, garlic, and chicken with the butter.
In another pot, you are boiling those noodles while this mixture is getting cooked through. Cooking the noodles separately helps them to not soak up all the broth in the soup, although, the leftovers of this looks more like pasta than soup!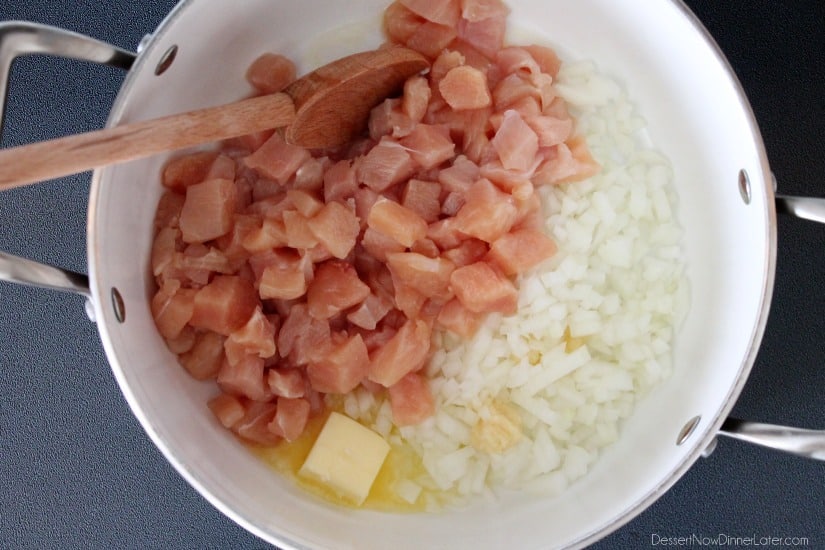 Add your cream starter to the pot of chicken until it starts to boil. Stir in the cooked noodles, cooked broccoli, Parmesan cheese, seasonings, and voila! Chicken and Broccoli Alfredo Soup!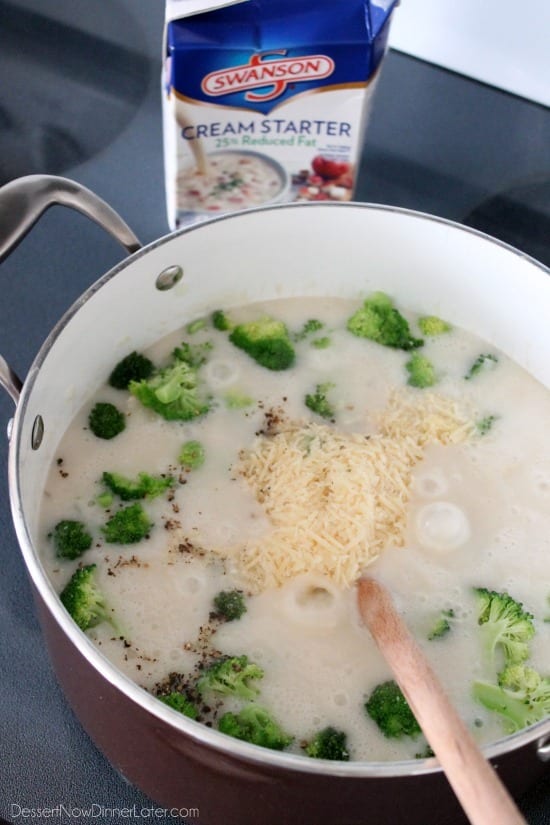 I like to eat mine with extra fresh cracked black pepper and Parmesan cheese sprinkled on top! Delicious!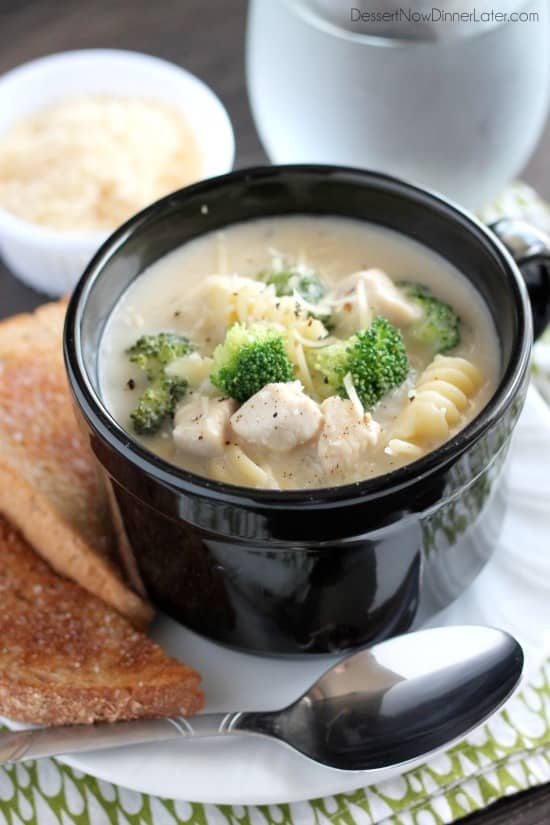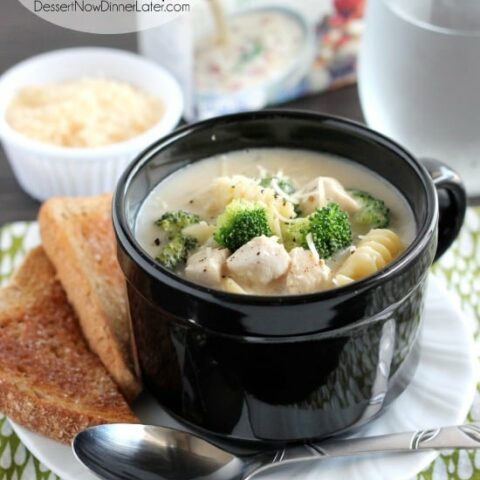 Chicken and Broccoli Alfredo Soup
Ingredients
2 Tbsp butter
3 to 4 cloves garlic, minced (about 2 tsp)
1/2 small onion, finely diced
2 chicken breasts, cubed
2 cups or less Rotini pasta (the noodles do soak up some of the broth after it sits, so if you like less chunks, and more broth, do less)
4 cups fresh broccoli florets (about 1 large head or two small heads of broccoli)
1/4 cup water
2 boxes 25% Reduced Fat Swanson Cream Starter™
1 cup shredded parmesan cheese
1/2 tsp garlic powder
salt and pepper, to taste
Instructions
In a large stock pot, melt the butter and cook the garlic, onion, and cubed chicken breasts until the chicken is no longer pink.
Meanwhile, boil pasta just until al dente; my box said 7 to 8 minutes, do 7 minutes and drain immediately.
Steam broccoli florets with water in a microwaveable dish with a lid, for 2 minutes. Check tenderness with a fork and cook longer, if desired.
Add both boxes of Swanson Cream Starter™ to the pot of chicken, and bring to a boil. Add cooked noodles, cooked broccoli, Parmesan cheese, garlic powder, and season to taste with salt and pepper. Remove from heat and serve immediately.
Frozen broccoli florets may be substituted for fresh. Steam an extra 3+ minutes until tender.
Nutrition Information:
Yield: 12
Amount Per Serving:
Unsaturated Fat: 0g
This blog post is sponsored by Swanson®