Creamy Pesto & Peas Bowtie Pasta with Chicken
This post may contain affiliate links, meaning that I may receive a commission at no cost to you if you use a link provided. All opinions shared are my own. You can review my full disclosure policy here.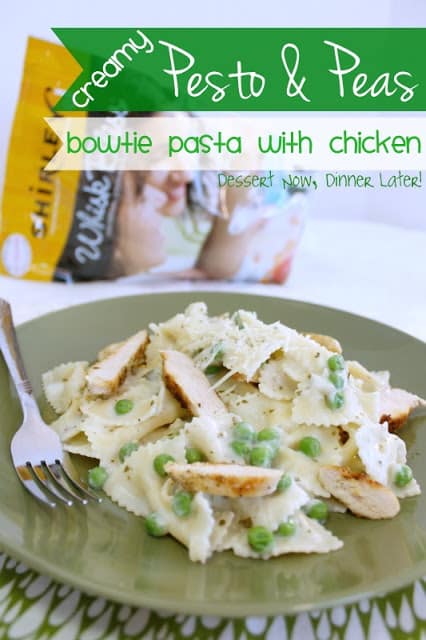 *Disclaimer: I received free product from Shirley J as inspiration for this post. This post is written by me. All opinions are 100% mine. You can read my advertising & disclosure policy HERE.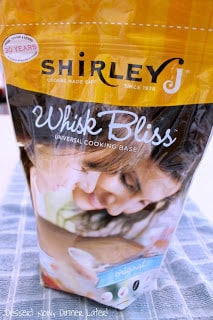 This has been a wonderful week of recipe experimentation, but I must say, this is one that we absolutely over the top scarfed down. My kids ate everything, pasta, peas, chicken & all & asked for MORE! That means it was a huge success! But I have a little secret about this dish, well a secret ingredient. Want to know what it is? Shirley J Whisk Bliss!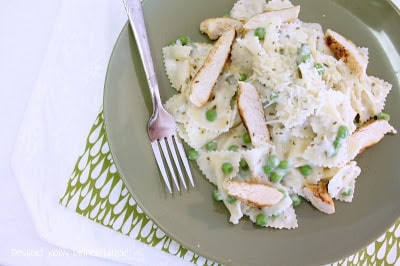 Shirley J Whisk Bliss is a universal cooking base similar to the bechamel mother sauce. So think: sauces, soups, gravies, etc. It's so creamy & amazingly easy to make. 1 part whisk bliss to 4 parts water! Heat to a boil & that is it! I have got another recipe using whisk bliss posting later, so stay tuned for that. And we have even used this as the base sauce for Hawaiian Haystacks with the addition of some chicken bouillon & spices. I think it would be great in my Chicken Pot Pie Crumble too! See, very versatile!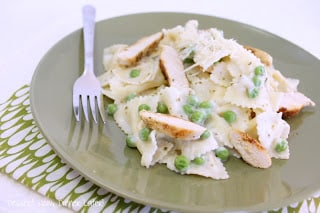 This Creamy Pesto & Peas Bowtie Pasta with Chicken was superb! Al dente pasta, creamy pesto sauce, crunchy peas & tender chicken combined into one amazing dish. It's amazing as leftovers the next day as well & we are totally making this again next week because it's that good. Try it! (Don't forget to enter the Shirley J giveaway going on this week!)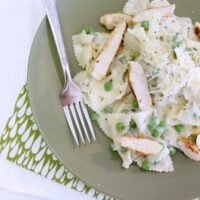 Creamy Pesto & Peas Bowtie Pasta with Chicken
Ingredients
1 Tbsp olive oil
2 chicken breasts
favorite chicken seasoning blend (I used Montreal chicken seasoning)
6-8 oz bowtie pasta
1 cup frozen peas
2 cups water
1/2 cup Shirley J Whisk Bliss
1/3 cup parmesan cheese shredded
2 Tbsp store-bought pesto
Instructions
Heat olive oil in a skillet. Season chicken breasts & cook on medium-high heat, covered with a lid for 4 minutes on each side. Check doneness with a thermometer or cook until juices run clear. Keep warm.
Meanwhile, boil water & cook bowtie pasta according to directions on the package, adding the frozen peas the last minute of cooking. (I boiled mine for 8 minutes & then added the peas for an additional minute.) Drain & set aside.
In a saucepan combine Shirley J Whisk Bliss & water. Whisk until boiling, add cheese & pesto; stir until combined & thick. This doesn't take longer than 5 minutes.
Pour sauce over pasta/pea mixture. Stir to coat. Top pasta with slices of chicken & a sprinkle of parmesan cheese.
Nutrition Information:
Yield: 4
Amount Per Serving:
Unsaturated Fat: 0g