Curry Ginger Chicken Salad
This post may contain affiliate links, meaning that I may receive a commission at no cost to you if you use a link provided. All opinions shared are my own. You can review my full disclosure policy here.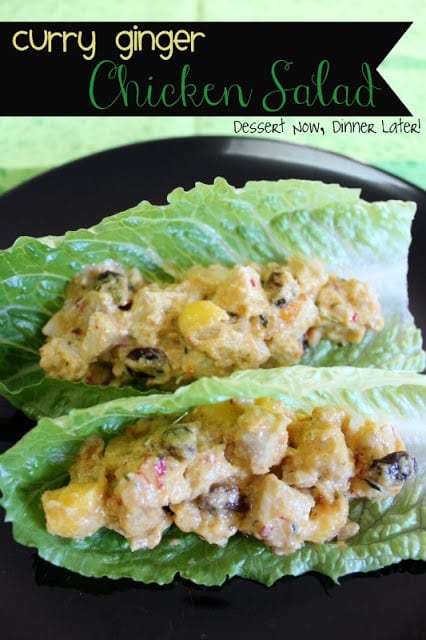 *Disclaimer:  I received free product from Gourmet Garden in order to make this post. This post is written by me. All opinions are 100% mine. You can read my advertising & disclosure policy HERE.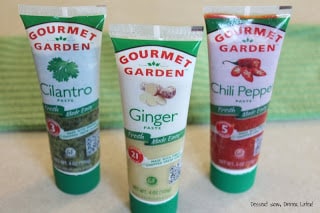 I can't believe this is the first time I have actually tried Gourmet Garden Herbs & Spices, but I can say that it won't be the last time! I have seen these little green tubes at the store all the time. I guess I will shamefully admit that I use a lot of dried herbs/spices. The only fresh things I use are garlic, which I buy in already peeled cloves & keep in the freezer to shred on my microplane when I need it. Ginger, I peel & keep chunks in the freezer to also shred on my microplane when I need it. Cilantro, I buy only if I am going to use it in a recipe & then the leftovers usually go in the garbage, unless I have another recipe I am using it for. So the whole concept of fresh herbs & spices at my fingertips, mess free, ready-to-use, with no waste really got me excited to try these.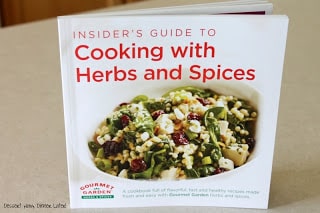 Gourmet Garden offers a variety of 16 fresh herbs, spices, & blends. They are all made with organic herbs. The coolest thing, is that they last up to 3 months in the fridge, or 6 months in the freezer. I totally put mine straight in the freezer & when I took them out for this recipe, they easily squeezed out of the tubes, as if they were coming from the fridge. I love it! Today's recipe is from a cookbook I received along with the tubes of fresh herbs/spices from Gourmet Garden. I thought I would test out my samples on a tried & true recipe they have, but these tubes can be used for any recipe, really. Gourmet Garden Herbs & Spices are easy to use, NO PREP, & smell & taste just like fresh. I am really mad I haven't tried them before now, oh well, live & learn right?
This recipe stood out to me because my husband & I love curry, we love ginger, & anything with fruit in it has my name calling it. The toasted pine nuts were really good in this salad as well & the chili pepper gave it a nice heat at the end of each bite. This is a great salad to make this summer!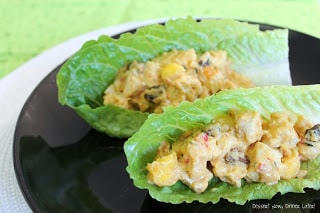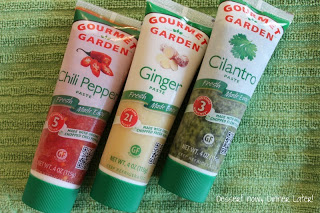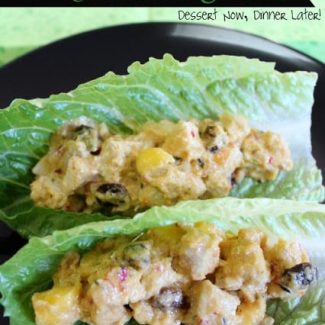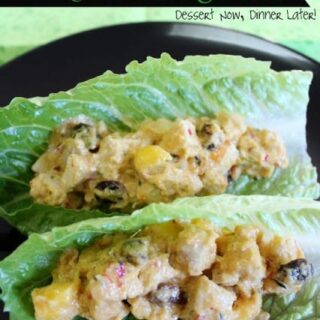 Curry Ginger Chicken Salad
Ingredients
1/2 cup non-fat plain Greek yogurt
1/2 cup reduced sugar apricot preserves
2 Tbsp Gourmet Garden Chili Pepper
2 Tbsp Gourmet Garden Ginger
1 tsp Gourmet Garden Cilantro
2 tsp sweet curry powder
1 tsp kosher salt
1 ripe mango, peeled, seeded & diced
1/4 cup raisins
1/4 cup pine nuts, toasted
1/4 tsp ground black pepper
3 cups cubed cooked chicken breast
1 head romaine or bibb lettuce, cleaned & separated into leaves
Instructions
In a large bowl, whisk together yogurt, preserves, Gourmet Garden Chili Pepper, Gourmet Garden Ginger, Gourmet Garden Cilantro, curry powder & salt.
Stir in remaining ingredients & mix well.
Serve chicken salad on top of lettuce leaves.
Nutrition Information:
Yield: 4
Amount Per Serving:
Unsaturated Fat: 0g
Recipe lightly altered from Gourmet Garden