Froggy Chicken Salad Sandwiches
This post may contain affiliate links, meaning that I may receive a commission at no cost to you if you use a link provided. All opinions shared are my own. You can review my full disclosure policy here.
Froggy Chicken Salad Sandwiches are a fun food for kids to make with frozen dough.
*This post is brought to you by Rhodes Bake-N-Serv. Thanks for supporting the brands that make Dessert Now Dinner Later possible.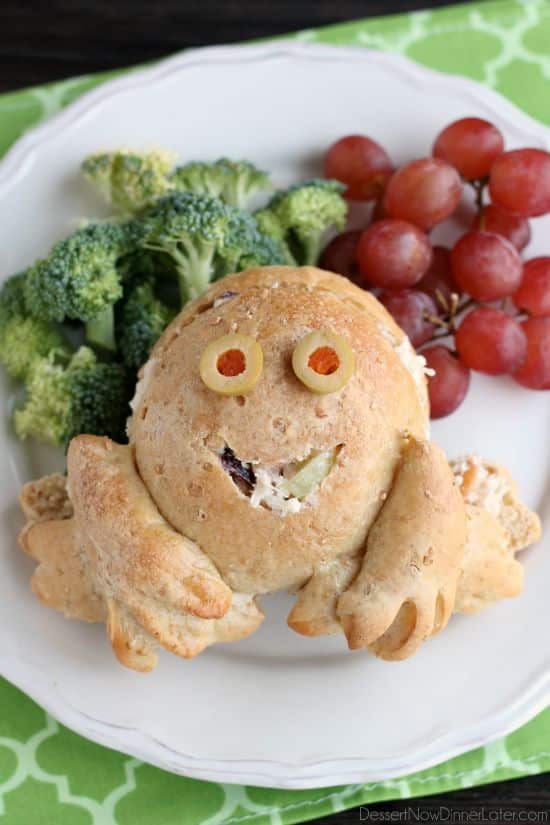 When I worked in a bakery during my college years, I worked with this guy who was tall, and big, and covered in tattoos. Think club security guard, and you can imagine what he looked like. I was intimidated to say the least. This guy's name is Jason. Well, after working with Jason on my very first day, I learned that he was super sweet and helpful. I learned later on that he was an incredible baker.
Jason had all the recipes he made memorized and could divide the recipes in his head without a paper and pencil. I wish I had that much talent with math and baking! His breads and bagels were my favorite and he was the funnest to work with. Anyway, whenever Jason, had time to play with the bread dough he would create amazing things. Kind of like the fun breads you see at Boudin Bakery in San Francisco. He could create turtles, teddy bears, cornucopia's for Thanksgiving, you name it!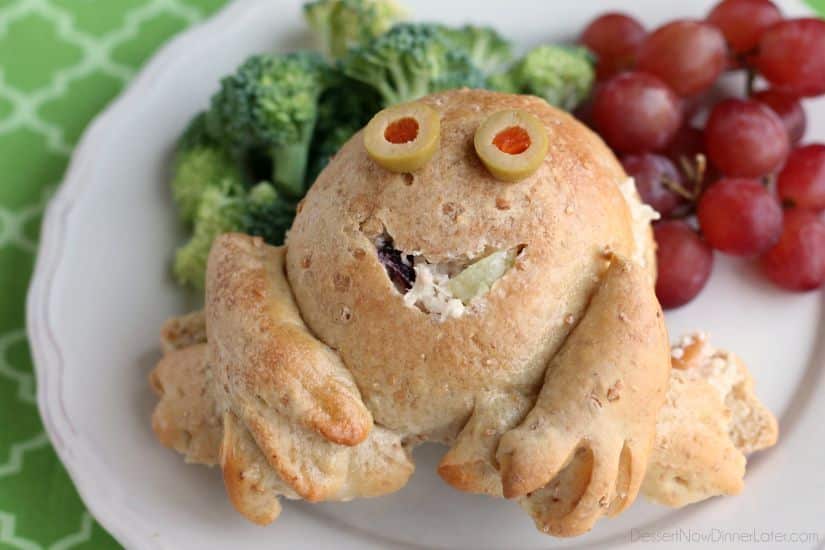 So this is me, trying to be like Jason. Don't laugh! I like to play with bread too! My froggy chicken salad sandwiches might not look as professional as Jason could make them, but I tried, and it was fun. The good thing about these is that your kids don't care if they look "perfect" or not. They will most likely laugh and eat them anyway. My kids did recognize what they were, so bonus points for me! Either way, these are a fun thing to make with, or for your kids sometime.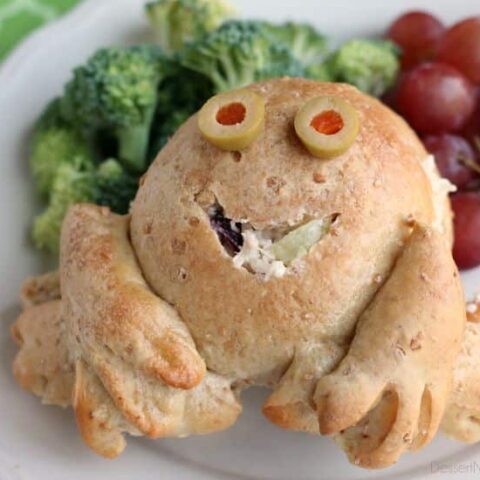 Froggy Chicken Salad Sandwiches
Prep Time: 20 minutes
Cook Time: 15 minutes
Total Time: 35 minutes
Yield: 4 servings
Ingredients
3 Rhodes Wheat Rolls, thawed but still cold (makes 2 frogs)
black and green olives for eyes
Instructions
For the body, press 1 roll into an egg shape. Place, pointed end up, on a sprayed baking sheet. Cut another roll in half. Divide one half into four equal pieces. Roll each of the 4 pieces into a 2½ inch long rope that is thicker on one end than the other. Make two cuts into the thick end of each one making 3 fingers or toes. Place 2 across the bottom of the body for feet. Place the other 2 along the sides of the body for arms. Repeat instructions to make a second frog.
Cover with sprayed plastic wrap and let rise about 45 minutes. Remove wrap and bake at 350°F 10-15 minutes. Let cool.
Carefully slice frogs to make a sandwich top and bottom. In the top piece, with a sharp knife, cut a smiley mouth. Top bottom with chicken salad and put the top on. Place olives on the frog for eyes.
Nutrition Information:
Yield: 4
Amount Per Serving:
Unsaturated Fat: 0g