Grilled Barbeque Chicken Pizza
This post may contain affiliate links, meaning that I may receive a commission at no cost to you if you use a link provided. All opinions shared are my own. You can review my full disclosure policy here.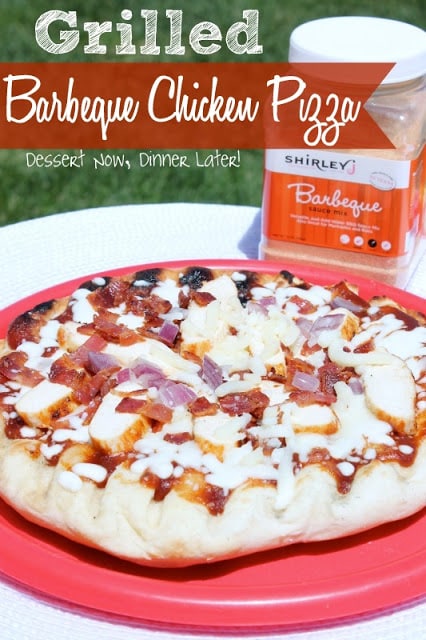 *Disclaimer:  I received free product from Shirley J as inspiration for this post. This post is written by me. All opinions are 100% mine. You can read my advertising & disclosure policy HERE.
If you haven't tried grilled pizza yet since the last time I blogged about it, then put it on your summer bucket list & get to grilling! BBQ Chicken Pizza is one of my absolute favorite pizzas of all time. That and pepperoni, hawaiian (I like fruit on my pizza), & chicken cordon bleu, but let's not get distracted right?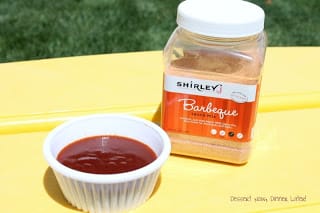 I made this pizza to test out some Shirley J Barbeque Sauce Mix. You combine 1 part of the mix with 3 parts of water, heat it up to boiling & it thickens super fast. My husband & I were surprised with how much we actually liked the barbeque sauce. It was thick, sweet & tangy. Perfect for basting the chicken & using for our pizza sauce. We have even put the mix in some homemade burger patties which gives it a great caramelized BBQ flavor as well.
This sauce mix is fabulous! Grilling pizza is LIFE. CHANGING. Seriously! If you haven't done it, you have no idea what you are missing out on. The crust gets a crispy exterior with a fluffy interior. It's puffy, crusty perfection! I've got some step by step photos via a collage for you along with the directions. Seriously grill some pizza & try this Shirley J Barbeque Sauce Mix. You won't regret it! (Don't forget to enter the giveaway to win some Shirley J products!!!)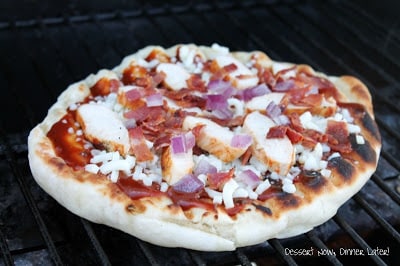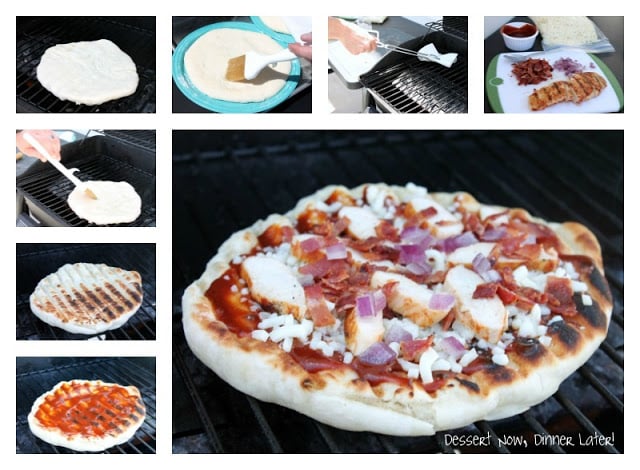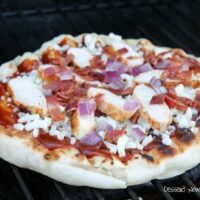 Grilled Barbeque Chicken Pizza
Ingredients
1 recipe Easy Pizza Crust or store-bought pizza dough
6 Tbsp Shirley J Barbeque Sauce Mix
1 cup plus 2 Tbsp water
2 chicken breasts
6 slices of bacon, cooked & crumbled
1/3 cup red onion, diced
1 to 1 1/2 cups mozzarella cheese
Vegetable Oil
Instructions
Prepare pizza dough, divide into thirds, allow to rest, covered. Roll into 3-individual sized personal pizza rounds, using flour as needed to help with sticking. Keep covered with plastic wrap or a towel until ready to grill.
Whisk Shirley J Barbeque Sauce Mix with water in a small saucepan over medium-high heat until it comes to a boil & thickens up. Remove from heat.
Pre-heat grill, baste chicken breasts, & grill both sides for about 4 minutes each side, basting as desired. Grill until chicken is cooked thoroughly. Remove chicken from grill & allow to rest for a few minutes (to keep juices in), then slice into thin strips.
Scrape the grill down & oil grates with a paper towel or pastry brush & oil. Be careful not to burn yourself.
Brush one side of the prepared pizza crust & carefully place the oiled side down onto the grates. Lower heat just a bit and close the lid. Cook for a few minutes, checking for the dough to look puffed, and golden brown on the bottom. Lightly brush the top side of the dough and flip it over.
Spread barbeque sauce over the cooked side of the pizza crust. Add cheese, chicken, crumbled bacon, & diced red onion. Close lid & allow cheese to melt & the bottom of the crust to cook for a couple minutes. Keep a close eye on it. Remove from grill, slice pizza into pieces & devour! Repeat with other two crusts (You may do more than one at a time if you are diligent in keeping your eye on them, so they don't burn.)
Nutrition Information:
Yield: 3
Amount Per Serving:
Unsaturated Fat: 0g