Hot Onion Dip
This post may contain affiliate links, meaning that I may receive a commission at no cost to you if you use a link provided. All opinions shared are my own. You can review my full disclosure policy here.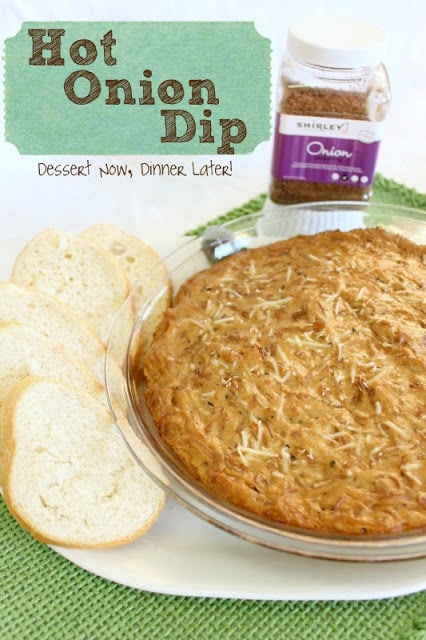 *Disclaimer:  I received free product from Shirley J as inspiration for this post. This post is written by me. All opinions are 100% mine. You can read my advertising & disclosure policy HERE.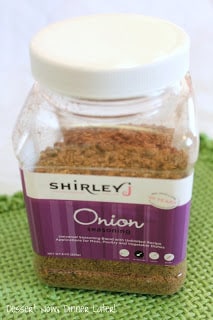 So I kind of have a funny story about this dip. The day I made it we were kind of full from our dinner already so we took a few bites & put it in the fridge for later. Well, I told my husband to go ahead & take it to work the next morning to share with his co-workers, as he usually tends to do with our leftovers anyway. He brought it in a little crockpot & was heating it up on his desk. He also brought some crackers to eat with the dip & so he started munching on it while he was working at his desk. I got a phone call about 9:30 or 10:00am & he told me he "accidentally" ate ALL the dip. Haha! My husband said it was so good that he just couldn't stop & he felt bad because he wanted his friends at work to try it. I guess he had enough for like 3 other people to try a bite. Anyway, this dip is that good.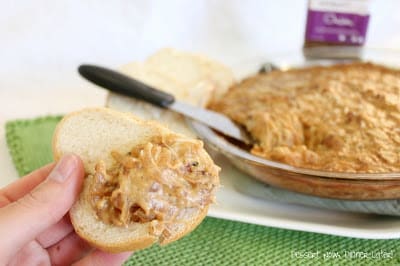 I am a huge fan of onion, which is funny because I never used to be. Growing up, I hated onions. I would pick them out of anything my mom would make. Now, I can't get enough! Caramelized onions are my favorite & this recipe caramelizes vidalia (sweet) onions which are the absolute best, in my opinion. I also had the chance to try out this Shirley J Onion Seasoning with it, & I think it took it a step farther, giving it an even deeper onion flavor. We have also tried this onion seasoning in homemade burgers, along with Shirley J Barbeque Sauce Mix, which is why it is almost half gone (as you can see in the picture.) We like it a lot. I bet it would even work great in my Onion & Cream Sauced Pork Chops. (Don't forget to enter the Shirley J giveaway going on this week!)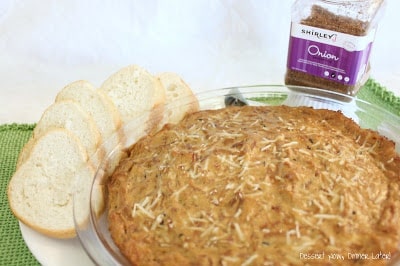 Anyway, you could probably caramelize your onions on the stovetop, then add the other ingredients & heat it in the crockpot for an hour or so since it is warming up & not really pleasant to have the oven on in your house. Or, just finish it in the oven like the recipe says. Either way, it would be a great party dip for sure!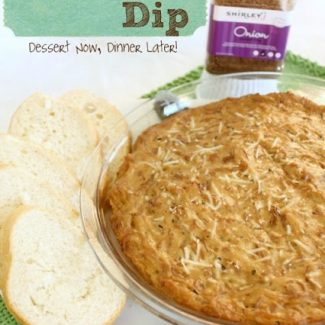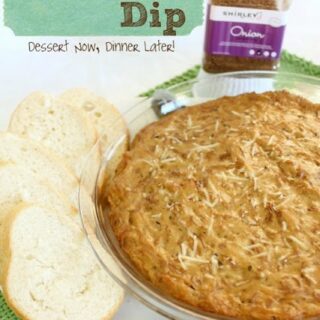 Hot Onion Dip
Ingredients
1 Tbsp vegetable oil
2 1/2 lbs vidalia sweet onions, sliced (about 2 LARGE onions, weigh them at the store)
1/4 to 1/2 cup water
4 oz cream cheese
1/2 cup light mayonnaise
1/2 cup parmesan cheese, shredded
1 Tbsp Shirley J Onion Seasoning
Salt & Pepper to taste
Instructions
In a large skillet, heat oil on medium-high heat & add onions. Season with a little salt & pepper (1/4 tsp each). Stir occasionally & add water as necessary to keep onions from burning. Cover with a lid in between stirring (maybe every 5 minutes.) Cook until onions have reduced & turn a deep caramel color, about 30-40 minutes.
In a stand mixer with the paddle attachment, combine cream cheese, mayonnaise, parmesan cheese, & Shirley J Onion Seasoning. Add hot onions & mix on low until combined. Scrape into a 8"-9" round or square baking dish.
Bake at 425*F until the edges bubble & the top browns a little bit, about 10 minutes. Serve hot with bread, crackers, or chips.
Nutrition Information:
Yield: 8
Amount Per Serving:
Unsaturated Fat: 0g