MIRACLE WHIP Slaw Burgers
This post may contain affiliate links, meaning that I may receive a commission at no cost to you if you use a link provided. All opinions shared are my own. You can review my full disclosure policy here.
These MIRACLE WHIP Slaw Burgers are no wimpy burgers! Grab a stack of napkins and get to eating! These slaw burgers are both messy and delicious!
I received MIRACLE WHIP and compensation from Kraft Foods in order to write this post.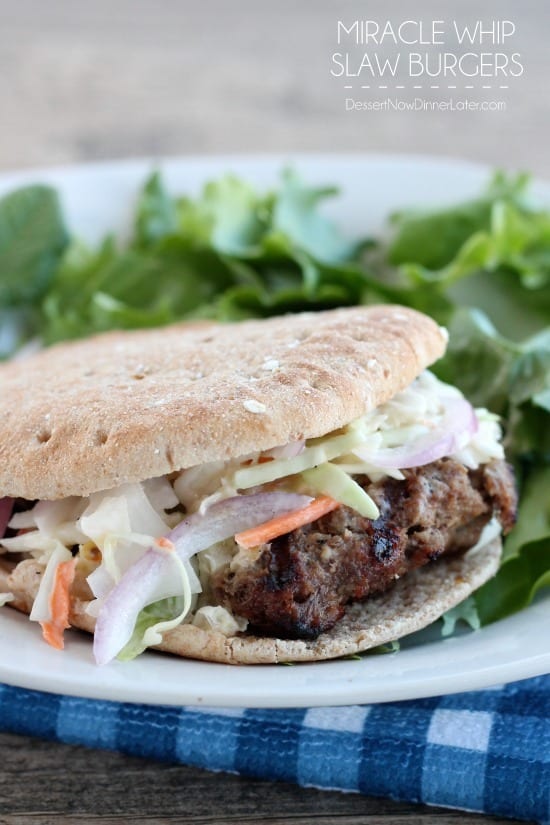 It's almost time to fire up the BBQ for your 4th of July celebrations, and what better time than now to try this recipe (http://bit.ly/1mWba5Z) for MIRACLE WHIP Slaw Burgers? The pineapple coleslaw made with sweet and tangy MIRACLE WHIP can't go unnoticed atop a juicy burger patty made with, yep, you guessed it: MIRACLE WHIP! Think that's weird? Think again my friend! Mixing a little MIRACLE WHIP in the ground beef makes these burgers incredibly juicy and wonderful. Check out these additional recipe tips to make your burger even more unique: http://bit.ly/1giVbfx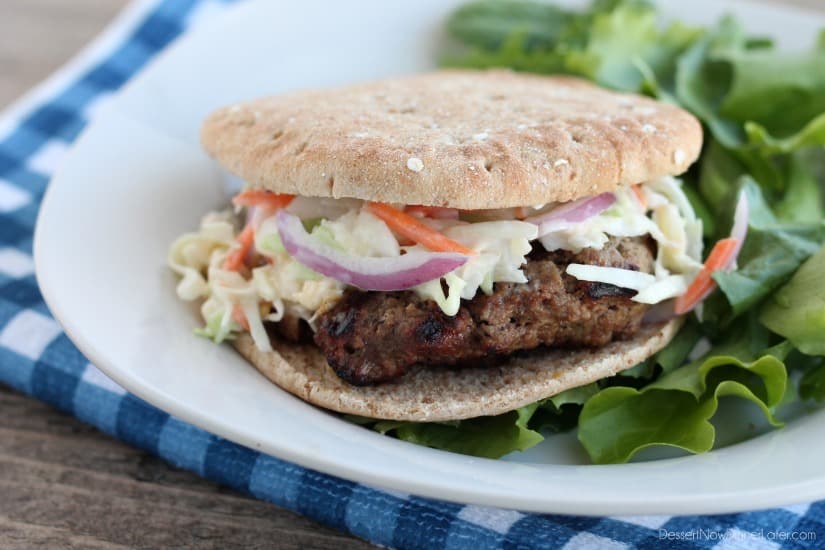 I relate these slaw burgers to that of a sloppy joe, because with that slaw on top, they're messy and delicious! Grab a stack of napkins and have at it! I mean, who said coleslaw has to sit on the side of your plate anyway? If you are putting your coleslaw (or potato salad) on the side of the plate during an outdoor BBQ, here's a fun party tip: put it in single serving size jars with lids – a stylish alternative to covering bowls with plastic wrap and, bonus, it keeps the bugs out! For more ideas on how to ensure your salads, dips and sandwiches don't go unnoticed, visit MIRACLEWHIP.com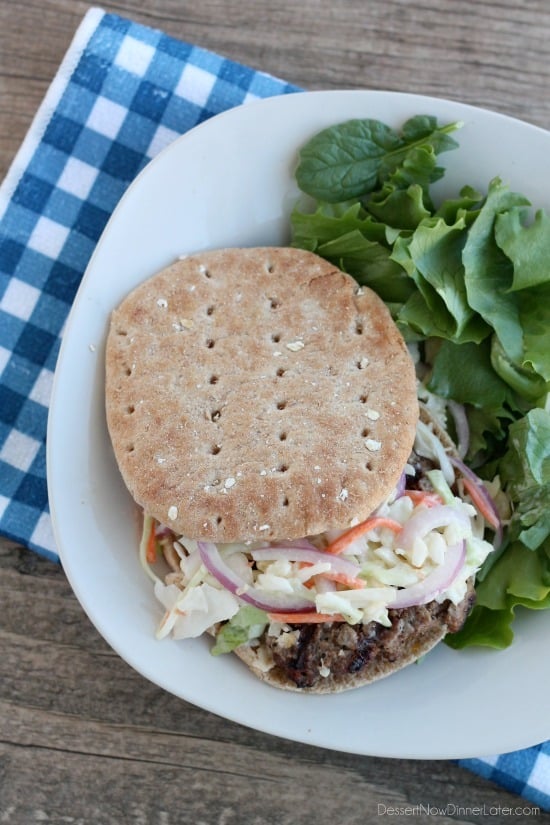 I hope your holiday celebrations are fun, safe, and full of delicious food! How about a quick 14 second video to make you smile and be inspired to try these MIRACLE WHIP Slaw Burgers:
Show 'em you're MIRACLE WHIP and #ProudofIt.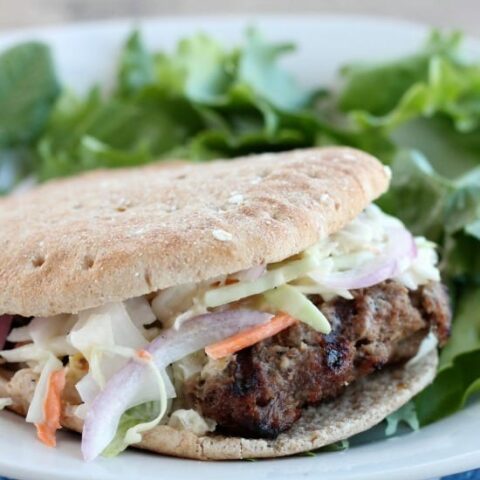 MIRACLE WHIP Slaw Burgers
Ingredients
2 lbs lean ground beef
2 tsp garlic powder
3/4 cup MIRACLE WHIP Dressing
1 (14 oz) pkg cabbage slaw blend
1 (8 oz) can crushed pineapple, drained
1/4 cup thinly sliced red onion
2 tsp Sriracha sauce (hot chili sauce)
8 hamburger buns
Instructions
HEAT grill to medium heat.
MIX meat, garlic powder and ¼ cup dressing just until blended; shape into 8 (1/2-inch-thick) patties. Grill 5 to 6 min. on each side or until done (160 degrees Fahrenheit).
COMBINE remaining dressing with all remaining ingredients except buns.
FILL buns with burgers and coleslaw.
Nutrition Information:
Yield: 8
Amount Per Serving:
Unsaturated Fat: 0g