Roasted Cauliflower Au Gratin
This post may contain affiliate links, meaning that I may receive a commission at no cost to you if you use a link provided. All opinions shared are my own. You can review my full disclosure policy here.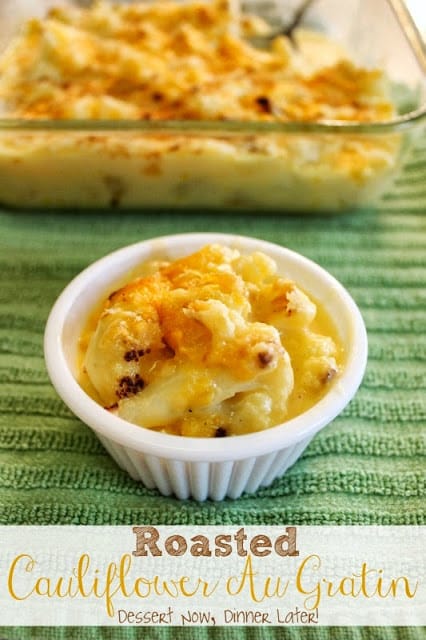 *Disclaimer:  I received free product from Shirley J as inspiration for this post. This post is written by me. All opinions are 100% mine. You can read my advertising & disclosure policy HERE.
I have a confession to make…I might have made this confession before, but I will say it again. We rarely eat vegetables. You would think since I am a mom, I would make sure we eat them, but I just hardly ever make them. My kids do like raw vegetables, like carrots & broccoli dipped in ranch or hummus. We occasionally have vegetables like that for lunch with our sandwiches, but vegetables every night with dinner hardly ever happens. I need to get better at it. I really do like vegetables, way more than I did growing up, so I don't know why I skip it.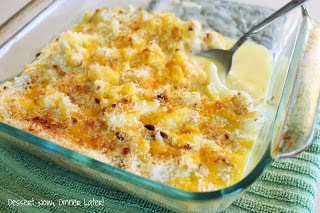 Anyway, we made this Roasted Cauliflower Au Gratin for dinner one night with some grilled chicken & they were absolutely incredible. I think roasting them paired with the cheese sauce made them extra desirable. This is another recipe made easy with Shirley J Whisk Bliss. I love it! Whisk Bliss dissolves easily in water & all you have to do is boil it to thicken it up. I over guessed how much sauce we would need for this recipe so it's quite saucy in the pictures, but I adjusted the recipe for you all.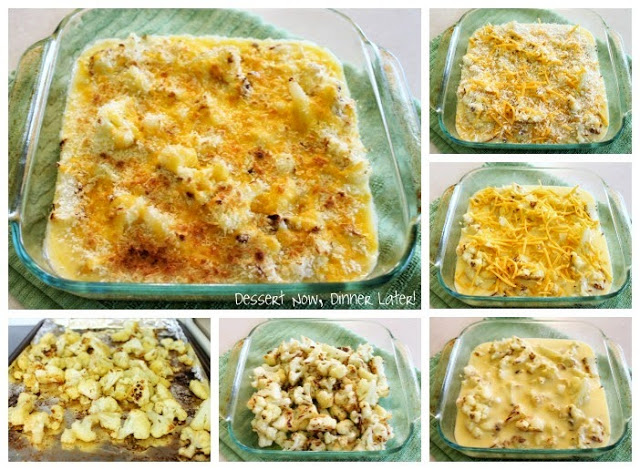 Don't forget to enter the giveaway. It ends at midnight tomorrow, so you better get to entered. You could win some Whisk Bliss to make this with your dinner!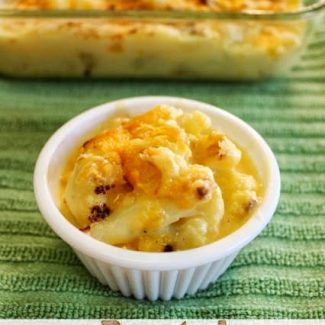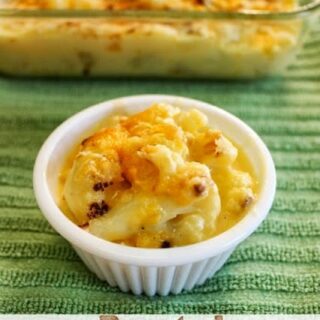 Roasted Cauliflower Au Gratin
Ingredients
2 1/2 lbs fresh cauliflower
3 Tbsp unsalted butter, melted
1 tsp minced garlic
3/4 tsp kosher salt
1/4 tsp ground black pepper
1 1/2 cups water
6 Tbsp Shirley J Whisk Bliss
2/3 cup mild cheddar cheese plus 3 Tbsp for the topping
3 Tbsp panko bread crumbs
Instructions
Wash & cut florets off the stem of the cauliflower. Combine melted butter, minced garlic, salt & pepper in a bowl. Toss florets in the butter mixture & spread out on a foil lined baking sheet.
Bake at 425*F for 10 minutes. Stir/toss cauliflower & cook 15 minutes more until browned & roasted.
In a saucepan on the stove top whisk water & Shirley J Whisk Bliss. Bring to a boil & add ⅔ cup mild cheddar cheese. Stir until melted.
Spray a 8" or 9" square baking dish with pan spray. Add roasted cauliflower & top with cheese sauce. Then sprinkle with 3 Tbsp each of mild cheddar cheese & panko bread crumbs.
Place in the oven & BROIL for 3-4 minutes until browned & bubbling on top.
Nutrition Information:
Yield: 6
Amount Per Serving:
Unsaturated Fat: 0g