Six Sisters' Stuff My Recipe Magic Launch Party
This post may contain affiliate links, meaning that I may receive a commission at no cost to you if you use a link provided. All opinions shared are my own. You can review my full disclosure policy here.
So I am a follower of the Six Sisters' Stuff blog & they had an open invitation to attend their My Recipe Magic launch party for any food bloggers or food lovers. I saw it & thought I should go, but wimped out because I am a stay-at-home mom, what if I forget what it is like to socialize? What if I look like a creepy stalker when I talk to the sisters? Blah, blah, blah. Even though my husband nudged me to go I made a million excuses why I shouldn't.
Then, I got a message on facebook from Camille, eldest sister of the Six Sisters' Stuff, saying that she liked my blog, saw that I had put recipes into My Recipe Magic & that she wanted to invite me to the launch party. She also mentioned that she was an Aggie, go USU! So I thought, okay, that was really nice, so I better just suck it up & go. I was totally an RA (Resident Assistant) in college & you have to be bubbly & outgoing for that job, so it shouldn't be hard to be that person again right? Despite my currently cooped up stay-at-home mom type ways, I decided to go. Thankfully we have some friends that lived close to the event location so my husband & kids could play while I attended the launch party for the evening.
What a great party! We got lovely bags with coupons, they had a made-to-order crepe bar, prizes, & lots of bloggers. I got the chance to chat with Camille when I was in line for the crepes & she is so sweet. She even recognized me & she has the cutest little baby girl. Those sisters are so nice & their dad is super funny. You can tell they are just a great, loving family which probably helps make them so successful. Anyway, I had so much fun I have decided I am going to their Build Your Blog Conference in February. If you are a fellow blogger in Utah & want more information, click on the link I have in my sidebar. It is going to be amazing I just know it!
Anyway, I can't finish this post without showing you the fun ladies I met while I was there.
Meet The Real Housewives of Riverton! These ladies are a hoot! They shared lots of stories & are great friends. Their blog has a little bit of everything. Go check them out & tell them Amber @ Dessert Now, Dinner Later! sent you.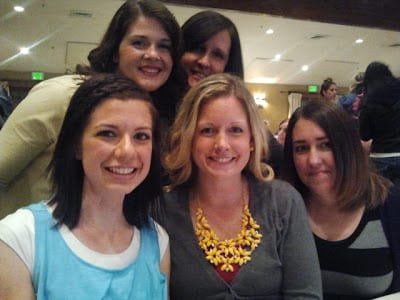 Lastly, meet Alexis from We Like to Learn As We Go! She is a mom sharing her adventures & tips as her kids grow. She has lots to share. Go check her out & don't forget to let her know I sent ya!