Sweet Potato Apple and Sage Soup
This post may contain affiliate links, meaning that I may receive a commission at no cost to you if you use a link provided. All opinions shared are my own. You can review my full disclosure policy here.
Sweet Potato Apple and Sage Soup is simple, nutritious, and heats up and blends smooth in 90 seconds with a Blendtec!
I was provided with a Blendtec blender to review and use to create this post. All opinions and text are 100% mine.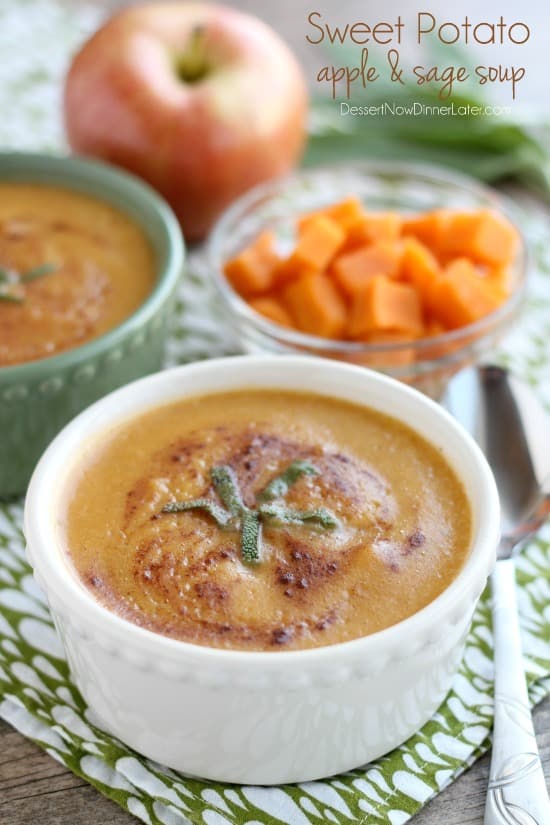 I hope you guys noticed the Blendtec giveaway that's going on. If not, here's another recipe and reminder for you to get entered to win one of your very own. One of the many awesome things I learned about the Blendtec is that it can heat soup from the friction of the blade itself! For real! I thought that was so interesting that I had to create a soup of my own and give it a try!
I found a soup that I could adapt to make in the Blendtec itself. The only prep is peeling, dicing, and steaming the potatoes, because we all know how long it takes potatoes to cook, plus a light chop on the onions, apple, and sage. I blended this recipe in two batches because I wasn't sure if it would spew out the top or not, this machine is SUPER POWERFUL after all, so here is my blender all ready to go.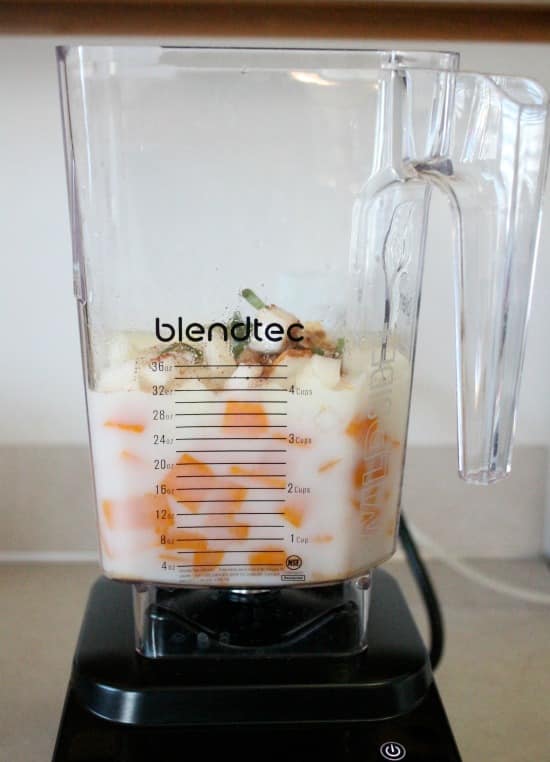 90 seconds later…I had soup! I am seriously in awe every time I've made something with the Blendtec. This time, it's because I pulled the lid off and the soup was literally steaming! My potatoes and broth were only lukewarm going into the machine. How cool is that?!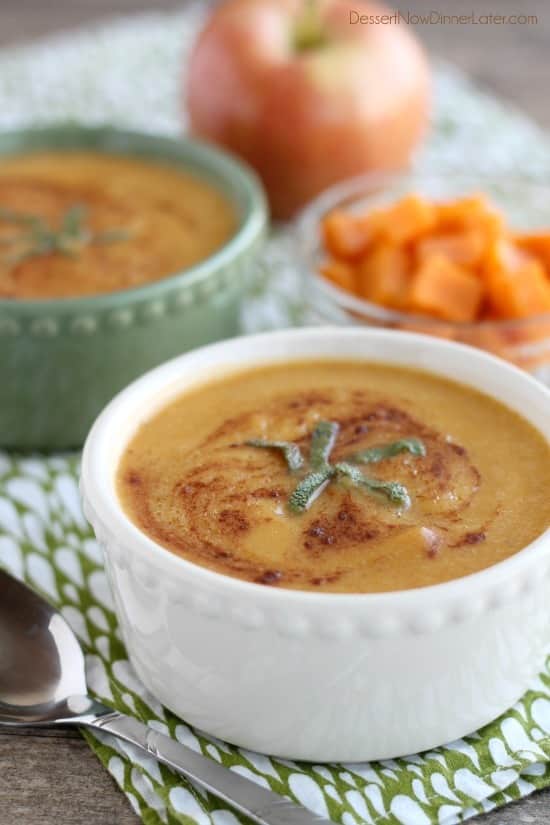 This Sweet Potato Apple and Sage Soup is made with simple ingredients, blended smooth, and is savory, yet sweet. My son was actually excited to eat it, and I didn't have to worry about explaining what the "chunks" were since it's pureed! Win-win!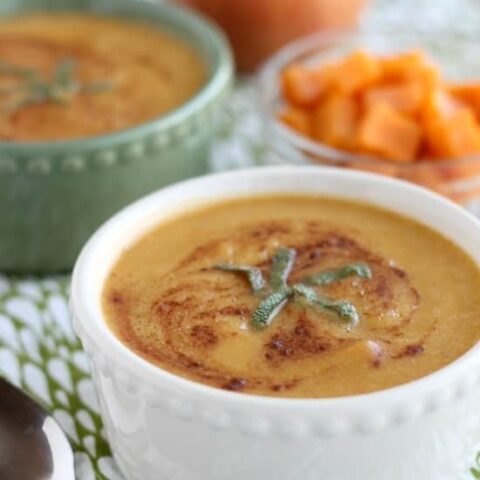 Sweet Potato Apple and Sage Soup
Ingredients
3 sweet potatoes, baked with the flesh scooped out OR peeled, diced, and steamed/boiled until fork tender
1 apple, peeled and cored
1/2 large onion, diced or quartered
2 cups vegetable or chicken broth, lukewarm
1 cup milk
2 Tbsp honey
1 Tbsp fresh sage, chiffonade (thinly sliced)
1/2 tsp dry ground cinnamon
1/4 tsp dry ground nutmeg
salt and pepper, to taste
Instructions
Blend half of the ingredients at a time in a Blendtec blender using the Soup button (90 seconds on medium-high speed.)
Stir all of the pureed soup together and season to taste with salt and pepper.
Garnish with additional sage and cinnamon.
Nutrition Information:
Yield: 4
Amount Per Serving:
Unsaturated Fat: 0g