Top 12 Favorites of 2012 – Yours & Mine
This post may contain affiliate links, meaning that I may receive a commission at no cost to you if you use a link provided. All opinions shared are my own. You can review my full disclosure policy here.
Well, this year has come to a delicious conclusion. I can't wait to have even more great recipes to share in 2013. See you then! In the meantime, check out this year's favorites!
Here are the top viewed monthly recipes of the year! (Links below)
January- Best Taco Meat EVER!
February- Brazilian Lemonade
March- Sweetened Condensed Milk
April- Coconut Cream Fruit Dip
May- Cookies & Cream Magic Bars
June- Strawberry Lemonade Cupcakes
July- Low-fat Baked General Tso's Chicken
August- Marshmallow Crunch Brownies
September- Caramel Apple Cider Cookies
October- BEST Buttery Dinner Rolls
November- Pumpkin Streusel Pudding Cookies
December- Caramel Pretzel Chocolate Chip Cookies
And here are my monthly favorites! (Links below) This was really hard for me to narrow down, & a lot of my favorites are also your favorites in the list above. And there are more recipes that I love that aren't listed, but of these twelve below, I have made most of them at least twice…at least! Check them out if you missed any or are stopping by for the first time.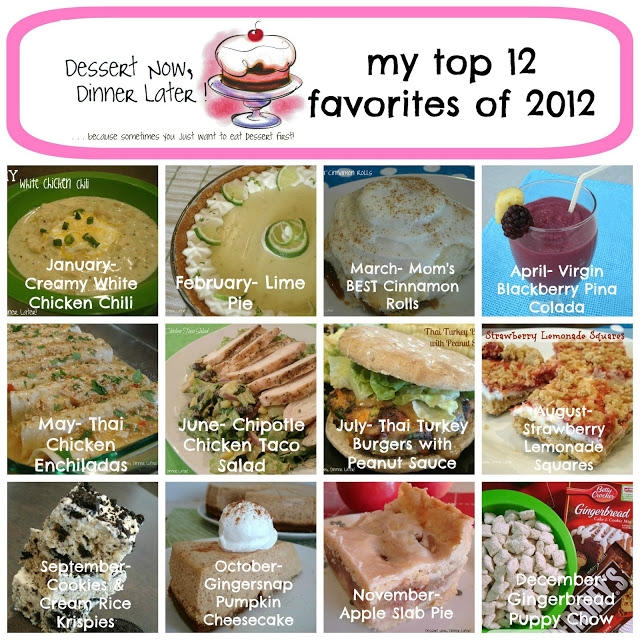 January- Creamy White Chicken Chili
February- Lime Pie
March- Mom's BEST Cinnamon Rolls
April- Virgin Blackberry Pina Colada
June- Chipotle Chicken Taco Salad
July- Thai Turkey Burgers with Peanut Sauce
August- Strawberry Lemonade Squares
September- Cookies & Cream Rice Krispies
October- Gingersnap Pumpkin Cheesecake
November- Apple Slab Pie
December- Gingerbread Puppy Chow
What were some of your favorites? Did they make either of these two lists?