What I Believe
This post may contain affiliate links, meaning that I may receive a commission at no cost to you if you use a link provided. All opinions shared are my own. You can review my full disclosure policy here.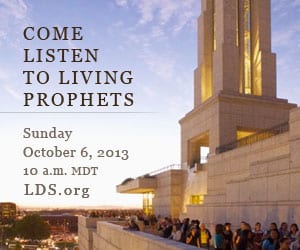 Every now & then on this blog you hear me talk about my religion; like why I do choose not to drink alcoholic beverages, or I will talk about certain activities that involved food at my church, or with my LDS friends, etc. If you have ever been curious about what Mormons are really about, tomorrow and Sunday, The Church of Jesus Christ of Latter-Day Saints holds a General Conference where the Prophet & Apostles will be speaking. This is a FREE event and you can head to a local LDS church building to watch it with others. Or, in many places you can watch it on TV in your home. It can be seen anywhere in the World.
No matter what your religious affiliation, this is just an overall uplifting series of talks on how we can become better people, & improve our relationship with Christ and our families. To get more info on how you can watch this great event, head over here. Look under the "How Do I Watch" section. You can even watch it live on your computer!