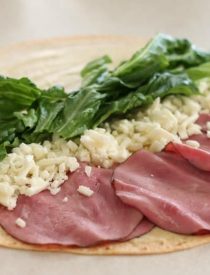 Roast Beef Tortilla Pinwheels
Every party needs something a little filling but still crazy yummy so you don't fill up on snacks all day. These pinwheels are perfect!
Yield
1
tortilla makes about 10 pinwheels.
1

extra large Don Pancho chile tomato tortilla

8

slices

Oscar Meyer deli fresh roast beef

1/4

cup

shredded mozzarrella cheese

1/4

cup

light mayonnaise or light miracle whip

1

tsp

dijon/spicy mustard

green leaf lettuce
Spread the mayo/miracle whip with the mustard on the tortilla so that it is thin on one half and thick on the other half.

Place 8 slices of roast beef on the tortilla covering the thick side of mayonnaise/miracle whip.

Sprinkle the shredded mozzarella across the center of the tortilla. Place a few leaves of lettuce across the center of the tortilla alongside the cheese.

Starting on the meat side, roll the tortilla up as tight as you can. Immediately wrap tightly in plastic wrap & refrigerate until ready to cut & serve. *Refrigeration does help the mayonnaise bind the pinwheel shut.

Remove plastic wrap & use a serrated knife to cut into 1⅛" pieces.