Chocolate-Pumpkin Marble Cake with Cream Cheese Icing
This post may contain affiliate links, meaning that I may receive a commission at no cost to you if you use a link provided. All opinions shared are my own. You can review my full disclosure policy here.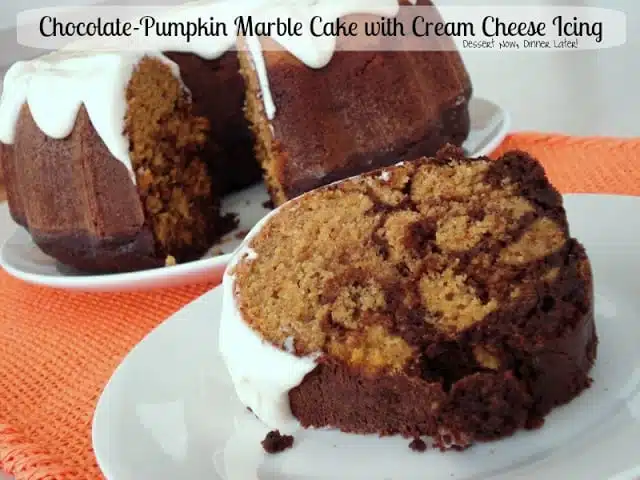 Today is a very special day! It's Dessert Now, Dinner Later! 's 1 year blog-iversary!!! I want thank all of you, my fans, for keeping up with my kitchen adventures! You really make me look forward to blogging. I love reading your comments & seeing your support on facebook!
Don't forget that I am now on Twitter, & since facebook is being so silly about how many of you see my posts, following me on Twitter might be a good idea.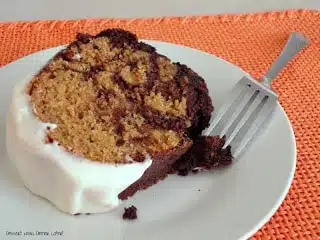 Anyway, I was reminiscing about this last year of blogging & my first post one year ago today was a Spiced Pumpkin & Cream Cheese Streusel Topped Muffin. So I only thought it would be fitting to make another pumpkin & cream cheese dessert to celebrate! After all, it's almost Thanksgiving & I need to squeeze in all of the pumpkin goodness that I can.
I found this darling marbled bundt cake & knew I had to make it. Chocolate compliments pumpkin so well, & this cake is moist & flavorful. It makes a lot of cake, so it's perfect for sharing or bringing to a family get-together. Plus it's pretty to look at.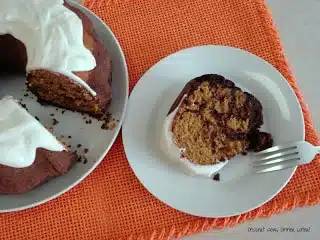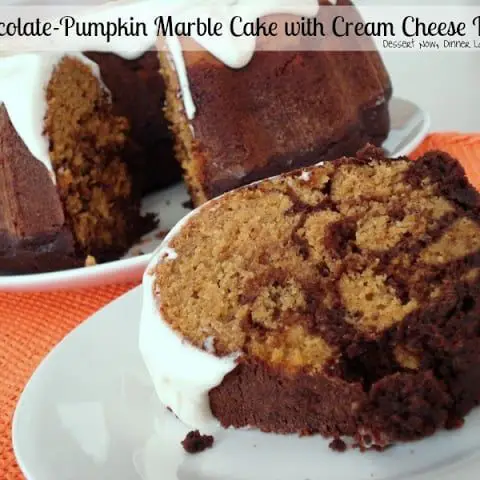 Chocolate-Pumpkin Marble Cake with Cream Cheese Icing
Ingredients
For Both Cakes (Mix. Then divide in half.)
3/4 cup granulated sugar
3/4 cup brown sugar
1 1/4 cup canola oil
5 large eggs
1 tsp vanilla
Pumpkin Cake:
1 1/4 cup pumpkin puree
1/3 cup buttermilk (or milk with 1/4 tsp lemon juice, let set for 5 minutes before using)
1 3/4 cup flour
1 Tbsp pumpkin pie spice
1/2 tsp baking soda
1/4 tsp baking powder
1/2 tsp salt
Chocolate Cake:
1 cup buttermilk
1 cup flour
3/4 cup cocoa
1/2 tsp baking soda
1/4 tsp baking powder
1/2 tsp salt
Cream Cheese Icing:
1/2 cup powdered sugar
4 oz cream cheese (I use Neufchatel)
1/2 tsp vanilla
2-4 Tbsp milk
Instructions
MIXTURE FOR BOTH CAKES: Preheat oven to 350*F. Combine sugars with oil in a stand mixer using the whisk attachment. Add eggs, one at a time mixing thoroughly after each addition. Add vanilla. Split in half: pour half of the mixture into a separate bowl. *Mine was 3 cups, so 1½ cups per bowl.
PUMPKIN CAKE: In one of the sugar/oil mixture bowls, add the pumpkin puree & buttermilk. Whisk until combined. In a separate bowl, combine dry ingredients: flour, pumpkin pie spice, baking soda, baking powder & salt. Add to wet mixture until just incorporated. Mixture will be thick. Set aside.
CHOCOLATE CAKE: In the other sugar/oil mixture bowl, add buttermilk. In a separate bowl combine dry ingredients: flour, cocoa, baking soda, baking powder & salt. Add to wet mixture until just incorporated. *The chocolate cake batter is much thinner than the thick pumpkin cake batter, but that is ok.
TO FILL BUNDT PAN: Grease & flour a bundt pan. (I use shortening & a paper towel, but you can use softened butter as well.) Spoon ⅓ pumpkin batter into the bottom of the bundt pan. Drop spoonfuls of chocolate batter, but don't cover the whole pumpkin layer. Alternate spoonfulls with the rest of both batters. Swirl with a knife.
Bake for 45-55 minutes. Check doneness with a toothpick in both chocolate & pumpkin batters. Let cool in pan for 10 minutes, then remove from pan & cool for another 10 minutes.
CREAM CHEESE ICING: In a bowl with a hand mixer, blend powdered sugar & cream cheese until well blended. Beat in vanilla & milk 1 Tbsp at a time until desired consistency. Pour on warm cake. Let cake cool completely.