S'mores Cookie Bars
This post may contain affiliate links, meaning that I may receive a commission at no cost to you if you use a link provided. All opinions shared are my own. You can review my full disclosure policy here.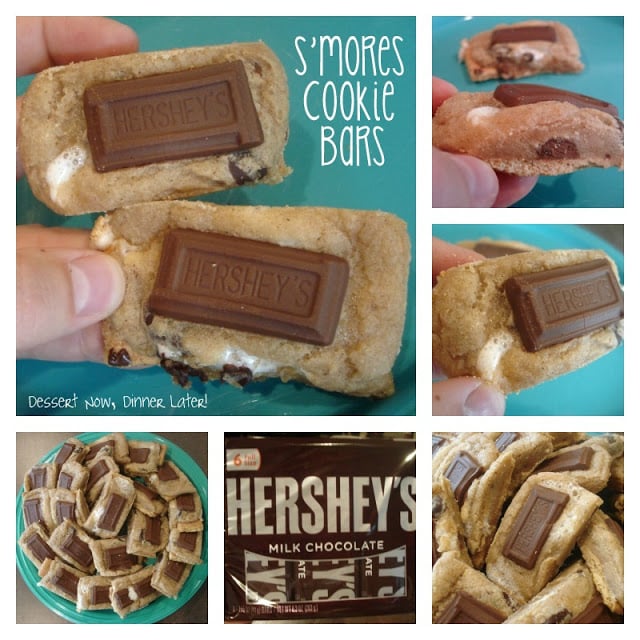 It's summer & of course that means roasting marshmallows & making s'mores at least a few times these lazy warm nights. I will admit I have mademore s'mores in my college years than I do now that I am a mom with kids, but I think my kids are getting to the age where they can appreciate the ooey gooey chocolatey, fluffy, melty goodness a s'more provides. These cookie bars are a knock off of s'mores in a less messy kind of way, so if you want the taste, but less mess to clean up (if you have kids), these are perfect. Plus, they are just as good to make & take to any get together, for kids & adults alike.
Here's a funny story. I actually made these for the 3-4 year old kids I teach at church. I was sick that Sunday, so my husband was substituting my class. I put the bars on a plate covered with plastic wrap, put a note that they were for my Sunbeams Class, & my husband put them in the fridge in the church's kitchen. (The Hershey's rectangles on top weren't holding up well in room temperature.) Unfortunately when he went to get them the third hour of church, someone had found & devoured them. I was shocked that you can't even leave something with a note in the church & have it kept safe, but it is still kind of funny. I bet it was the teenage boys, & I hope they got a stomachache, haha. Luckily, my husband saved six of the bars on a plate that he carried around with him the first two hours of church & since there were only four students in class that day, they all had enough to enjoy.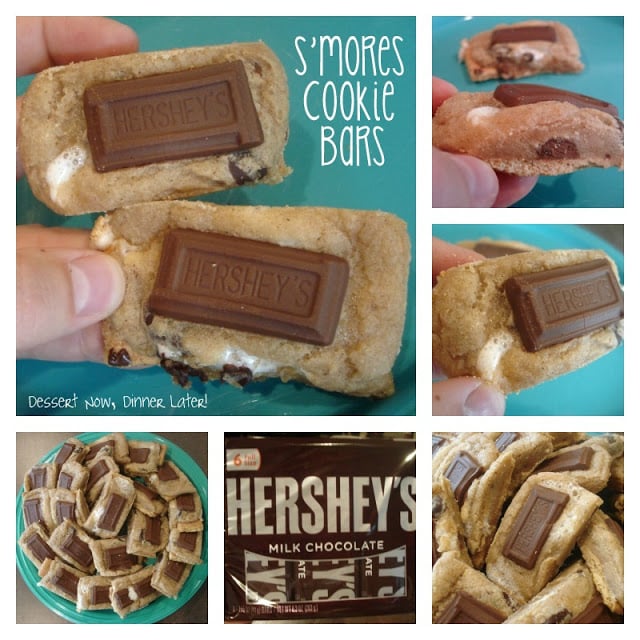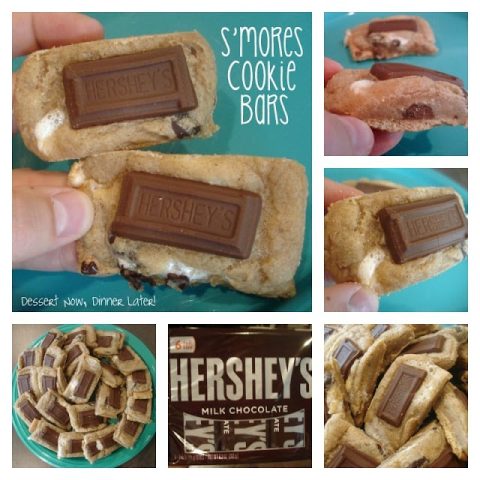 S'mores Cookie Bars
Ingredients
11 Tbsp unsalted butter, softened
1 cup brown sugar, packed
1/2 cup granulated sugar
2 large eggs
1 tsp vanilla
2 1/2 cups flour
1 tsp baking soda
1/2 tsp salt
1 tsp cinnamon
1/2 cup Hershey's semi-sweet chocolate chips or dark chocolate chips
1 cup mini marshmallows (I think it could have used half a cup more)
4 regular sized Hershey's bars, broken into squares
1-2 sleeves of graham crackers, broken into squares (I used 1 1/2 sleeves of cinnamon graham crackers)
Instructions
Cream together the butter & both sugars. Add eggs & vanilla.
Gradually mix in the dry ingredients: flour, baking soda, salt, & cinnamon. Fold in chocolate chips & marshmallows. Chill dough in refrigerator for 1 hour.
While dough is chilling, line jelly-roll pan with parchment paper. Lay out graham crackers side by side, close together; almost touching.
Preheat oven to 375*F.
Place rounded tablespoons of dough on graham crackers. Use your fingertips to gently press down.
Bake for 5 minutes, then remove from oven to press Hershey's bar pieces onto the top.
Bake an additional 5-7 minutes more or until dough is beginning to turn golden brown at the edges. Make sure the cookies are completely cool before cutting, otherwise you'll end up with a doughy mess!
*Mine made 45-46 graham rectangle bars. My dough didn't spread as much as I thought it would, so if you want a thinner, more evenly spread dough, skip the refrigeration part, or smash the dough more before placing on top of the graham cracker.