Oreo Fudge Brownie Pizza
This post may contain affiliate links, meaning that I may receive a commission at no cost to you if you use a link provided. All opinions shared are my own. You can review my full disclosure policy here.
These are the ultimate Oreo brownies! There are plenty of Oreo's inside and out of this dessert pizza, topped with a marshmallow fluff frosting and drizzled in fudge sauce.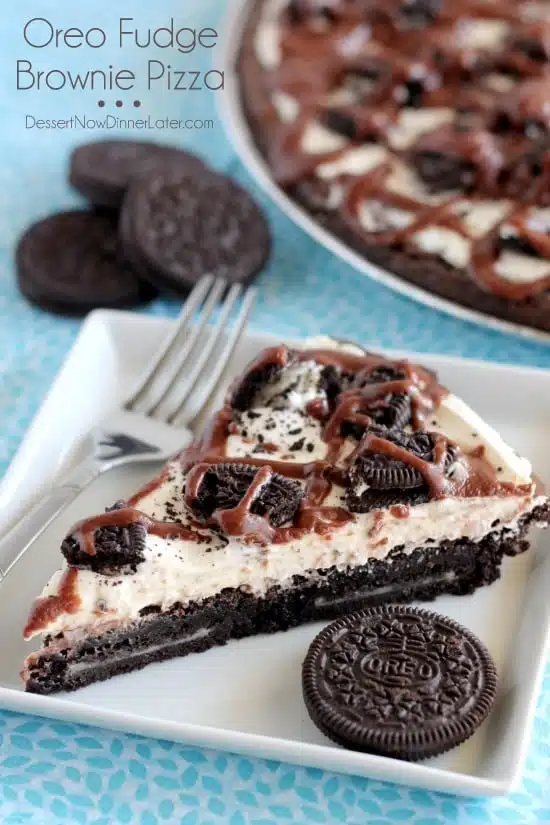 I'm pretty sure you all know about me and my Oreo obsession! I put those addictive little cookies in EVERYTHING! Today's post is just another over-the-top, DELICIOUS recipe using my favorite store-bought cookie!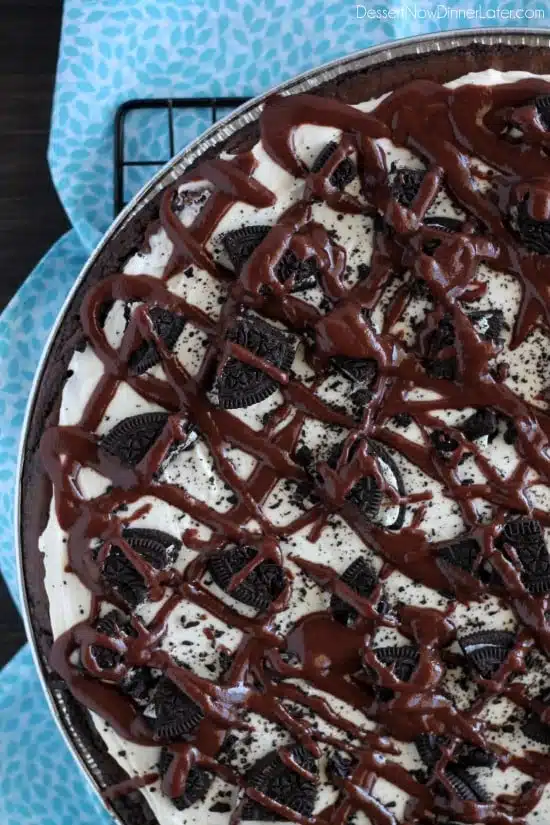 If you want Oreo brownies, this is the way to have them! The Oreos in the batter turn soft like the moist brownies after they're baked. Slather marshmallow fluff frosting on top, and sprinkle some chopped Oreos. Top that all off with a simple fudge sauce and you, my friends, have got yourself the ultimate Oreo brownies! Every bite is sure to have some Oreos!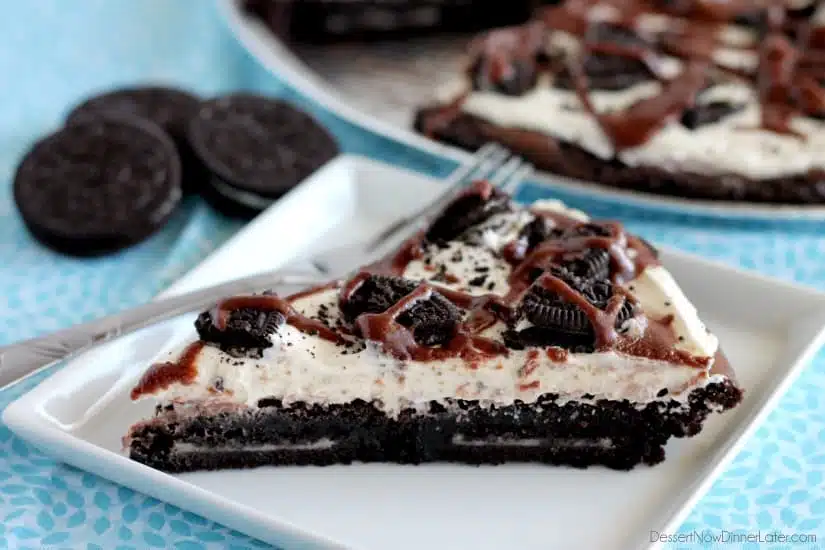 The fun thing about this dessert is that it's shaped like a pizza! Sometimes squares are boring, so I went with triangles this time! Don't you love that you can see the little Oreo cookies in each slice? Let me tell you…I shared a piece with my kids, then went for a run, came home, and had a slice all to myself! They're definitely worth exercising for!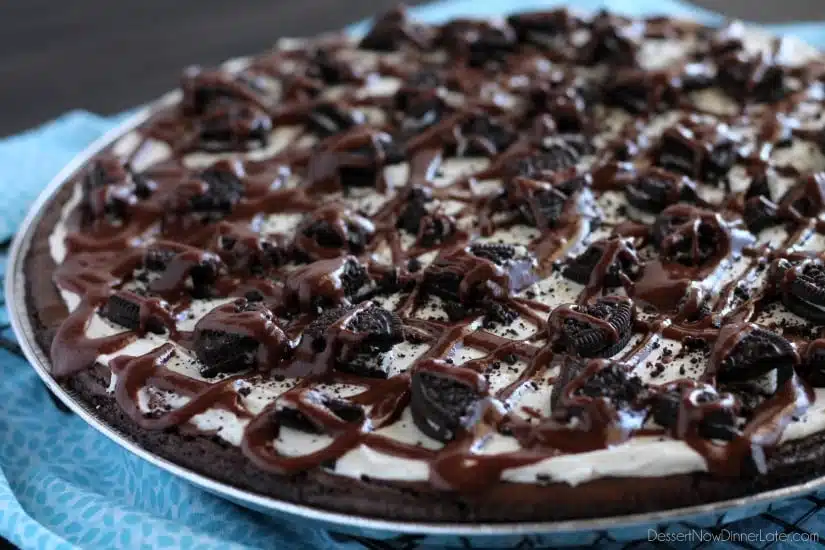 These Oreo brownies should really come with a warning label: DO NOT MAKE AT HOME ALONE! You will easily devour the whole pan yourself, I don't suggest doing that, but these are dangerous! It's a good thing I had my slice and dropped the rest of these at my neighbors' houses. I'm craving them by just looking at the pictures in this post! Enjoy!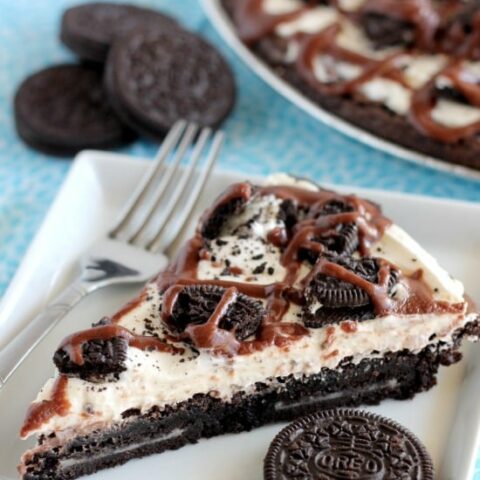 Oreo Fudge Brownie Pizza
Ingredients
For the Brownies:
18 Oreos (for bottom of the pizza pan)
1 (13x9) family size box brownies
2 large eggs
1/4 cup water
1/2 cup oil
For the Frosting:
1/2 cup Crisco shortening
1/2 cup butter
1 cup marshmallow creme or fluff
1 tsp vanilla
1 1/4 cup powdered sugar
10 Oreos, chopped or quartered (depending on the size chunk you want on top)
Fudge Sauce:
2 Tbsp butter
2 Tbsp corn syrup
1/2 cup chocolate chips
*optional 2 tsp HOT water
Instructions
In a large bowl, mix the brownie mix, eggs, water, & oil well.
Lightly grease a 12" rimmed pizza pan (I used a foil one from the dollar store.) Place 18 Oreos in the bottom of the pan. Pour brownie batter over and around the Oreos to evenly fill the pan.
Bake at 350 degrees Fahrenheit for 25 minutes (check doneness with a toothpick.) Remove from oven to cool.
While the brownies bake and cool, make the frosting by beating the shortening and butter in a stand mixer with the paddle attached (or a hand mixer.) Mix in marshmallow creme and vanilla. Slowly mix in powdered sugar. Spread frosting evenly over top of the brownies. Top with chopped Oreos.
Combine the ingredients for the fudge sauce in a bowl. Heat in the microwave for 40 seconds. Stir and drizzle over the brownie pizza. Add water if needed, for a thinner drizzle.
Nutrition Information:
Yield: 16
Amount Per Serving:
Unsaturated Fat: 0g