Cinnamon Brown Sugar Bars
This post may contain affiliate links, meaning that I may receive a commission at no cost to you if you use a link provided. All opinions shared are my own. You can review my full disclosure policy here.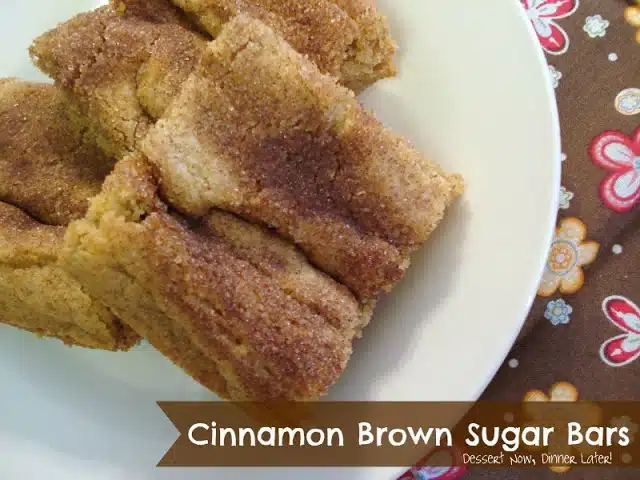 It's Surprise Recipe Swap #2 & my surprise blog is Who Needs A Cape?
These gals are "not your average super moms." They do it all:
Crafts
Entertainment
Family
Fashion
Frugal Living
Fun Times
Health & Fitness
Organization
Recipes
Relationships
Travel
Go check them out & tell them that Amber @ Dessert Now, Dinner Later! sent you! So I decided to go the dessert route again for the swap & I picked their Snickerdoodle Bars.
These bars are absolutely delicious & so not good for you, but what delicious things are? They are darker & richer than a snickerdoodle cookie due to the use of brown sugar compared to white, so I have re-named them Cinnamon Brown Sugar Bars. I feel that resembles the flavors better than that of a snickerdoodle even though I know this recipe is repeatedly blogged by many as a snickerdoodle bar.
Anyway, if you want a super easy dessert that feeds a lot, this is perfect & is sure to cure your sugar cravings. My kids gobbled them up! Enjoy!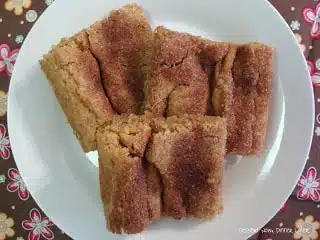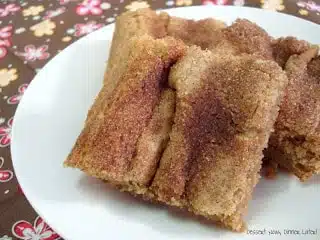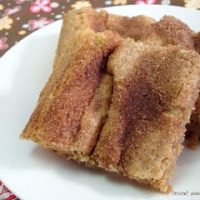 Cinnamon Brown Sugar Bars
Ingredients
2 2/3 cup flour
2 tsp baking powder
1 tsp salt
2 cups brown sugar
1 cup butter, softened
2 eggs, room temperature
1 Tbsp vanilla
2 Tbsp sugar
2 tsp cinnamon
Instructions
Combine flour, baking powder, & salt in a bowl. Set aside.
Cream brown sugar, butter, eggs, & vanilla until light & fluffy making sure everything is combined well. Scrape bowl.
Gradually add flour mixture until just incorporated.
Press into a greased 9x13" pan (I used my mini rolling pin & rolled it flat using a little flour on my pin.) Combine sugar & cinnamon & sprinkle over the top.
Bake at 350*F for 25-30 minutes or until the surface springs back after a gentle push. Cool, cut & serve.
Recipe via Who Needs A Cape? & renamed to suit the dessert better.