Lemon Curd Bars
This post may contain affiliate links, meaning that I may receive a commission at no cost to you if you use a link provided. All opinions shared are my own. You can review my full disclosure policy here.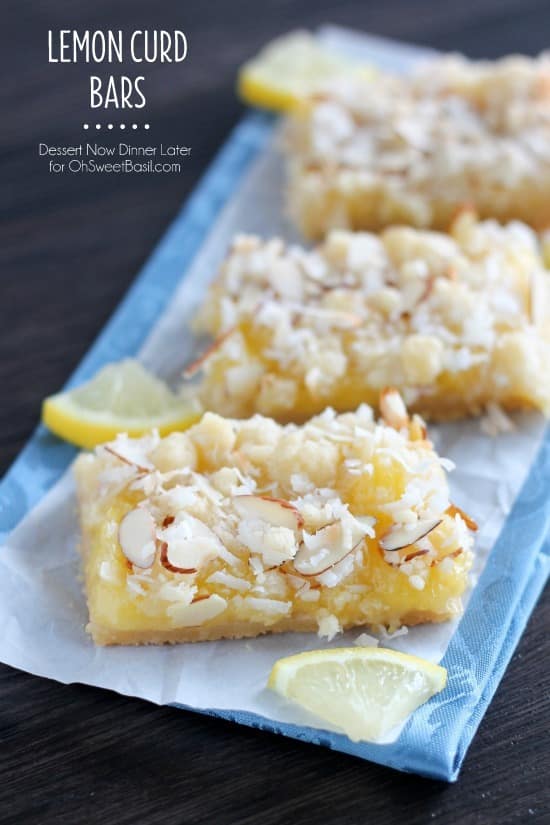 You all know me and my lime addiction. Well, technically it's a citrus addiction. So it applies to all things citrus: lemons, limes, oranges, grapefruit, etc. I just can't get enough sweet stuff with the tang of a citrus fruit! This Lemon Curd Bars recipe is probably fighting for the top of my favorite citrus recipes. I love lemon curd! It's sweet and tangy, creamy and smooth! I could eat it with a spoon, and oftentimes do! Ha!
This recipe is two recipes in one. One for the curd, which you can use for so many things like: lemon meringue pie, to spread on toast, or use in parfaits, etc. It's very versatile, if you don't eat it straight as is. It's addicting!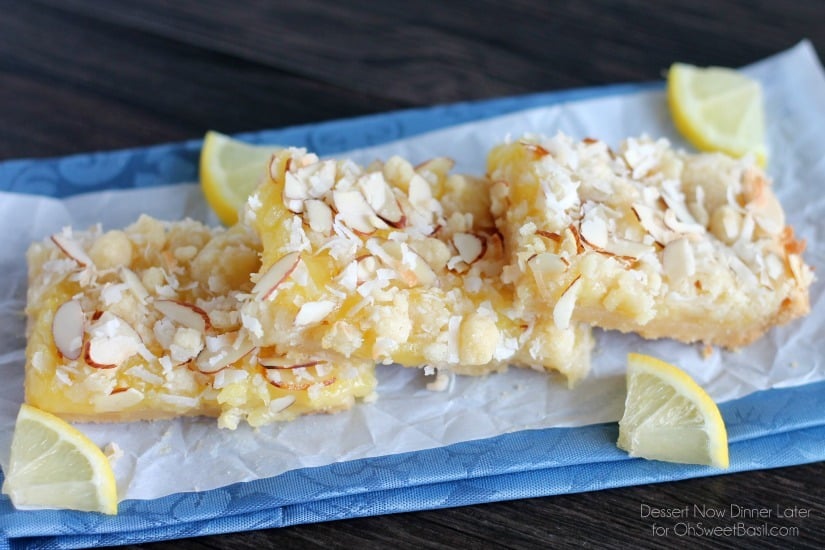 The crust is a shortbread crust, then you top it with the freshly made curd, and then sprinkle this crumb topping with coconut and toasted almonds on top of that. Bake it all up and you get these fabulous bars! Ridiculous I know. They are so good and tropical! A lot like my Coconut Key Lime Bars, but you cook the curd separately, so it's a lot more creamy and less jelly-like.
You are going to love these bars!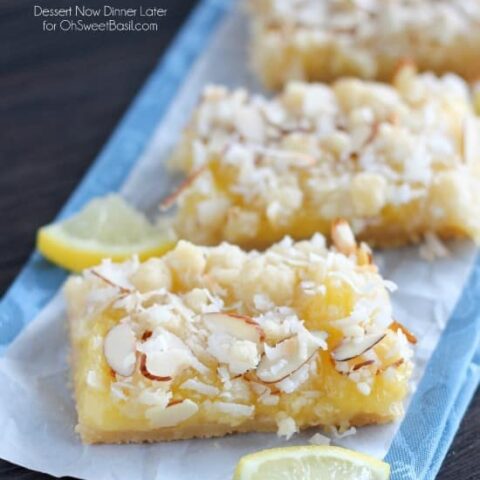 Lemon Curd Bars
Ingredients
Lemon Curd:
3/4 cup sugar
1 Tbsp lemon zest
3/4 cup lemon juice
1/2 cup butter, cut up into cubes
3 eggs
Crust/Topping:
1 cup butter, softened
1 cup sugar
2 cups all-purpose flour
1/2 tsp baking soda
2/3 cup coconut flakes
1/2 cup sliced almonds, toasted
Instructions
Prepare curd by whisking the sugar, lemon zest, lemon juice and butter cubes in a small saucepan over medium-low heat (use number 4 out of 10 on your stovetop dial).
Once butter is melted, whisk in eggs, one at a time, incorporating thoroughly. Whisk constantly until the mixture thickens and bubbles start to come to the surface; about 15 minutes. (*You must whisk the entire time, or the eggs might curdle and cook separately from the curd. If you are extra worried about it, just use the egg yolks instead of the whole egg, but if you are whisking the entire time, you should be fine.)
Once the curd is thick and starting to boil, remove the pan from the heat, and let the curd cool slightly in the refrigerator until ready to use. (It thickens more as it cools.)
Preheat oven to 350 degrees Fahrenheit. In the bowl of a stand mixer, cream butter and sugar until light and fluffy. Combine flour and baking soda; gradually add to creamed mixture and mix well.
Set aside 1 cup of mixture for the topping; press remaining mixture onto the bottom of a lightly greased 13x9" baking dish. Bake for 12 to 15 minutes or until edges are lightly browned. Cool for 10 minutes.
Spread lemon curd over crust. In a small bowl, combine the coconut, toasted almonds and reserved topping mixture. Sprinkle over lemon curd.
Bake for an additional 18 to 22 minutes or until golden brown. Cool completely on a wire rack. Cut into bars. Store in an airtight container in the refrigerator. These taste the best after they have been chilled.
Notes
Lemon Curd Recipe from
AllRecipes
, and re-written with notes from experience.
Bar recipe lightly altered from
Taste of Home
.
Nutrition Information:
Yield: 12
Amount Per Serving:
Unsaturated Fat: 0g
*Recipe added 9/10/15. Also seen on Oh Sweet Basil.