Savory Pork Roast with Pan Gravy with Sweet Potato & Apple Mash
This post may contain affiliate links, meaning that I may receive a commission at no cost to you if you use a link provided. All opinions shared are my own. You can review my full disclosure policy here.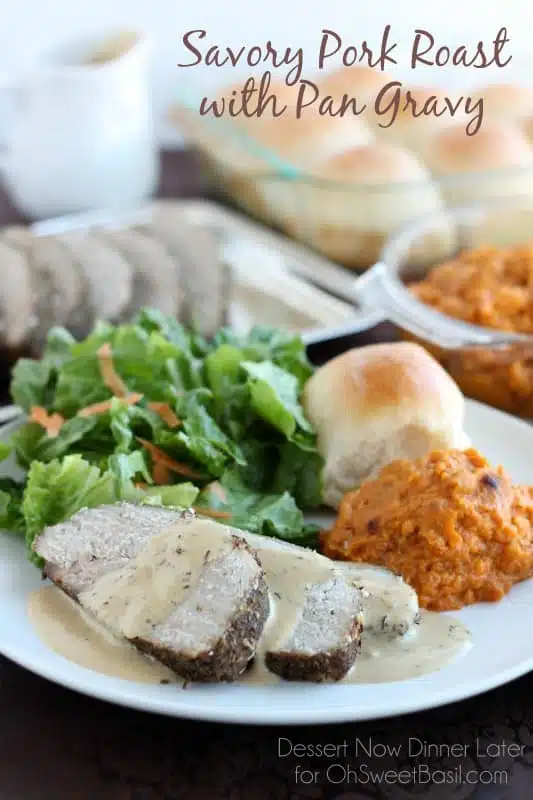 You guys have no idea how excited I am about today's post! It's one of those meals that you HAVE to make! Seriously! If you want to impress your guests or just have a really nice Sunday dinner, then you NEED to make this! It's a recipe my mom gave me that came out of this really old cookbook. The dry rub makes this pork incredibly flavorful and it's cooked low and slow in the oven, so it's pretty darn tender once it comes out.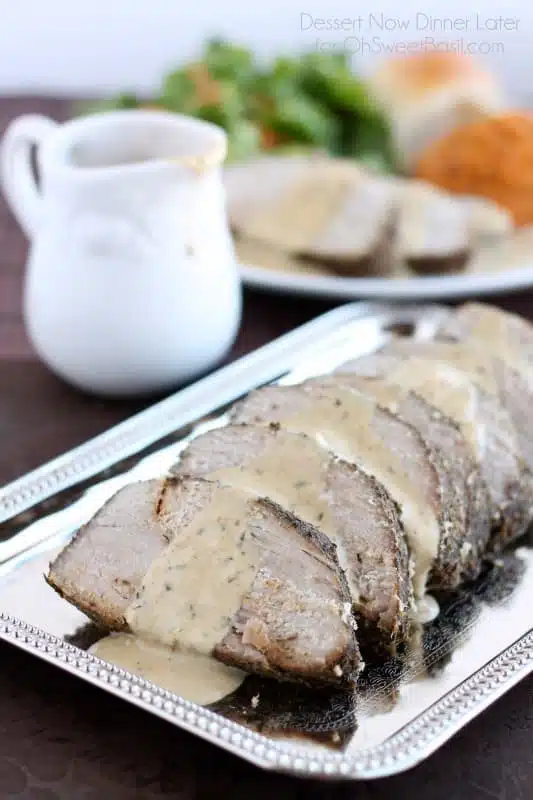 I added on the gravy recipe myself, which, if you have never had pan gravy, gives you a second reason why you NEED to make this! It takes all the flavors that got stuck on the pan, you deglaze it with a little chicken broth (which softens and lifts up the stuck on spices), add some cream, thicken it with a cornstarch slurry and you are in gravy heaven! I am not even kidding, it's so good! I really hope these pictures are making your mouth water right now because I am already hungry for more savory pork roast from just looking at the photos!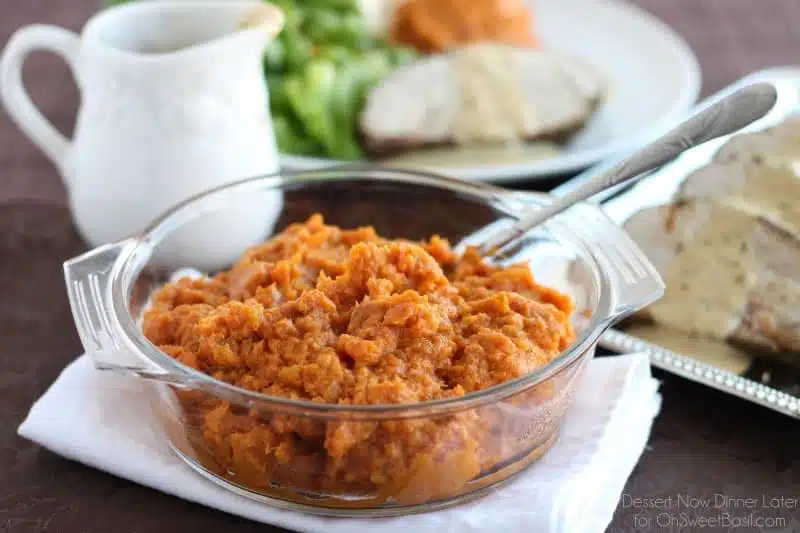 Oh and you can call this bonus recipe day because I'm sharing 3 recipes in one post! You are getting the Savory Pork Roast recipe, the Pan Gravy recipe, and I am also including a recipe for the most amazing Sweet Potato & Apple Mash! Seriously! Sweet and savory never tasted so good in a mashed potato! Make this for your next Sunday Supper! You can even have it all cooking while you are in church! That's what we do! Enjoy!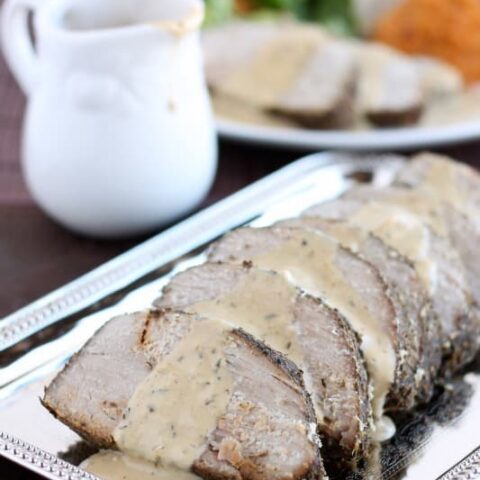 Savory Pork Roast with Pan Gravy
Make sunday supper special with a savory dry rubbed pork roast cooked slow to produce tender, flavorful meat. Don't forget the gravy! It's made in the pan with all the wonderful flavors left behind from the meat.
Ingredients
3 lbs pork roast sirloin, or tenderloin
1-2 tsp salt (depending on salt tolerance)
2 tsp dried crushed rosemary
1 1/2 tsp dried oregano leaves
1 1/2 tsp dried thyme leaves
1 1/2 tsp ground sage
1/4 tsp ground black pepper
1/4 tsp ground nutmeg
1/2 cup low sodium chicken broth
1/2 cup heavy cream
1 Tbsp cornstarch
1 Tbsp cold water
Instructions
Combine the salt, rosemary, oregano, thyme, sage, black pepper and nutmeg. Rub onto all sides of the pork roast. Place the seasoned pork in a lightly greased baking dish. Cover the dish with foil and bake low and slow at 300 degrees Fahrenheit for 2 to 3 hours or until the internal temperature of the pork reaches 155 degrees Fahrenheit.
Remove the pork roast from the pan and place it onto a cutting board. Cover the pork with the foil and allow it to rest before slicing.
Make the pan gravy while the roast rests. Place the pan that held the roast, including any drippings or liquid from the pork (there wasn't much liquid from our roast), on the stovetop over medium heat. Add the chicken broth to deglaze the pan (lift up the bits of flavor that got baked onto the pan) then add the heavy cream and wait for the mixture to reach a boil.
In a small dish, combine the cornstarch and cold water to make a slurry. Add the slurry to the gravy once it's reached a full rolling boil. Whisk briskly until it thickens (should happen fairly quickly.) *It's important for the cornstarch slurry to be cold so when it hits the boiling gravy it creates the chemical reaction needed for the gravy to thicken. Turn off the heat and pour the pan gravy into a gravy dish.
Slice pork and serve it with the pan gravy.
Nutrition Information:
Yield: 6
Amount Per Serving:
Unsaturated Fat: 0g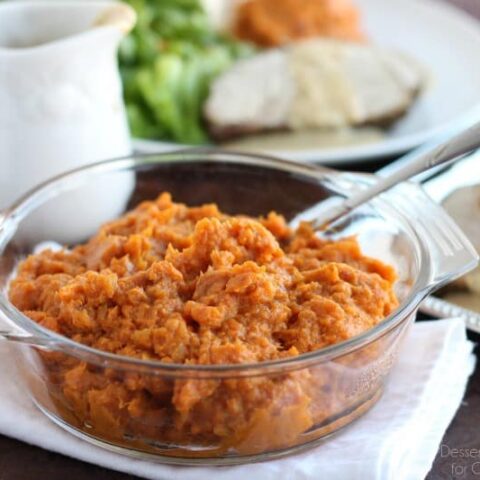 Sweet Potato & Apple Mash
Sweet and savory, smooth and delicious. This is the perfect side dish for many meats.
Ingredients
4 small/medium sweet potatoes or yams
2 small/medium apples (we like to use a sweet apple like braeburn, fuji, or gala)
1 1/2 Tbsp pure olive oil
1 tsp ground cinnamon
1 tsp ground ginger
1 tsp salt
1/2 tsp ground black pepper
1 Tbsp butter, optional
Instructions
Peel the sweet potatoes and apples. Core the apples and cut both the apples and sweet potatoes into small 1" cubes. Place them in a large bowl.
Add the olive oil, cinnamon, ginger, salt, and pepper. Toss the mixture so everything is evenly coated. Pour the seasoned sweet potato and apple cubes into a lightly greased 9x13" baking dish. Cover the dish with foil and bake at 300 degrees Fahrenheit for 2 to 3 hours or at 350 degrees Fahrenheit for 35 to 45 minutes or until tender.
Using a potato masher, mash the sweet potato mixture until desired texture is achieved. Add butter, optional. The mixture should be moist since the foil trapped in the steam. Taste and adjust the seasonings if needed.
Nutrition Information:
Yield: 4
Amount Per Serving:
Unsaturated Fat: 0g
Recipes added 9/10/15. Also seen on Oh Sweet Basil.