Chocolate Thin Mint Ice Cream
This post may contain affiliate links, meaning that I may receive a commission at no cost to you if you use a link provided. All opinions shared are my own. You can review my full disclosure policy here.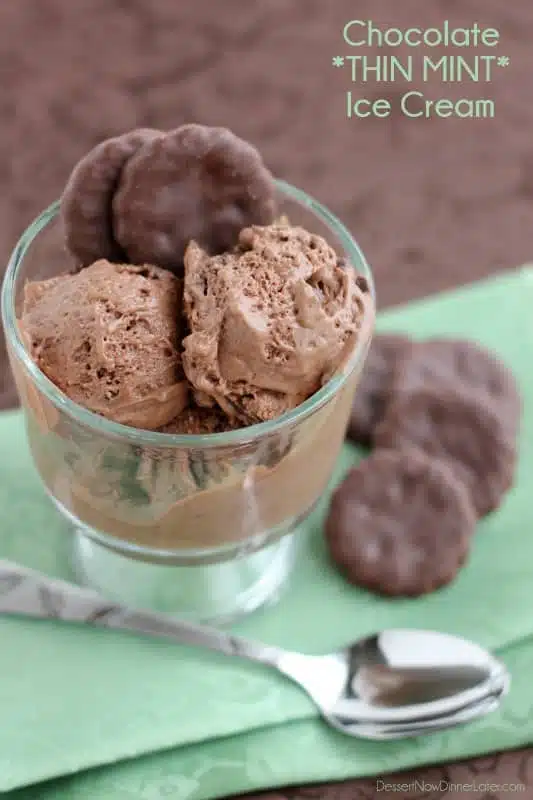 So, you all know what's coming up March 1st don't you? Well, that's the day that I am supposed to get my girl scout cookies that I ordered! I know how precious those little cookies are. You buy a bunch of boxes to stalk up for the whole year, so I completely understand if there is no way on earth you would use your precious thin mints in a recipe like this, but I have good news for you! You don't have to! Nope! Did you know that Keebler sells a copycat thin mint cookie called, "Grasshopper Mint & Fudge Cookies?" Yep! Which are pretty good I might add. Definitely not the same, but close. So you can make this recipe with those, but Chocolate Thin Mint Ice Cream is catchier than Chocolate Grasshopper Ice Cream, right? So that is how I decided to title this recipe.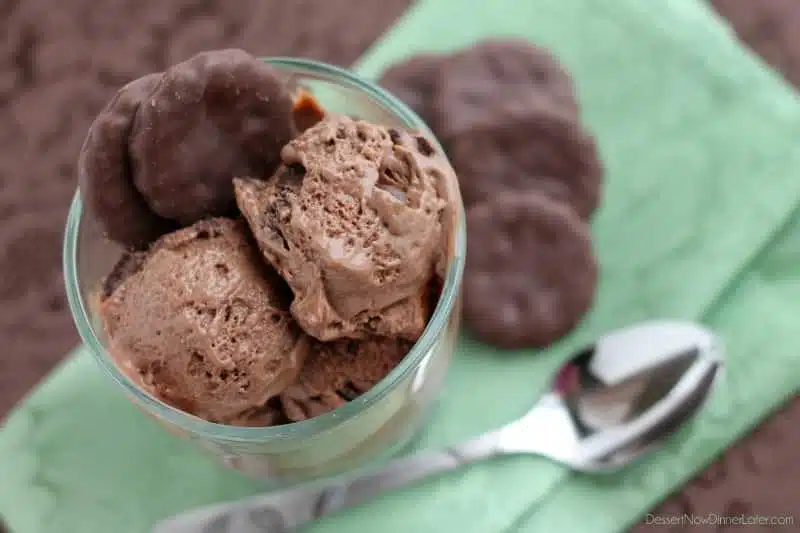 I don't make ice cream a lot, but when I do it's pretty easy. Cream, sugar, mix-ins, okay? So this ice cream is a little more "high maintenance," but is so worth the time! You make this thin mint custard the night before, which is fabulous pudding by itself, and then refrigerate it overnight. I almost canned this recipe and went for some sort of trifle with the custard, but I got focused and stuck with my plan of ice cream and I am glad that I did. It is seriously the creamiest ice cream I have had.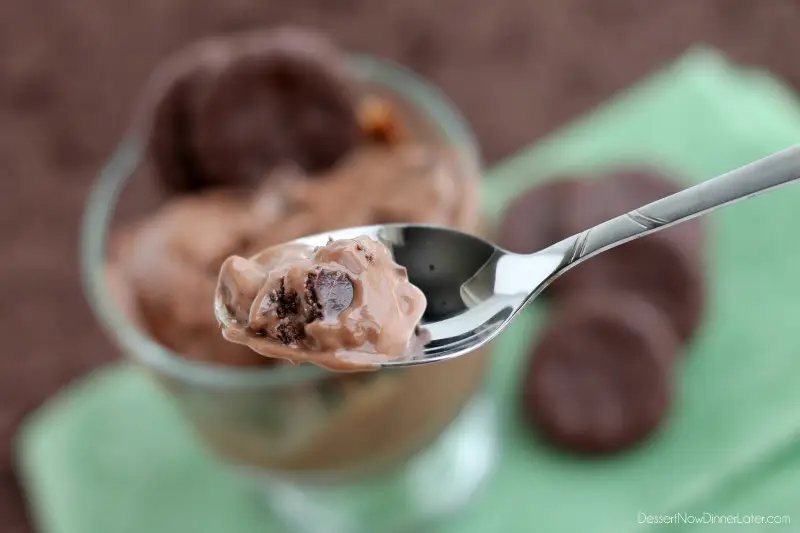 Now this ice cream is pretty darn rich, just warning you…so small servings okay? It's very chocolatey and has that hint of mint, and I absolutely love the chunks of cookies in it. Did you see my post on Sunday for Key Lime Pie Ice Cream? It explains my love for soft chewy mix-ins for my ice cream. Anyway, so you should buy the cheap, delicious Keebler Grasshopper cookies and make this ice cream. You won't regret it!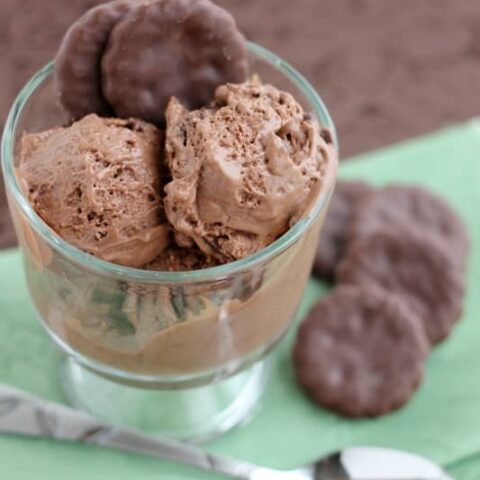 Chocolate Thin Mint Ice Cream
Ingredients
6 egg yolks
1/2 cup sugar
3 tablespoons cocoa powder
1 1/2 cups whole milk
1 1/2 cups heavy cream
28 Thin Mints/Grasshopper cookies, divided
5 ounces semi-sweet chocolate chips (about 2/3 cup)
1/2 teaspoon kosher salt
Instructions
In a medium saucepan off heat, whisk together egg yolks and sugar until light in color and slightly thickened, 3 to 5 minutes. Whisk in cocoa powder until no lumps remain. Slowly add whole milk and heavy cream, whisking constantly. Finely chop 10 Thin Mints (crumbs should be no larger than a pea) and stir into dairy.
Put saucepan on medium-low heat and cook, whisking frequently, until custard reaches 180°F on an instant read thermometer (happens right before it boils; it will thicken suddenly.) Remove custard from heat and stir in chocolate chips, then salt to taste.
When chocolate is fully melted and incorporated, transfer into an airtight container and chill overnight in the refrigerator.
The next day, churn in an ice cream maker according to manufacturer's instructions. Roughly chop the 18 remaining Thin Mints; chunks should range from pea to nickle-sized. In the last minute of churn, add chopped Thin Mints. Return ice cream to container and chill in freezer for at least two hours before serving.
Notes
*You may substitute 3 cups of half and half in place of the whole milk and heavy cream.
Nutrition Information:
Yield: 8
Amount Per Serving:
Unsaturated Fat: 0g
Recipe lightly altered from Serious Eats
Like Mint Chocolate Recipes? How about these: