Frosted Chocolate Sugar Cookies
This post may contain affiliate links, meaning that I may receive a commission at no cost to you if you use a link provided. All opinions shared are my own. You can review my full disclosure policy here.
Fudgy dark chocolate sugar cookies are frosted with a creamy chocolate buttercream frosting. Inspired by Swig's Dirtball Cookie, these frosted chocolate sugar cookies are sure to be a new favorite!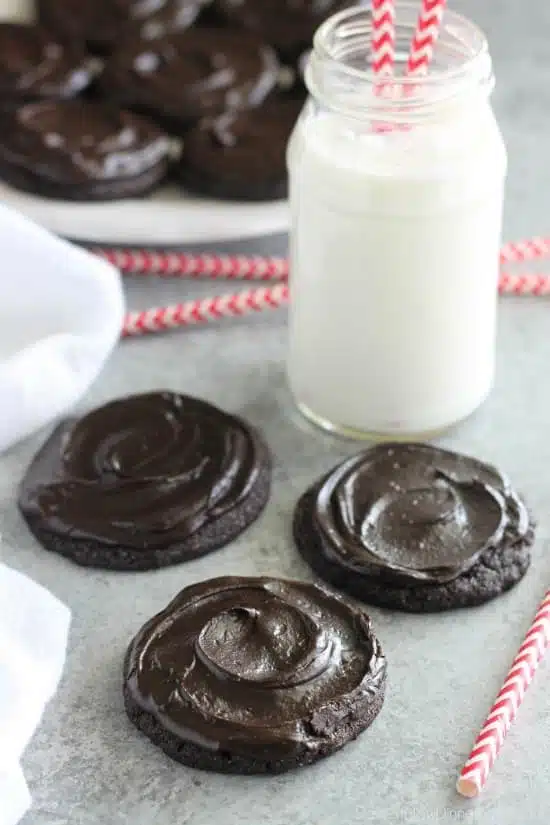 This month I am celebrating my blog's 5th birthday/ anniversary/ blogiversary … whatever you want to call it. To celebrate, I felt like recreating one of my favorite desserts – Swig's Dirtball Cookie, which is basically a frosted chocolate sugar cookie. Not only are we are celebrating with cookies today, but we are also celebrating with presents. Presents in the form of one of YOU winning an awesome prize pack of kitchen tools!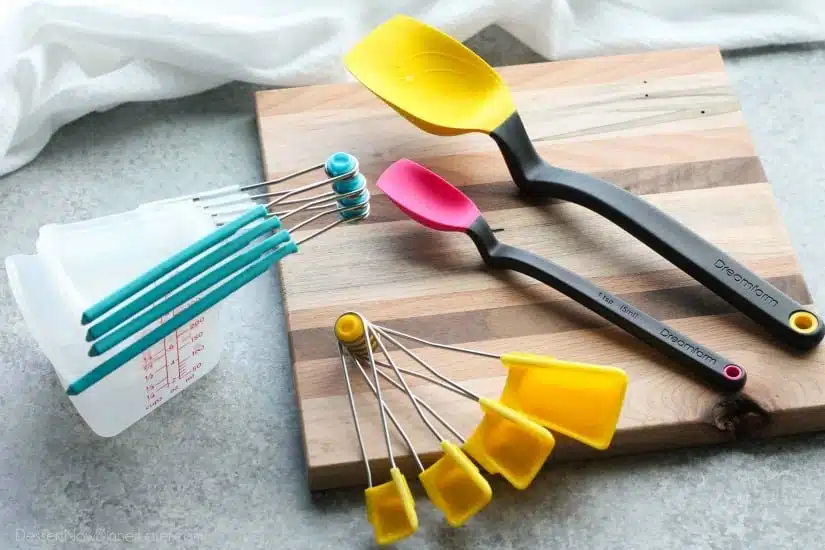 I've been eyeing the Levoons and Levups from Dreamfarm since last Christmas, and lucky for me, the company reached out to let me try them, and give some away to you! YAY! The Levoons and Levups do exactly what they sound like: Level your measuring spoons and cups evenly, making baking a lot more accurate than my lazy, un-level way of measuring. Baking is a science after all, which makes level measuring important.
The Levoons and Levups also clip together for easy storage, but I love that they snap apart so I can use one at a time.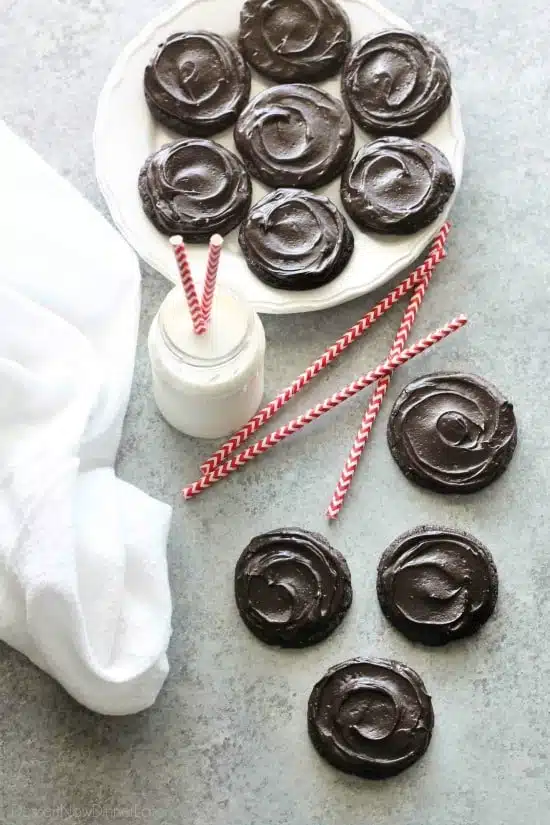 Now, let's talk about today's recipe for Frosted Chocolate Sugar Cookies. If you are from Utah like me, you probably know about the soda shop craze that we have here. They are popping up EVERYWHERE. There are a variety of different ones. The best one in my town is Swig. I was a FIIZ fan until I moved and now the closest FIIZ to me is 30 minutes away. Thank goodness Swig moved into town! Anyway, I used to love getting the sugar cookie at FIIZ. The one at Swig seemed dry to me, but my friend Nikki took me to Swig one day and told me to get the Dirtball Cookie and it has forever changed my life! Delicious!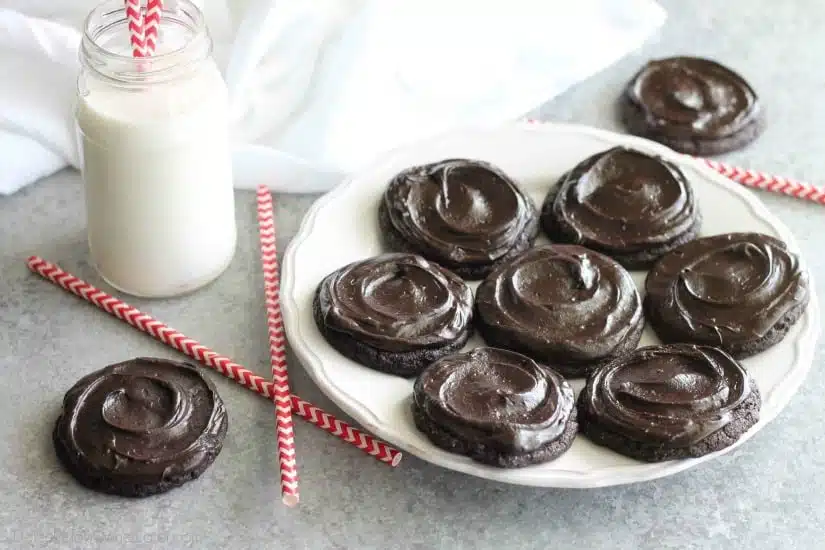 Dirtball cookies are HUGE, thick, fudgy, dense, almost brownie-like cookies topped with chocolate frosting. So of course, I had to research some recipes, and alter them to come up with a recipe of my own. These are obviously smaller, which means you can eat more than one, but this way you can share too.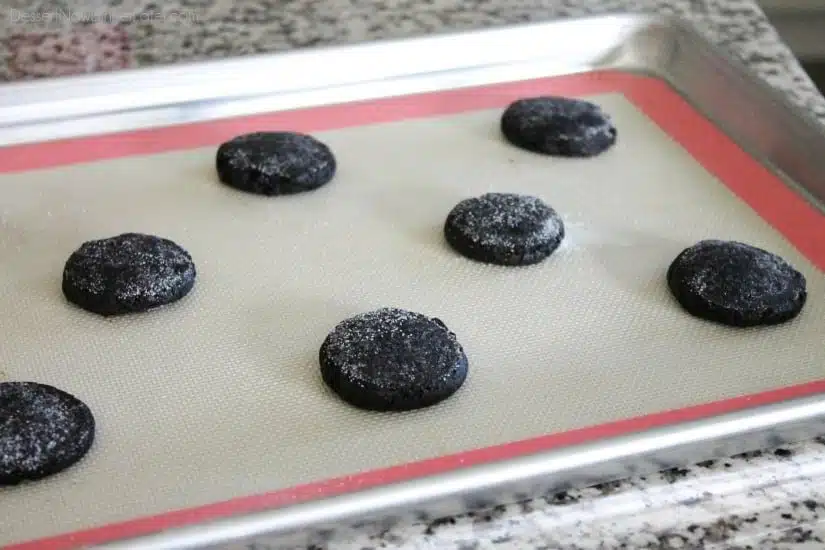 The most important thing is to not press the chocolate sugar cookies too thin before baking. About 1/2-inch thick is thin enough. Then do your absolute best not to over-bake them. These chocolate sugar cookies literally take 6 minutes to bake. For real! Think about how fast you'll be popping these bad boys out of your oven! Fast enough to make a second batch. 😉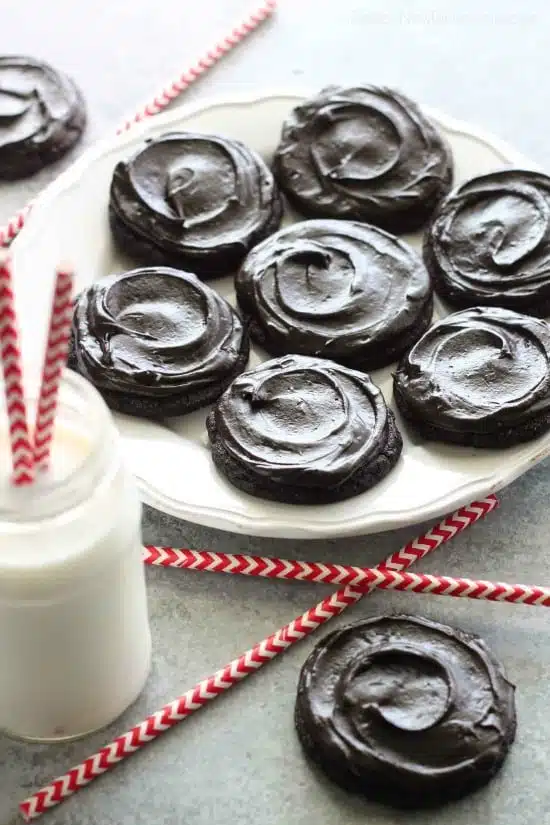 The chocolate frosting on top of these chocolate sugar cookies is made with half butter and half coconut oil. It's my favorite way to make "buttercream," although if you don't have coconut oil, all butter is fine. Coconut oil is a healthy fat and helps add stability to the frosting. Anyway, this recipe has lots of cocoa and extra milk to make it decadent and creamy! I won't even tell you how many I ate when I first made them — okay, five! I'm not even sorry about it. I hope you get the chance to try these frosted chocolate sugar cookies! They would make great cookies for a Christmas cookie exchange party. Enjoy my friends and enter the giveaway below the recipe! Happy 5th Blogiversary to me!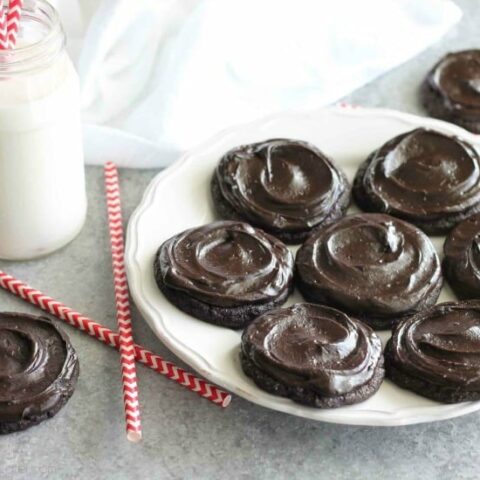 Frosted Chocolate Sugar Cookies
Prep Time: 15 minutes
Cook Time: 6 minutes
Total Time: 21 minutes
Yield: 40 to 44 cookies
Ingredients
Cookies:
1 cup (2 sticks) unsalted butter, room temperature
1 cup brown sugar
1/2 cup granulated sugar
2 tsp pure vanilla extract
2 large eggs (extra large eggs preferred)
2 cups all-purpose flour
1 tsp baking soda
2 tsp cornstarch
1 cup cocoa powder (I used dark cocoa powder)
extra granulated sugar for flattening the cookies (1/4 cup)
Frosting:
4 Tbsp unsalted butter, room temperature
4 Tbsp coconut oil, room temperature (can use all butter, if desired)
3 cups powdered sugar, sifted
2/3 cup cocoa powder (I used dark cocoa powder), sifted
1/4 tsp salt
2 tsp vanilla
1/3 cup milk (+ additional teaspoons until desired consistency)
Instructions
Line baking trays with parchment paper or silicone baking mats. Preheat oven to 350 degrees Fahrenheit.
In the bowl of a stand mixer with the paddle attachment, cream the butter and sugars. Add the vanilla and eggs. Beat until smooth.
Sift in the flour, baking soda, cornstarch, and cocoa powder. Stir until combined.
Scoop the cookie dough and round into balls (about 1½ Tbsp each). Place on prepared baking sheets, 2-inches apart. Flatten to ½-inch thick with the bottom of a drinking glass dipped in sugar to prevent sticking.
Bake for 6 minutes. Remove from oven and rest on baking sheet for a couple minutes before transferring to a wire rack to cool completely.
With an electric hand mixer and a large bowl, beat the butter and coconut oil together until smooth. Add the sifted powdered sugar, cocoa powder, and salt. Then add the vanilla and milk. Mix thoroughly. Add extra milk 1 teaspoon at a time to desired consistency.
Spread frosting over cooled cookies and enjoy! Store cookies in a sealed container at room temperature up to 5 days.
Nutrition Information:
Yield: 40
Serving Size: 1 cookie
Amount Per Serving:
Calories: 131
Total Fat: 4g
Saturated Fat: 2g
Trans Fat: 0g
Unsaturated Fat: 1g
Cholesterol: 13mg
Sodium: 57mg
Carbohydrates: 23g
Fiber: 1g
Sugar: 16g
Protein: 2g
This data was provided and calculated by Nutritionix, and is an estimation only.
Giveaway available to U.S. Residents 18 years and older. The winning entry will be confirmed, and the winner notified via email. Good luck!