Skinny Seven Layer Dip
This post may contain affiliate links, meaning that I may receive a commission at no cost to you if you use a link provided. All opinions shared are my own. You can review my full disclosure policy here.
This Skinny Seven Layer Dip is loaded with fresh veggies, and makes a great appetizer or snack for any party or barbecue!  
*This post is brought to you by Harvest Stone®. Thanks for supporting the brands that make Dessert Now Dinner Later possible.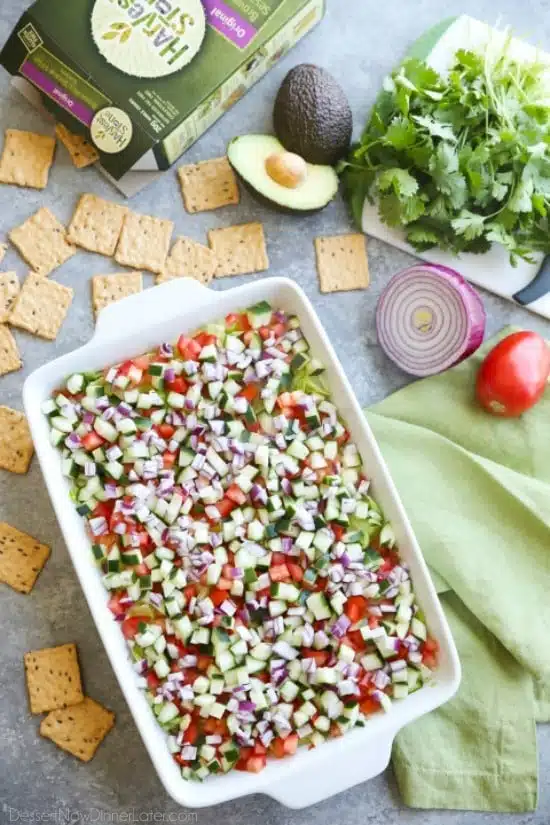 I saw a meme in my instagram feed about a month ago that said, "When you realize summer is right around the corner…" and the picture is a Google search bar that says, "How to lose 30 pounds in 1 second." Haha! That's totally how I feel, but it's okay. I'm all about moderation, or modifying recipes, and today's recipe takes classic seven layer dip, and turns it into skinny seven layer dip with a few simple swaps.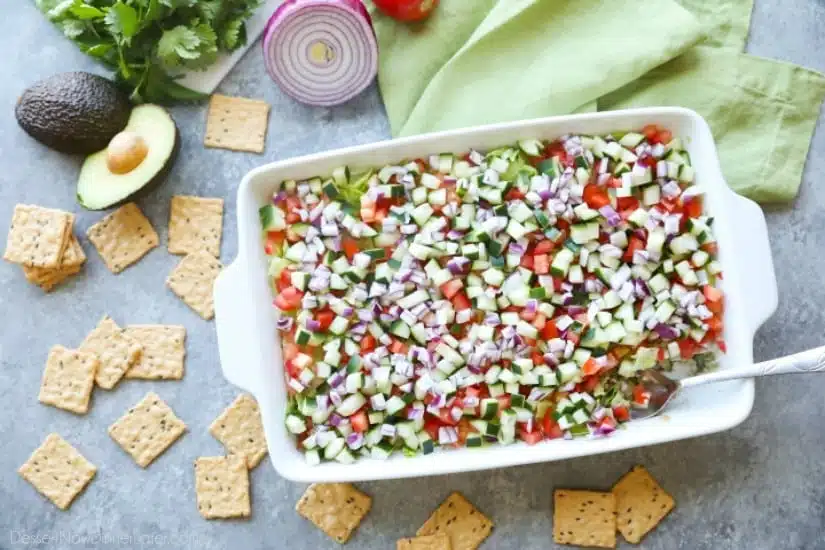 This skinny seven layer dip starts with the usual – a bean layer (I did black beans instead of refried beans) and an avocado/guacamole layer. The next few layers are where the most modifications come in to make this seven layer dip better for you. I did non-fat Greek yogurt instead of sour cream, shredded lettuce instead of shredded cheese, and then I piled on the veggies — tomatoes, cucumbers, and onion.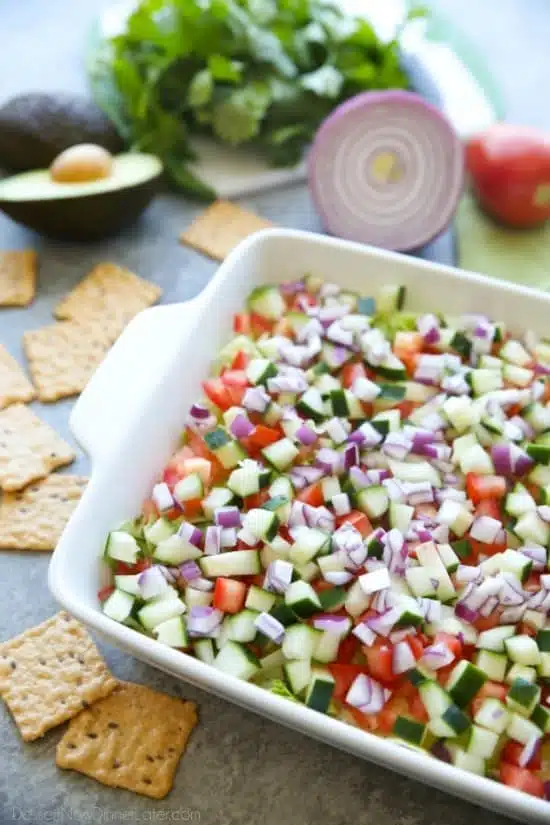 The results are a fresh, crunchy, flavorful, and satisfying party dip! Now you don't want to ruin a wholesome dip like this with tortilla chips, so I served it with Harvest Stone® crackers because they are USDA organic, certified gluten-free and non-GMO. The Original Brown Rice, Sesame & Flax Crackers (pictured) are great, but there are lots of flavors to choose from that would be equally as delicious. They are crisp, with the right amount of saltiness, and I love that they are better for you.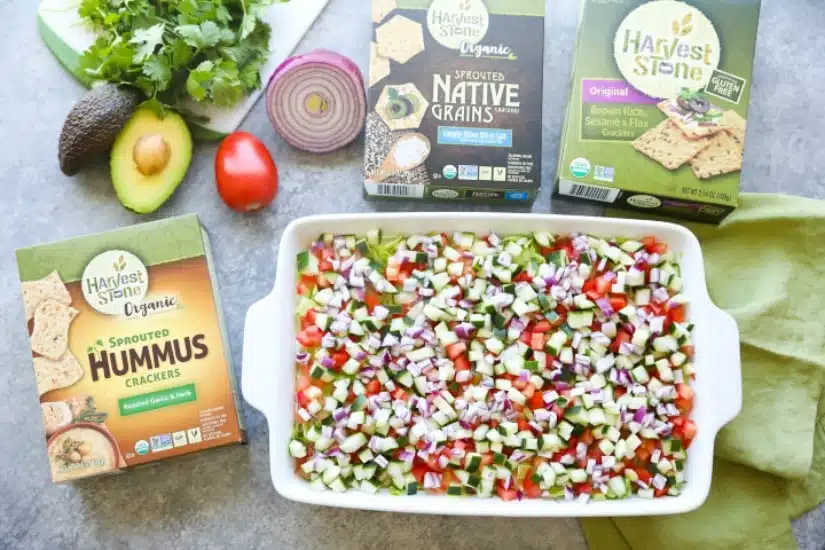 So with the fourth of July and barbecue season upon us, don't sacrifice your healthy lifestyle. Bring this dip and Harvest Stone® crackers to the party! Then you're sure to have something nutritious to eat. I'm betting your friends will even like it too!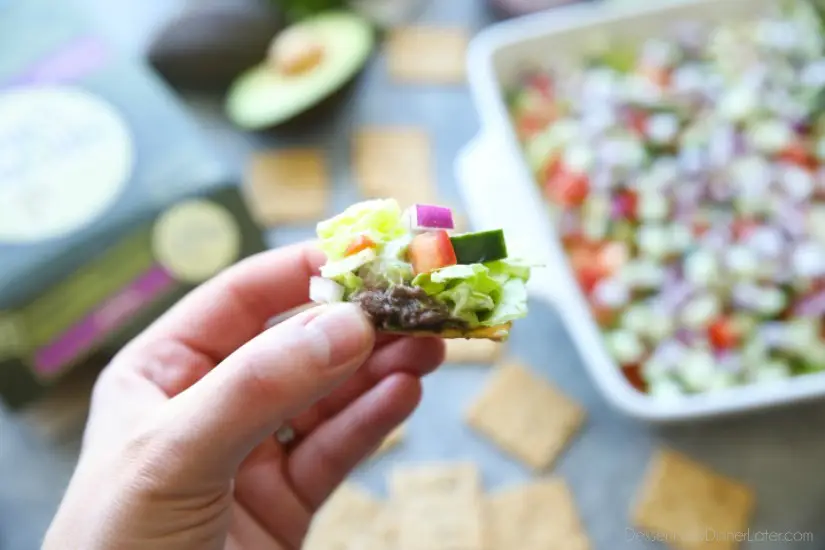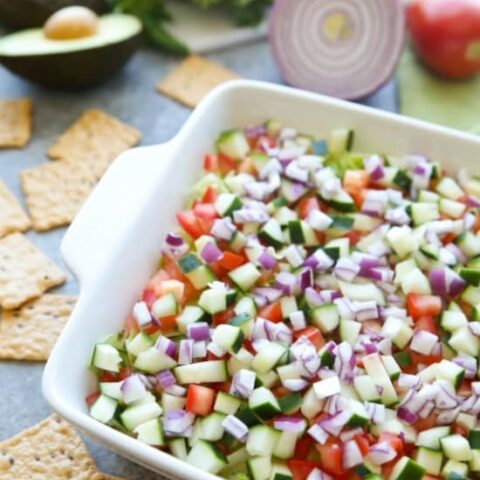 Skinny Seven Layer Dip
Prep Time: 25 minutes
Total Time: 25 minutes
Yield: 8 servings
Ingredients
Bean Layer:
1 (15oz) can low sodium black beans, drained and rinsed
1 jalapeno pepper, stem and seeds removed (keep a few seeds for more heat)
2 Tbsp lime juice
2 Tbsp water
1/2 cup cilantro, stems removed
1 tsp ground cumin
salt and pepper, to taste
Avocado Layer:
3 avocados, pitted and flesh removed from skin
1/3 cup cilantro, stems removed
2 Tbsp lime juice
salt and pepper, to taste
Other Ingredients:
1 cup non-fat plain Greek yogurt
2 cups chopped iceberg lettuce
3 Roma tomatoes, seeded and chopped (about 1 1/2 cups)
1 cucumber, seeded and diced (about 1 cup)
1/2 small red onion, diced (about 1/4 cup)
Harvest Stone® Original Brown Rice Sesame & Flax Crackers
Instructions
Bean Layer:
In a food processor or blender, combine all ingredients and blend until smooth.
Season with salt and pepper to taste.
Avocado Layer:
In a food processor or blender, pulse all ingredients until mixed, but still chunky.
Season with salt and pepper to taste.
To Assemble:
Spread the beans in an even layer on the bottom of a 9x13-inch baking dish.
Spread the avocado in an even layer on top of the beans.
Spread the Greek yogurt in an even layer on top of the avocado.
Sprinkle with lettuce, tomatoes, cucumber, and red onion in the respective order.
Serve immediately with Harvest Stone Crackers. Cover and refrigerate any leftovers.
Nutrition Information:
Yield: 8
Amount Per Serving:
Unsaturated Fat: 0g