Easy Caramel Apple Cinnamon Rolls
This post may contain affiliate links, meaning that I may receive a commission at no cost to you if you use a link provided. All opinions shared are my own. You can review my full disclosure policy here.
Caramel Apple Cinnamon Rolls are a twist on caramel pecan rolls, with fresh apples instead of nuts. They're made easy with frozen cinnamon rolls so half the work is done for you! A great breakfast or dessert in the Fall, on holidays, or the weekend.
*This post is brought to you by Rhodes Bake-N-Serv. Thanks for supporting the brands that make Dessert Now Dinner Later possible.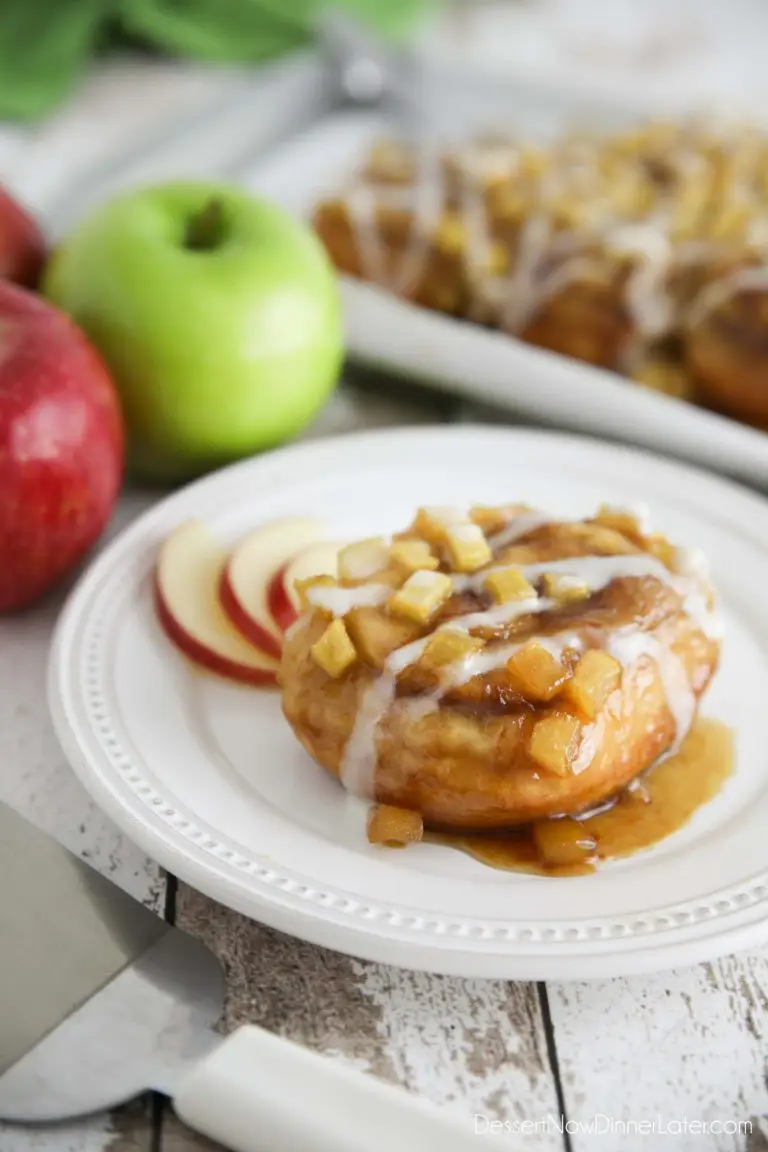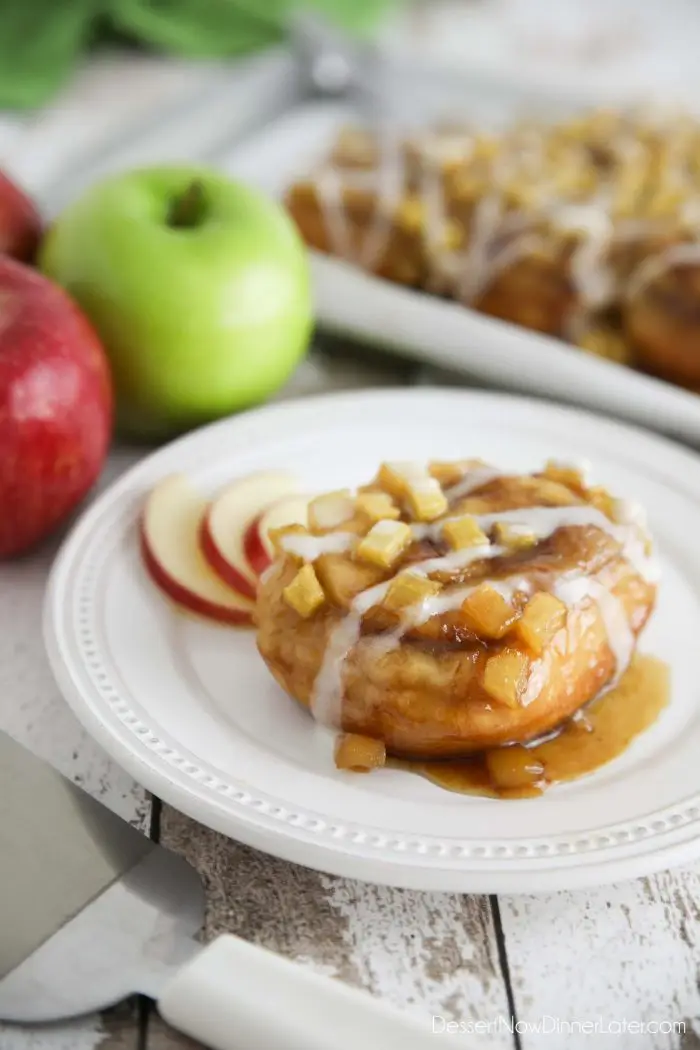 Last year I made these Rhodes Caramel Pecan Rolls and wondered, "If I swapped the nuts for apples, would it still work out?"
The sauce isn't quite as thick, but it still worked like a dream for these caramel apple cinnamon rolls. The apples were nice and tender, plus the little packet of cream cheese frosting tastes great with it too.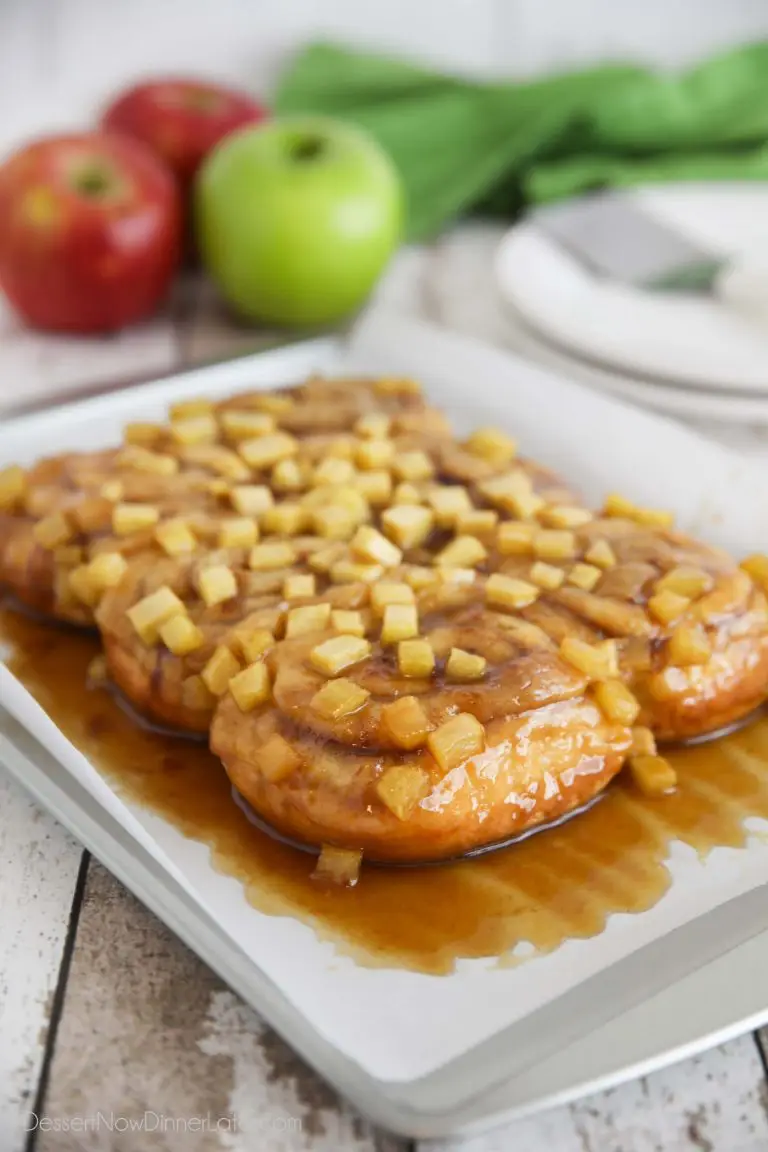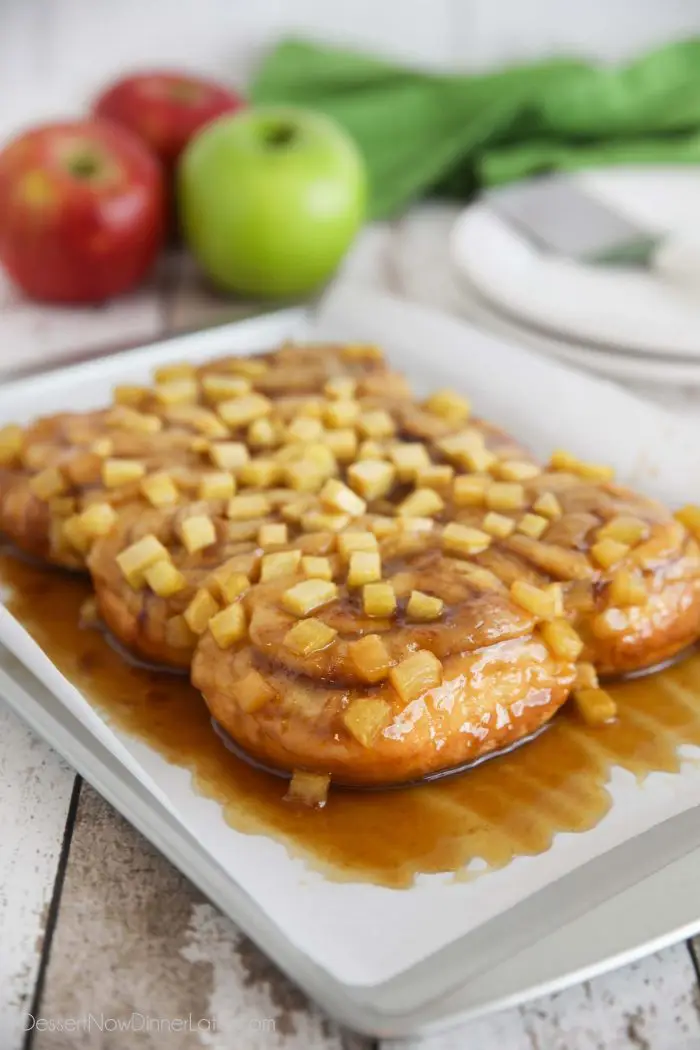 The Best Store-Bought Cinnamon Rolls
Because apples release liquid when they bake, I knew I wanted to get these caramel apples cinnamon rolls in the oven as quickly as possible.
I opted to use Rhodes AnyTime® Cinnamon Rolls. These are different than the Rhodes thaw, rise, and bake cinnamon rolls because you can bake them right away. Both taste amazing and like they're homemade.
Rhodes rolls are made with REAL yeast dough and don't have preservatives in them, so they taste fresh and are best eaten within a couple of days.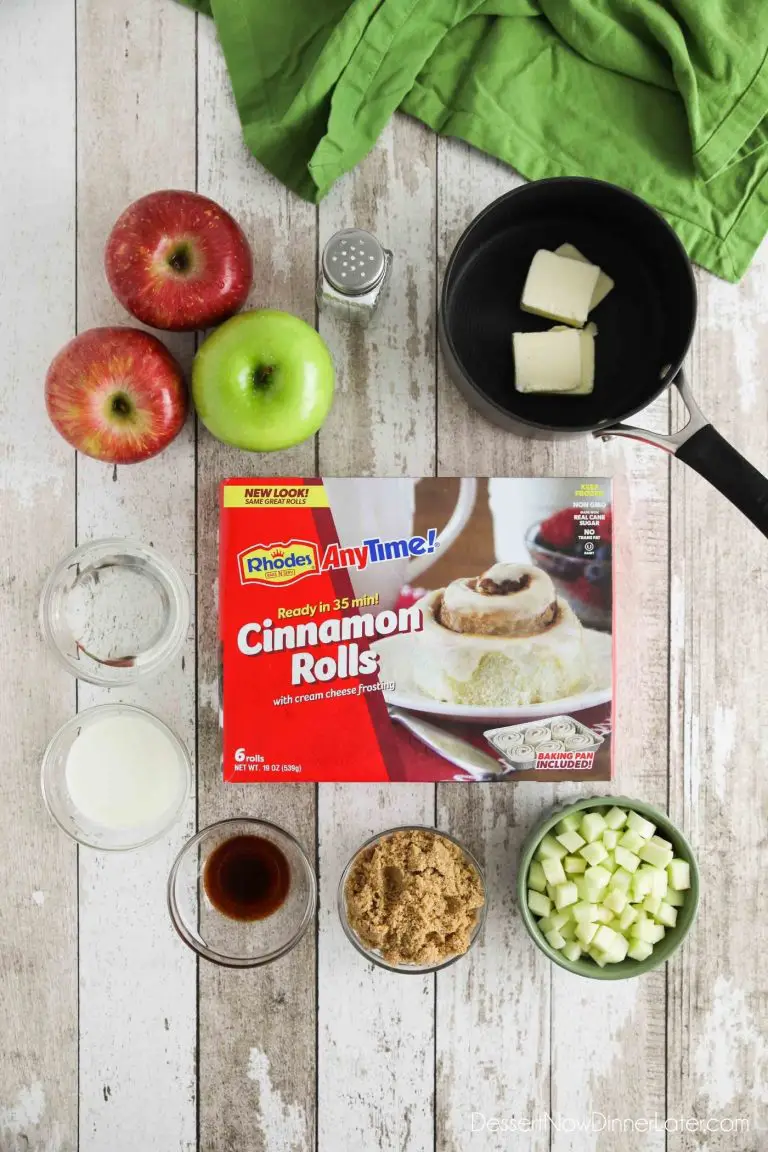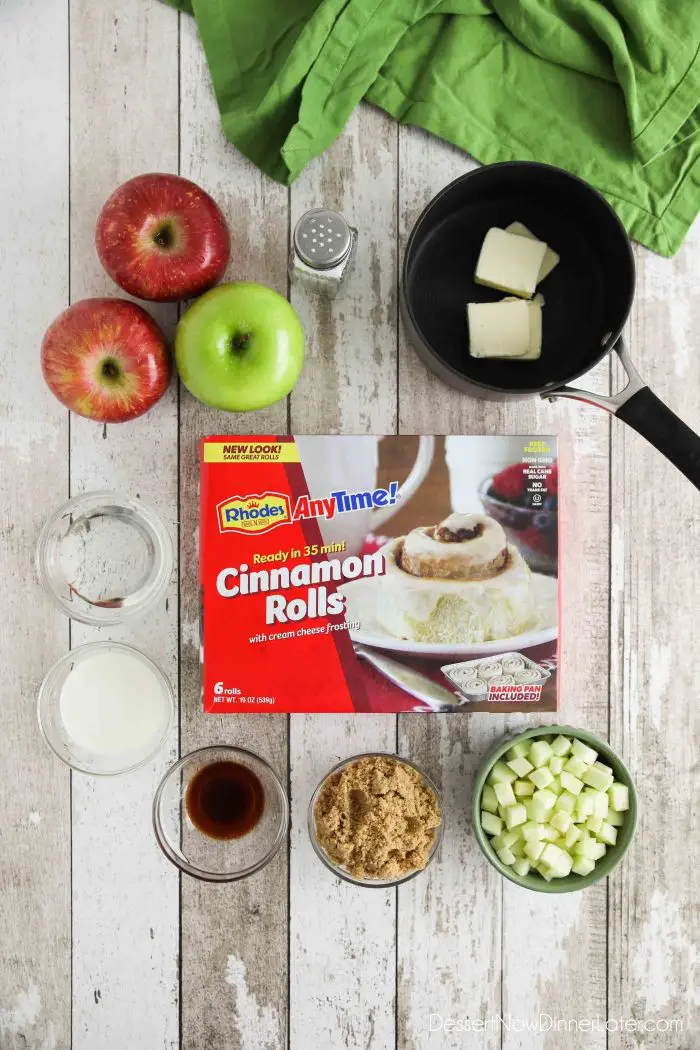 Rhodes AnyTime® sweet rolls come with a pan to bake them in. Which makes this recipe even easier! And you can use the cream cheese frosting that comes with the rolls too if you want.
Like pecan sticky buns, there is a homemade caramel mixture on the bottom of the pan, that when inverted, coats the rolls in a sweet caramel sauce. Instead of using nuts, I simply peeled, sliced and cut up an apple.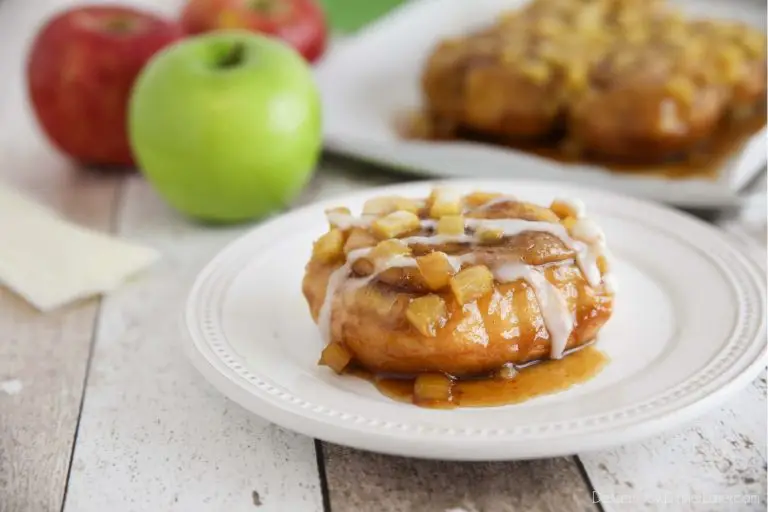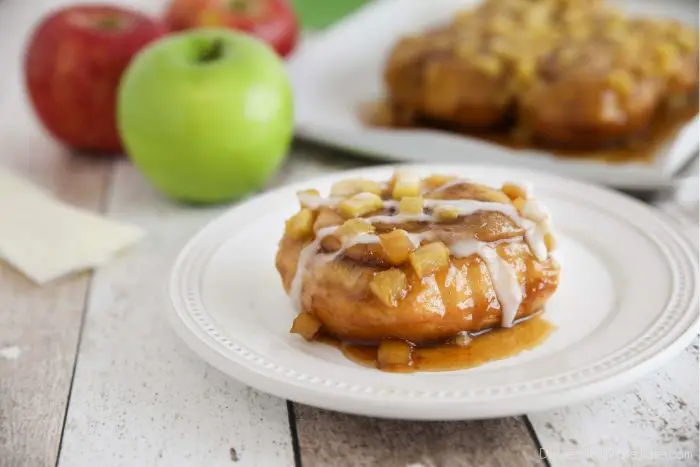 How to Make Caramel Apple Cinnamon Rolls
To begin, remove the Rhodes AnyTime® Cinnamon Rolls from the included pan.
Make a quick caramel sauce with butter, brown sugar, corn syrup, heavy cream, vanilla, and pinch of salt. Pour it on the bottom of the pan. Add the diced apples.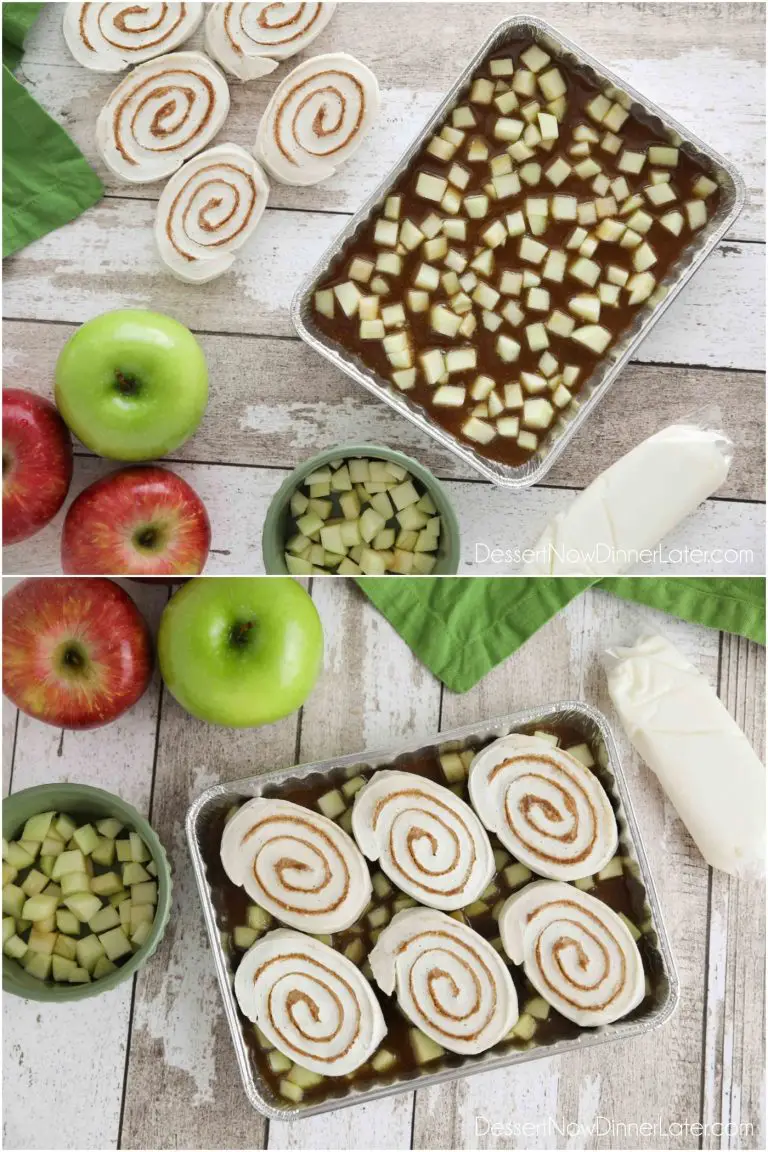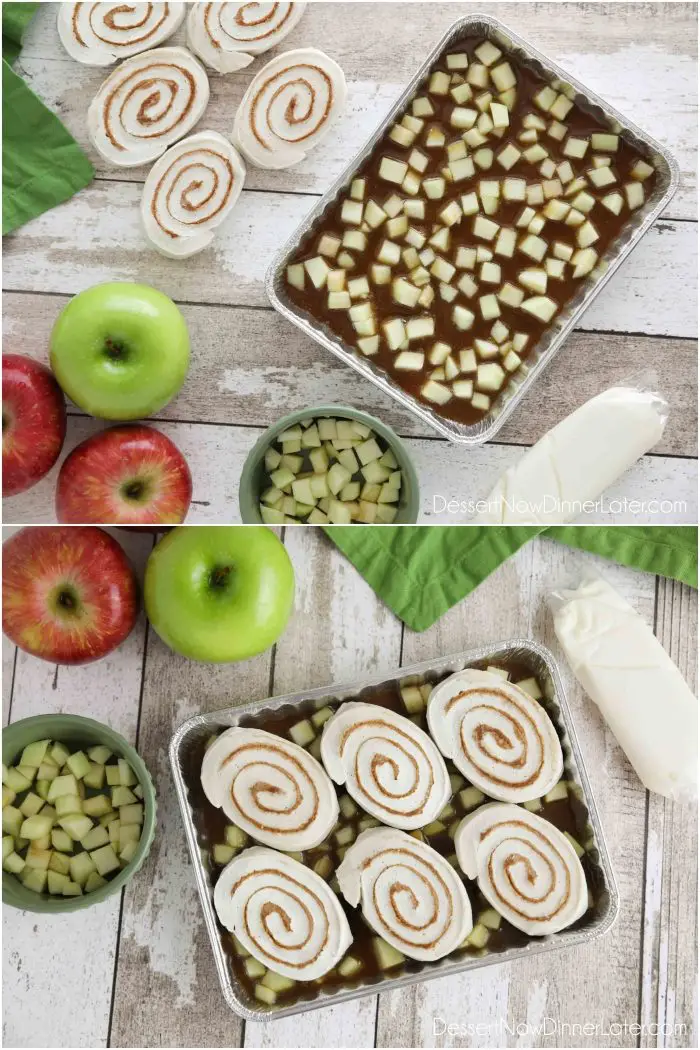 Place the prepared cinnamon rolls on top of the caramel and apple layer, then bake for 35-45 minutes or until the dough in the center of the rolls reaches 190˚F.
It's especially important for the rolls to hit that temperature in the middle so they aren't doughy. The sauce may cause the rolls to cook slower, so cover the pan with foil if the top browns faster than the center bakes.
NOTE: The provided pan is quite small and caramel will spill over during baking. Place a cookie sheet covered with foil on the rack beneath the rolls to catch the spills and prevent a mess in your oven.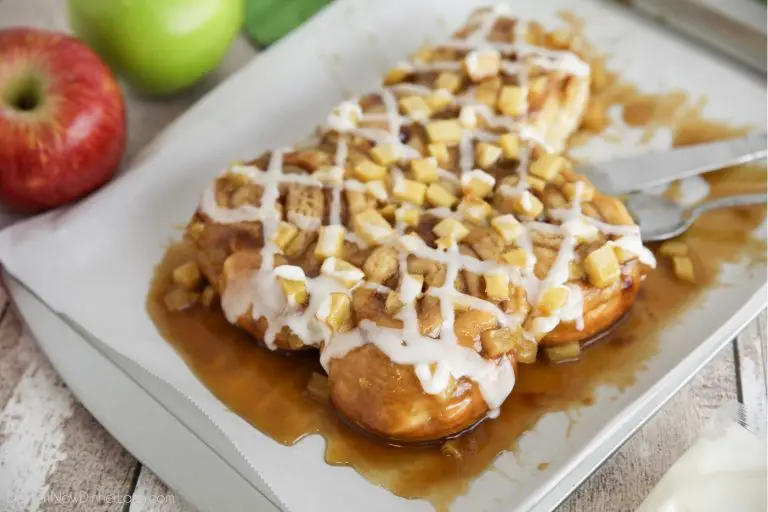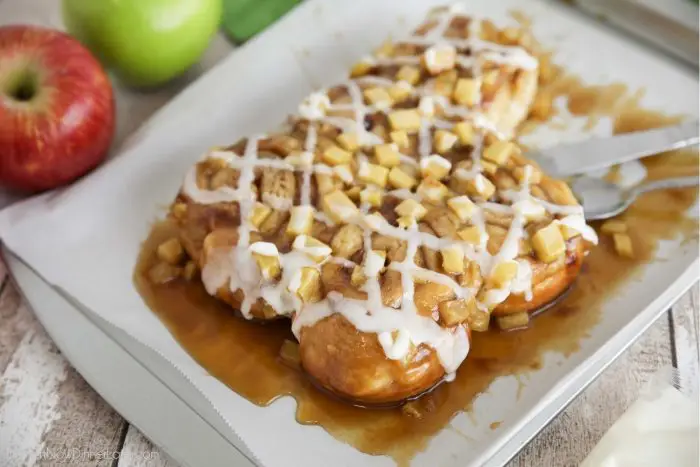 Once baked, immediately invert the rolls onto a large platter or baking sheet to release the rolls with the apples and caramel sauce on top. Careful not to splash caramel on you. It's hot!
TIP: Use parchment paper for easy cleanup.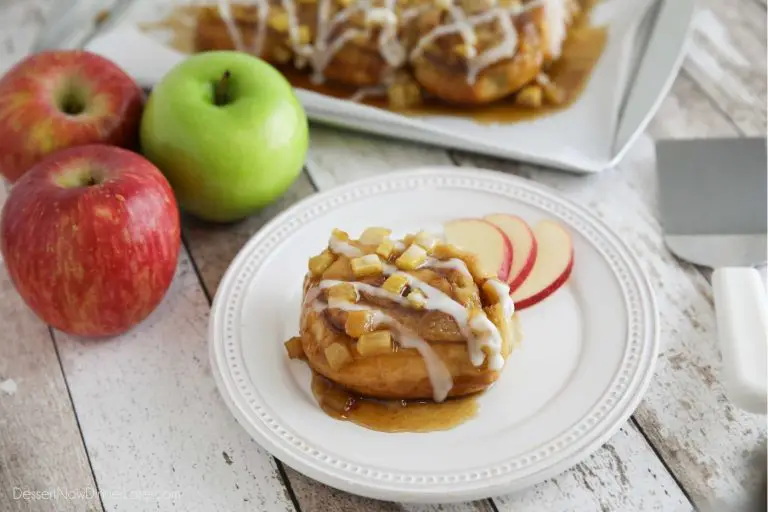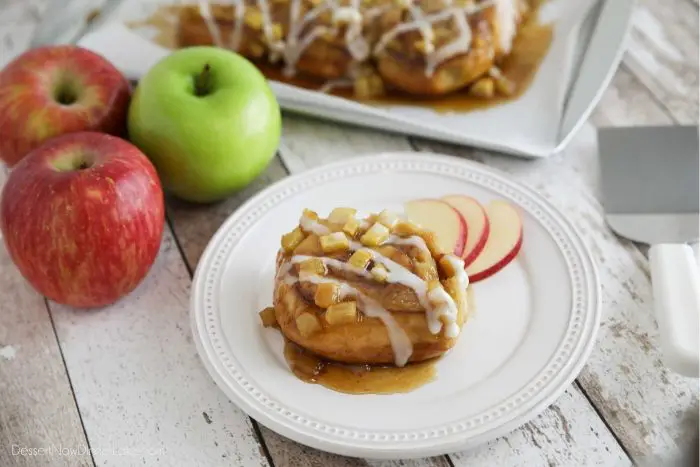 The caramel apple sauce that smothers the cinnamon rolls, is delicious as is, but using the included cream cheese icing from the package of frozen cinnamon rolls makes it even more tasty!
More Rolls to Make with Frozen Bread Dough
FOLLOW ME on PINTEREST, FACEBOOK, OR INSTAGRAM for more great recipes!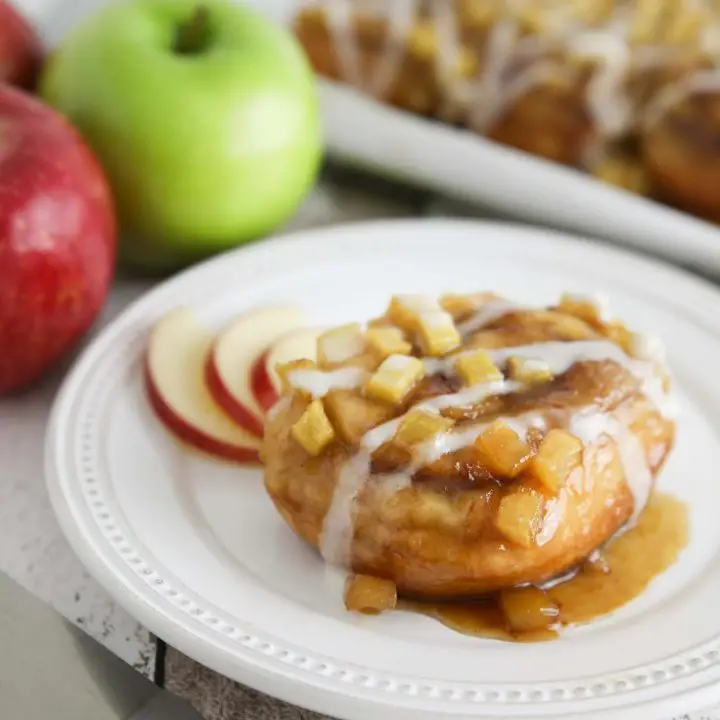 Easy Caramel Apple Cinnamon Rolls
Prep Time: 15 minutes
Cook Time: 40 minutes
Total Time: 55 minutes
Yield: 6 cinnamon rolls
Caramel Apple Cinnamon Rolls are a twist on caramel pecan rolls, with fresh apples instead of nuts.
Ingredients
3/4 cup diced apple (1 - Granny Smith, Honey Crisp, Gala, or Fuji Apple)
1/4 cup butter
1/2 cup light brown sugar, packed
2 Tbsp light corn syrup
2 Tbsp heavy cream
1/2 tsp vanilla extract
pinch of salt
6 Rhodes AnyTime® Cinnamon Rolls, frozen
Instructions
Peel, core and dice apple. Set aside. Preheat oven to 350 degrees Fahrenheit.
In a small saucepan, melt butter over medium heat. Add brown sugar and corn syrup. Stir until smooth and sugar is dissolved (once mixture comes to a simmer). Remove from heat and stir in the heavy cream, vanilla, and salt. Careful, it may bubble up.
Remove the Rhodes AnyTime® Cinnamon Rolls from the included foil tray (alternately use a deep 9-inch pie dish). Pour the caramel mixture on bottom. Sprinkle evenly with diced apple pieces, and place frozen cinnamon rolls on top.
Bake at 350˚F for 35-45 minutes, until rolls are golden brown on top and the temperature of the dough in the center of the rolls is 190-200˚F. Cover with foil if top browns faster than the center bakes. TIP: Place a baking sheet covered with foil on the rack below the cinnamon rolls to catch any caramel spills.
Immediately, and CAREFULLY, invert the caramel apple rolls onto a serving plate or baking sheet. TIP: Invert onto a parchment lined baking sheet for easy clean up.
OPTIONAL: Warm the included cream cheese frosting packet with hands. Cut off corner and drizzle over warm rolls. Enjoy warm.
Notes
Store leftovers in an airtight container in the refrigerator up to 3 days. Nuke rolls individually for 15 seconds in the microwave to reheat.
NOTE: Rhodes AnyTime® Cinnamon Rolls are baked right away, while still frozen, and come in a box. Rhodes Thaw, Rise, and Bake Cinnamon Rolls that come in a bag would need rising time, which might allow the apples to release extra liquid into the caramel, potentially ruining it. Make sure you buy the correct product. Check photo in post as a reference.
Recommended Products
As an Amazon Associate and member of other affiliate programs, I earn from qualifying purchases.
Nutrition Information:
Yield: 6
Serving Size: 1 cinnamon roll
Amount Per Serving:
Calories: 419
Total Fat: 19g
Saturated Fat: 9g
Trans Fat: 4g
Unsaturated Fat: 3g
Cholesterol: 26mg
Sodium: 804mg
Carbohydrates: 70g
Fiber: 2g
Sugar: 41g
Protein: 4g
This data was provided and calculated by Nutritionix, and is an estimation only.