Raspberry Lemon Rolls
This post may contain affiliate links, meaning that I may receive a commission at no cost to you if you use a link provided. All opinions shared are my own. You can review my full disclosure policy here.
Sticky Raspberry Lemon Rolls are made easy with frozen dough and are topped with a sweet and citrusy lemon cream cheese frosting.  
*This post is brought to you by Rhodes Bake-N-Serv. Thanks for supporting the brands that make Dessert Now Dinner Later possible.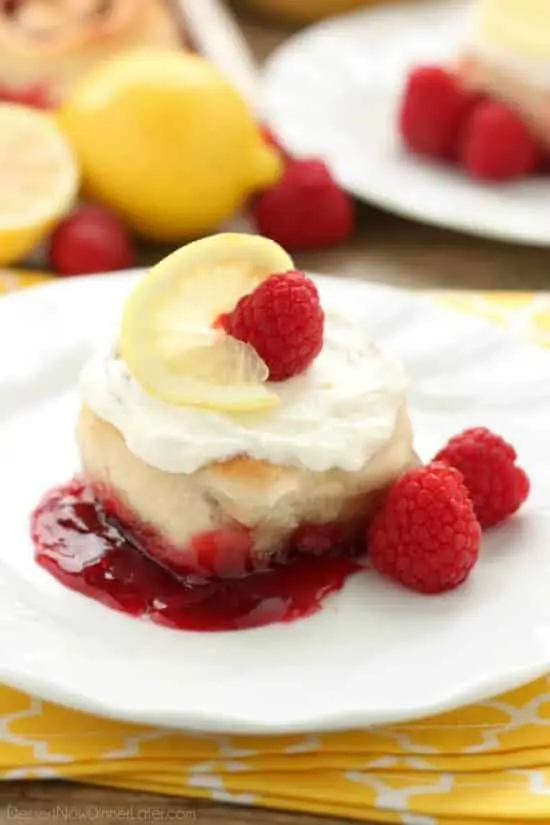 If there is one berry I love above all the rest, it is raspberries. I like that they are tart, yet sweet, and wonderfully fruity. When I buy them, I hoard them to myself. It's like hiding chocolate from my kids. Raspberries need to be appreciated like fine chocolate.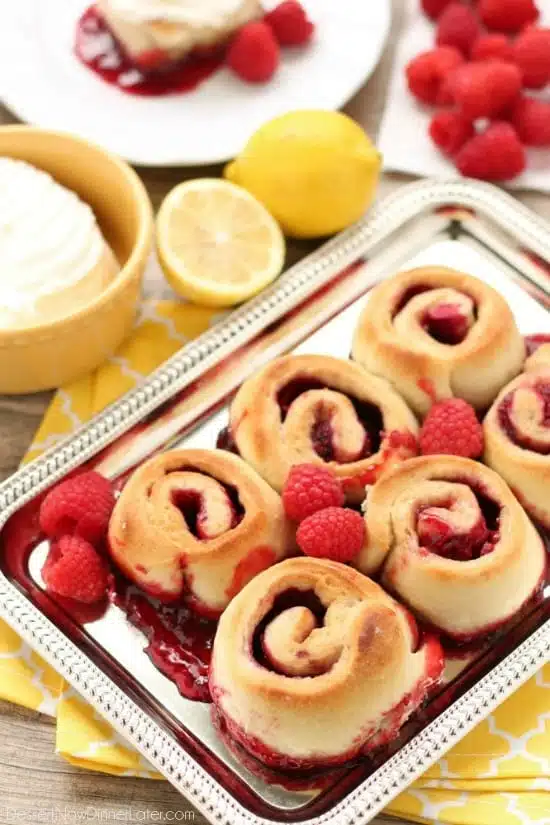 If you know me, I RARELY use fresh fruit in baked items. Unless I get a killer deal, I don't want to ruin ripe fruit by changing it in a recipe. I like to eat it as it is, fresh and juicy. So this recipe actually uses frozen berries, and frozen dough. It's been a LONG time since I've made bread myself. Well, actually, I mixed some Lion House Rolls together last month one Sunday just to use up a mix that I've had in my pantry for over a year, which actually only had like flour, milk, sugar, and dough enhancer (or something like that) in it. I totally shouldn't have spent $5 on that box. I only bought it because I had a gift card to use, oh well.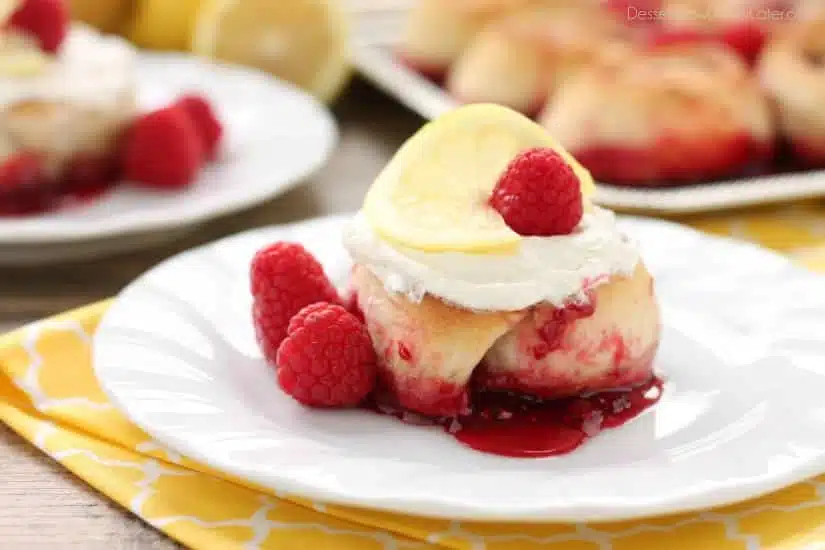 Anyway, I just love Rhodes frozen dough, which is what I used for these rolls! It saves me the floury mess of making dough myself. I make pizza with Rhodes dough at least twice a month. It's great for sweet or savory recipes. In fact, we use it so much, that my son thinks ALL rolls are Rhodes rolls, and when his friends at school haven't heard of it, he gets really upset. Haha! It's cute actually.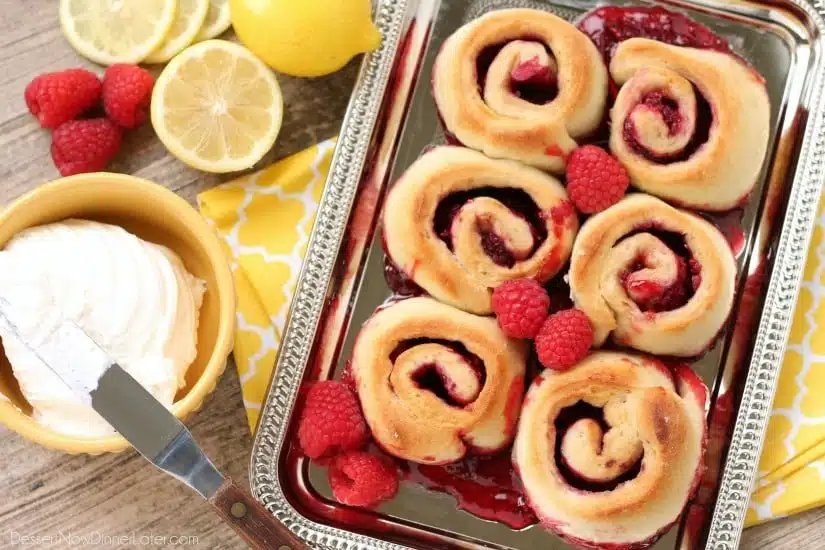 I first made these raspberry lemon rolls for Easter, and knew I had to share them with you all! The bottoms get all sticky with the raspberry filling, and I made a citrusy lemon cream cheese frosting to go on top. It's a wonderful combo!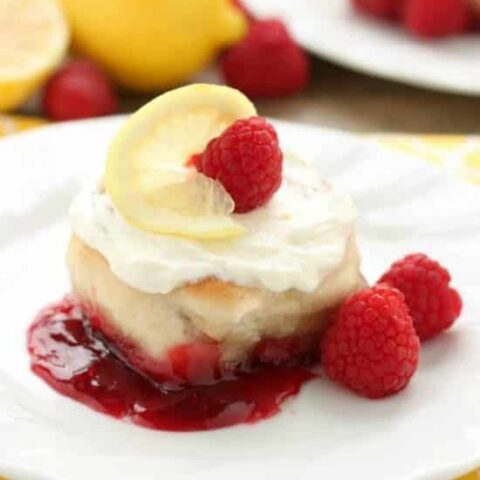 Raspberry Lemon Rolls
Prep Time: 50 minutes
Cook Time: 20 minutes
Total Time: 1 hour 10 minutes
Yield: 12 rolls
Ingredients
1 loaf Rhodes White Bread, thawed and slightly risen
1/4 cup butter, softened
1/4 cup brown sugar, packed
2 cups frozen raspberries (keep frozen until ready to use)
1/3 cup sugar
zest of 1 lemon
1 Tbsp cornstarch
8 oz cream cheese
zest of one lemon
1/2 cup butter
1 cup powdered sugar
1 tsp lemon extract
Instructions
Roll the dough into a large rectangle about 12-inches wide by 18-inches long. Smear the softened butter on all but one of the long edges. Sprinkle the brown sugar on top of the butter and spread it with your fingers to cover the butter.
Toss the frozen raspberries with the sugar, lemon zest, and cornstarch. Sprinkle evenly over the brown sugar layer. (WAIT to pull the raspberries from the freezer until you are ready for this step. As soon as you add the sugar, they will start to get juicy and wet.)
Roll the dough from the long end with raspberries towards the long end that was left bare. Pinch the seams and place the roll seam side down. Using floss, cut the rolls into 12 even pieces. Tuck the floss underneath the dough, then criss-cross the floss and pull outwards until it cuts through. Dip the floss in flour if it sticks to the dough. The floss helps cut the rolls without smashing them.
Place the rolls inside of a greased 13x9-inch baking dish. Press the tops gently to flatten the rolls slightly. Then cover with greased plastic wrap and allow to rise until double in size, about 1 hour. Raspberry juices will ooze out of the rolls, and that's okay.
Bake at 350 degrees Fahrenheit for 20 to 25 minutes or until golden brown on top and the dough is cooked in the center and on bottom. Allow the rolls to cool slightly.
Make the frosting by beating the cream cheese and lemon zest with an electric hand mixer in a large bowl. Add the butter, one Tablespoon at a time, mixing until smooth after each addition. Add the powdered sugar and lemon extract all at once. Mix until incorporated. Spread over the raspberry rolls and enjoy! (You may have extra frosting, but it's great on French toast too!)
Nutrition Information:
Yield: 12
Serving Size: 1 grams
Amount Per Serving:
Calories: 431
Total Fat: 20g
Saturated Fat: 12g
Trans Fat: 0g
Unsaturated Fat: 7g
Cholesterol: 50mg
Sodium: 460mg
Carbohydrates: 56g
Fiber: 4g
Sugar: 24g
Protein: 7g
This data was provided and calculated by Nutritionix, and is an estimation only.