Cranberry Orange Bread
This post may contain affiliate links, meaning that I may receive a commission at no cost to you if you use a link provided. All opinions shared are my own. You can review my full disclosure policy here.
Cranberry Orange Bread is a wonderful treat for the holidays, with a sweet orange glaze on top and pops of tart cranberries throughout.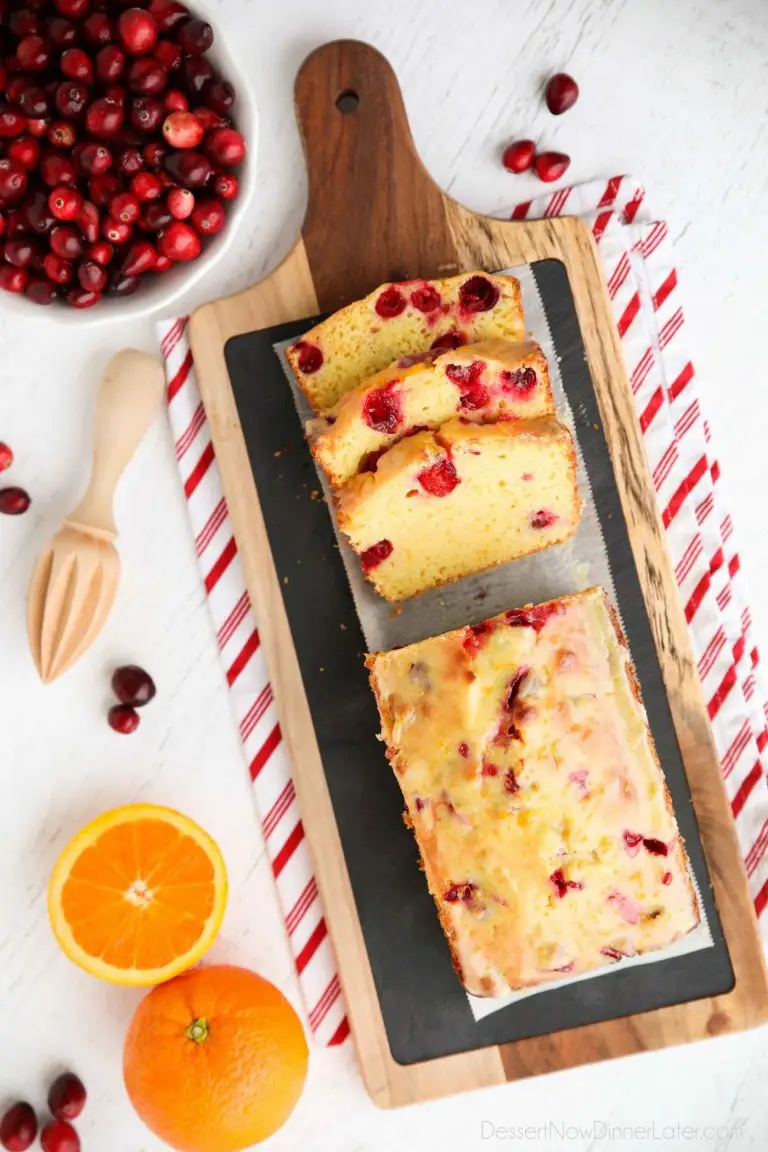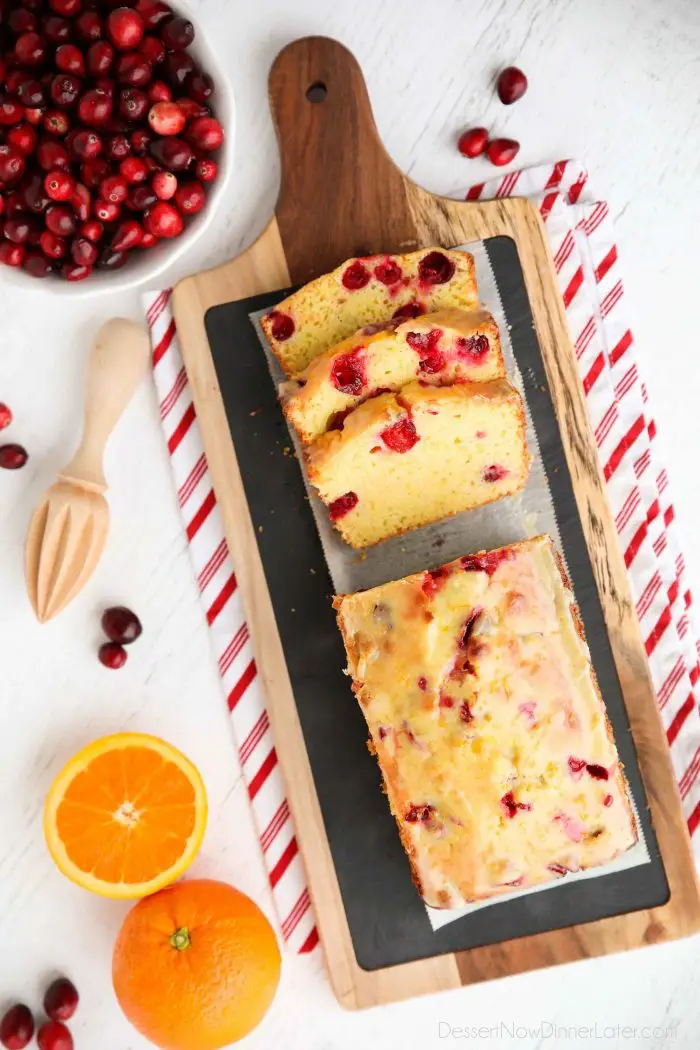 I almost always got an orange in my Christmas stocking as a kid, and with cranberries in season, it's an obvious and powerful holiday duo for this Cranberry Orange Bread.
Baked goods make great holiday gifts for neighbors and friends. I altered my Cranberry Orange Muffins to create a delicious loaf, perfect for gifting or to serve with Christmas breakfast/brunch.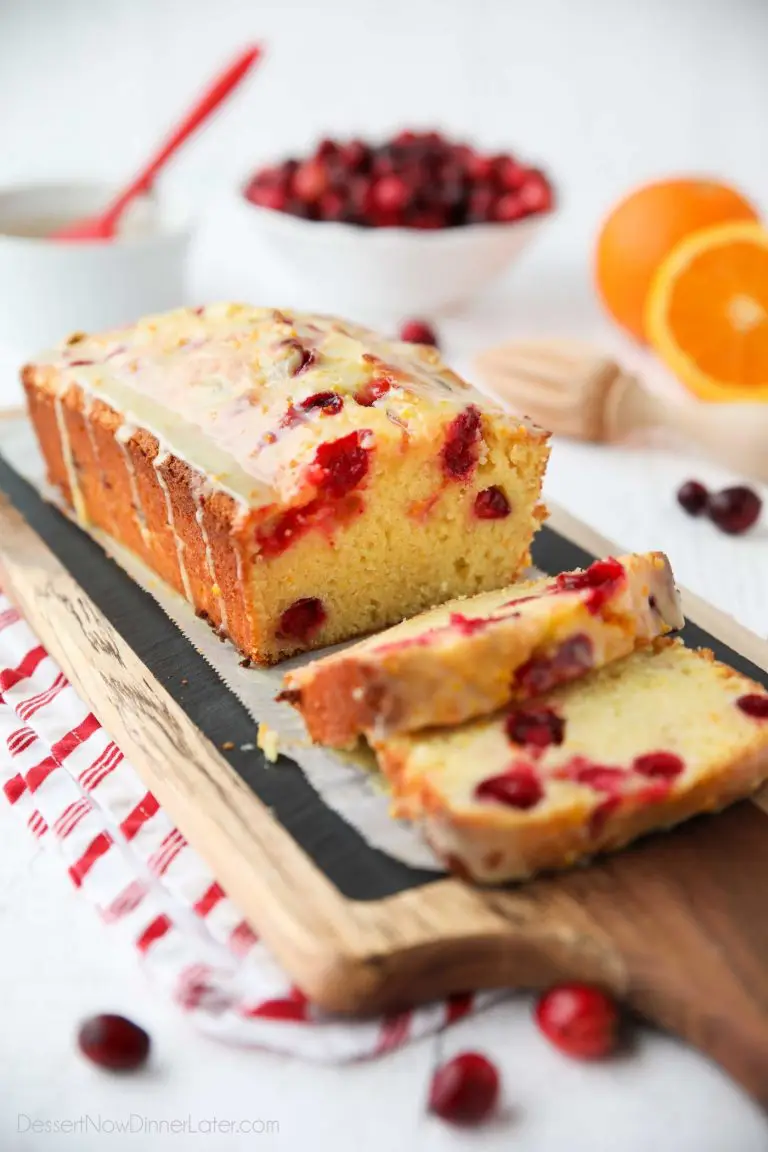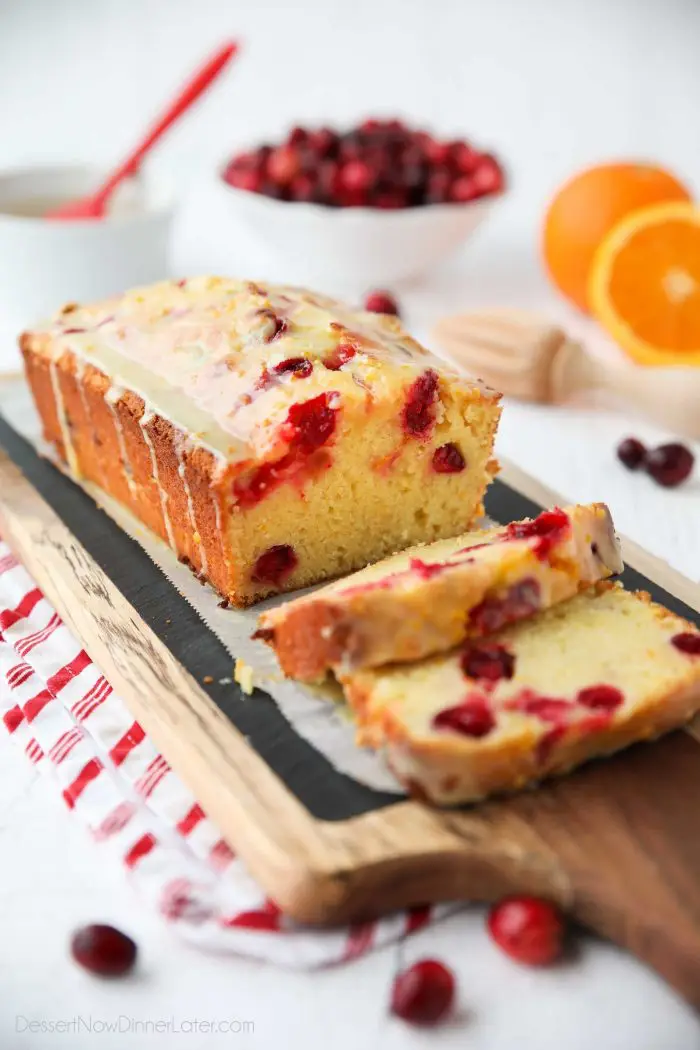 Cranberry Orange Bread
In a bakery I worked in, we had really strong flavored "orange bits" that made the most delicious orange desserts. It's a little hard to mimic that strong orange flavor at home with real oranges.
I opted to use orange juice concentrate and fresh orange zest, which worked out pretty well for this cranberry orange bread. You can use the leftover orange juice concentrate for some Classic Orange Julius.
The addition of fresh, plump cranberries are the perfect tart contrast to the sweet, moist bread.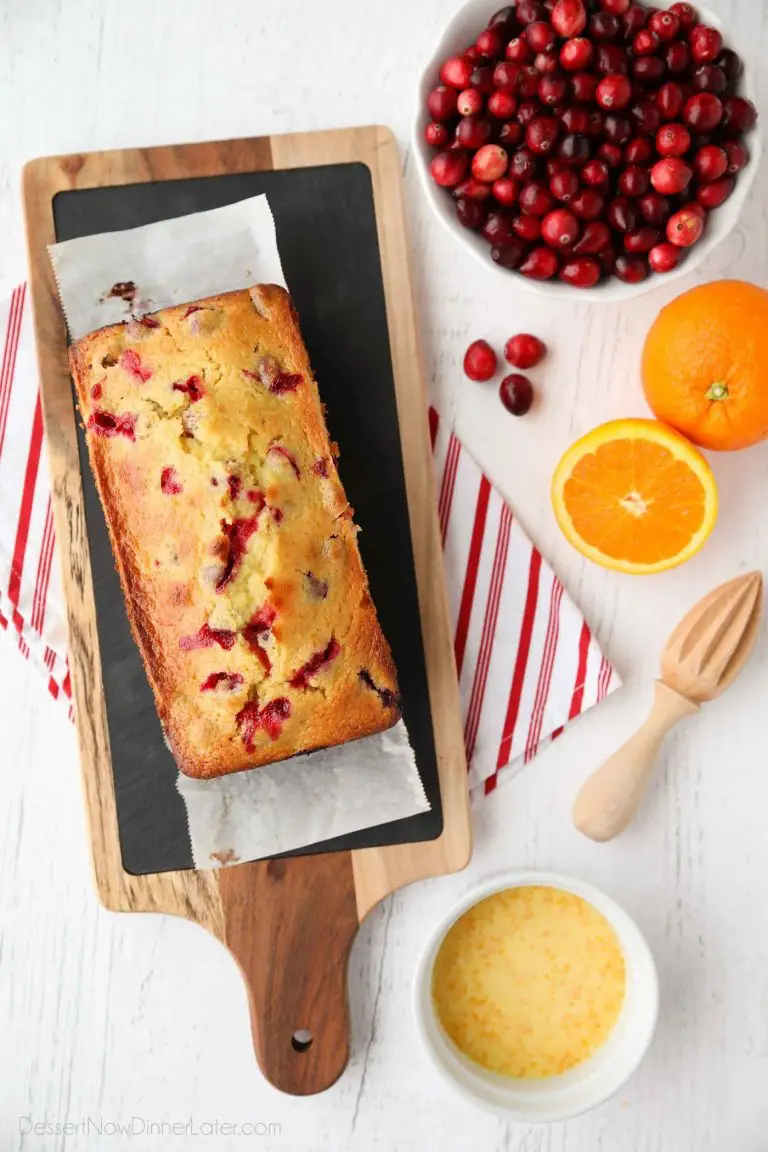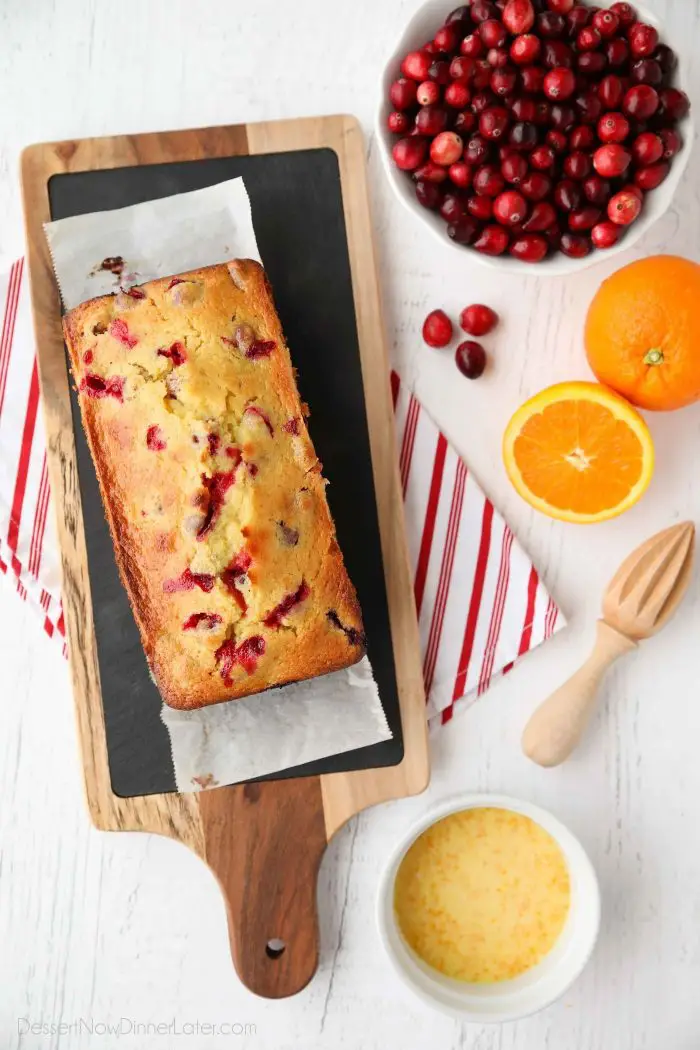 Fresh vs. Frozen Cranberries
If you're making this cranberry orange bread during the holiday season, fresh cranberries should be easy to find. I add the cranberries at the same time as the flour mixture. This helps coat the cranberries, which allows them to distribute more evenly throughout the batter.
Frozen cranberries can be used in place of fresh cranberries. No need to thaw them first. Chopping the cranberries, whether fresh or frozen, will ensure cranberries in every bite, but is optional and up to your personal preference.
Even dried cranberries can be used for this cranberry orange bread. Only half the amount will be needed. You can rehydrate the dried cranberries to plump them up, but it's not necessary. Fresh or frozen cranberries are preferred though.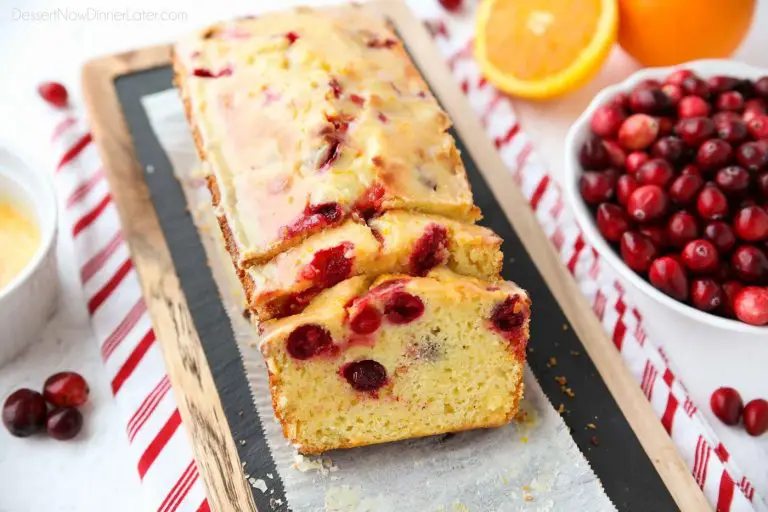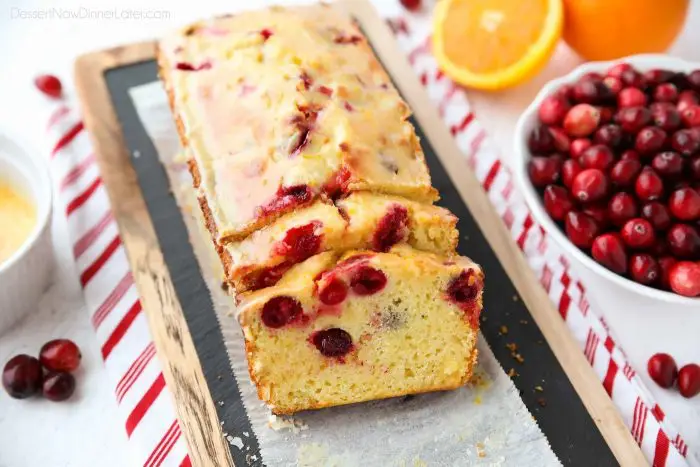 Love that cranberry orange combo? Try these other holiday recipes: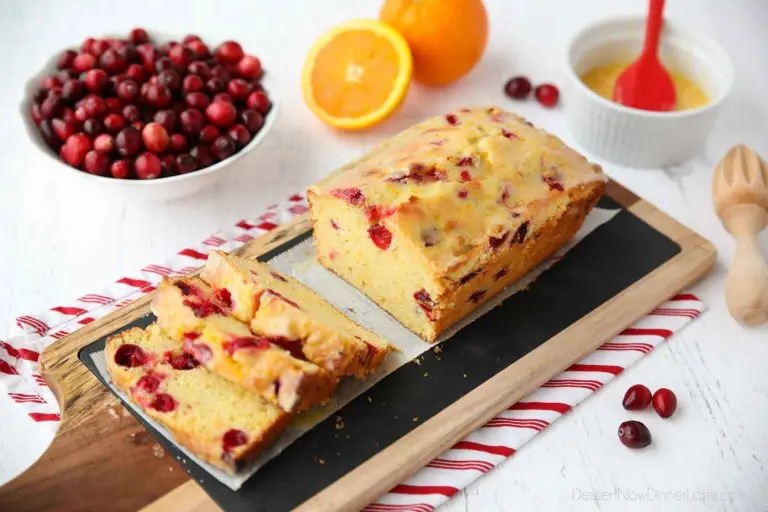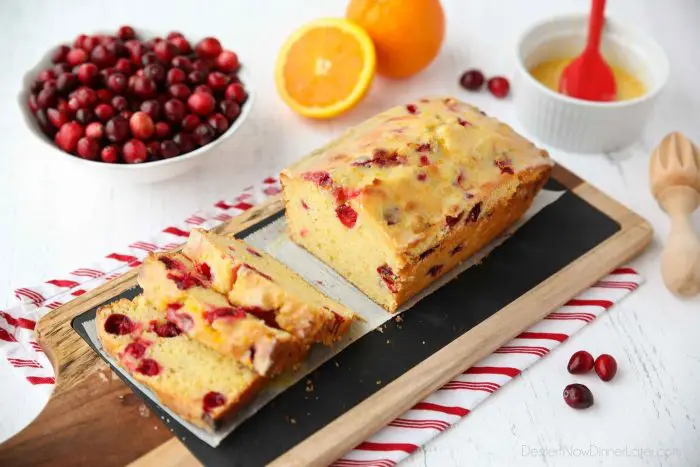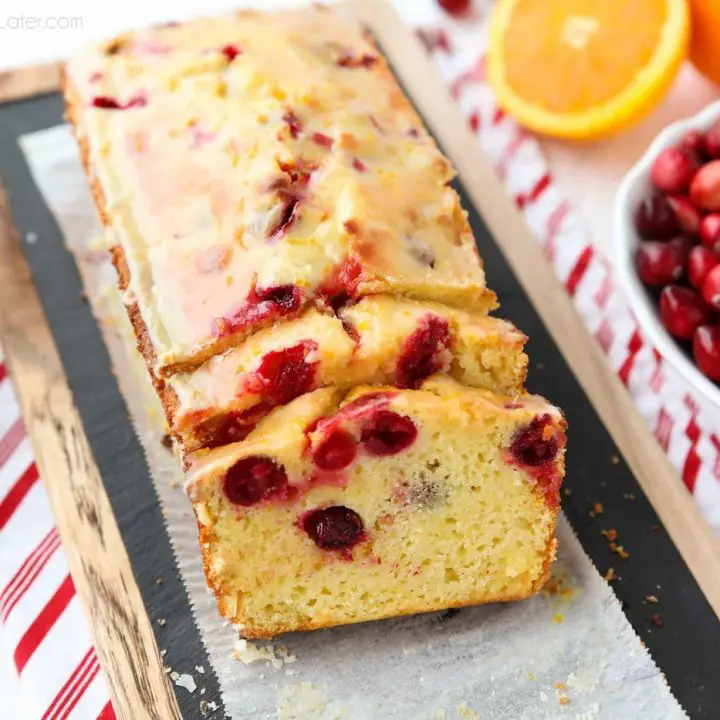 Orange Cranberry Bread
Prep Time: 15 minutes
Cook Time: 50 minutes
Total Time: 1 hour 5 minutes
Yield: 12 slices
Cranberry Orange Bread is a wonderful treat for the holidays, with a sweet orange glaze on top and pops of tart cranberries throughout.
Ingredients
Bread:
1 1/4 cups all-purpose flour (stir, spoon, & level)
1 tsp baking powder
1/2 tsp salt
1 cup granulated sugar
1 Tbsp orange zest
2 Tbsp frozen orange juice concentrate
1/3 cup plain Greek yogurt (or sour cream)
1/3 cup oil (canola or vegetable)
1/3 cup buttermilk
2 large eggs
1 tsp vanilla extract
1 heaping cup fresh cranberries, rinsed
Glaze:
1/2 cup powdered sugar
1/2 tsp orange zest
2-3 tsp fresh squeezed orange juice
Instructions
Preheat oven to 350 degrees Fahrenheit. Grease and flour an 8x4-inch loaf pan. (I line the bottom of mine with parchment paper and use baking spray with flour [Baker's Joy] for the sides.)
In a small bowl, whisk together the flour, baking powder, and salt. Set aside.
In a large bowl, whisk together the sugar, orange zest, and orange juice concentrate. Add the yogurt, oil, buttermilk, eggs, and vanilla. Whisk to combine.
Fold in the flour and cranberries until just incorporated. Pour batter into prepared loaf pan.
Bake at 350˚F for 50-60 minutes until a toothpick inserted into the center comes out clean. Cover loosely or tent with foil halfway through baking, to prevent bread from browning too quickly.
While bread cools, make glaze by whisking together the powdered sugar, orange zest, and orange juice 1 tsp at a time until the desired consistency. Remove loaf from pan and place onto a cooling rack. Pour the glaze on top. Cut into slices and serve. Store leftovers in an airtight container up to 3 days.
Notes
*Frozen cranberries may be used in place of fresh. Do not thaw first.
*Cranberries can be chopped, if desired.
Recommended Products
As an Amazon Associate and member of other affiliate programs, I earn from qualifying purchases.