Buttermilk Pancakes
This post may contain affiliate links, meaning that I may receive a commission at no cost to you if you use a link provided. All opinions shared are my own. You can review my full disclosure policy here.
These homemade buttermilk pancakes are fluffy and easy to make for breakfast any day of the week!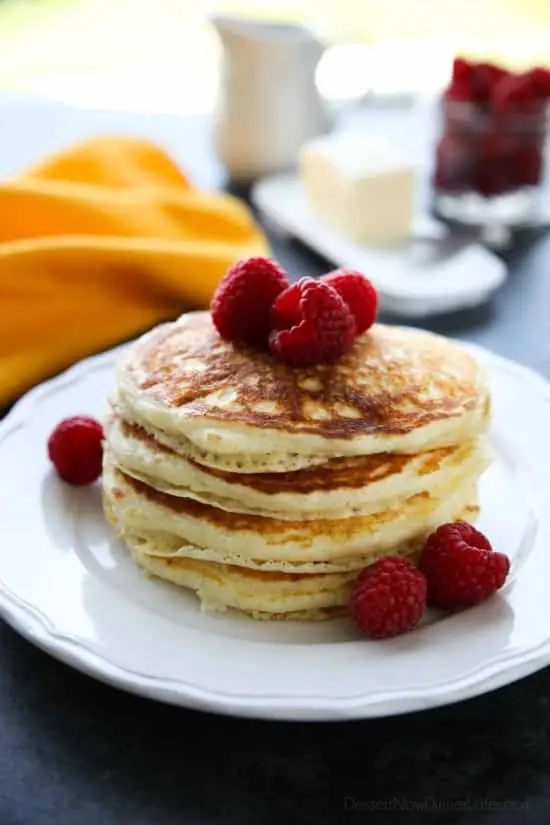 I'll admit, I'm a convenience mom. I use store-bought mixes here and there to make my life easier. I haven't ever made buttermilk pancakes from scratch until now. (Don't make fun of me!) I don't know why I waited so long! These buttermilk pancakes are quite easy to make and taste better than my favorite mix! I got the recipe from my friend Carrian and it's legit!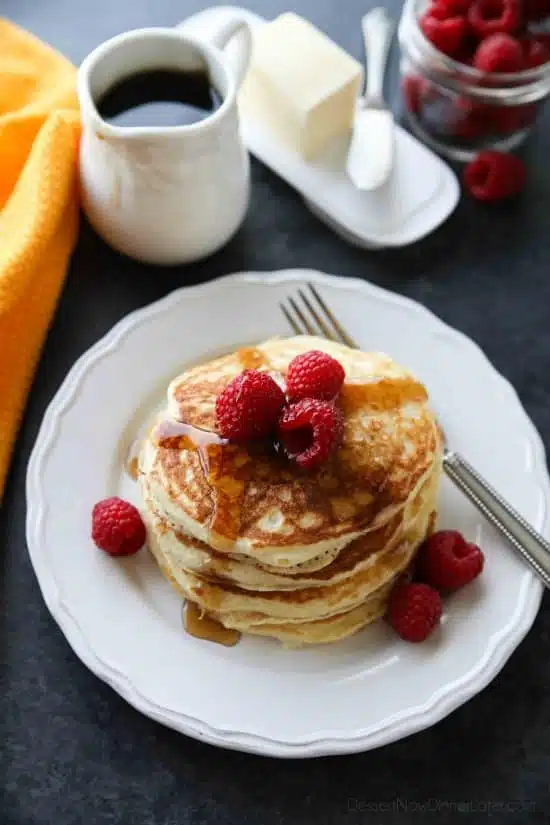 Honestly, these buttermilk pancakes don't take that much more time to make than a store-bough mix. The batter is thick and fluffs up. When you stick your fork into the pancakes to cut them, they bounce right back.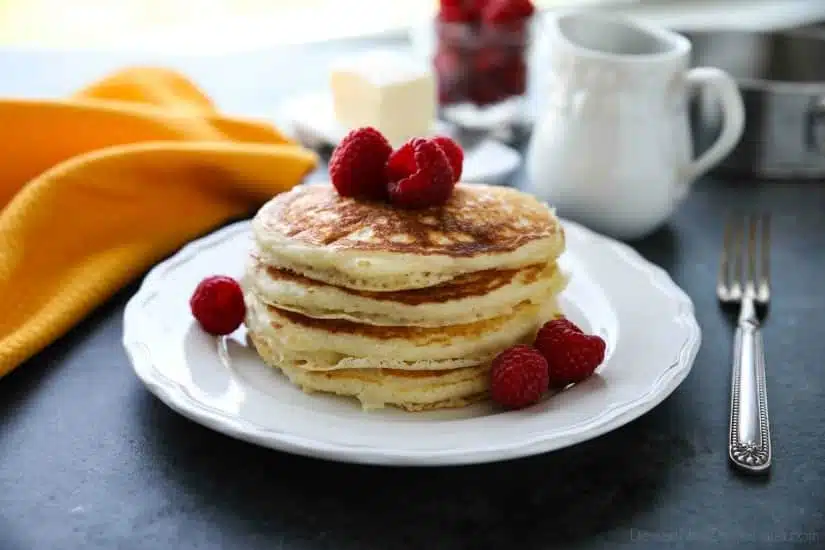 These buttermilk pancakes melt in your mouth and have a hint of tanginess from the buttermilk. I love to top mine with raspberries and honey or maple syrup. My Blonde Butter Syrup is bomb on these too! I hope you love them!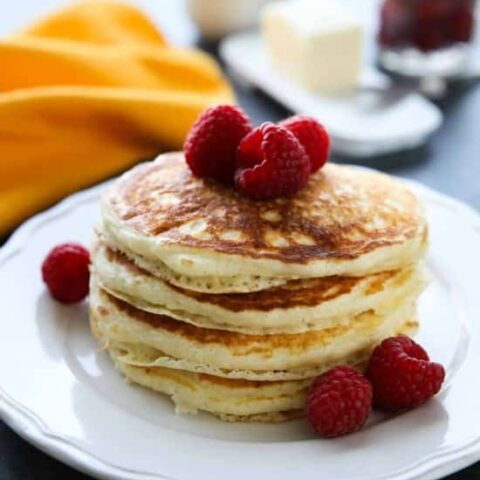 Buttermilk Pancakes
Prep Time: 5 minutes
Cook Time: 5 minutes
Total Time: 10 minutes
Yield: 14 (5 to 6-inch) pancakes
Ingredients
2 cups all purpose flour
1 tsp salt
2 tsp baking powder
1 tsp baking soda
2 Tbsp granulated sugar
2 large eggs
2 cups low-fat buttermilk
2 Tbsp unsalted butter, melted
Instructions
Sift the flour, salt, baking powder, baking soda, and sugar together into a large bowl.
Whisk the eggs and buttermilk together in a separate bowl. Add the melted butter while whisking.
Make a well in the middle of the flour mixture. Pour in the wet ingredients. Use a spoon or spatula to gently stir the wet and dry ingredients together until just incorporated. DO NOT OVER MIX! (A little flour showing is okay.)
Heat a griddle or frying pan to medium-high heat (about 325-350 degrees Fahrenheit if using a griddle). Grease with cooking spray and spoon 1/3 cup batter onto hot pan for each pancake. Cook 1-2 minutes until golden brown on bottom and starting to bubble on top. Then flip and cook another 1-2 minutes or until brown and no longer doughy in the middle. Serve with favorite toppings and syrups. Enjoy!
Nutrition Information:
Yield: 14
Amount Per Serving:
Unsaturated Fat: 0g