Orange Rolls
This post may contain affiliate links, meaning that I may receive a commission at no cost to you if you use a link provided. All opinions shared are my own. You can review my full disclosure policy here.
Orange Rolls are a delicious sweet roll made with a soft and fluffy potato dough filled with a zest-infused sugar and topped with a fresh orange glaze. Perfect for breakfast, weekend brunch, or holidays — like Easter.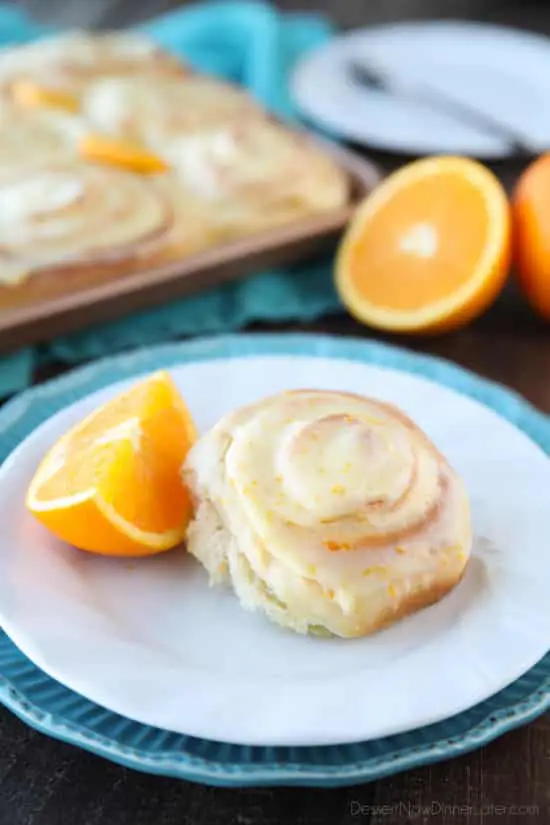 My Mom's Cinnamon Rolls are my favorite because they are made with mashed potatoes. Not like the leftover mashed potatoes from your dinner. Just plain potato flakes and water. It makes the dough super soft. If you've ever had potato rolls, then you know what I'm talking about.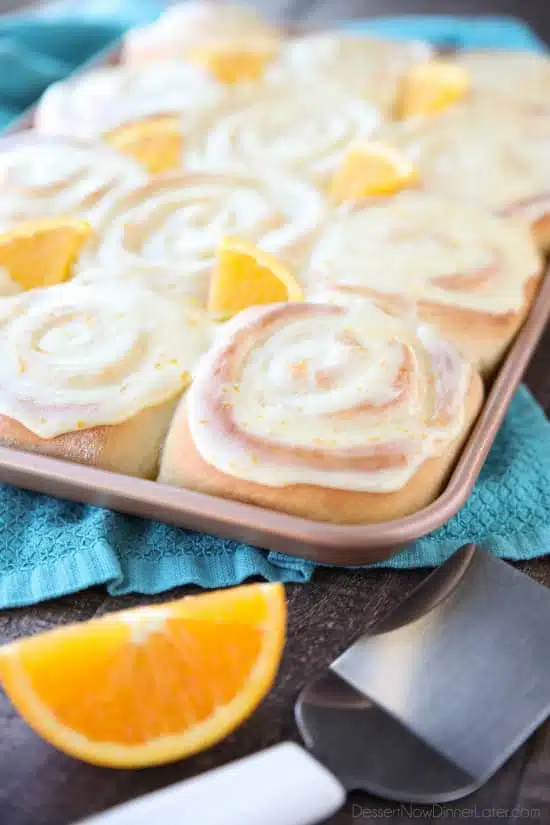 So whenever I make sweet rolls, I try and use mashed potatoes in the dough because it always results in soft, fluffy rolls. I've included them in these Orange Rolls and they turned out perfect!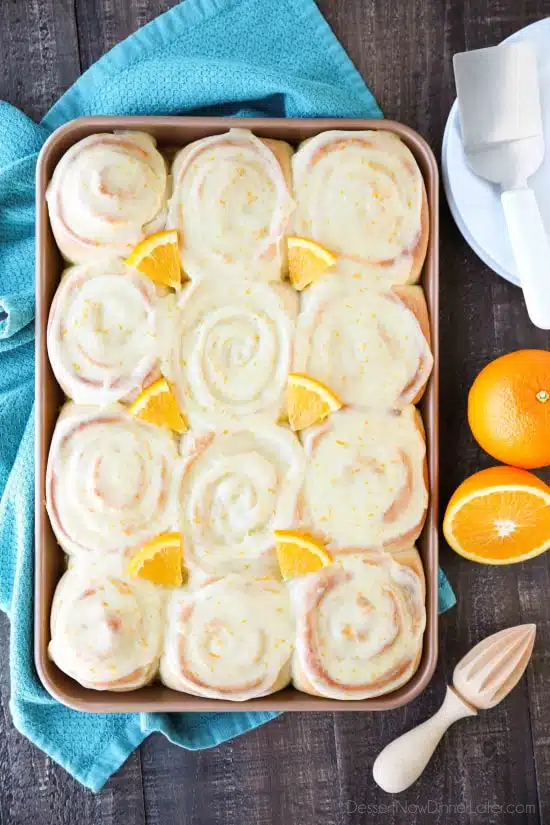 How to Make Orange Rolls
These Orange Rolls were inspired by my Lemon Sticky Rolls with the potato dough from my Mom's BEST Cinnamon Rolls recipe, and of course — fresh oranges.
The dough needs to be kneaded and rested. Then rolled into a rectangle and brushed with a thin layer of softened butter.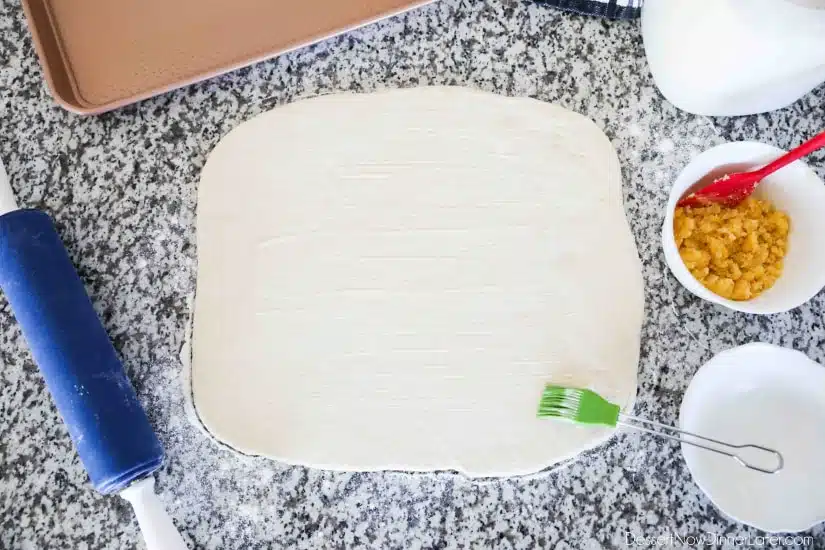 For optimal orange flavor, orange zest and juice are infused into sugar and spread on top of the butter layer.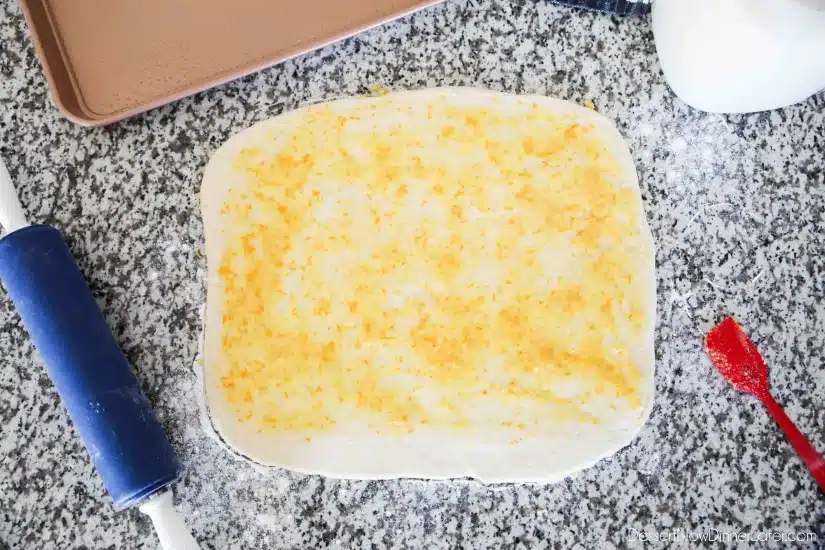 Then, it's all rolled up into a log and sliced into twelve pieces. (TIP: I use floss to slice my rolls so they keep their round shape.) Cover the rolls and let them rise a second time to help create a light and fluffy texture.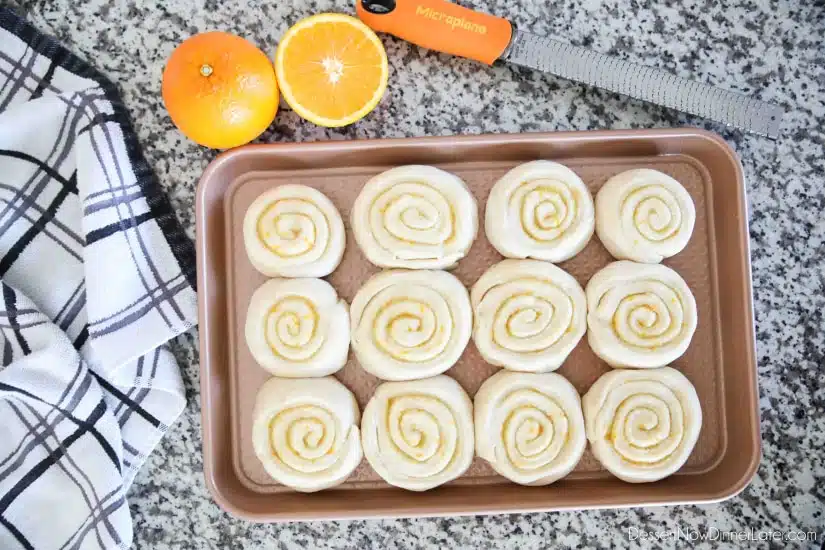 I like to bake my sweet rolls on a sheet tray, so they have room to spread out and rise well. This ensures thick pieces of bread within the spiral of the roll, and even cooking without over-crowding.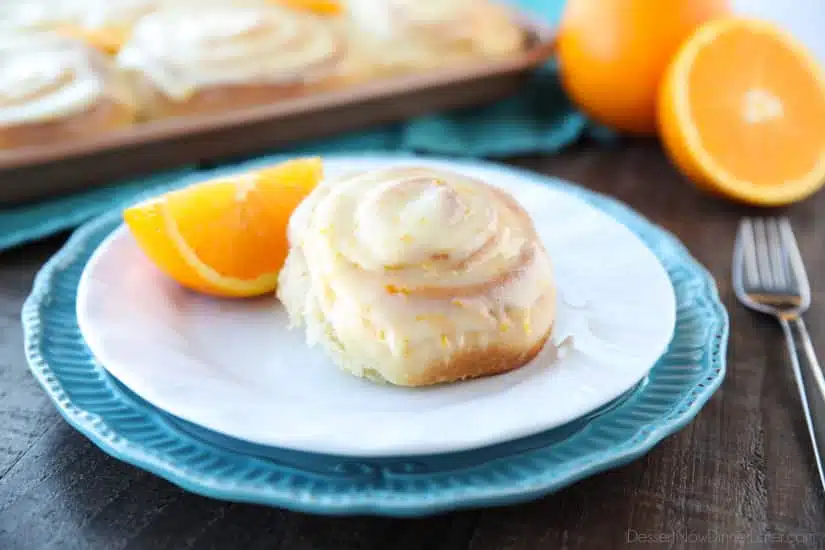 These orange rolls get even more citrus flavor from the sticky glaze on top. It's lightly sweet and creamy and flavored with orange zest and juice.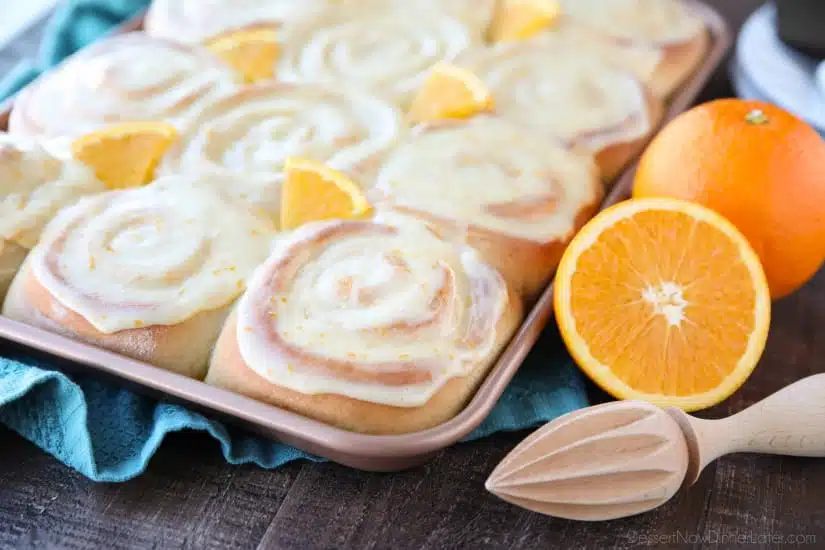 These Orange Rolls are the perfect breakfast or dessert for Easter. I love the bright fresh orange flavor and comfort of these sweet rolls. I hope you will too!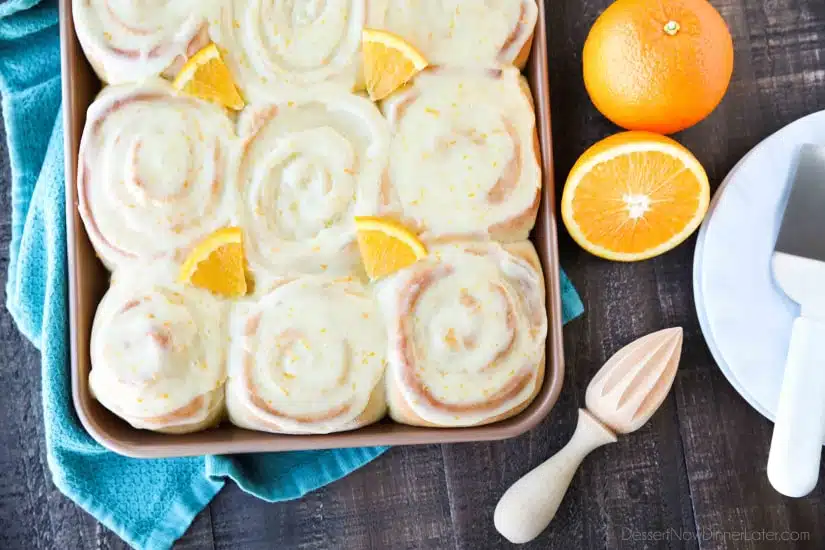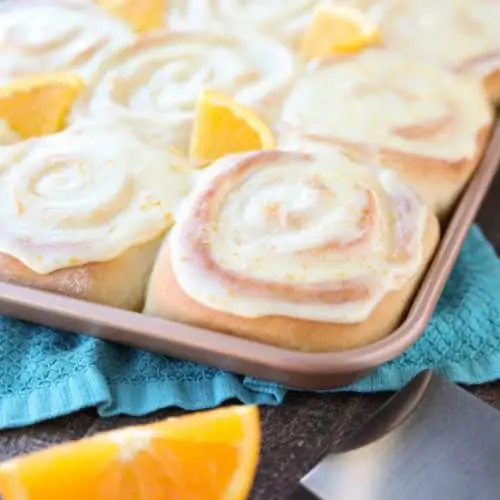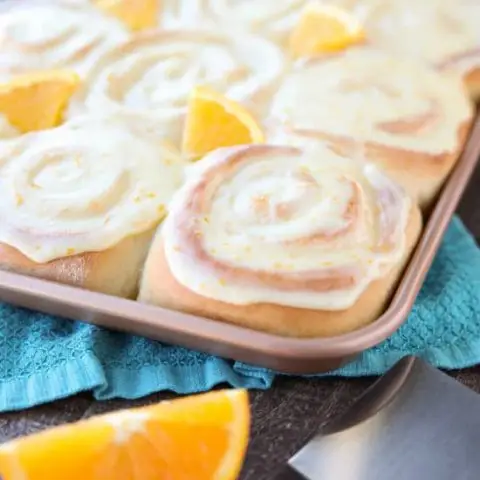 Orange Rolls
Prep Time: 20 minutes
Cook Time: 20 minutes
Additional Time: 1 hour 30 minutes
Total Time: 2 hours 10 minutes
Yield: 12 orange rolls
Orange Rolls are a delicious sweet roll made with a soft and fluffy potato dough filled with a zest-infused sugar and topped with a fresh orange glaze. Perfect for breakfast, weekend brunch, or holidays -- like Easter.
Ingredients
Yeast Mixture:
1/4 cup warm water
1 packet (2 1/4 tsp) instant yeast
2 Tbsp granulated sugar
Milk Mixture:
1 cup milk
3/4 tsp salt
1/4 cup granulated sugar
4 Tbsp (1/2 stick) unsalted butter
Dough:
1 large egg, beaten
1/3 cup potato flakes
1/3 cup HOT water
4 cups (+) all-purpose flour
Orange Filling:
3 Tbsp unsalted butter, softened
1 cup granulated sugar
1/2 tsp ground ginger
2 tsp orange zest
1/4 cup freshly squeezed orange juice
Orange Cream Cheese Glaze:
4 oz (1/2 bar) cream cheese
1 cup powdered sugar
2 tsp orange zest
2 Tbsp freshly squeezed orange juice
Instructions
YEAST MIXTURE: Dissolve yeast and sugar in warm water. Stir and set aside.
MILK MIXTURE: Scald milk on the stove or in the microwave. Add salt, sugar, and butter. Whisk until dissolved. Let cool.
DOUGH: Combine potato flakes with the hot water. Should be smooth, but thick. Add a little extra water, if needed. Set aside.
Beat egg and place in a stand mixer with the dough hook attachment. Add yeast mixture, milk mixture, and mashed potatoes. Gradually add flour. It will be a sticky dough, so don't add too much more than the 4 cups of flour, but make sure that when it kneads it is moving around well. Knead 5-10 minutes.
Empty the sticky dough into a greased bowl. Cover with a towel and let rest for 1 hour.
ORANGE FILLING: While dough is rising combine the sugar, ginger, and orange zest in a bowl so the zest has a chance to flavor the sugar. Once the dough has risen, add just enough orange juice to the sugar mixture form a thick clumpy mixture like wet sand. (About ¼ cup orange juice.)
Empty rested dough onto a floured surface. Sprinkle top with flour and pat dough flat. Using a floured rolling pin, roll dough into a rectangle, lifting the dough periodically to make sure it is not sticking to the countertop; dust with flour as necessary. Roll dough 1/2-inch thick; about 10x15-inches.
Spread the dough evenly with 3 Tbsp of very soft, unsalted butter. Then spread the orange/sugar mixture over the top. Roll the dough up tightly, starting from the top, long edge to the bottom, long edge. Stretch and pull the dough taut as you roll, to keep the orange-sugar firm inside.
Cut 12 rolls using floss or string. Place onto a greased baking sheet with ends inward to help keep from unrolling once they raise. Cover the rolls with a towel (I like to use a LIGHTLY damp towel) and let raise for another 30-60 minutes or until puffy and nearly doubled.
Heat oven to 350 degrees Fahrenheit. Place risen rolls in the oven and bake for 20-25 minutes or until a thermometer inserted into a center roll reads 190 degrees Fahrenheit. (You may also check doneness by pressing the center -- if it springs back, it's done.)
While rolls are baking prepare the GLAZE. In a medium-sized bowl, use a hand mixer to beat the cream cheese until light and fluffy. Add the powdered sugar, zest, and 2 Tbsp of orange juice. Blend until smooth and creamy. Top warm rolls with glaze. Serve while still warm.
Notes
*This recipe needs 2 oranges.
*1 Orange = about 2 tsp zest & 1/2 cup juice