Peanut Butter Bars
This post may contain affiliate links, meaning that I may receive a commission at no cost to you if you use a link provided. All opinions shared are my own. You can review my full disclosure policy here.
These Peanut Butter Bars with oatmeal are a soft and chewy baked cookie dessert topped with an extra layer of peanut butter, and a decadent chocolate frosting. Perfect for parties and potlucks! (Serves a crowd.)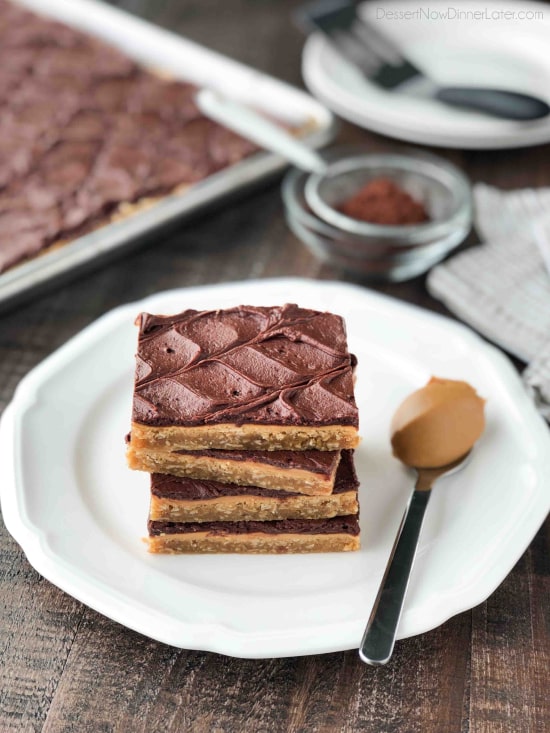 This is one of those nostalgic recipes for me. The lunch ladies made them at my elementary school, but they were called Peanut Butter Fingers. The only difference is that they were cut in half from the squares you see in my photos — so they were long, thin rectangles.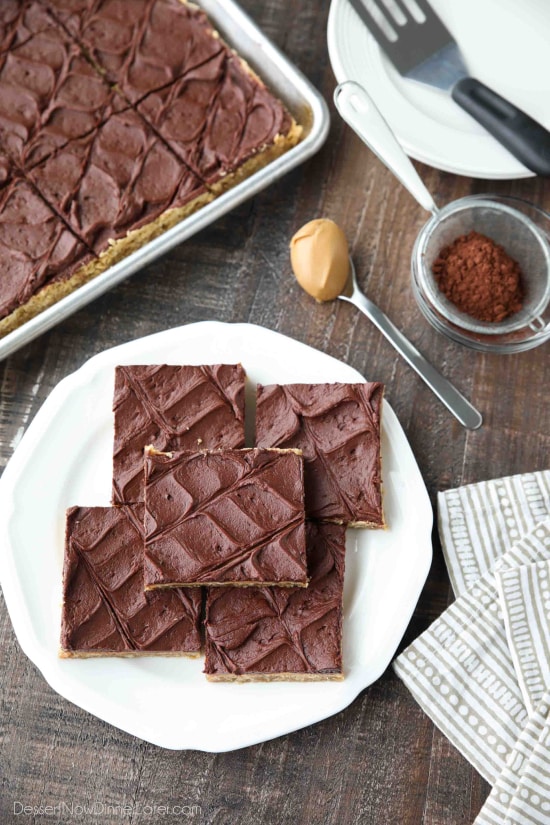 I can see why they were a frequent dessert in the cafeteria, because they make A LOT, which is perfect for a crowd. Plus everyone loved them! I guarantee that adults love these just as much as kids do. It's hard to beat that peanut butter and chocolate combination, unless you have a food allergy to it, of course.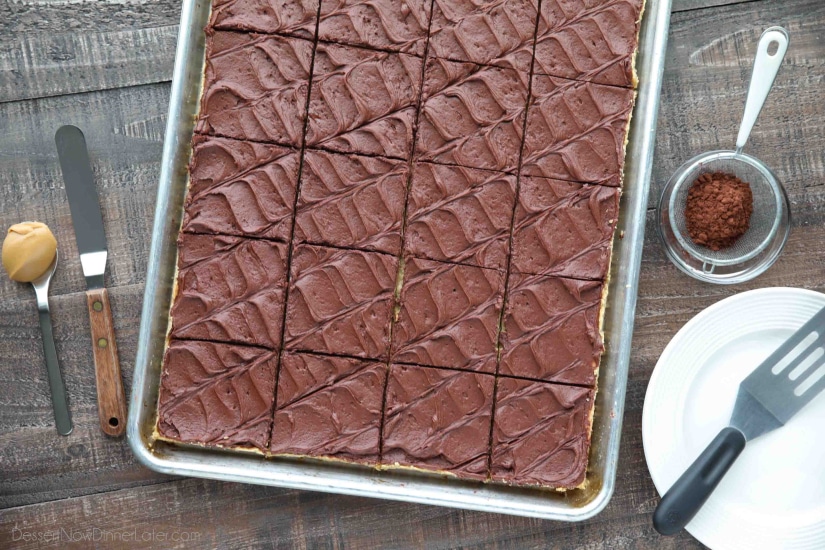 PEANUT BUTTER BARS
These aren't just peanut butter cookie bars topped with chocolate. These peanut butter bars have old fashioned oats in them which creates this great chewy texture. An extra thin layer of peanut butter is spread over the bars while they are still warm, and then everything is smothered with a rich chocolate frosting.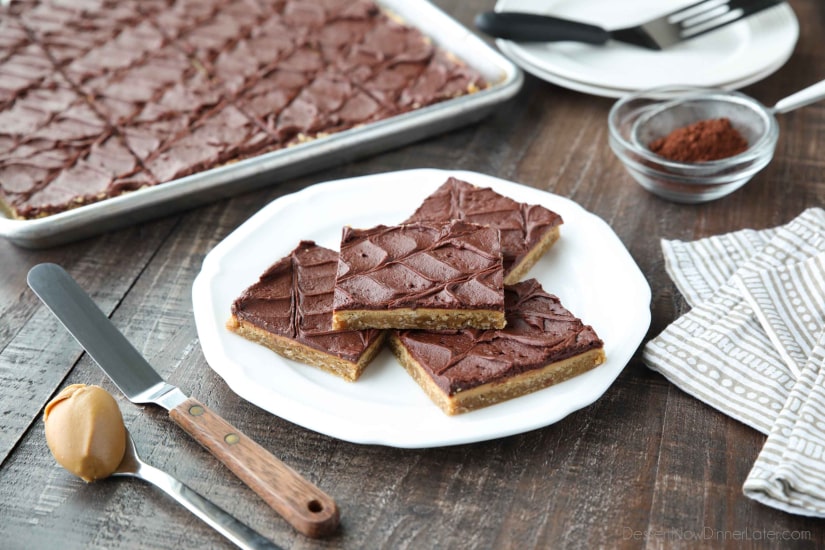 I love to use Hershey's Special Dark Cocoa in my chocolate frosting for the taste and a darker color, but regular unsweetened cocoa is fine too.
It's so fun to make the frosting pretty with a bakery swirled design and it's really easy to do! Either way, the frosting is smooth, creamy, and the perfect addition to these peanut butter bars.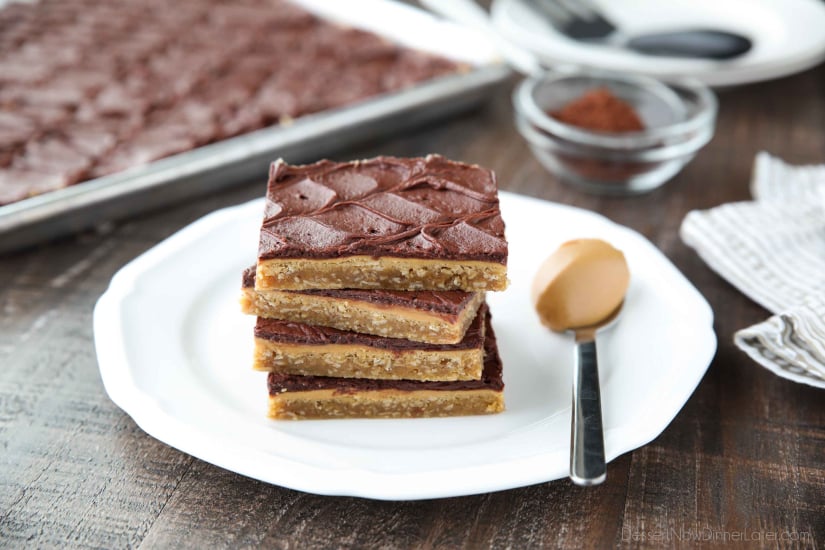 Don't be surprised when these peanut butter bars disappear in a flash at parties and potlucks. They're easy to make and taste great!
Check out these No Bake Peanut Butter Bars for a great alternative in the summer months, if you don't feel like turning on the oven.
Peanut Butter Bars
Yield: 24 bars
Prep Time: 10 minutes
Cook Time: 12 minutes
Total Time: 22 minutes
These Peanut Butter Bars with oatmeal are a soft and chewy baked cookie dessert topped with an extra layer of peanut butter, and a decadent chocolate frosting. 
Ingredients
1/2 cup (1 stick) unsalted butter, softened
1 cup granulated sugar
1 cup brown sugar, packed
2 large eggs
2 tsp vanilla extract
1 cup creamy peanut butter
1 3/4 cups all-purpose flour (stir, spoon, & level)
2 cups old fashioned oats
1 tsp baking soda
1/2 tsp salt
Frosting:
1 cup creamy peanut butter (separate)
1/2 cup (1 stick) unsalted butter, very soft
3 cups powdered sugar
1/4 cup unsweetened cocoa powder (I use Hershey's Special Dark)
1 tsp vanilla extract
3 Tbsp milk
Instructions
Preheat oven to 350 degrees Fahrenheit. Lightly grease a 12x18-inch jelly roll/rimmed half sheet pan with cooking spray.
For the bars: In a stand mixer with the paddle attachment, cream the butter and sugar until light and fluffy. Add the eggs and vanilla. Blend well. Add peanut butter and mix thoroughly. Scrape bowl.
In a separate bowl, whisk together the flour, oats, baking soda, and salt. Slowly add dry ingredients to wet ingredients in mixer. Mix until incorporated, scraping the bowl as needed.
Press dough into the prepared baking pan. Tip: Use a lightly floured rolling pin to evenly distribute and flatten the dough.
Bake at 350 degrees Fahrenheit for 12-15 minutes. Do NOT over-bake. Let rest 3 minutes.
While bars are still warm, dollop 1 cup of peanut butter over the top. Use an offset spatula to gently spread the peanut butter evenly over the top. Let peanut butter dry/solidify. Can speed up the process by placing the bars in the refrigerator/freezer.
To make the frosting: In a large bowl with a hand mixer, beat the butter until light and fluffy. Add the powdered sugar, cocoa, vanilla and milk. Blend until smooth. Dollop, then spread the chocolate frosting over the peanut butter layer. Make a bakery swirled design, if desired. Cut and serve bars.