Maple Bacon Chocolate Donuts
This post may contain affiliate links, meaning that I may receive a commission at no cost to you if you use a link provided. All opinions shared are my own. You can review my full disclosure policy here.
Maple Bacon Chocolate Donuts – Soft baked chocolate donuts covered in maple glaze and topped with maple bacon crumbles.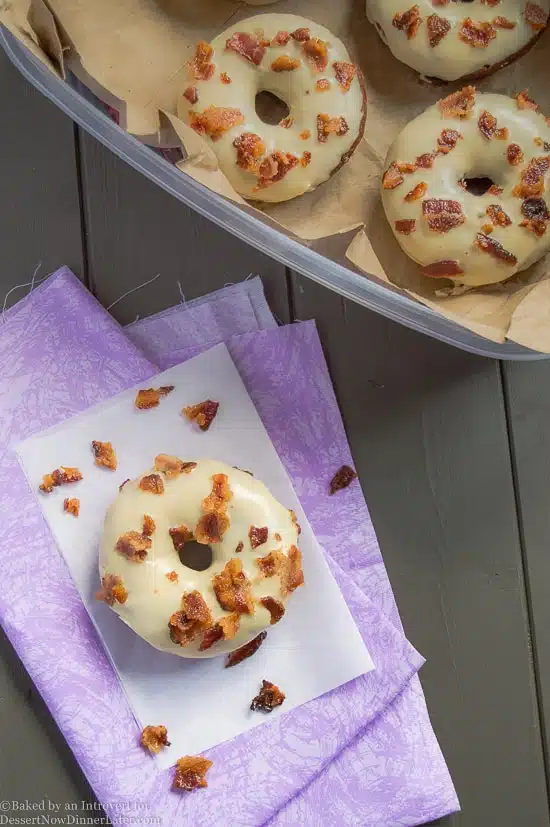 Happy Saturday! It's Jen here from Baked by an Introvert, back with an amazing donut recipe. The perfect breakfast for a Saturday morning. I love donuts. (Doughnut/Donuts, however you want to spell it.) I could eat them all the time. They are so puffy, light, and sweet with glaze. My favorite has always been the custard filled ones like these Pumpkin Pie Donuts but I can never turn down a soft baked chocolate donut. Especially when it's covered in maple glaze and topped with crispy bacon crumbles.
You are going to want to make these delicious donuts every weekend. They are beyond easy and take less than 35 minutes to make. My husband gobbled them up and then requested that I make them again. It might be an every weekend thing!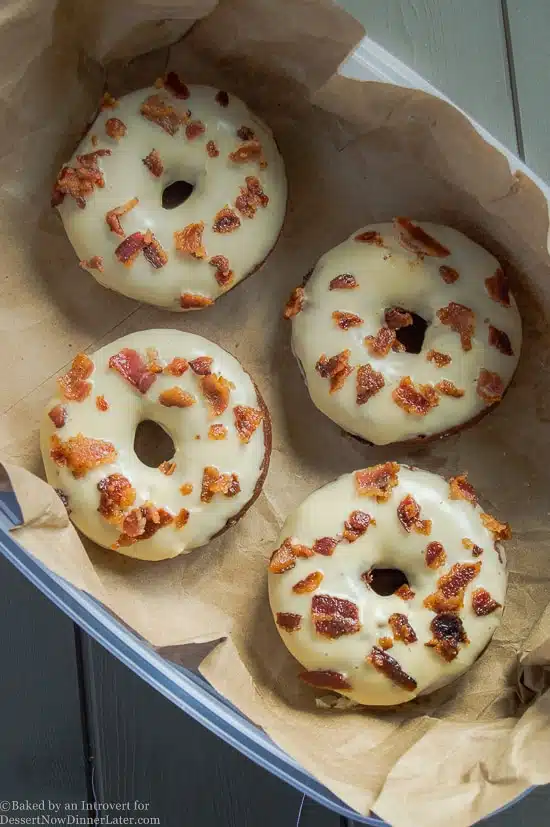 These donuts are baked instead of fried so you will need a donut pan. All of the ingredients are simply mixed together by hand and the oven will do all the rest.
Since these donuts are baked, they will have a slightly different texture than the fried donuts you get at a donut shop. But trust me; they are still just as delicious.
I used white wheat flour for this recipe. It is ever so slightly denser than all-purpose flour and makes for a heartier donut. You will want to sift your cocoa powder before adding it into the flour. There will be clumps of cocoa powder in the batter if you don't.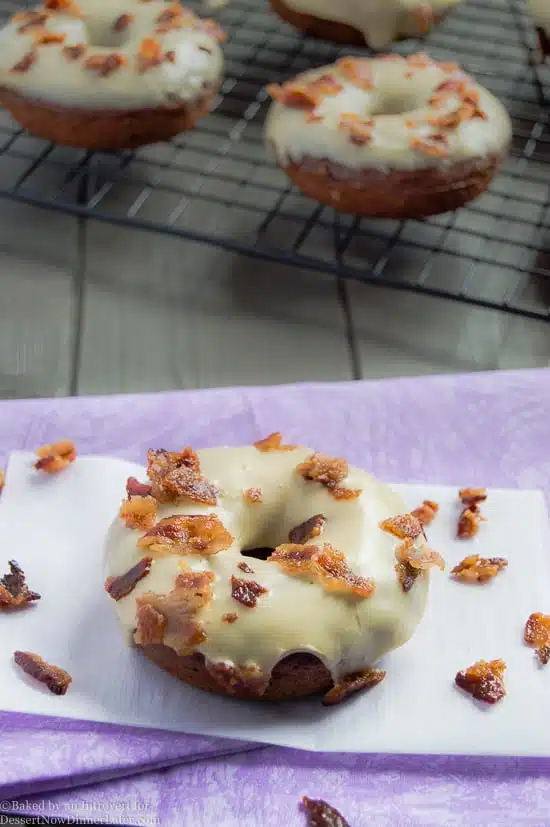 The rest of the ingredients are pretty much your staple baking ingredients; sugar, milk, eggs, butter, vanilla, and leavener. Mix the wet ingredients separate from the dry ingredients and then whisk them together. Be extra careful not to over mix. The donuts will turn out dense and heavy if you do.
After the donuts have baked, let them cool, then it's time for the glaze. I like to wait until they have cooled quite a bit before I glaze them. This will allow the glaze to set quickly, making it thick and opaque.
Confectioner's sugar, maple syrup, and maple extract make up the glaze. You can find maple extract in the supermarket, usually with the spices and other extracts. The glaze will be thick. If you want a thinner glaze simply add one teaspoon at a time of heavy cream until you reach the desired consistency.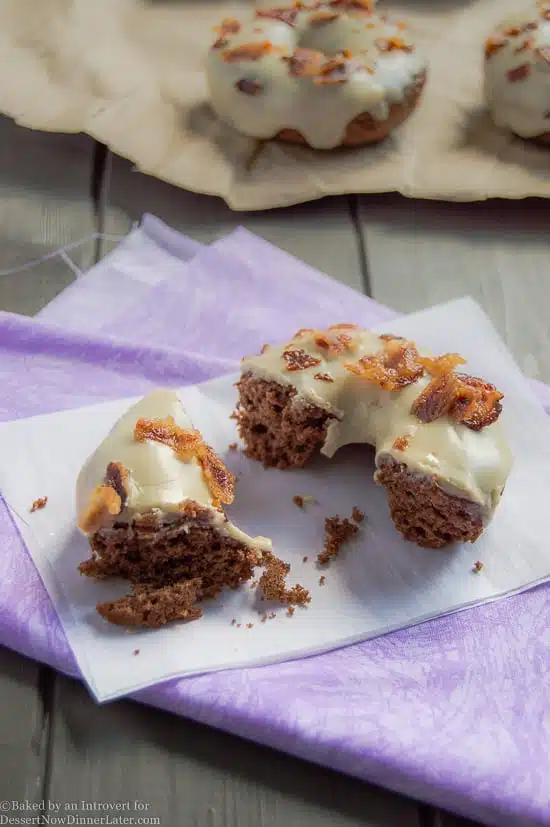 Dip the tops of each donut in the glaze. Place them on a wire rack and crumble crispy bacon pieces over the donuts while the glaze is still wet. Use maple bacon for an extra pop of maple flavor.
I am completely in love with this flavor combination. These maple bacon chocolate donuts are totally irresistible. Soft, moist, chocolatey, sweet, with crunchy bacon. Seriously, you have got to try them.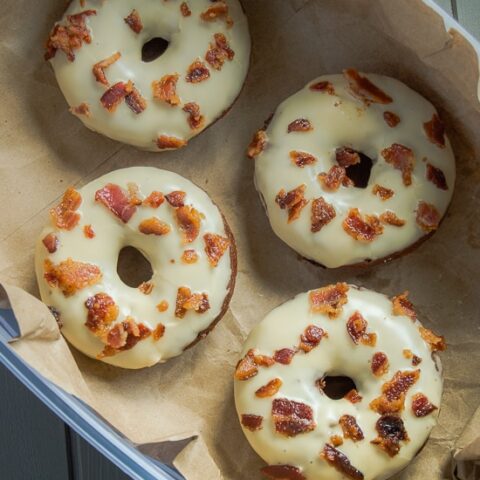 Maple Bacon Chocolate Donuts
Ingredients
2 cups white wheat flour
1/2 cup unsweetened cocoa powder
2 tsp baking powder
1/4 tsp salt
1 cup granulated sugar
3 Tbsp unsalted butter, melted
1 cup milk
2 eggs
2 tsp vanilla extract
For the glaze
1 cup confectioner's sugar
4 Tbsp maple syrup
1/2 tsp maple extract
4 slices maple bacon, cooked and crumbled
Instructions
Preheat oven to 350 degrees Fahrenheit. Lightly grease 2 donut pans with cooking spray. Set aside.
In a medium bowl, combine the flour, cocoa powder, baking powder, and salt. Stir with a whisk.
In a separate larger bowl, combine the sugar and butter. Add the milk, eggs, and vanilla. Whisk until well combined. Fold the flour mixture into butter mixture, mixing just until moistened. Be careful not to over mix. The mixture will be thick.
Pour mixture into a large zip-top bag and cut the corner off. Pipe the mixture into the prepared pans, filling each donut mold ⅔ full. Bake for 10 minutes or until the donuts spring back when touched. Allow the donuts to cool in the pans on a wire rack for 10 minutes.
Make the glaze: Combine the confectioner's sugar, maple syrup, and maple extract in a small bowl. Whisk until smooth. The glaze will be thick. Dip the tops of each donut into the glaze while they are still warm. Return the donuts to a wire rack. Sprinkle with crumbled bacon. Allow the glaze to set before serving.
Notes
Donuts are best if consumed the day they are made.
The recipe can be halved if you wish to make only 6 donuts.
For a thinner glaze add 1 tsp of heavy cream at a time until you reach the desired consistency.
Recipe from Jen at
Baked by an Introvert
Nutrition Information:
Yield: 12
Amount Per Serving:
Unsaturated Fat: 0g