Banana Chocolate Chip Muffins
This post may contain affiliate links, meaning that I may receive a commission at no cost to you if you use a link provided. All opinions shared are my own. You can review my full disclosure policy here.
These Banana Chocolate Chip Muffins, are fluffy and full of chocolate chips. Plus, tips on how to create the perfect muffin every time!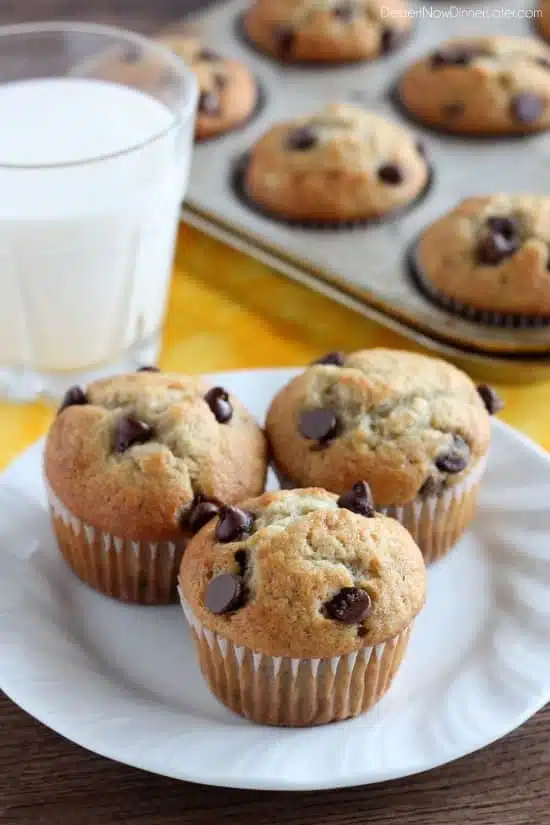 I rarely have bananas sitting on my counter getting brown and mushy, because I have a smoothie every day for breakfast and I put a banana in each one because it makes it thick, and creamy, and I like it. So when I somehow ended up with brown bananas (I think it's because I had some Kashi cereal for breakfast for a few days in a row instead) I jumped on the opportunity to make some Banana Chocolate Chip Muffins.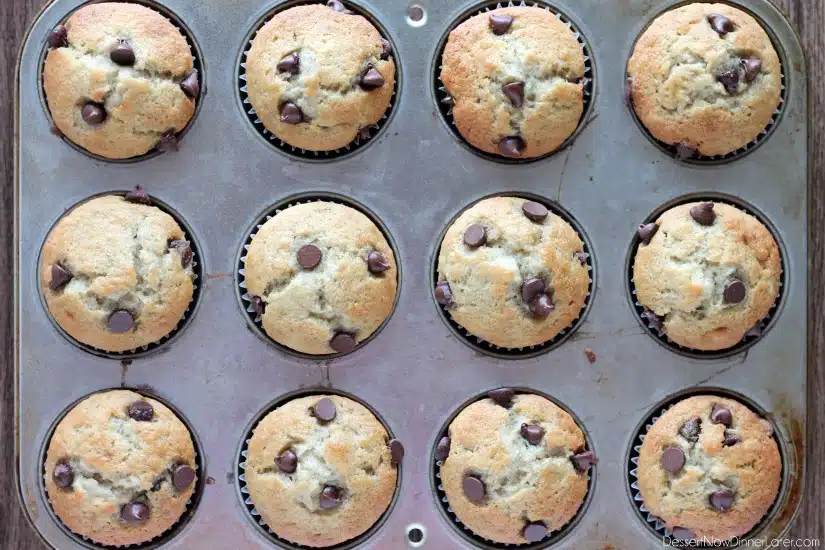 They turned out beautiful! Brown on the edges, nice tall peaks, and polka dot chocolate chips decorated the tops. Perfection! There are tricks to getting these kinds of results when baking muffins (or cupcakes) at home, and I'll tell you what they are.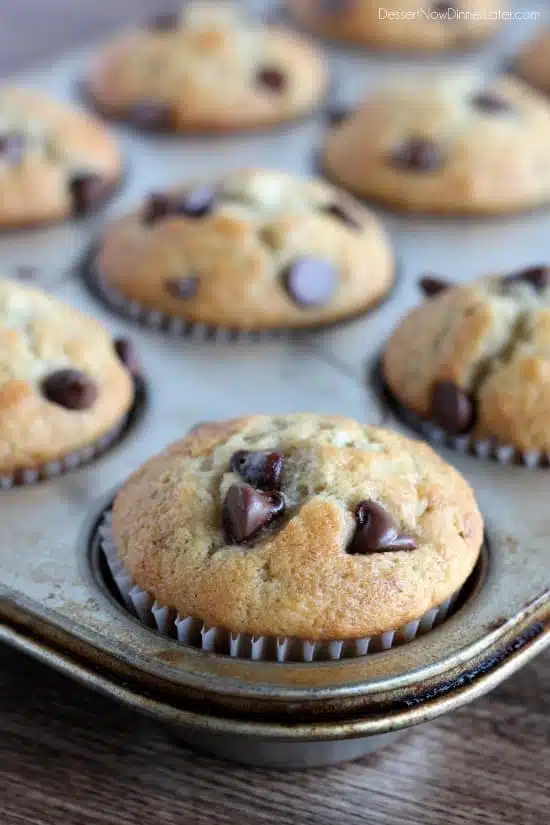 Tip #1: Don't overfill your muffin cups. The general rule is 2/3 full, not 3/4 full. There is a difference, believe me. This gives the muffin time to cook and get solid before it reaches the top of the paper cup and spills over.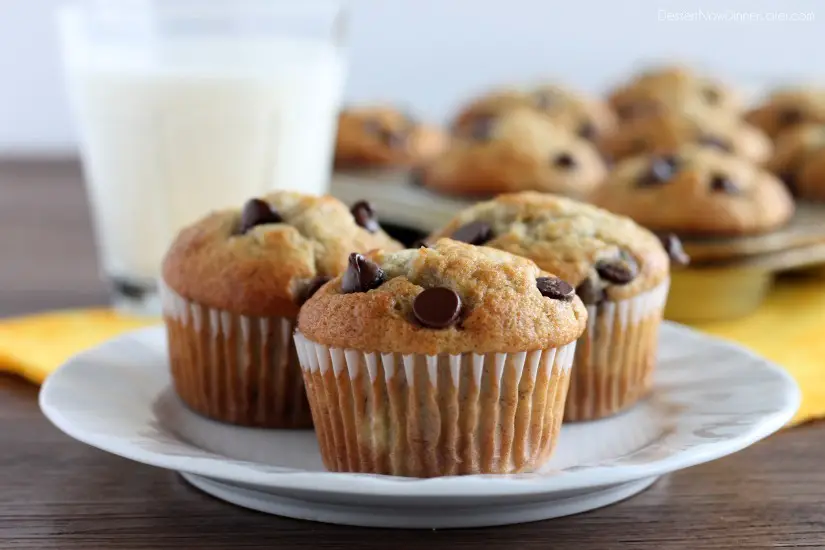 Tip #2: Bake at 400 degrees Fahrenheit. I hate those recipes that say bake at 350. Not good! You want your muffins to shoot up quickly and create that peak, which kind of contradicts tip #1, but since it's baked at a higher heat, it's cooked enough when it reaches the top, and it won't spill over. Tip #3: Use no less than 1 tsp of baking soda for a 12 (ish) muffin recipe. The baking soda helps leaven the muffin giving it that peak with the help of the higher heat of the oven. And when I say 12 (ish) muffin recipe, I mean, the recipe I altered for this post said 24 muffins; I cut it in half and got 18 muffins because I didn't overfill my muffin cups. It might have had to do with the fact that it said 2 to 3 bananas, but they preferred 3, so I used 3, which means more batter, but that's quite a bit more that 12 muffins, yeah?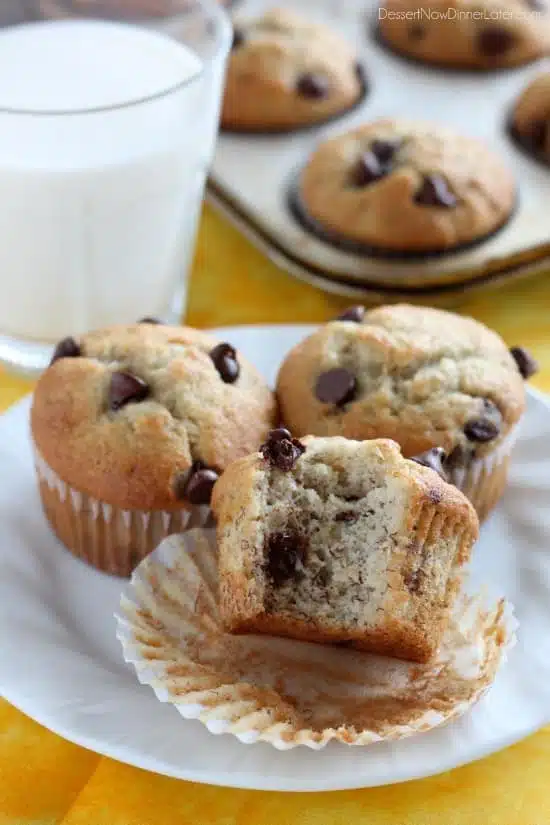 Seriously though, these look good, but they taste good too, and now that you know some secrets to muffins, you can get to baking!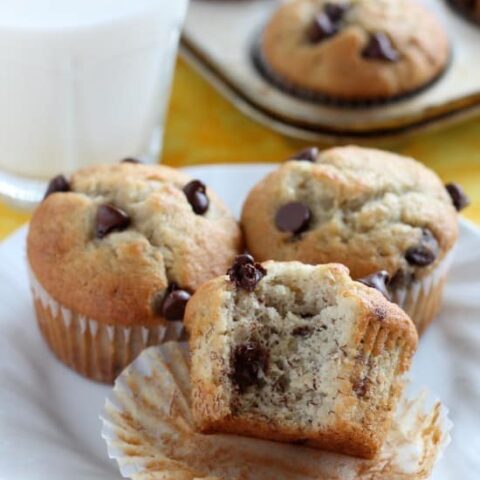 Banana Chocolate Chip Muffins
Ingredients
3 ripe bananas
1 cup granulated sugar
1 tsp vanilla extract
3 Tbsp sour cream
2 large eggs
1/2 cup oil (vegetable/canola)
2 cups all-purpose flour
1 tsp salt
1 tsp baking soda
3/4 cup chocolate chips
Instructions
In the bowl of a stand mixer, mix the bananas and sugar until the bananas are mostly smooth (not too chunky). Add the vanilla, sour cream, eggs, and oil. Mix until combined.
In a separate bowl, combine the flour, salt, and baking soda. Add to banana mixture until incorporated. Fold in ½ cup of the chocolate chips.
Spoon muffin batter into prepared muffin tins with paper cups, ⅔ full. Sprinkle remaining ¼ cup chocolate chips on the tops for good looks.
Bake at 400 degrees Fahrenheit for 18 to 20 minutes until golden brown on top and edges.
Nutrition Information:
Yield: 18
Amount Per Serving:
Unsaturated Fat: 0g