Chocolate Peanut Butter Cup Donuts
This post may contain affiliate links, meaning that I may receive a commission at no cost to you if you use a link provided. All opinions shared are my own. You can review my full disclosure policy here.
These chocolate peanut butter cup donuts are made with Pillsbury Grands Buttermilk Biscuits, creating an easy gourmet donut at home!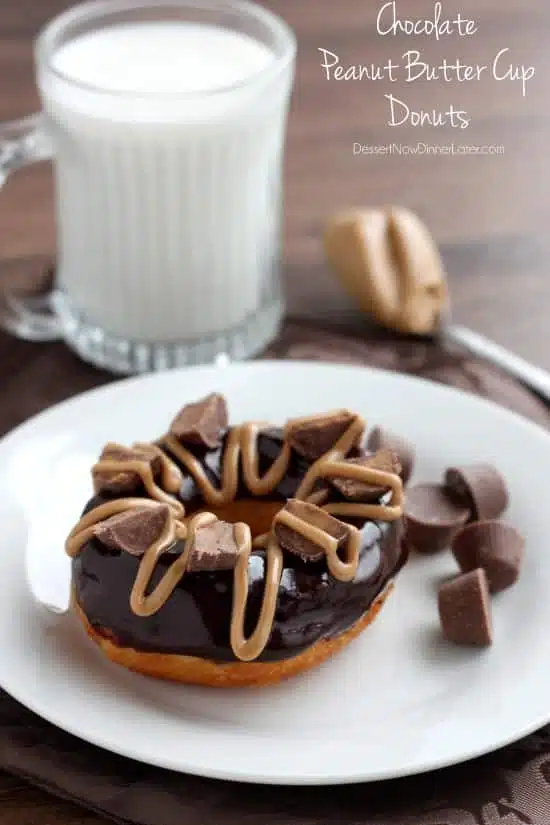 I told ya'll I would be back with more donuts right?! These are for the chocolate peanut butter lovers out there! I mean who wouldn't want Chocolate Peanut Butter Cup Donuts? Look at that peanut butter drizzle and glossy ganache! YUM!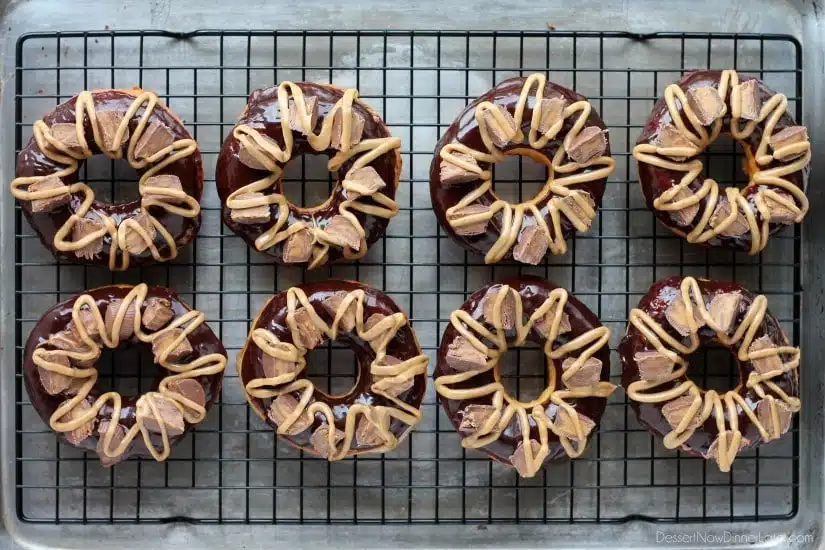 Again, these donuts are made with Pillsbury Grands Homestyle Buttermilk Biscuits, because why make your own dough if you can cheat, right? Haha. No, homemade dough is great, but sometimes I need a time saver like those biscuits, and they taste great as a donut!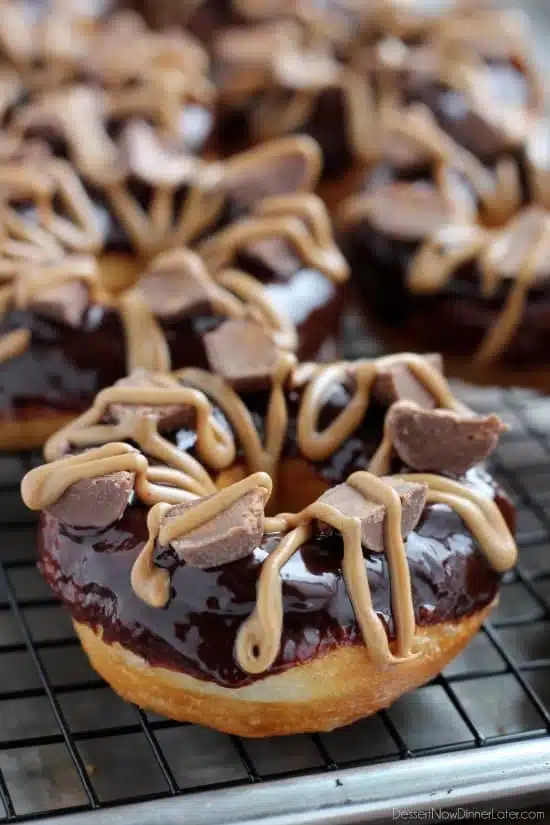 These are dark and decadent. I almost wished I had done a glaze on them like my Cookies and Cream Donuts, just for a little more sweet to balance out the semi-sweet chocolate and peanut butter, but they were still incredibly delicious and so gourmet!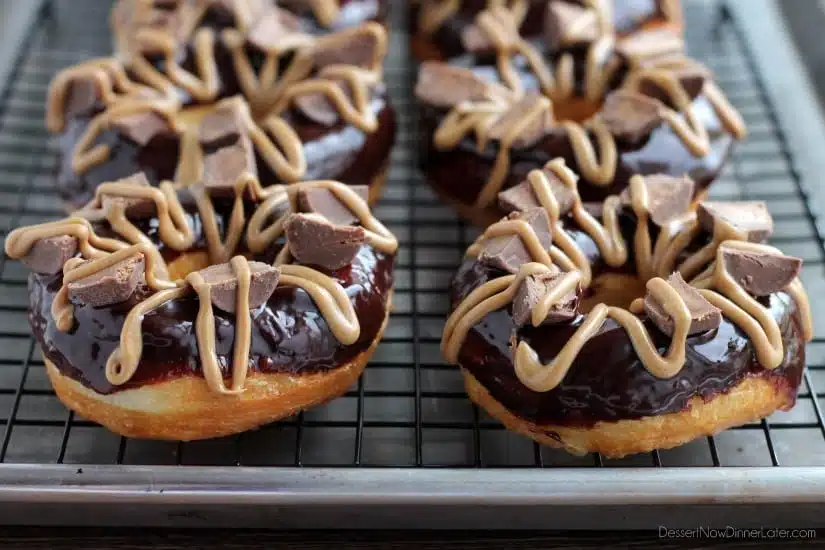 I mean, who would have thought you could make these gourmet donuts in your own home? I've only seen pictures of donuts like these from fancy bakeries, but who says you need to go to the bakery to get a gourmet donut? You sure don't! Make these!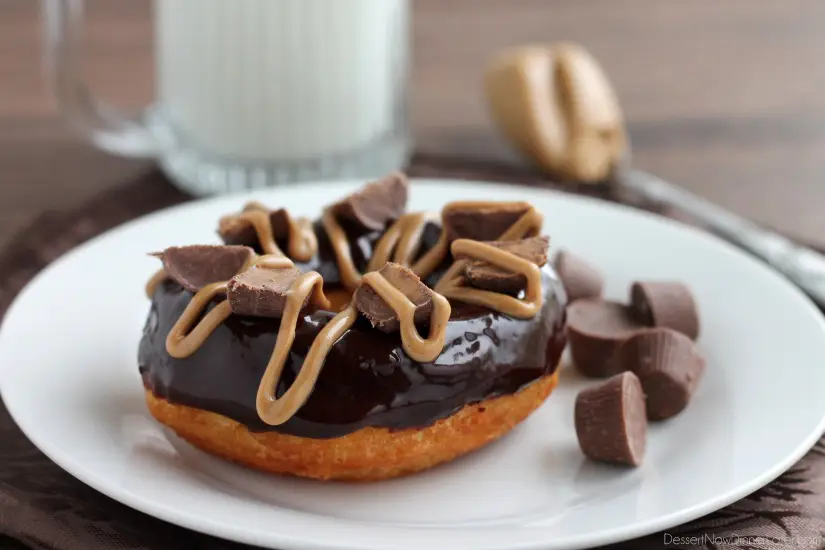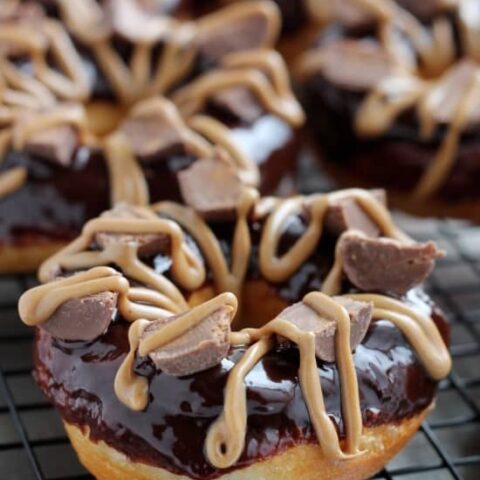 Chocolate Peanut Butter Cup Donuts
Ingredients
1 (8ct) Pillsbury Grands Homestyle Buttermilk Biscuits (not flakey layers)
oil, for frying
3 oz 1/2 cup semi-sweet chocolate chips
2 oz 1/4 cup heavy cream
1/4 cup creamy peanut butter
35 mini peanut butter cups, cut in half
Instructions
Fill a large stock pot or dutch oven with oil 2 to 3 inches high from the bottom. Heat oil on medium heat.
Open the can of biscuits and separate each one. Flatten each biscuit slightly with your hand and cut out the centers with a small biscuit cutter.
Once the oil is hot, fry donuts 3 or 4 at a time until golden brown on each side, using a wooden skewer or metal spatula to turn them over. Remove the donuts and place them on a paper towel lined baking sheet, until they are slightly cooled down. Repeat with remaining dough.
Heat heavy cream in the microwave for 30 seconds or until it simmers, but watch it to make sure it doesn't spill over. Pour hot cream over chocolate chips and stir until smooth.
Dip the top half of the donut in the ganache and then set it on a cooling rack that has been placed inside a baking sheet to dry. (The baking sheet catches any drips.)
Add the halved peanut butter cups after the ganache has mostly cooled down; if it's too hot still, it will melt the peanut butter cups.
Heat the peanut butter in the microwave for 15 seconds or until slightly melty, but not runny. Scoop the warm peanut butter into a zip top bag, seal it shut, then cut off the corner, and while squeezing, zig-zag the peanut butter over each donut. Enjoy! Store any extra donuts in a container with a lid for a day or two.
Nutrition Information:
Yield: 8
Amount Per Serving:
Unsaturated Fat: 0g