Grilled Malibu Chicken
This post may contain affiliate links, meaning that I may receive a commission at no cost to you if you use a link provided. All opinions shared are my own. You can review my full disclosure policy here.
This Grilled Malibu Chicken is grilled, which makes it lighter in calories, yet simple and flavorful.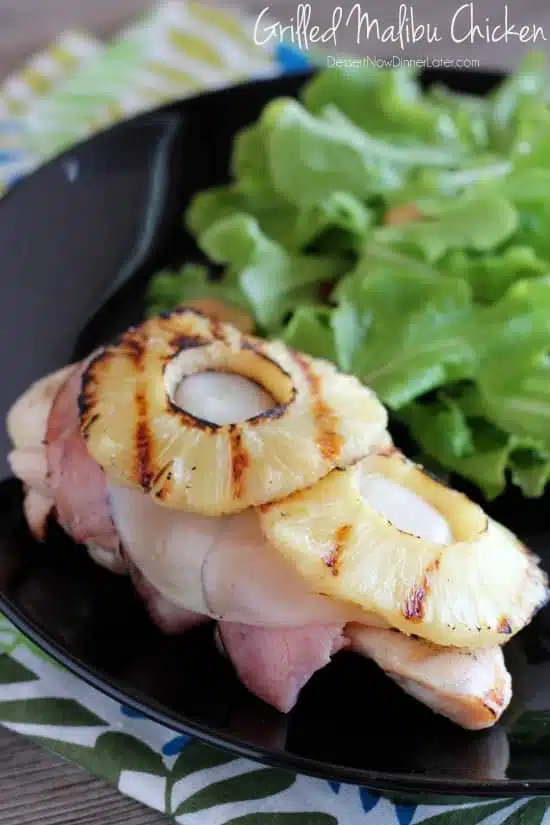 One of my favorite healthy meals from when I was doing my health challenge in June was this Grilled Malibu Chicken! It's basically an inside out Chicken Cordon Bleu without the breadcrumbs and with yummy pineapple instead.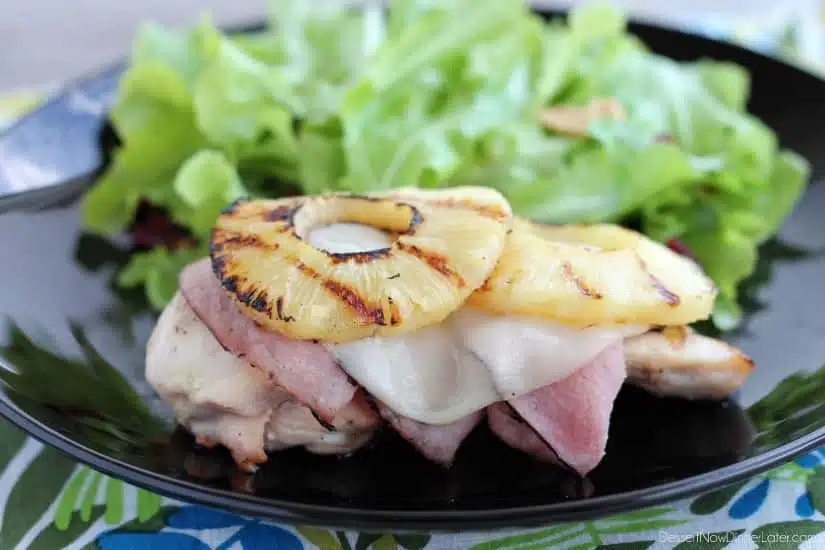 Even though this is a simple recipe, it's really great because you have the sweet pineapple, the salty ham, gooey cheese, and tender chicken. The chicken is seasoned with salt and pepper, but it doesn't need anything else (unless you have Jamaican Jerk Seasoning, that's really good!)  Enjoy grilling this Malibu Chicken for dinner this weekend!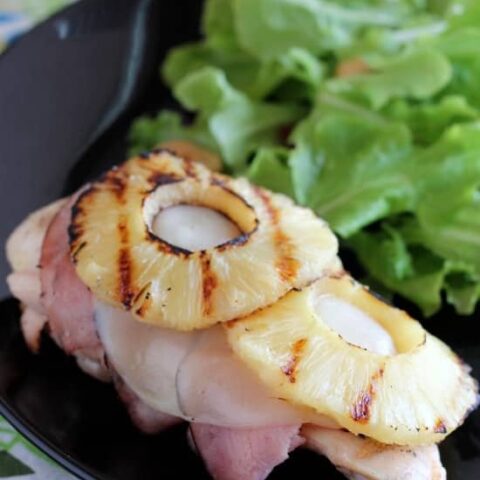 Grilled Malibu Chicken
Ingredients
4 (4oz) boneless skinless chicken breasts
16 slices Healthy Ones Black Forest Ham
4 slices Provolone or Swiss Cheese
8 pineapple rings
Salt and Pepper
Instructions
Grill each pineapple ring on medium heat until grill marks appear on both sides. Set pineapple on the upper grill rack to keep warm or remove from grill when finished.
Season each raw chicken breast with salt and pepper on both sides.
Grill for 3 to 4 minutes on each side until the internal temperature reaches 160 degrees Fahrenheit.
Add 4 slices of ham on top of each breast. Then add 1 slice of cheese, and 2 grilled pineapple rings on top of each chicken breast.
Close lid and let heat until cheese melts; about 2 minutes. Make sure the chicken has reached 165 degrees Fahrenheit, then remove from grill and enjoy!
Nutrition Information:
Yield: 4
Amount Per Serving:
Unsaturated Fat: 0g