Cookies and Cream Donuts
This post may contain affiliate links, meaning that I may receive a commission at no cost to you if you use a link provided. All opinions shared are my own. You can review my full disclosure policy here.
These cookies and cream donuts are made with Pillsbury Grands Buttermilk Biscuits for an easy gourmet donut at home, anytime!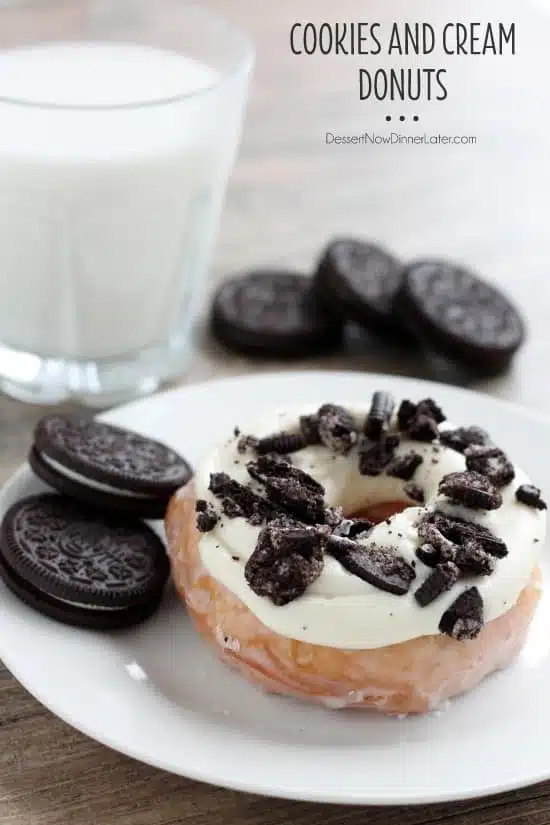 I've been on a donut kick lately. If I'm going to use oil for frying, why not fry and fry and fry until your oil is used up good, right? The last donut creation you saw on my blog were these Mini Boston Cream Donuts and I have another donut recipe coming up including peanut butter and chocolate, so stay tuned!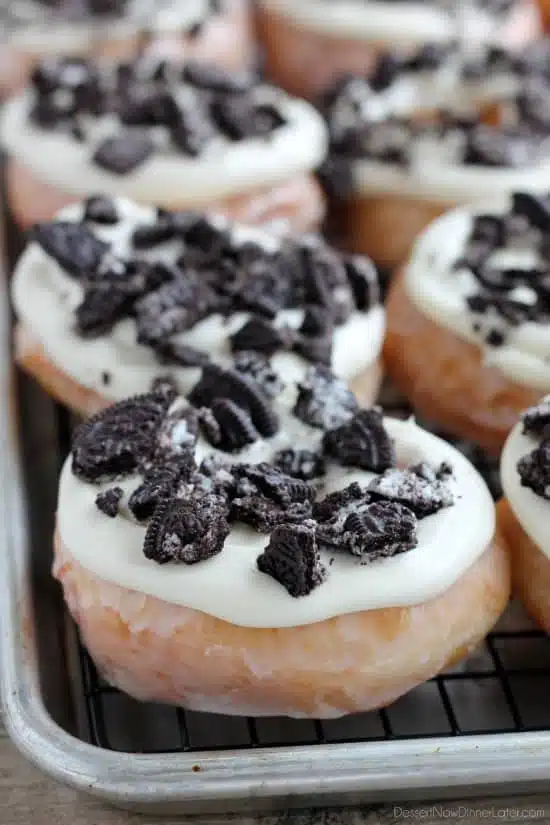 As for these cookies and cream donuts, they're pretty much perfection! I am a hard core Oreo fan, and I love, LoVe, LOVE cream cheese frosting, so it only made sense to combine the two atop a donut creation!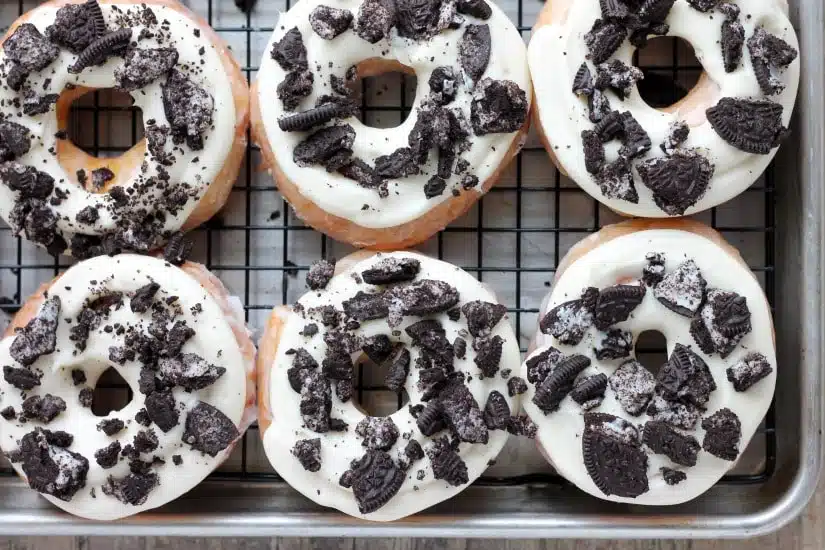 Not only do you have the cream cheese frosting on top, but these donuts are glazed too. These are sure to satisfy that sweet tooth of yours! I just love these cookies and cream donuts because they are so gourmet! You wouldn't see this donut sitting in the donut case at the grocery store. These are totally fancy!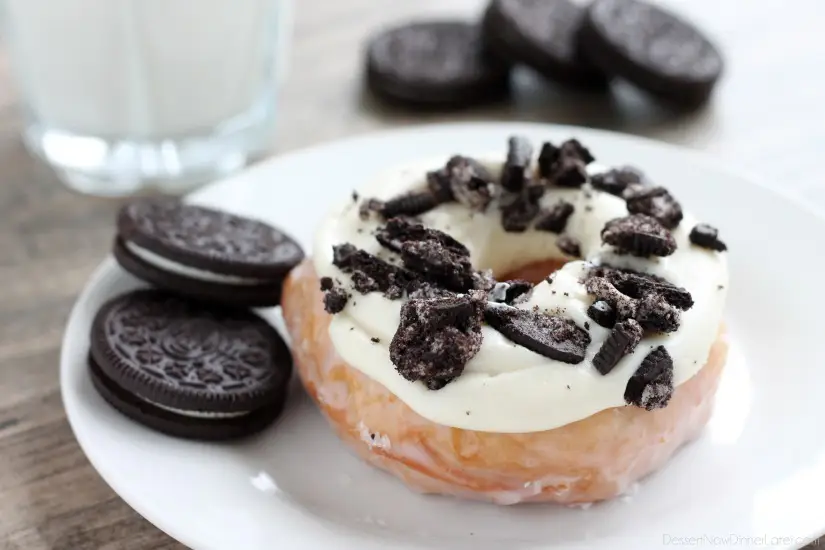 Another thing I love about these cookies and cream donuts, is that they use Pillsbury Grands Homestyle Buttermilk Biscuits. Talk about easy! My daughter won't stop asking me to make donuts, and I don't blame her! We have enjoyed our fair share of homemade deliciousness! Make these today!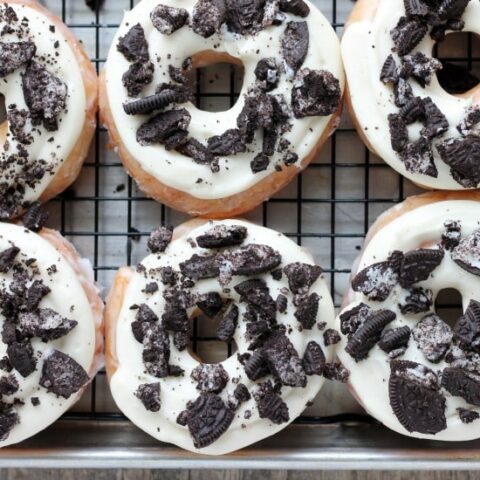 Cookies and Cream Donuts
Ingredients
1 (8ct) Pillsbury Grands Homestyle Buttermilk Biscuits (not flakey layers)
oil, for frying
2 cups powdered sugar
1/4 cup milk
1 recipe The BEST Cream Cheese Frosting (link in instructions below)
8 to 10 roughly crushed Oreos
Instructions
Fill a large stock pot or dutch oven with oil 2 to 3 inches high from the bottom. Heat oil on medium heat.
Open the can of biscuits and separate each one. Flatten each biscuit slightly with your hand and cut out the centers with a small biscuit cutter.
Prepare glaze by combining the powdered sugar and milk in a bowl.
Once the oil is hot, fry donuts 3 or 4 at a time until golden brown on each side, using a wooden skewer or metal spatula to turn them over. Remove the donuts and place them on a paper towel lined baking sheet, until they are slightly cooled down.
Drop donuts into the bowl with the glaze and turn the donut over until it's coated with glaze; I use a spoon to help pour glaze over the donut. Using a skewer, thread it through the middle of the donut and hang both ends of the skewer across the bowl until the extra glaze drips off. Set donut on a wire rack to finish drying.
Repeat frying and glazing steps with remaining donuts.
Prepare Cream Cheese Frosting and put it in a zip-top bag that has the corner cut off. Pipe the frosting in a circular motion on top of the donut. Sprinkle with crushed Oreos. Store any extra donuts in a container with a lid for a day or two.
Nutrition Information:
Yield: 8
Amount Per Serving:
Unsaturated Fat: 0g