Mexican Chicken Lime Soup
This post may contain affiliate links, meaning that I may receive a commission at no cost to you if you use a link provided. All opinions shared are my own. You can review my full disclosure policy here.
This Mexican Chicken Lime Soup has the PERFECT amount of heat from the chipotle peppers, tang from the limes, crunch from the tortilla chips, and is served with smooth, cooling avocado to create a harmonious dish!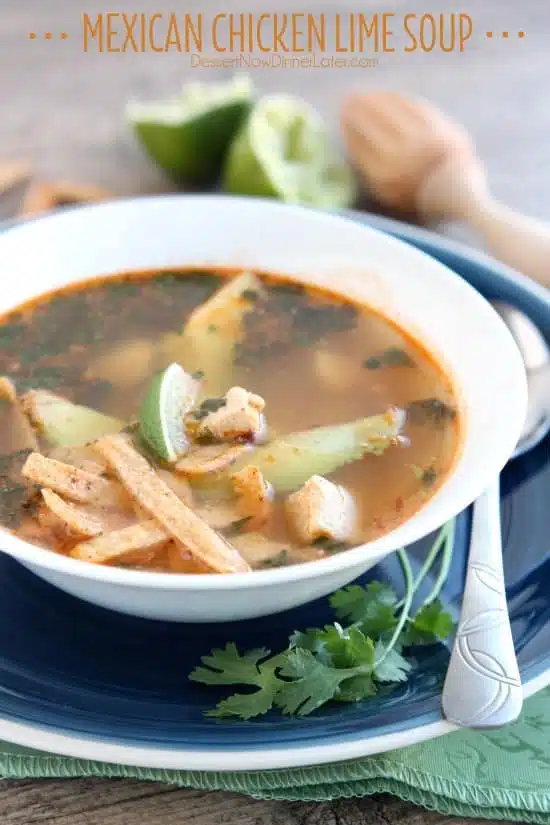 I think by this time of fall last year I had posted 7 soup recipes!!! I am behind! Haha. If you are new to my blog, you will realize that I absolutely LOVE soup! It's my favorite fall food. We have soup at least once a week once mid-September hits (and sometimes even earlier!)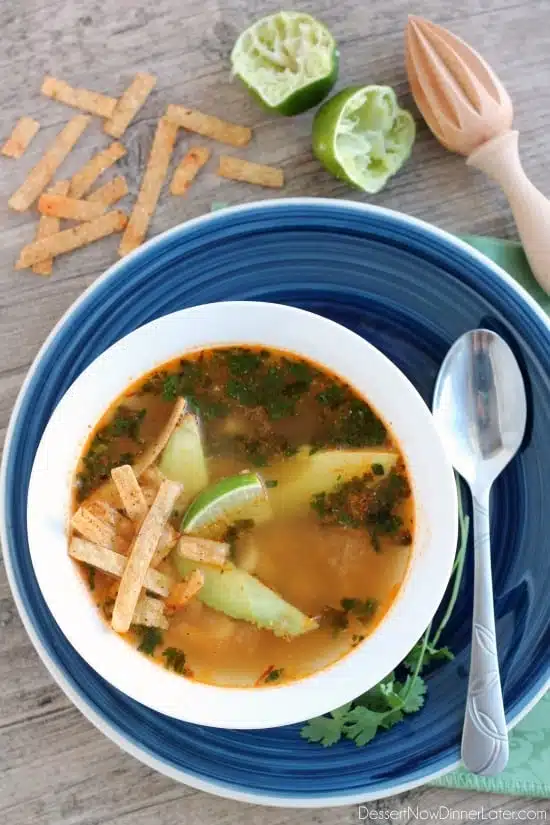 This Mexican Chicken Lime Soup has the PERFECT amount of heat from the chipotle peppers and tang from the limes. It doesn't look like much, but trust me, it is! Just ignore my bad food styling on this one, I must have been super HUNGRY! Haha.
The way we made this soup is a little more broth, a little less chunks, but you can always add more chicken for a chunkier soup.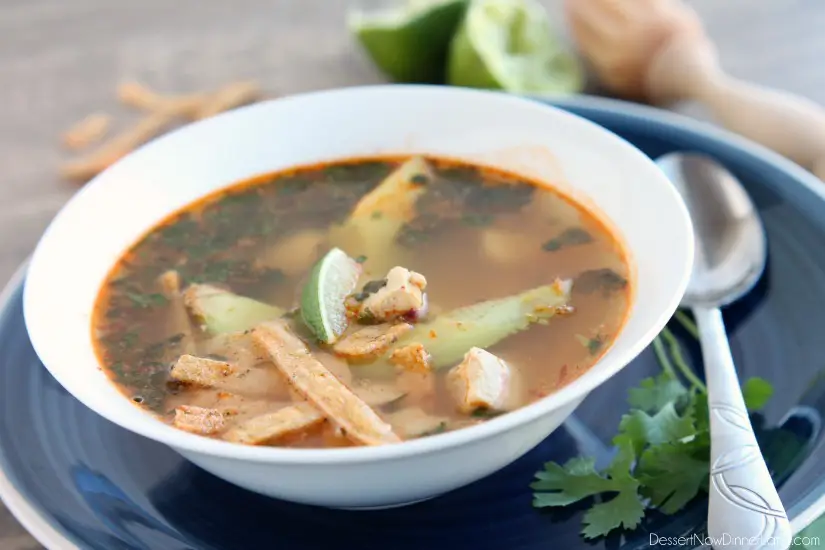 One of my favorite parts of this soup is the slices of avocado that cools down the heat you get from the chipotle. It's a magical thing when flavors marry together to harmonize in your mouth! So delicious! The tortilla strips were also welcomed into my bowl! Love those! This might not be the best soup for kids, but adults will really enjoy this one!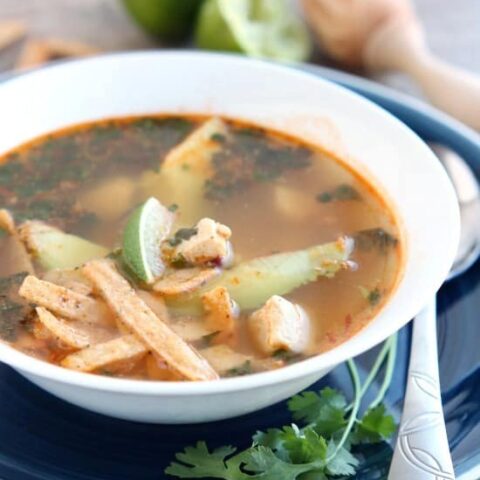 Mexican Chicken Lime Soup
Ingredients
2 Tbsp olive oil
1 onion, finely chopped
3 tsp minced garlic
1 large chicken breast, cubed
2 Tbsp pureed chipotle with adobo sauce (Puree a whole can and use 2 Tbsp of it, then freeze the rest in an ice cube tray, and transfer frozen cubes to a zip-top bag for future recipes.)
6 cups low-sodium chicken broth
1/2 cup cilantro, chopped
juice of 2 limes (about 6 Tbsp)
salt and pepper, to taste
1 avocado, thinly sliced into 12 pieces
tortilla strips or crushed chips
Instructions
In a large saucepan, heat the olive oil over medium-high heat. Stir in the onion and garlic, lower the heat to medium and cook until the onion is translucent, about 7 minutes.
Add the chicken and cook, stirring, until cooked through, about 5 to 7 minutes. Stir in the pureed chipotles, then stir in the chicken broth.
Lower the heat and simmer for 15 minutes.
Stir in the cilantro and lime juice; season with salt and pepper.
Place 2 avocado slices in each of 6 soup bowls and pour in the soup. Top with the tortilla chips.
Nutrition Information:
Yield: 6
Amount Per Serving:
Unsaturated Fat: 0g
Recipe lightly altered from Rachael Ray