Swiss and Onion Turkey Burgers
This post may contain affiliate links, meaning that I may receive a commission at no cost to you if you use a link provided. All opinions shared are my own. You can review my full disclosure policy here.
These Swiss and Onion Turkey Burgers are flavorful and juicy! A great alternative burger for your next BBQ!
This post brought to you by Butterball Every Day. All opinions are 100% mine.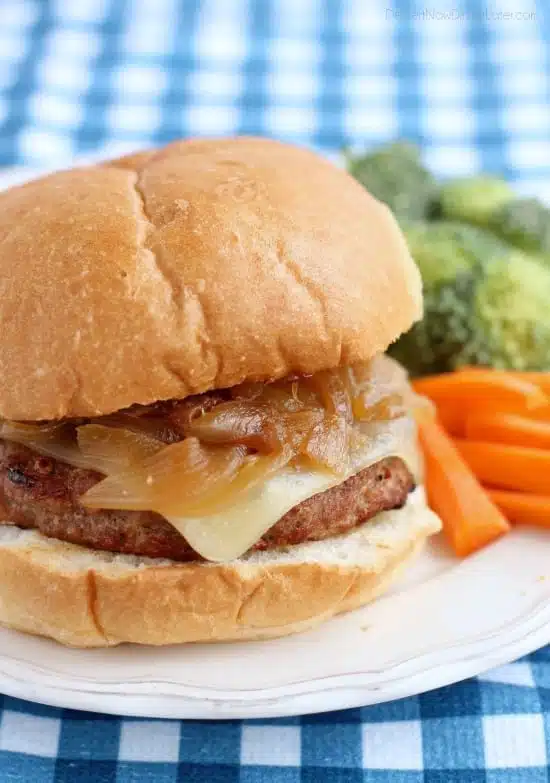 You know those days, when you've decided to eat better and exercise, but all you're craving is a big, fat juicy hamburger? Yeah, it happens! Believe me, I know! I lost 47lbs, gained 10lbs back, and am back to a 42lbs weight loss. It's a daily, and even up to the minute struggle when the sights and smells of your favorite not-so-healthy foods are staring at you in the face. Well, I have a better burger solution for you! This Swiss and Onion Turkey Burger is delicious, fresh, and wholesome!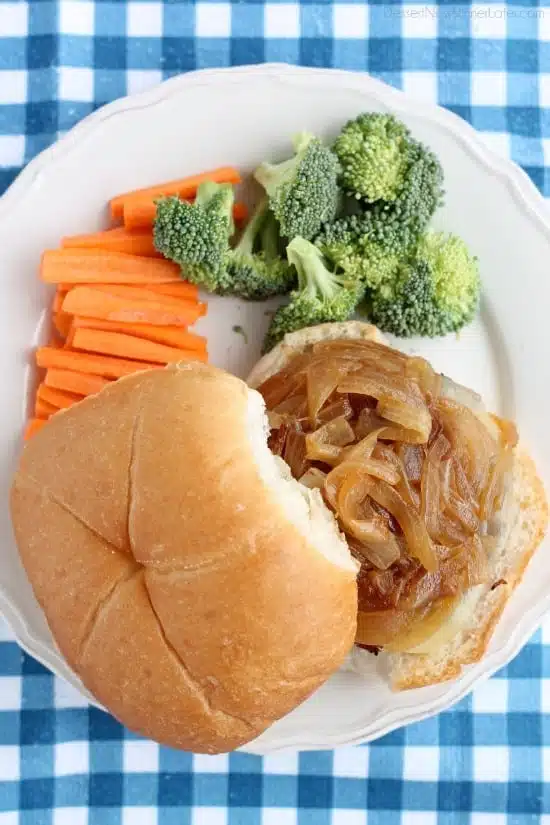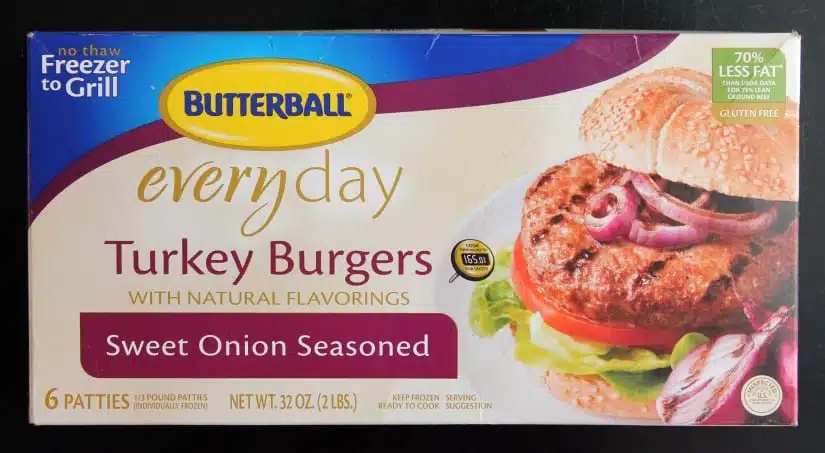 I used Sweet Onion Seasoned Butterball Turkey Burgers which are so easy to grill, indoors or out, and cook up in 15 minutes or less. The caramelized onions take 30 minutes to get a nice and rich golden brown, but they will add that gourmet aspect to the burger that you are craving. Add swiss cheese, which goes really well with caramelized onions, (because what's a burger without cheese?) and you've got burger heaven!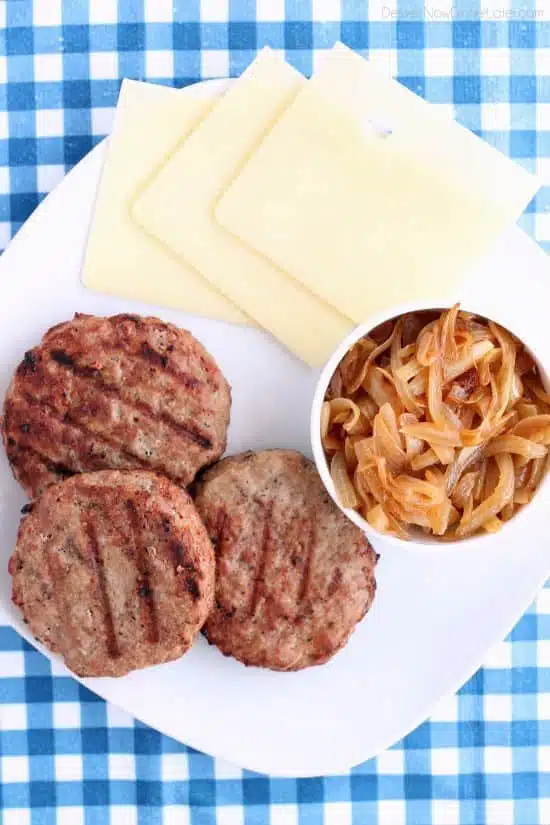 I love that these Butterball turkey burgers are lean and delicious, so I can give my family something they will actually eat, but is better for all of us! I also love that they are quick to cook, so dinner after school can be ready in no time! These burgers would be great for your next tailgating party as well, and I bet no one will notice that they're turkey burgers because they are so tender and flavorful!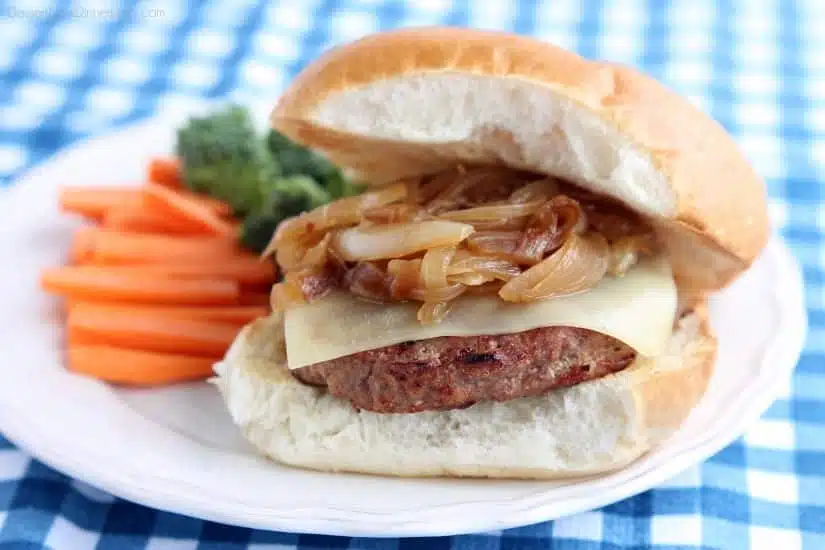 Condiments are optional, but I will say that we love to put our Swiss and Onion Turkey Burgers on a toasted bun (which you could always swap with a lettuce wrap) and veggies on the side. Yum! Check out more Butterball recipes and don't forget to print your Butterball coupons before heading to the store! We like the Butterball Turkey Bacon for breakfast, brunch, or brinner as well. It's a great alternative to pork bacon, and I can eat two pieces without feeling greasy and disgusting! Yay!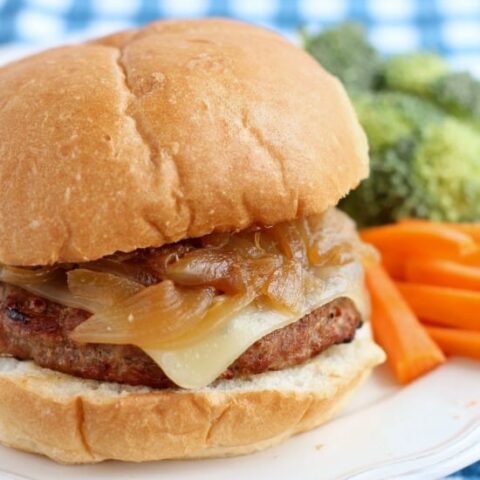 Swiss and Onion Turkey Burgers
Ingredients
3 Sweet Onion Seasoned Butterball Turkey Burgers (each box comes with 6 burgers split into 2 packages of 3 burgers each)
3 slices swiss cheese
1 large walla walla/sweet onion, sliced 1/4-inch thin
1/2 Tbsp olive oil
3 hamburger buns
Instructions
In a large non-stick skillet, heat oil & add onion. Cook on medium-low heat for 10 minutes. Season with a little salt, stir & continue cooking, uncovered, for another 20 minutes (30 minutes total), stirring every five to ten minutes. You will want to caramelize the onions LOW & SLOW. If they look dry at all, add a Tablespoon or two of water occasionally. If the onions start to stick to your pan, add a little more olive oil. Keep warm.
Cook turkey burgers according to the directions on the package: Preheat grill to medium heat. Lightly spray or brush both sides of FROZEN turkey burgers with oil and place on grill, about 4" above heat. Grill burgers 8 minutes on one side; turn and grill on the other side for 7 minutes or until center of burger reaches 165 degrees Fahrenheit.
Top warm burgers with one slice of swiss cheese and a scoop of warm caramelized onions. Place on a toasted hamburger bun. Enjoy!
Nutrition Information:
Yield: 3
Amount Per Serving:
Unsaturated Fat: 0g