Chicken Cordon Bleu with Smokey Raspberry Chipotle Sauce
This post may contain affiliate links, meaning that I may receive a commission at no cost to you if you use a link provided. All opinions shared are my own. You can review my full disclosure policy here.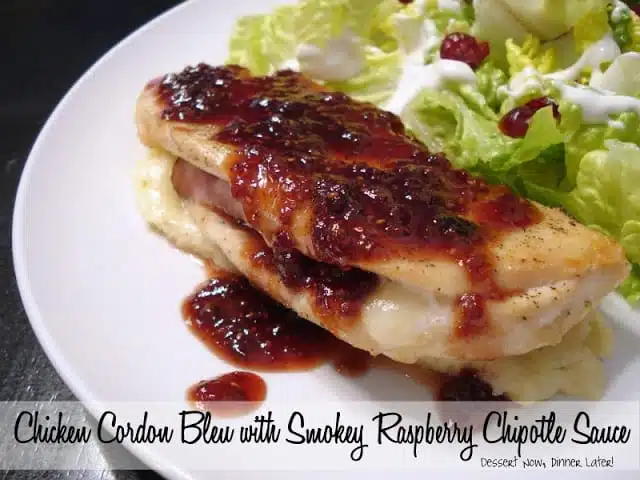 I love chicken cordon bleu & I will take it in pretty much any form (Crispy Chicken Cordon Bleu Roulade, Chicken Cordon Bleu Casserole, or Crockpot Chicken Cordon Bleu.) It's been a while since I made this version & I love it so much! It is one of those recipes that you have & love, but gets lost somewhere in the back of the pile of recipes. Glad I remembered it because it is unlike any other cordon bleu you will ever try.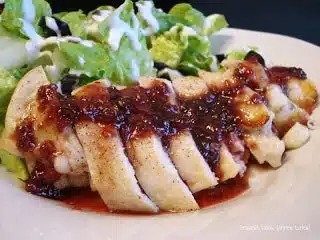 This Chicken Cordon Bleu stands apart from all the rest because not only does it have an amazing smokey raspberry chipotle sauce, but it uses pepper-jack cheese which gives it that extra kick! If you like spice then this is a recipe you must try! Plus, this is a super-easy fancy dinner that can impress your man for Valentine's Day. Dine in that night & turn up the heat with dinner first! 🙂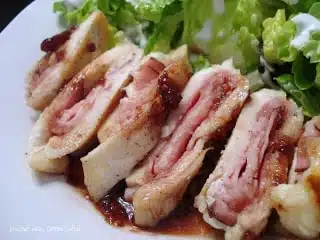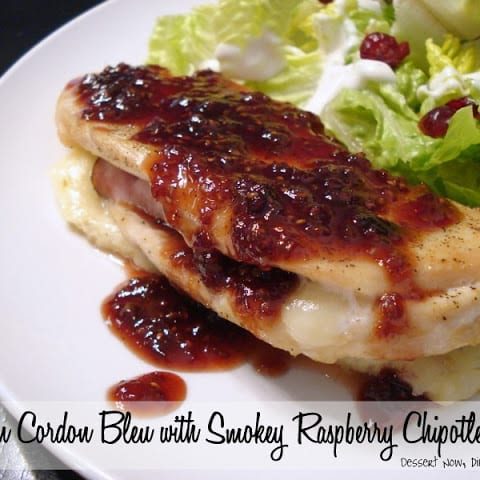 Chicken Cordon Bleu with Smokey Raspberry Chipotle Sauce
Ingredients
3 large chicken breasts
18 slices of deli-thin black forest ham
6 slices of pepper-jack cheese
1 cup raspberry preserves
1 Tbsp pureed chipotle in adobo sauce
2 Tbsp apple cider vinegar
1/2 tsp garlic powder
1/2 tsp onion powder
1/4 tsp cayenne pepper
1/2 tsp kosher salt
Instructions
Half each chicken breast, width-wise, making 6 chicken breasts. Butterfly each breast & lay open.
Stack 3 pieces of black forest ham & lay 1 piece of pepper-jack cheese on top. Roll up the meat & cheese, & place it in the center of a butterflied chicken breast. Fold over the top of the chicken breast to conceal the ham & cheese. Repeat for each chicken breast.
Spray a baking sheet with pan-coating. Season both sides of the prepared chicken breasts with salt & pepper, & place on greased baking sheet.
Bake at 400*F for 20 minutes or until chicken is done & a thermometer reads 165*F in the center.
Meanwhile, in a small saucepan on medium-low heat, whisk together raspberry preserves, pureed chipotle pepper, cider vinegar, garlic powder, onion powder, cayenne pepper & kosher salt. Bring to a boil & turn heat down to keep warm. Taste & adjust seasonings if necessary. It should have a good kick to it, otherwise you are just putting jam on your chicken. If it is too spicy, add up to ¼ cup more preserves.
Once chicken is cooked drizzle the tops with raspberry sauce & serve.