BBQ Chicken & Bacon Taquitos
This post may contain affiliate links, meaning that I may receive a commission at no cost to you if you use a link provided. All opinions shared are my own. You can review my full disclosure policy here.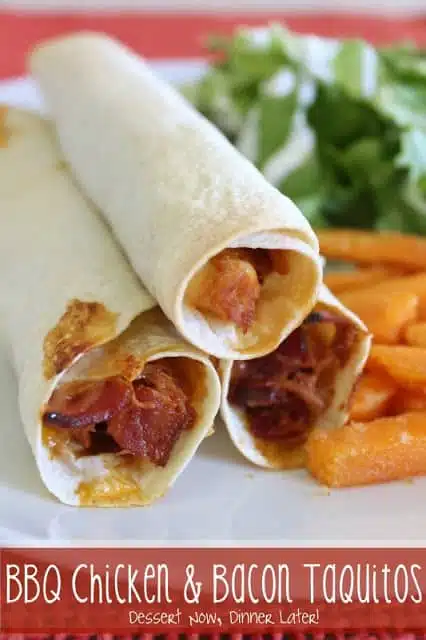 Since it is warming up you are going to start seeing a lot of BBQ type foods from me. Not that this recipe is made on the barbecue, well, it could partially be done on the barbecue, but that's not the point! This meal makes me excited for summer & barbecuing. But I am just glad it is warming up outside period. So before it gets too hot to turn your oven on, make these scrumptious taquitos. We had them for dinner with some salad & sweet potato fries, but you can make them & freeze them for snacks or a quick lunch as well. Oh, & since we have breakfast for dinner frequently, I saved some of the bacon to use in these, making them that much easier to make.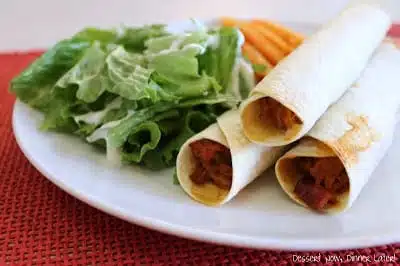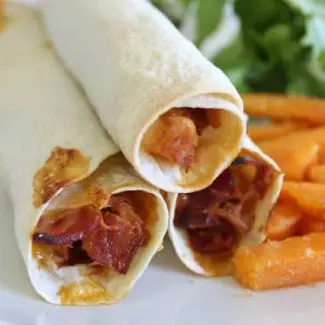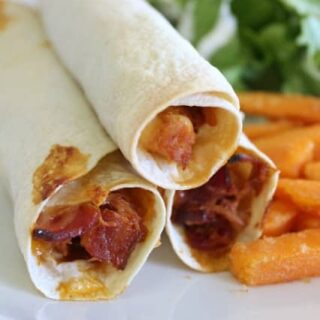 BBQ Chicken & Bacon Taquitos
Ingredients
1-2 chicken breasts
1/2 (18-20oz) bottle favorite BBQ Sauce (more or less depending on preferences)
5 slices of bacon, cooked & diced
shredded cheese (cheddar)
10 taco size flour tortillas
Instructions
Place BBQ sauce & chicken in a small slow cooker. Cook on low for 4 hours. Remove chicken, shred with a fork & then add the BBQ sauce from the slow cooker. (*Optional: Brush chicken breasts with BBQ sauce & grill until no longer pink inside. Cut chicken into small chunks & toss with additional sauce. [OR] Boil chicken breasts for 15 minutes until no longer pink, shred & sauce.)
Add diced bacon & stir into the chicken mixture.
Divide the mixture among 10 tortillas & add a sprinkle of your favorite cheese (we used colby jack, but mozzarella would be great.) Tightly roll tortillas up.
Spray a baking sheet with cooking spray & place finished taquitos on the baking sheet. Lightly spray the tops of the taquitos.
Bake at 400*F for 15 minutes, turning once halfway through. Cook until crispy & heated in the centers. Serve while hot.
Nutrition Information:
Yield: 5
Amount Per Serving:
Unsaturated Fat: 0g