Cheesy Chicken & Wild Rice Casserole
This post may contain affiliate links, meaning that I may receive a commission at no cost to you if you use a link provided. All opinions shared are my own. You can review my full disclosure policy here.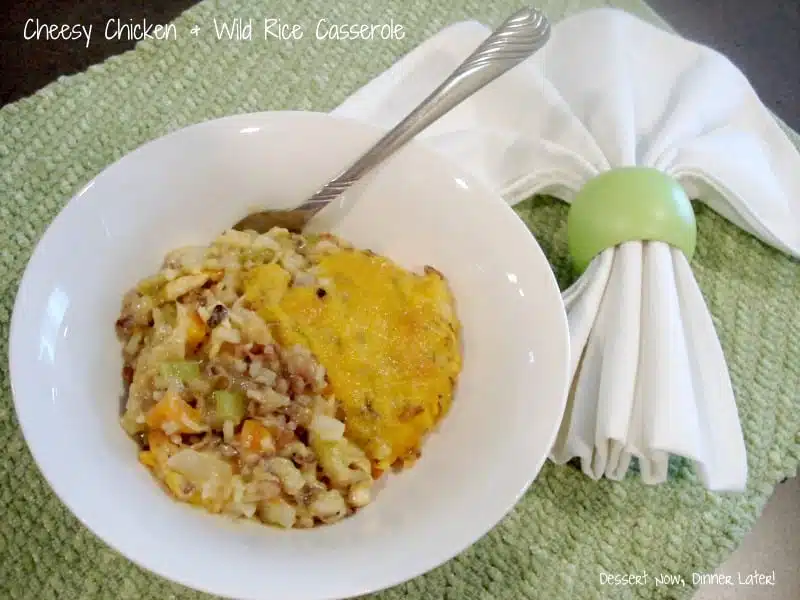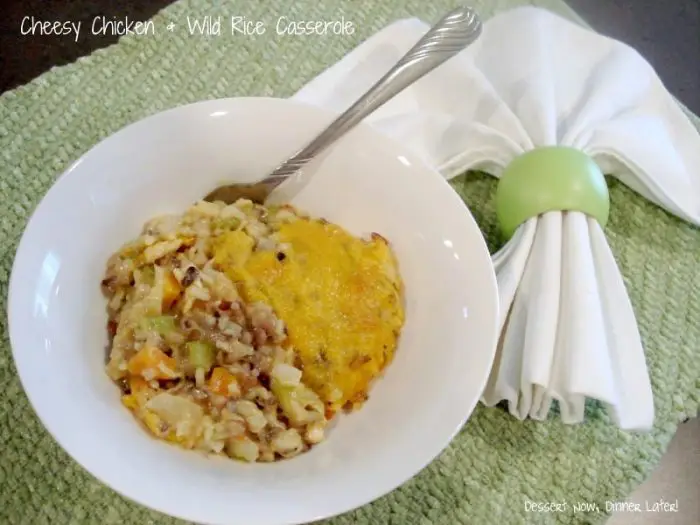 I was intrigued when stumbling upon this recipe on pinterest. The description had something to do with, "You had me at no mayo, no cream soup…." I clicked on the recipe & thought, that is easy enough & sounds delicious, so I made it & I was not disappointed.


I like my cream soups, & mayo, don't get me wrong; I think half of my recipes use at least the cream soup, but this casserole is flavorful & oh so cheesy. So not quite sure if you are saving any calories, or fat for that matter. But it still has that creamy pleasing texture for your palate.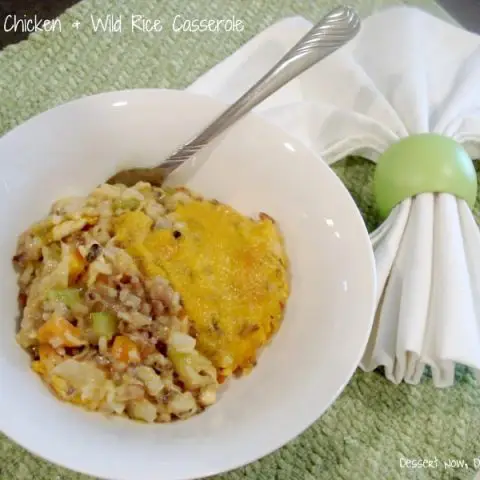 Cheesy Chicken & Wild Rice Casserole
Ingredients
Filling:
3 Tbsp Extra Virgin Olive Oil
1 medium onion, finely diced
3 stalks celery, diced
3 carrots, peeled & diced
2 Tbsp fresh minced garlic (I think I did about 5 cloves)
1 tsp kosher salt
1/2 tsp black pepper
1/4 tsp garlic powder
2 cups shredded chicken breast (I cheated & used a 13oz can of chicken, not equal to 2 cups, but it was enough for me)
2 cups steamed white rice (I used minute white rice)
2 cups prepared wild rice (cooked mine in a rice cooker)
Cheese Sauce:
4 Tbsp butter
1/4 cup flour
1/4 tsp kosher salt
1/4 tsp black pepper
2 cups chicken broth
3 cups shredded cheddar cheese, divided
Instructions
Preheat oven to 350*F. Heat oil in a pot (or heavily spray pot with oil spritzer) over medium heat. Saute onion, celery & carrots until softened; about 10 minutes. Stir in garlic, salt, pepper, & garlic powder. Cook for 1 minute. Stir in chicken & both prepared rices. Reduce heat to low & keep warm.
For cheese sauce: melt butter into a medium saucepan over medium high heat. Whisk flour, salt & pepper, then slowly pour in chicken broth whisking continuously. Whisk until thick & nearly boiling. Remove from heat & stir in 2 cups cheese until melted.
Pour cheese sauce into rice mixture, fold to coat everything, then transfer to a greased 9x13" baking dish. Top with 1 cup cheddar cheese & bake for 25-30 minutes or until bubbly & cheese is melted through. Serve.