Hawaiian Haystacks
This post may contain affiliate links, meaning that I may receive a commission at no cost to you if you use a link provided. All opinions shared are my own. You can review my full disclosure policy here.
I have recently teamed up with Shirley J to do one of my favorite things … develop new recipes! This one is an oldie, but a goodie. I haven't met anyone who doesn't love Hawaiian Haystacks.
Do you remember when I first told you guys about whisk bliss? If you don't remember, Whisk Bliss is a universal cooking base similar to the bechamel mother sauce. It's a delicious creamy base for any sauce, gravy, soup, etc. Whisk Bliss is perfect to use to create your own cream of chicken soup at home.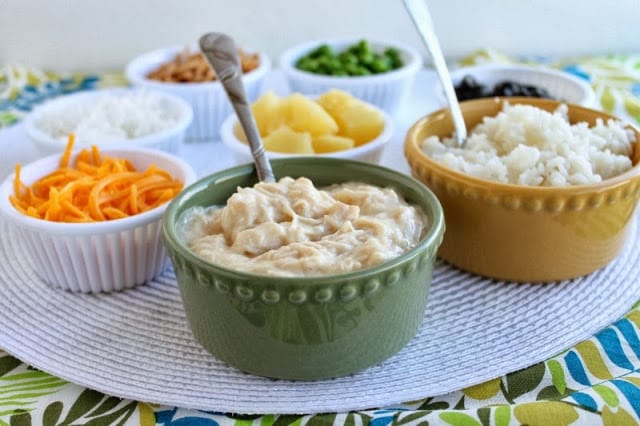 Just combine Whisk Bliss & water with a little bit of Shirley J Chicken Bouillon & voila! It's almost as easy as opening up a can!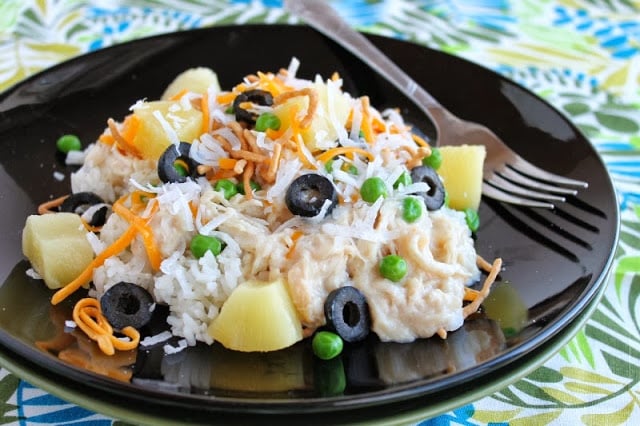 This recipe can be thrown in the slow cooker, or made in about 15-20 minutes on the stovetop. It's definitely a family favorite dinner of ours. My kids don't even like all the toppings, but they scarf the chicken & sauce!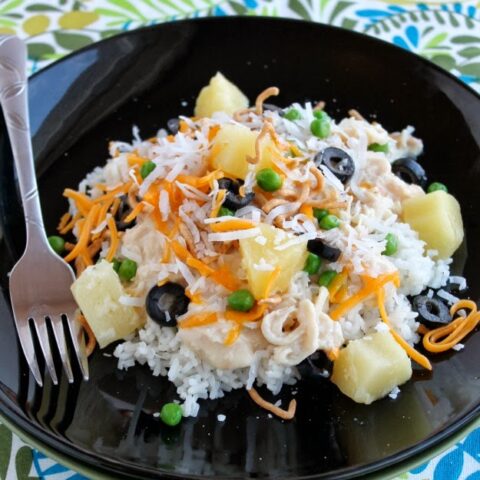 Shirley J Hawaiian Haystacks
Ingredients
1 cup water
1 cup milk
1 ½ tsp Shirley J Chicken Bouillon
½ cup Shirley J Whisk Bliss
1 Tbsp dehydrated onion or substitute ½ tsp onion powder
½ tsp garlic powder
¼ tsp pepper
½ tsp salt
2 large chicken breasts
4 cups, cooked white or brown rice
1/2 cup frozen peas, rinsed under warm water until thawed
1/2 cup pineapple chunks
1/2 cup sliced olives
1/2 cup shredded medium cheddar cheese
1/2 cup sweetened coconut flakes
1/2 cup chow mein noodles
Other toppings, as desired (celery, craisins, etc.)
Instructions
Combine 1 cup water & 1 cup milk in a saucepan over medium heat. Whisk in Shirley J Chicken Bouillon & Shirley J Whisk Bliss.
Season with dehydrated onion, garlic powder, pepper & salt. Continue whisking until mixture boils & thickens up, about 3-5 minutes.
Pour mixture into a small slow cooker. Add chicken breasts & let cook, on low for 4-6 hours or until fully cooked.
Remove chicken breasts, shred, & place back into the gravy. Taste & adjust seasonings if needed. Serve over cooked white or brown rice with desired toppings: peas, pineapple chunks, olives, cheese, coconut flakes, chow mein noodles, etc.
Notes
Stovetop Method:  Boil chicken in water for 10-15 minutes or until done.  Remove from water & dice chicken with a knife.  Make sauce as directed above & add the cooked chicken.  Bring chicken & gravy mixture to a boil.  Serve over rice with desired toppings.