Red Velvet Cake Hearts
This post may contain affiliate links, meaning that I may receive a commission at no cost to you if you use a link provided. All opinions shared are my own. You can review my full disclosure policy here.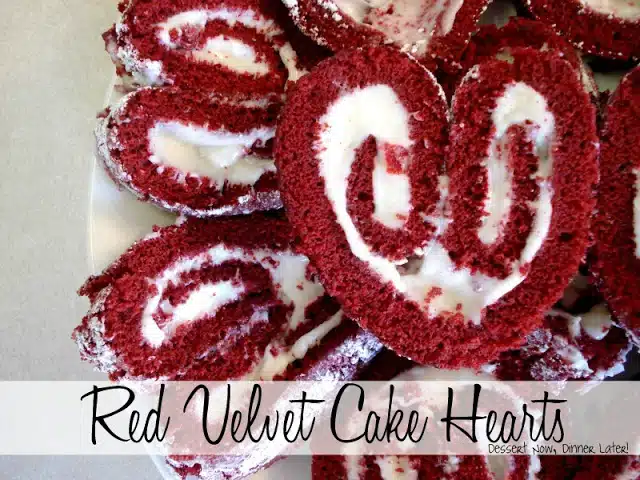 So Valentine's Day is coming up & I knew I wanted to make something festive for you all, as well as for my cute family. I whipped up this Red Velvet Cake Roll & shaped it into a heart. It turned out pretty nice, I must say! Wouldn't this be fun to put in your kids' school lunches on Valentine's Day? Or just to serve your hubby after a special dinner, just the two of you? My 3 year old LOVED the heart shape. He also told me, "Mommy, this is the best cake!" What a cutie! I am glad that he enjoyed this fun little cake & I am sure your little ones or significant other will enjoy it too!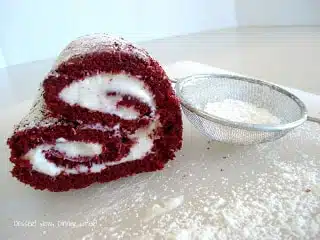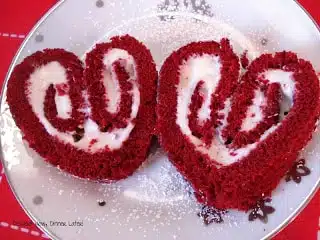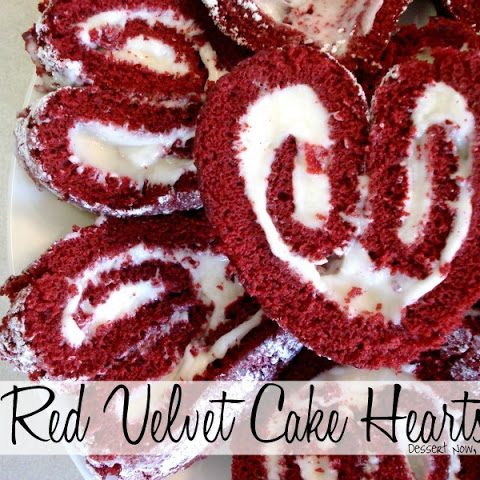 Red Velvet Cake Hearts
Ingredients
Cake:
3/4 cup flour
1/4 cup cocoa powder
1 tsp baking powder
1/2 tsp salt
4 large eggs
3/4 cup sugar
1 Tbsp canola oil
2 Tbsp buttermilk (or 2 Tbsp milk with 1/2 tsp lemon juice)
1 tsp vinegar
1 tsp vanilla extract
2 Tbsp red food coloring
1/2 cup powdered sugar, for dusting
Cream Cheese Filling:
8 oz cream cheese, cold
6 Tbsp butter, lightly softened
1 tsp vanilla extract
2 1/2 cups powdered sugar
Instructions
Preheat oven to 350*F. Grease 15x10" jelly-roll pan; line with wax paper. Grease & flour paper. Sprinkle a thin, kitchen towel with approximately ½ cup powdered sugar (a heavy coating.)
In a bowl, sift together flour, cocoa, baking powder, & salt. Set aside.
In the bowl of a stand mixer using the whisk attachment, whip eggs on medium speed for 5 minutes. Slowly add sugar & oil. Beat until combined. Add buttermilk, vinegar, vanilla, & red food coloring. Stir in flour mixture until combined. Spread evenly into prepared pan.
Bake in preheated oven for 13-15 minutes or until top of cake springs back when touched.
Immediately loosen & turn cake onto prepared towel. Carefully peel off wax paper. Roll up cake & towel together from each end meeting in the center. Turn cake onto it's side so both rolls are stacked one on top of the other. Gather ends & tie shut using a rubber band. Allow cake to rest on it's side on a wire rack until cool.
To make the filling: Using the paddle attachment of your stand mixer, beat cream cheese & butter until incorporated & smooth. Should not take more than 1 minute. Add vanilla & powdered sugar all at once. Mix until combined.
Carefully unroll cake. Spread cream cheese mixture over the cake leaving a generous amount down the seam where the two rolls meet (this will be the bottom point of the heart, so you want extra icing there.) Re-roll each end as tight as you can until both ends meet in the center. Stack rolls on it's side, one on top of the other, & slice. If needed, gently help shape the cake into a heart & serve.