Apple Slab Pie
This post may contain affiliate links, meaning that I may receive a commission at no cost to you if you use a link provided. All opinions shared are my own. You can review my full disclosure policy here.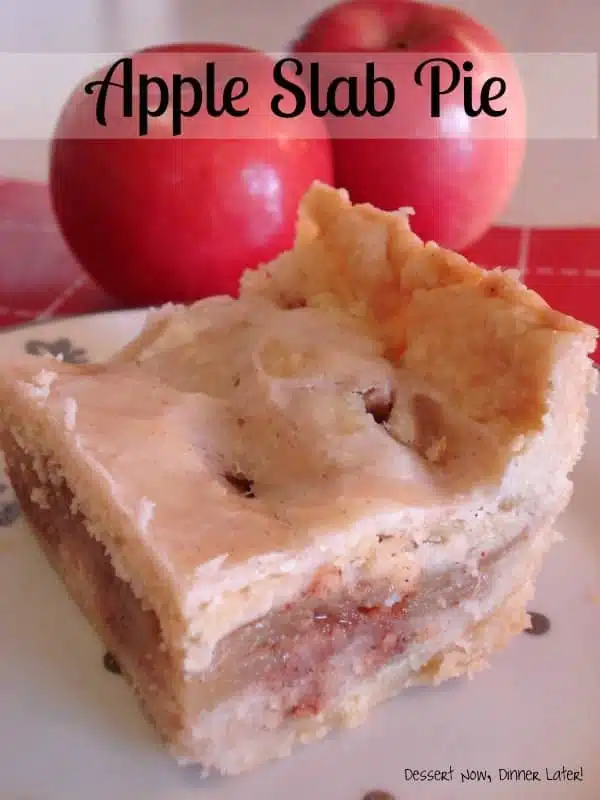 What is Apple Slab Pie? Well, it's apple pie in bar form that makes this dessert great for large groups & potlucks! You get way more servings than the traditional pie dish & it's got this great glaze over the top! The crust is so flaky!
This recipe also has a little secret…the secret to no runny filling. Want to know what it is? Panko breadcrumbs! You spread a layer over the bottom crust & then put your filling in & it absorbs any liquid, so when you cut & serve these apple pie squares, there is no soggy crust or drippy filling! Win-win!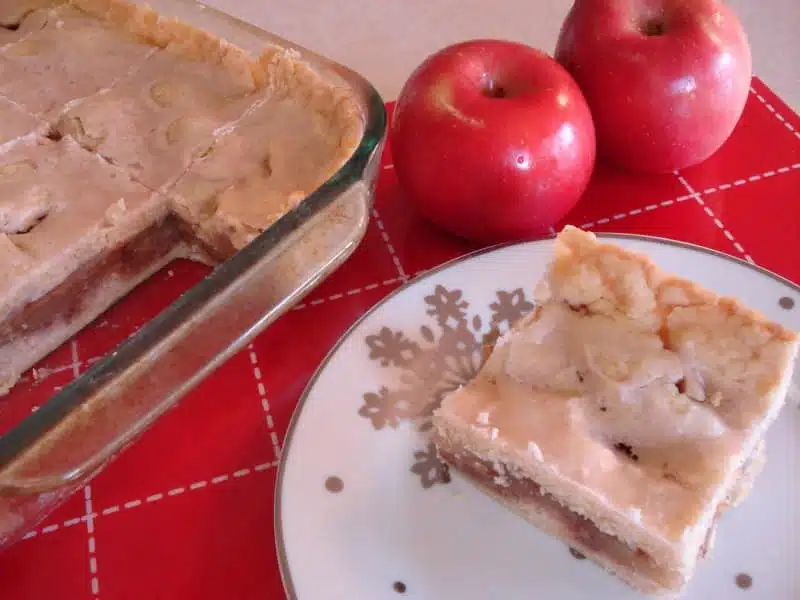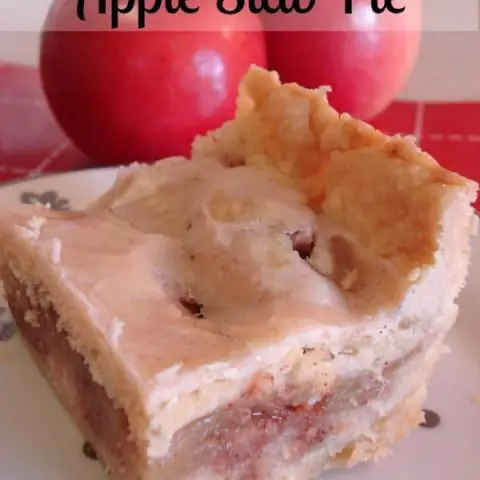 Apple Slab Pie
Ingredients
Crust:
1 1/2 cups butter flavored Crisco shortening
3 cups all-purpose flour
1 whole egg
5 Tbsp cold ice water
1 Tbsp white vinegar
1 tsp salt
Filling:
8 cups Granny Smith apples (peeled, cored, & sliced (about 6-8 apples depending on size))
6 Tbsp sugar, increase sugar depending on how tart your apples are
1 Tbsp cinnamon
1/4 tsp nutmeg
2 Tbsp cornstarch
1 cup Panko breadcrumbs (or other coarse dry bread crumbs; or 1 cup coarsely crushed cornflakes)
Glaze:
1 1/2 cups powdered sugar
1/4 cup apple cider
small pinch of salt
1/2 tsp cinnamon
1 tsp milk or cream, optional, if necessary to thin the glaze (*substitute 1/3 cup honey OR 1/4 cup thawed frozen apple juice concentrate or maple syrup)
Instructions
To make crust: In a large bowl, with a pastry cutter gradually work the Crisco into the flour until it resembles a coarse meal. In a small bowl, beat an egg with a fork & pour it into the flour/shortening mixture. Add cold ice water, white vinegar, & salt. Stir together until all ingredients are incorporated. (I had to add extra flour b/c it was very wet; if you need to add flour do ¼ cup at a time, until it comes together.)
Separate dough into 2 pieces 60% by 40%. You need one slightly bigger than the other. Shape into rectangles & wrap in plastic wrap. Place in freezer for 15-20 minutes.
Meanwhile prepare the filling by peeling, coring, & slicing apples. After apples are ready, sprinkle sugar, cinnamon, nutmeg, & cornstarch. Toss to coat. Let macerate at room temperature while you clean up.
Preheat the oven to 350*F. Pull the larger piece of pie dough out of the freezer. Roll into a 11x15" rectangle. Place the crust in an un-greased 9x13" pan. Patch up any holes by pushing the pastry together with your fingers. Push the pastry up the sides of the pan a bit, to make a shallow pastry container for the apples.
Spread bread crumbs or crushed cornflakes evenly over the crust. Spread the sliced apples atop the crumbs.
Remove the smaller crust from the freezer. Roll into a 9x13" rectangle. Lay the top crust over the apples. Seal the edges of the two crusts as well as you can.
Bake for one hour until crust is golden brown, & filling bubbles. Remove from oven & allow to cool completely before glazing.
To make the glaze: Combine the powdered sugar, apple cider, cinnamon, salt & enough milk or cream to make the mixture pourable, but thick. Add milk/cream a little at a time b/c it is easier to add more than to try to take it away. Drizzle the glaze over the apple slab pie.