Apple Pie Recipe
This post may contain affiliate links, meaning that I may receive a commission at no cost to you if you use a link provided. All opinions shared are my own. You can review my full disclosure policy here.
This homemade apple pie recipe has a flaky pie crust with cinnamon-sugar sprinkled on top and an extra fruity apple pie filling with just the right amount of sauce.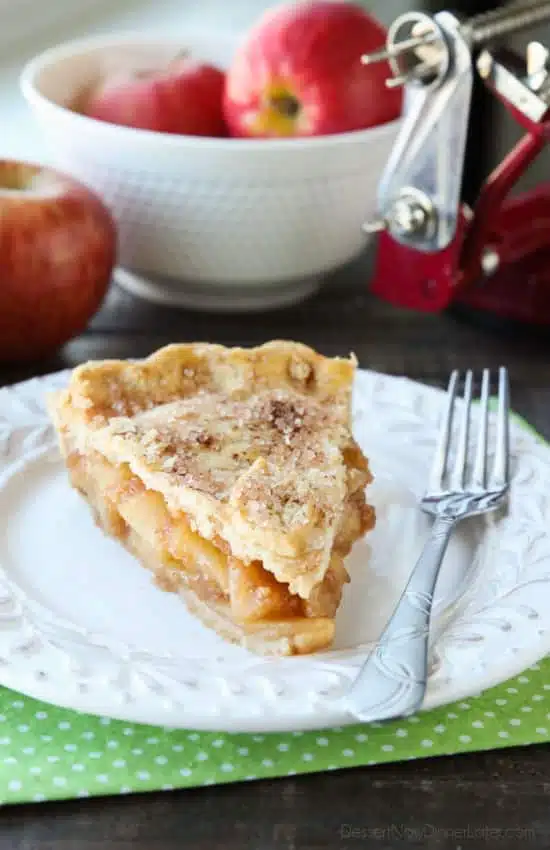 Apple pie is an American classic. It's simple, satisfying, and a Thanksgiving must have! With a flaky tender crust, and a sweet apple-cinnamon filling, it's easy to see why this is the most popular pie.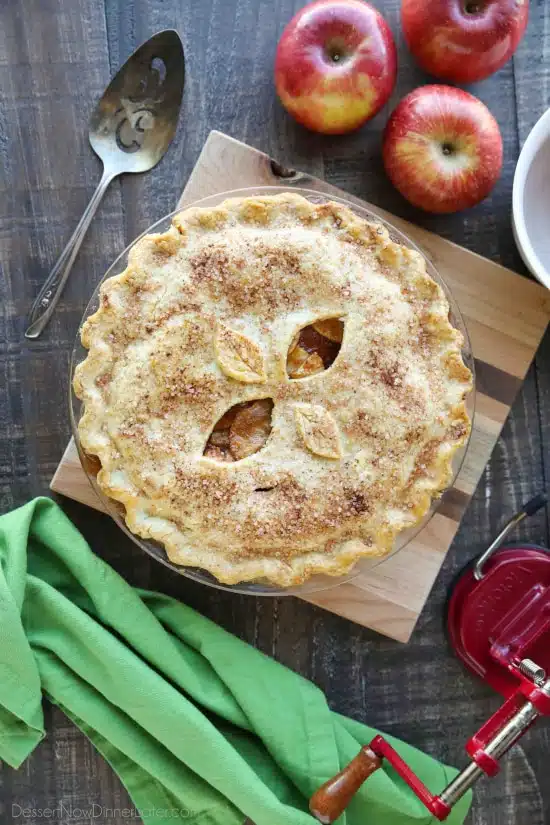 Apple Pie Recipe
There are two ways to make apple pie. Either by simultaneously cooking the filling while cooking the pie, or par-cooking the filling and finishing it off while cooking the pie. The choice depends on the desired amount of sauce and cook on the apples.
I prefer a little more sauce and a softer apple, so I prefer to pre-cook my apple pie filling before baking my pie. Which is what I did for this apple pie recipe. The apple pie filling I used in culinary school is tasty and goes straight into the pie shell (no pre-cooking required), but it's big on fruit and little on sauce. The choice is up to you, which is the beauty of homemade recipes.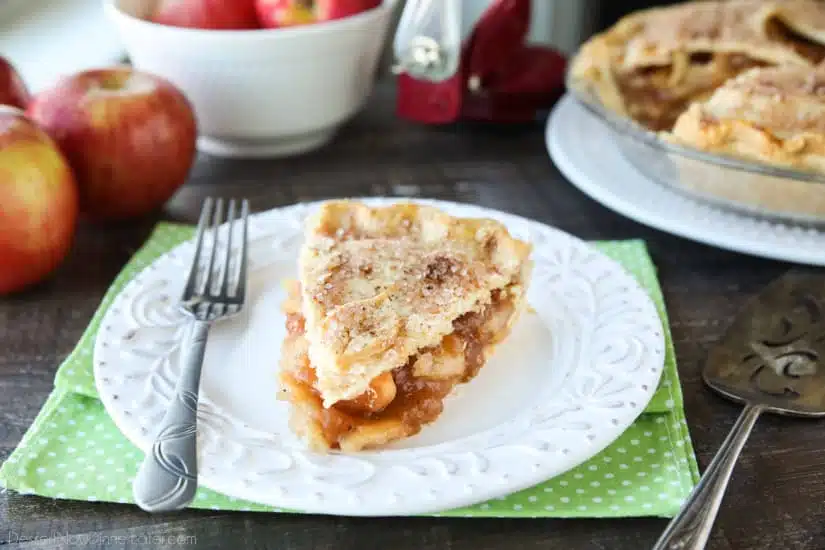 The best apples for apple pie are tart, and semi-sweet. Granny Apple or Jonagold are top picks, but you can literally use any apple and adjust the sugar based on the sweetness of the apple. I typically buy what's on sale and use those. (Except don't use red delicious apples. Those will turn to mush and aren't very tasty to begin with.) Feel free to combine a couple of different apples for a unique flavor combination.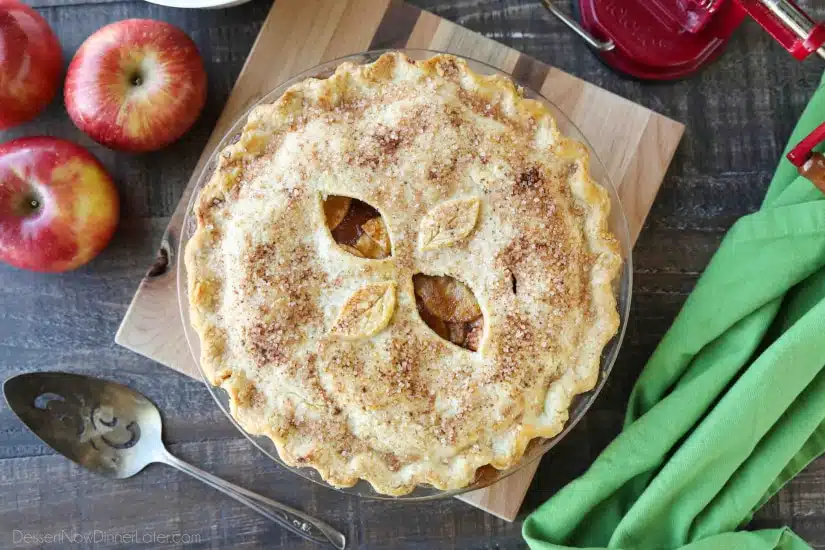 After you've got the apple pie filling ready to go, all you need is the perfect pie crust for the top and bottom. You can make a lattice top, or cover the apple pie filling completely. Just be sure to cut slits for ventilation if you do.
I like to sprinkle the top of my apple pie with cinnamon and sugar. You can use coarse or granulated sugar, but it makes it pretty and adds an extra layer of flavor and texture to this delicious apple pie recipe. Enjoy!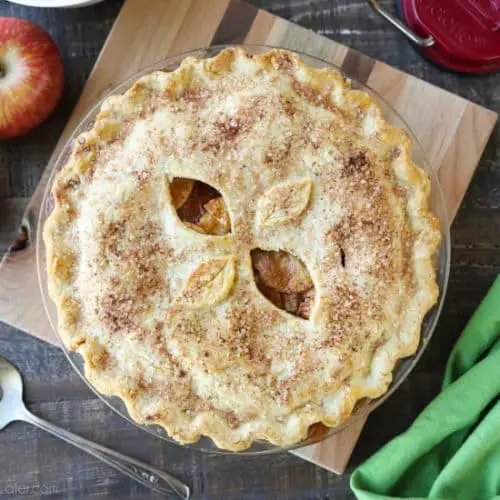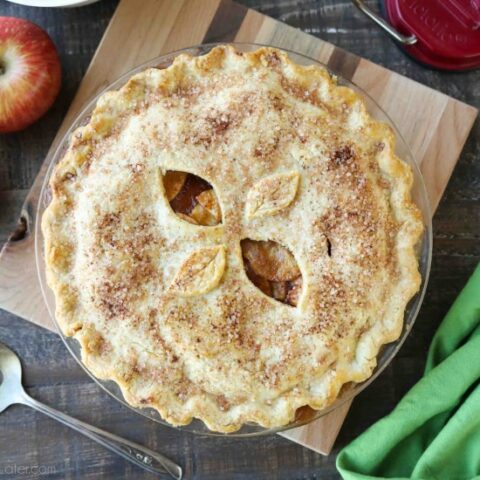 Apple Pie Recipe
Prep Time: 30 minutes
Cook Time: 1 hour 10 minutes
Rest Time: 15 minutes
Total Time: 1 hour 55 minutes
Yield: 8 servings
This homemade apple pie recipe has a flaky pie crust with cinnamon-sugar sprinkled on top and an extra fruity apple pie filling with just the right amount of sauce.
Ingredients
Apple Pie Filling:
5-6 medium apples -- peeled, cored, and sliced
1 Tbsp lemon juice
1/2 cup brown sugar
1/4 cup granulated sugar
2 tsp ground cinnamon
1/4-1/2 tsp ground nutmeg, to taste
1/2 tsp salt
2 Tbsp butter
2 Tbsp cornstarch
1 1/2 cups water or apple juice* (see notes)
Perfect Pie Crust:
3 cups all-purpose flour
1 tsp salt
1 cup shortening (I prefer butter flavored, if you have it.)
1 large egg
1 Tbsp white vinegar
5 Tbsp + ice-cold water
Extras:
1 egg, whisked (egg wash)
2 Tbsp granulated/coarse sugar
1 tsp cinnamon
Instructions
Apple Pie Filling:
Peel, core, and slice apples. Toss with lemon juice, both sugars, cinnamon, nutmeg, and salt in a large bowl.
In a large skillet or saucepan over medium heat, melt the butter and add the apples. Cover and cook for 3 minutes.
Place cornstarch in a large bowl. Slowly whisk the water (or apple juice) into the cornstarch. Once combined, add to apples. Continue cooking for an additional 5 minutes, stirring frequently, until apples are fork tender and sauce is thickened. (*Add more water/juice, if needed, for desired sauce consistency.)
Cool the apple pie filling to at least room temperature before using for the pie.
Perfect Pie Crust:
Combine flour and salt in a large bowl. Stir. Cut in shortening with a pastry blender, two forks, or pulse in a food processor until pea-sized chunks are achieved.
Add the egg, vinegar, and 5 Tbsp of ice-cold water. Mix with your hands. Add more water 1 Tbsp at a time until the mixture comes together in a ball. Empty the contents from the bowl onto a floured surface.
Cut dough in half and flatten each half into a flat disc. Wrap the discs with plastic wrap, and place them in the freezer for 15 minutes. (Pie Crust Tutorial HERE.)
Once the dough has chilled, remove one piece at a time. Flour your surface and rolling pin. Roll dough from the center outwards, rotating and adding extra flour as needed until 1/8-inch thin.
Carefully transfer the dough to the standard 9-inch pie dish. Shape the crust to the bottom and sides of the pie dish. Trim excess crust.
Assembly:
Fill the pie shell with the cooled apple pie filling. Roll out the second half of the pie dough for the top. (Cut out designs if desired [i.e. leaves] and set aside.) Lightly brush the edges of the bottom pie crust with a whisked egg (egg wash). Lay the top pie crust over the apples. Trim, seal, and crimp the edges.
Cut slits in the top of the pie crust (if you didn't cut out any designs). Brush the top and edges of the crust with egg wash. (Attach the designs now, if desired.) Combine 1 tsp of cinnamon and 2 Tbsp granulated/coarse sugar. Sprinkle generously over the pie crust.
Bake in a preheated 350 degrees Fahrenheit oven for 1 hour + until the filling is bubbling in the center and the crust has browned. If crust browns before filling bubbles, cover the pie with foil and continue baking. Cool pie to room temperature before slicing and serving.
Notes
*Adjust amount of sugars depending on variety of apple used.
*Use half as much of the sugars if using apple juice instead of water.
*For very soft apples, only mix 1/4 cup of the water with the cornstarch to make a slurry/paste. Set aside. Simmer apples, covered, with the remaining water until desired tenderness. Then add the cornstarch slurry and heat to boiling to thicken the sauce.
*For a raw/no-cook filling, use the apple pie filling in this recipe. 
Nutrition Information:
Yield: 8
Amount Per Serving:
Unsaturated Fat: 0g