Homemade Apple Pie Filling
This post may contain affiliate links, meaning that I may receive a commission at no cost to you if you use a link provided. All opinions shared are my own. You can review my full disclosure policy here.
Homemade Apple Pie Filling is easy, delicious, and freezes well! Use it for apple pie, apple crisp, or any dessert that uses canned apple pie filling. Stays freezer fresh up to 12 months!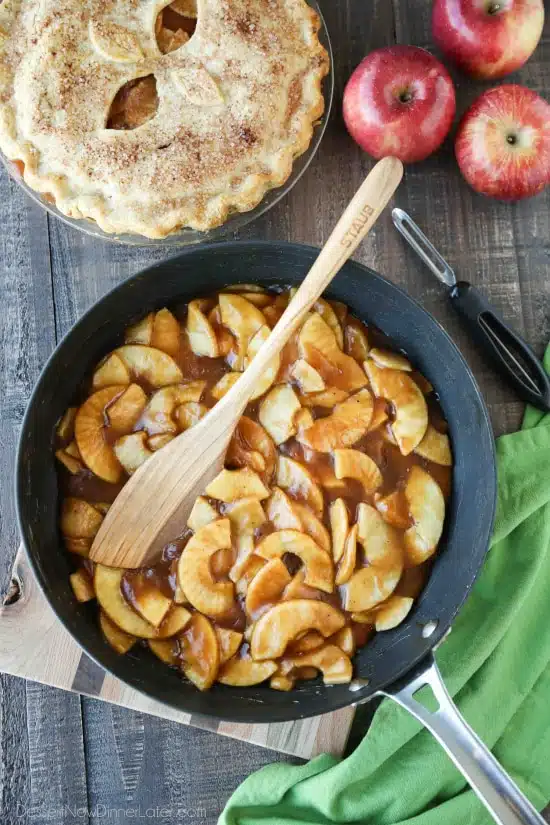 Apple pie filling is super easy to make and tastes way better than anything in a can. You can make it as saucy or as fruity as you want and it freezes well (up to 12 months) so you can make a bunch and use it throughout the year.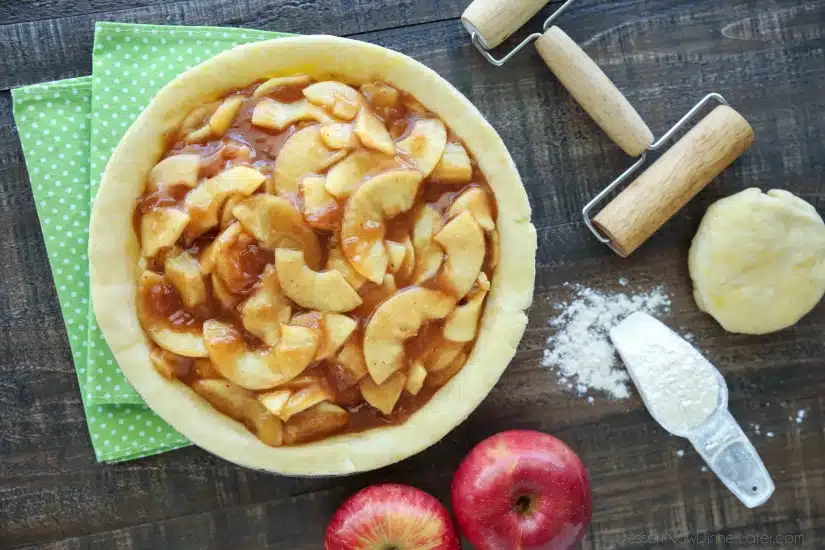 How Do You Make Apple Pie Filling?
Apple pie filling is easy to make with any apple. Depending on the sweetness of the particular variety used, you may want more or less sugar. Customizing the taste is one huge benefit of making your own apple pie filling at home.
Apples, lemon juice, sugar, spices, cornstarch, water, and butter are all you need to make apple pie filling. Apple juice in place of water makes a really great sauce, but be sure to adjust the sugar or use a more tart apple (Granny Smith) if you plan on using juice.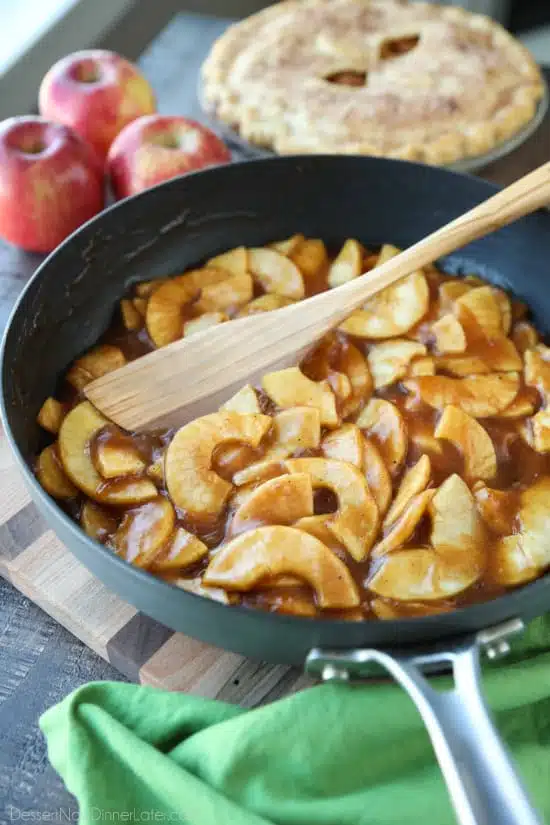 The cook on the apples is up to you as well. Keep in mind that the apples will continue to cook in the pie, crisp, or dessert that you are using it for and adjust the cook time accordingly. Some apples are naturally more soft or crisp than others too, so use your best judgement.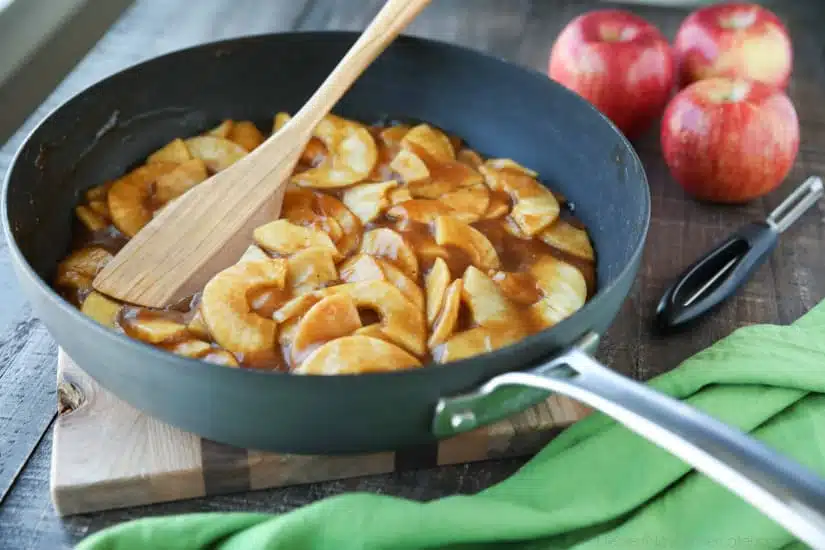 This homemade apple pie filling is NOT safe for canning, mainly because of the cornstarch. Clear Jel.) This recipe IS great for freezing though, which is super easy to do!
 (To use this recipe for canning, substitute cornstarch with 1.5 times as much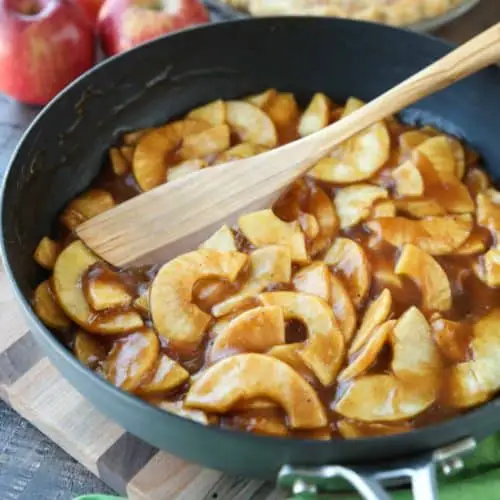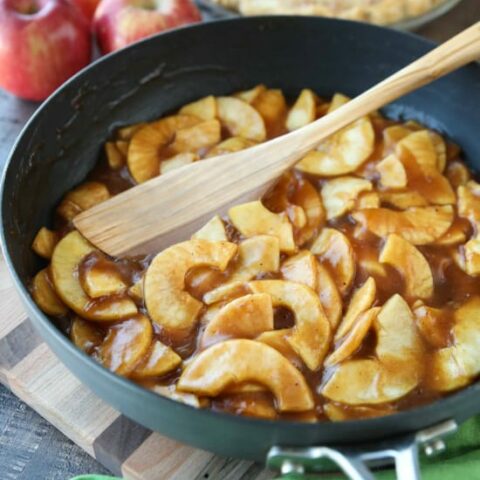 Homemade Apple Pie Filling
Prep Time: 15 minutes
Cook Time: 8 minutes
Total Time: 23 minutes
Yield: 8 servings (enough for one standard 9-inch pie)
Homemade Apple Pie Filling is easy, delicious, and freezes well! Use it for apple pie, apple crisp, or any dessert that uses canned apple pie filling. Stays freezer fresh up to 12 months!
Ingredients
5-6 medium apples -- peeled, cored, and sliced
1 Tbsp lemon juice
1/2 cup brown sugar
1/4 cup granulated sugar
2 tsp ground cinnamon
1/4-1/2 tsp ground nutmeg, to taste
1/2 tsp salt
2 Tbsp butter
2 Tbsp cornstarch
1 1/2 cups water or apple juice* (see notes)
Instructions
Peel, core, and slice apples. Toss with lemon juice, both sugars, cinnamon, nutmeg, and salt in a large bowl.
In a large skillet or saucepan over medium heat, melt the butter and add the apples. Cover and cook for 3 minutes.
Place cornstarch in a large bowl. Slowly whisk the water (or apple juice) into the cornstarch. Once combined, add to apples. Continue cooking for an additional 5 minutes, stirring frequently, until apples are fork tender and sauce is thickened. (*Add more water/juice, if needed, for desired sauce consistency.)
Cool apple pie filling to at least room temperature before using for pie. Can store filling in an airtight container in the refrigerator up to 2 weeks. To freeze, place cooled filling in a gallon size zip-top freezer bag. Squeeze excess air out and lay flat in freezer. Freeze up to 9-12 months. Thaw in the microwave or refrigerator overnight to use.
Notes
Adjust amount of sugars depending on variety of apple used.
Use half as much of the sugars if using apple juice instead of water.
For softer apples, only mix 1/4 cup of the water with the cornstarch to make a slurry/paste. Set aside. Simmer apples, covered, with the remaining water until desired tenderness. Then add the cornstarch slurry and heat to boiling to thicken the sauce.
To make apple pie: Empty cooled pie filling into a pie shell. Add top crust and crimp edges. Brush with egg wash and sprinkle with cinnamon-sugar, if desired. Cut slits for ventilation then bake at 350˚F for 60 minutes or until filling bubbles in the center and the crust has browned.
Nutrition Information:
Yield: 8
Amount Per Serving:
Unsaturated Fat: 0g