44 Pies to Celebrate Pi Day
This post may contain affiliate links, meaning that I may receive a commission at no cost to you if you use a link provided. All opinions shared are my own. You can review my full disclosure policy here.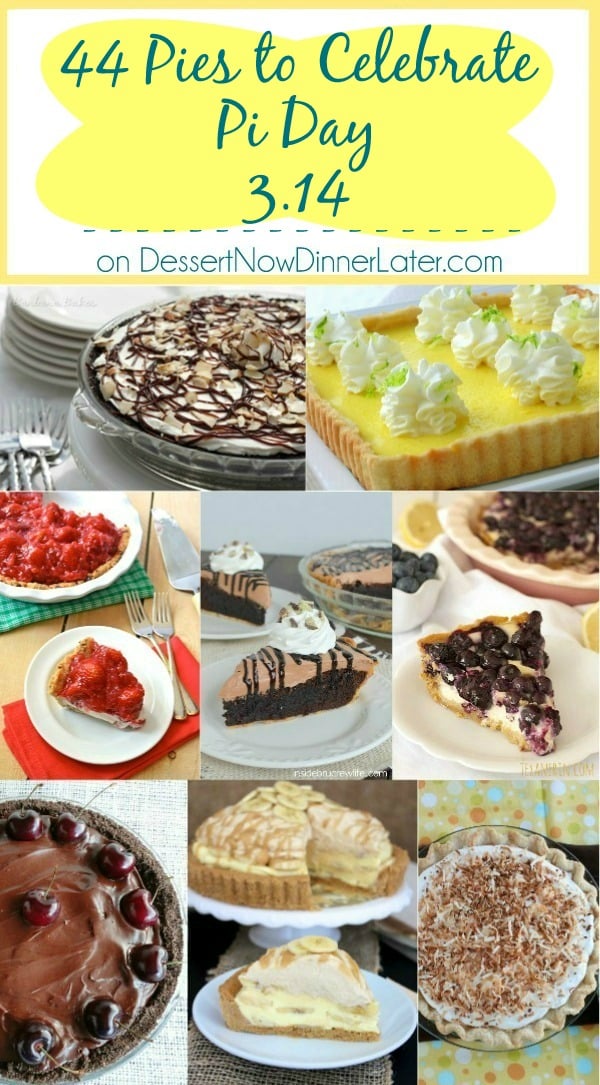 If you were to ask me what my favorite dessert is, hands down it would be pie! I am not even kidding! Growing up, instead of cake for my birthday I would ask my mom for pie or cheesecake. I LOVE PIE! The crust is my favorite, but I love all kinds of pies: fruit, chocolate, cream, sweet, savory etc. So, in honor of pi day (3.14) I bring you 44 Pies to Celebrate Pi Day! Start your weekend right with some pie!!!

Easy Coconut Cream Pie | Apple Slab Pie | Lime Pie | Perfect Pie Crust Tutorial

Berry Custard Pie | Black Forest Cream Pie | Easy Lemon Curd Pie | Skillet Sugar Pie

Andes Mint Cheesecake Brownie Pie | Blueberry Cream Cheese Pie | Frozen Snickers Pie | Tangy Lemon-Limoncello Pie

Apple Hand Pie | 2 Serving Size Miniature Apple Pies | Easy Hand-Held Pot Pies | Frozen Pumpkin Pie Cheesecake

Blueberry Pie | French Silk Pie | Twix Cheesecake Pie | Peanut Butter Cheesecake Pie

Peach-Blueberry Custard Pie | Chocolate Meringue Pies | Traditional Pecan Pie | Toffee Marshmallow Pie

Peach Melba Pie | S'mores Pudding Pie | Cinnamon Roll Topped Apple Pie | Monster Snickers Pie

Strawberry Super Pie | Coconut Cream Pie with a Chocolate Crumb Crust | Peanut Butter Pie with White Chocolate Ganache | Orange Nutella Chess Pie

Blueberries & Cream Pie Parfaits | Peanut Butter Banana Cream Pie | Apple Butter Pumpkin Pie | Second Day Beef Pot Pie

Blueberry Cream Pie with Streusel Topping | Chocolate Cream Pie | Dutch Apple Cream Pie | Strawberries & Cream Pie

Chicken Pot Pie Crumble | Frozen Mixed Berry Pie | Chocolate Mint Pie | Chocolate Truffle Pie