Carrot Cake Whoopie Pies
This post may contain affiliate links, meaning that I may receive a commission at no cost to you if you use a link provided. All opinions shared are my own. You can review my full disclosure policy here.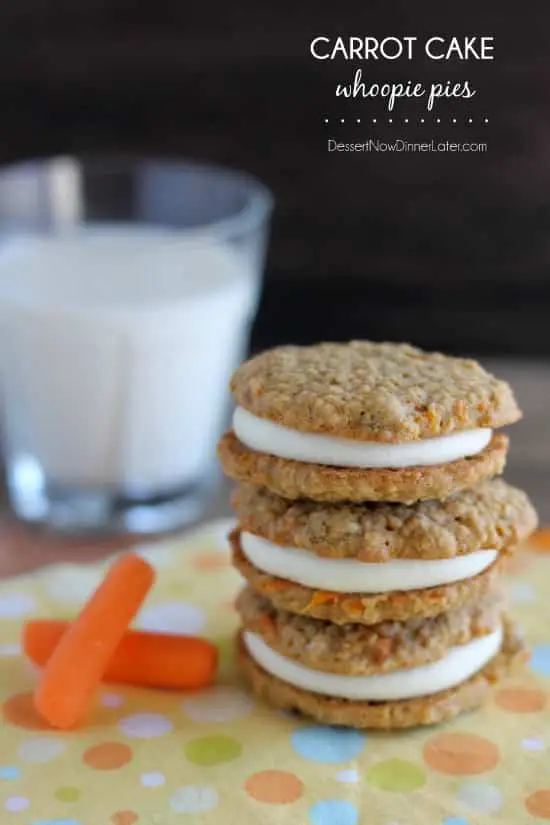 The weather here in Utah has been incredible for this time of year. Sorry to all you eastern folks who have been dumped on with snow several times in the last couple months. It's been mid to high 50's here in Utah and sometimes even 60˚F.
My grass is starting to green up and my tulips and daffodils are already growing up out of the ground! My kids and I go to the park every chance we get. It's much needed when you stay inside all day, all winter.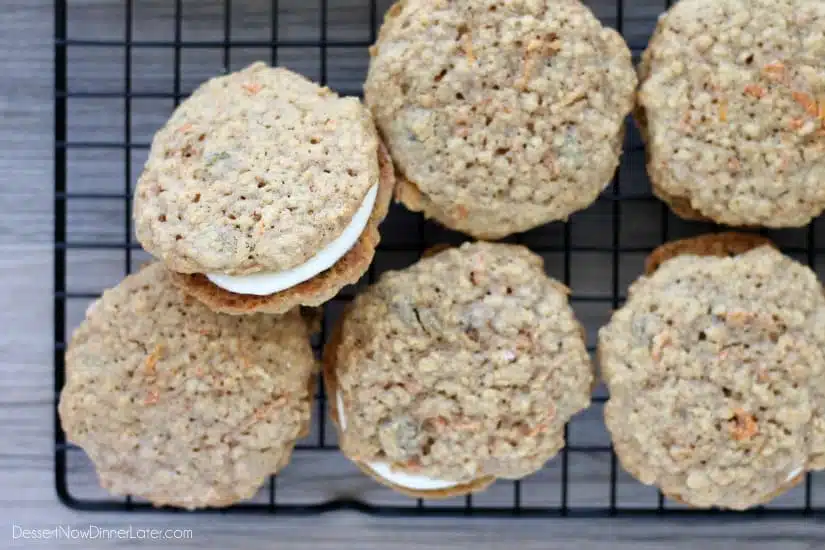 All this spring weather has got me ready for citrus and Easter desserts. These Carrot Cake Whoopie Pies are absolutely fabulous for this time of year. Plus my husband loves carrot cake in any form he can get it, since it's his favorite and I don't make it that often for him.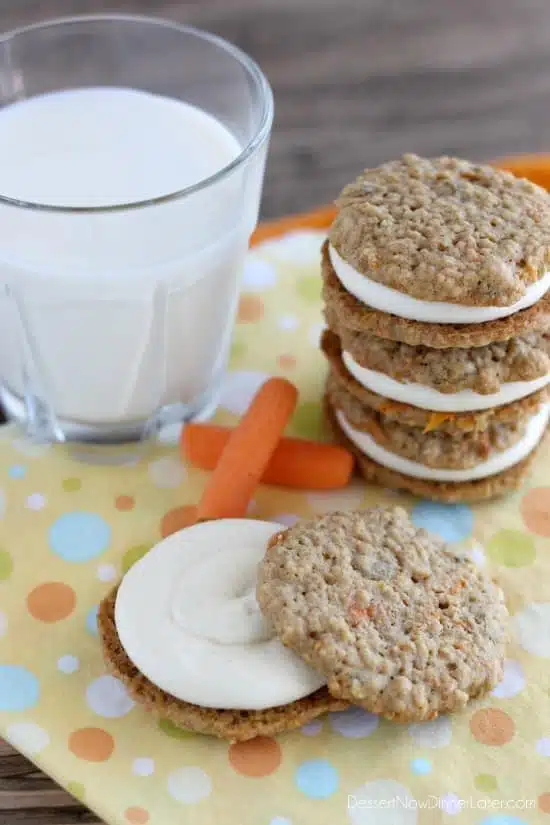 These cookies are a lot like those Little Debbie Oatmeal Creme Pies that you get from the store. It's a carrot cake oatmeal cookie with plump golden raisins. The cookie is sturdy, yet tender and moist.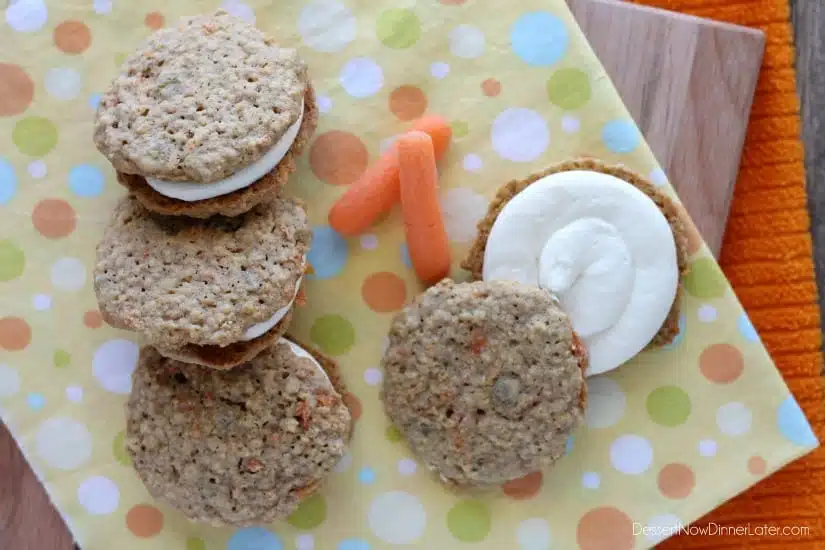 And oh my word! This is THE cream cheese frosting I have been searching for my entire life! I have always had problems with stringy, soft icing. This cream cheese frosting holds it's shape and is almost a whipped texture. It has more butter than recipes I have tried before, a lot less powdered sugar and no milk, but it's seriously the best texture with just the right sweetness. I am in love with it!!!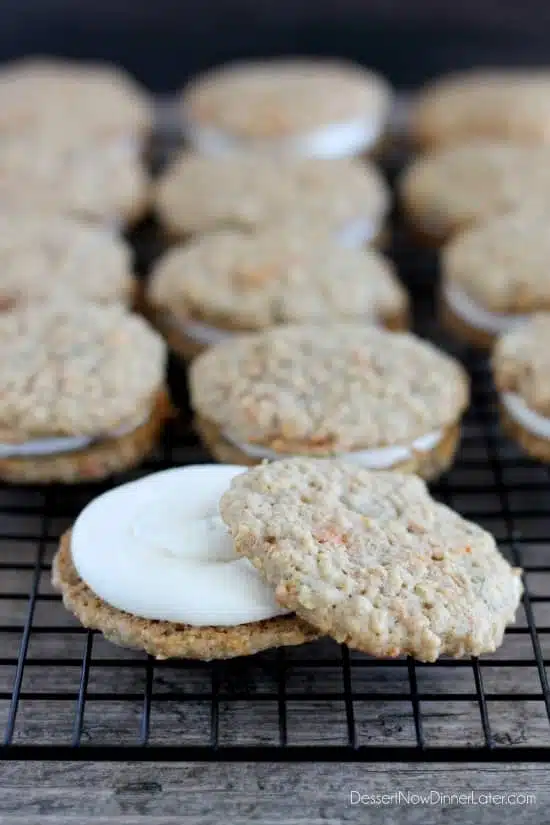 Put a big star by the icing recipe if you don't make the cookies, but you should make the cookies because they are the bomb!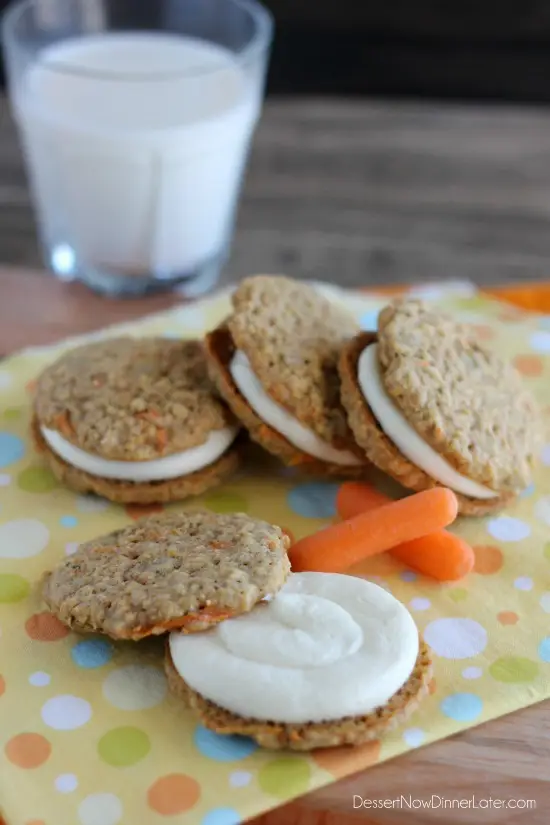 Ready for the springtime recipe that you will want to make over and over again? Okay here it is: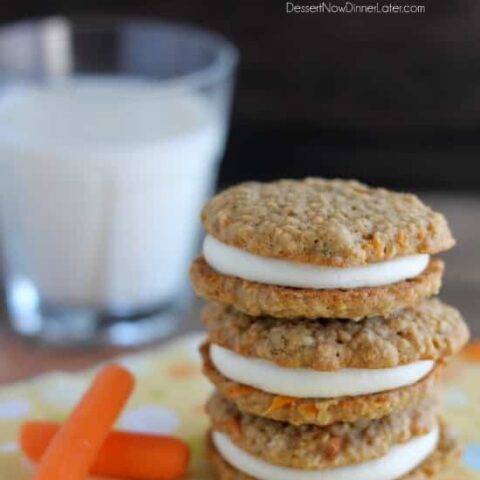 Carrot Cake Whoopie Pies
Ingredients
Carrot Cake Cookies:
1 cup (2 sticks) unsalted butter, room temperature
3/4 cup packed light brown sugar
3/4 cup granulated sugar
2 large eggs, room temperature
1 tsp pure vanilla extract
2 cups all-purpose flour, plus more for flattening cookies
1 tsp baking soda
1 tsp baking powder
1/2 tsp salt
1 tsp ground cinnamon
1/2 tsp ground nutmeg
1/2 tsp ground ginger
2 cups old-fashioned rolled oats
1 1/2 cups peeled, shredded carrots (about 3 carrots)
1 cup golden raisins
Cream Cheese Frosting (the BEST!):
8 oz cream cheese, room temperature
1/2 cup unsalted butter, room temperature
1 cup powdered sugar
1 tsp pure vanilla extract
Instructions
Preheat oven to 350 degrees Fahrenheit and line 2 baking sheets with parchment paper or silicone baking mats.
In an electric mixer fitted with the paddle attachment, beat butter and sugars on medium speed until light and fluffy. Add eggs and vanilla, and beat on medium speed until combined well.
In a separate bowl, sift together the flour, baking soda, baking powder, salt, cinnamon, nutmeg, and ginger; stir to combine. Gradually add the flour mixture to the butter mixture on low speed, until just blended. Mix in the oats, carrots and raisins.
With a #50 scoop (about 1½ Tbsp), scoop balls of cookie dough and place on the prepared baking sheets, leaving 2-inches between balls.
Put about ½ cup all-purpose flour into a shallow bowl, dip the bottom of a water glass or measuring cup and use it to flatten the dough balls, coating it in flour each time.
Bake for 12 to 13 minutes or until browned and crisp around the edges. Transfer to a wire rack to cool completely.
Make the cream cheese frosting by placing the cream cheese in a mixing bowl. Using a hand mixer, beat until smooth. Gradually add butter 2 Tablespoons at a time, and continue beating until smooth and well blended. Add powdered sugar and vanilla all at once. Blend to combine.
Once the cookies are completely cooled, pair them up according to size and shape. Prepare a piping bag with just the coupler, fill it with icing and pipe an even swirl on the bottom/flat side of one half of the cookie pairs. Sandwich them together with the remaining cookies.
Store cookies in an airtight container at room temperature or in the fridge for up to 3 days.
Notes
*If your raisins are not plump and moist, soak them in hot water for at least 10 minutes to help them plump up. Drain them and dry them on a paper towel.
Nutrition Information:
Yield: 24
Amount Per Serving:
Unsaturated Fat: 0g