Chocolate Caramel Tart
This post may contain affiliate links, meaning that I may receive a commission at no cost to you if you use a link provided. All opinions shared are my own. You can review my full disclosure policy here.
This easy Chocolate Caramel Tart has an Oreo cookie crust, soft caramel filling, and creamy chocolate ganache topped with flaky kosher salt. It's a rich and satisfying chocolate dessert that looks fancy, but is easy to make.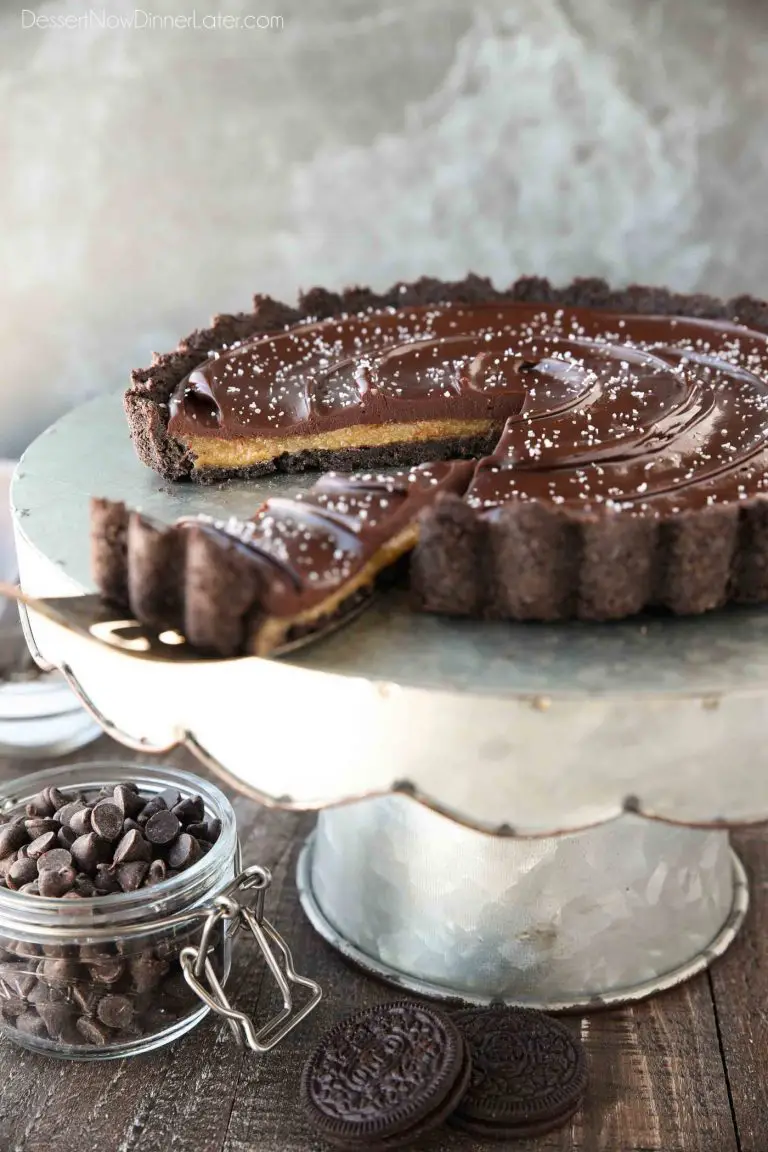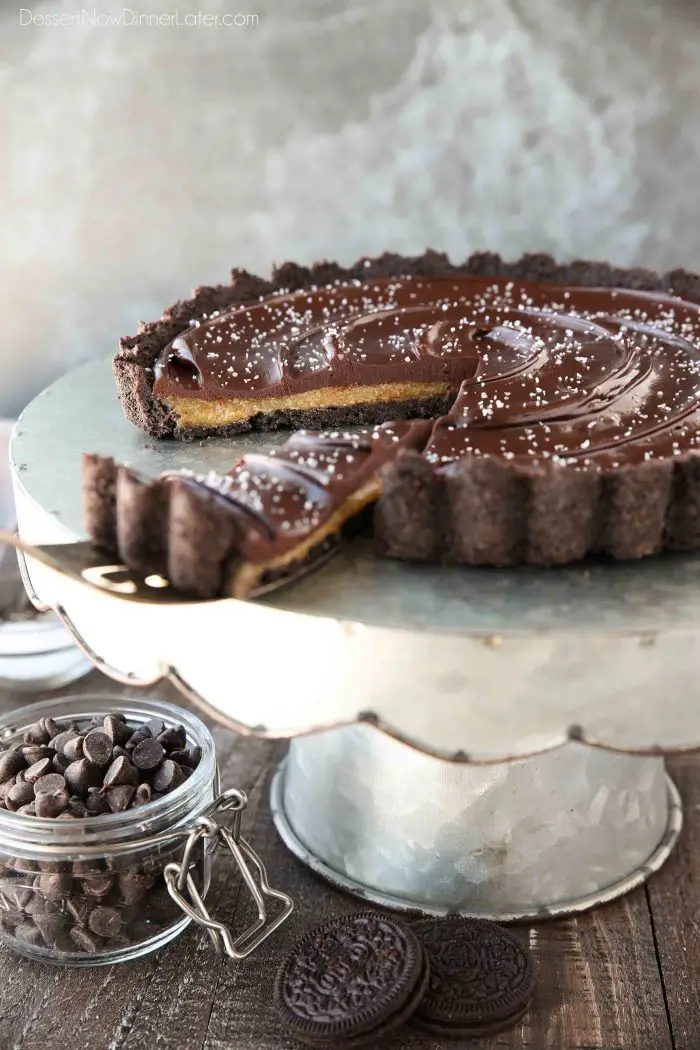 This recipe is for the chocoholics! Buttery caramel is sandwiched between a chocolate cookie crust and smooth ganache topping. The flaky salt on top is the icing on the cake, so to speak. It gives it just the right touch.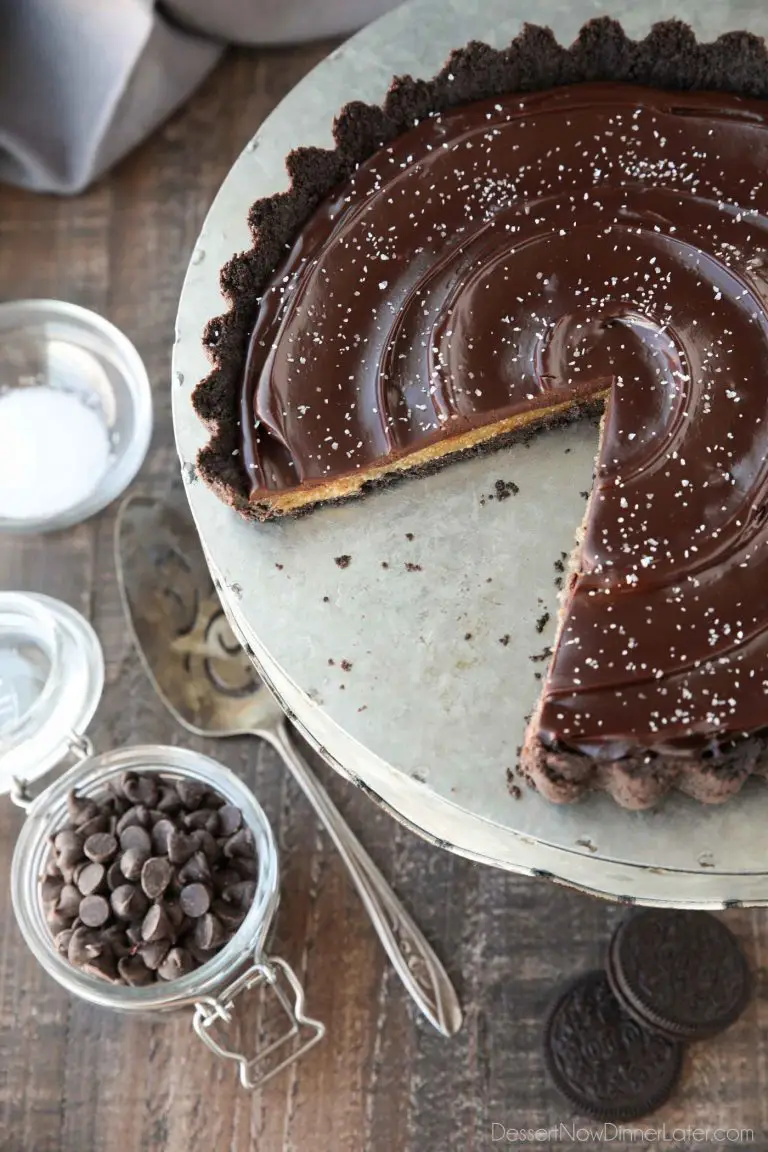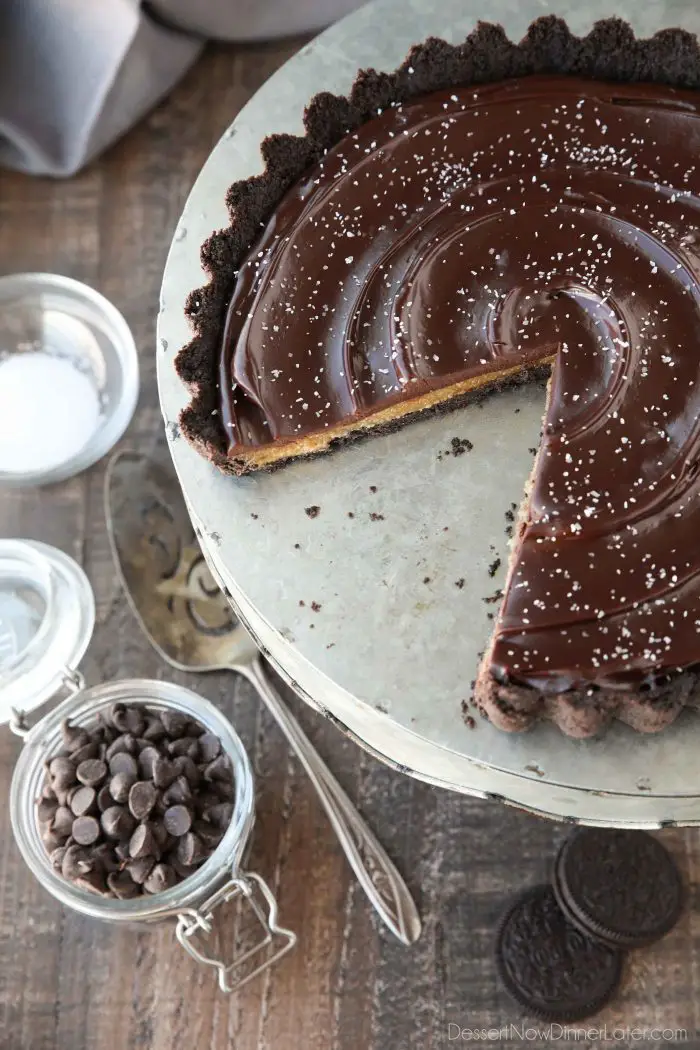 Chocolate Caramel Tart
Unlike pie, tarts are an open pastry that can be light and fruity, or decadent and rich. This chocolate caramel tart is definitely indulgent. A small slice will easily satisfy your taste buds.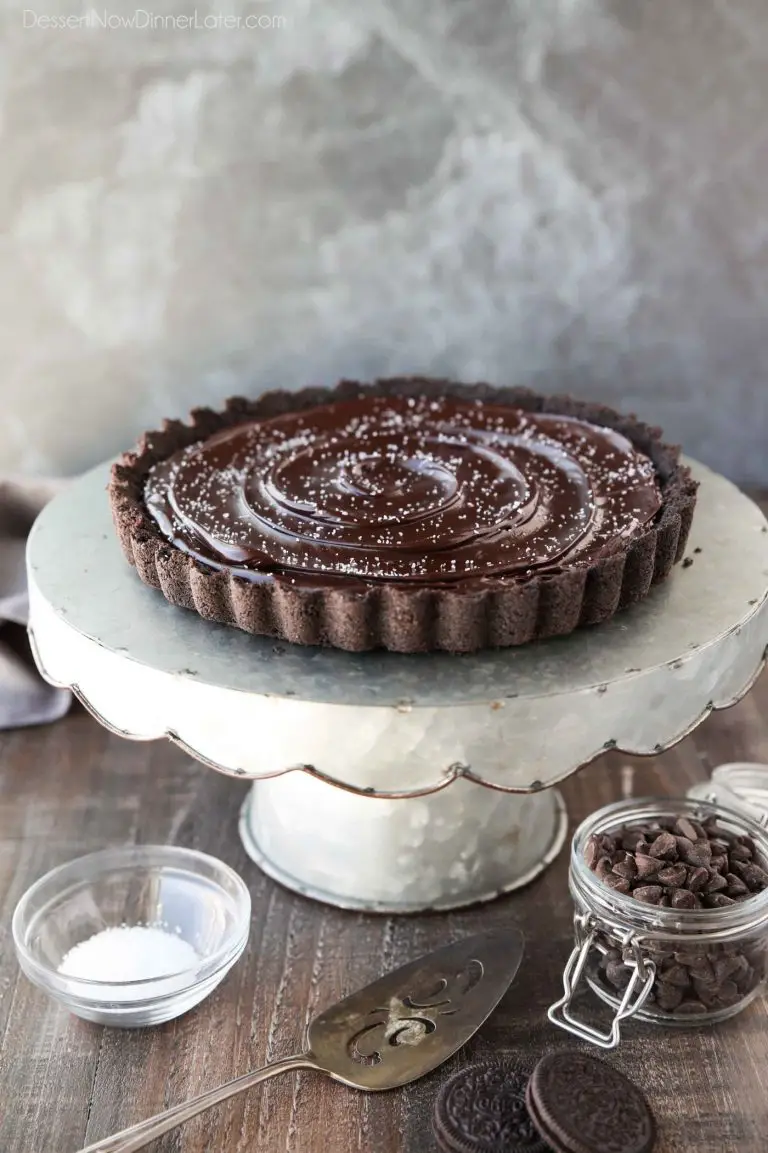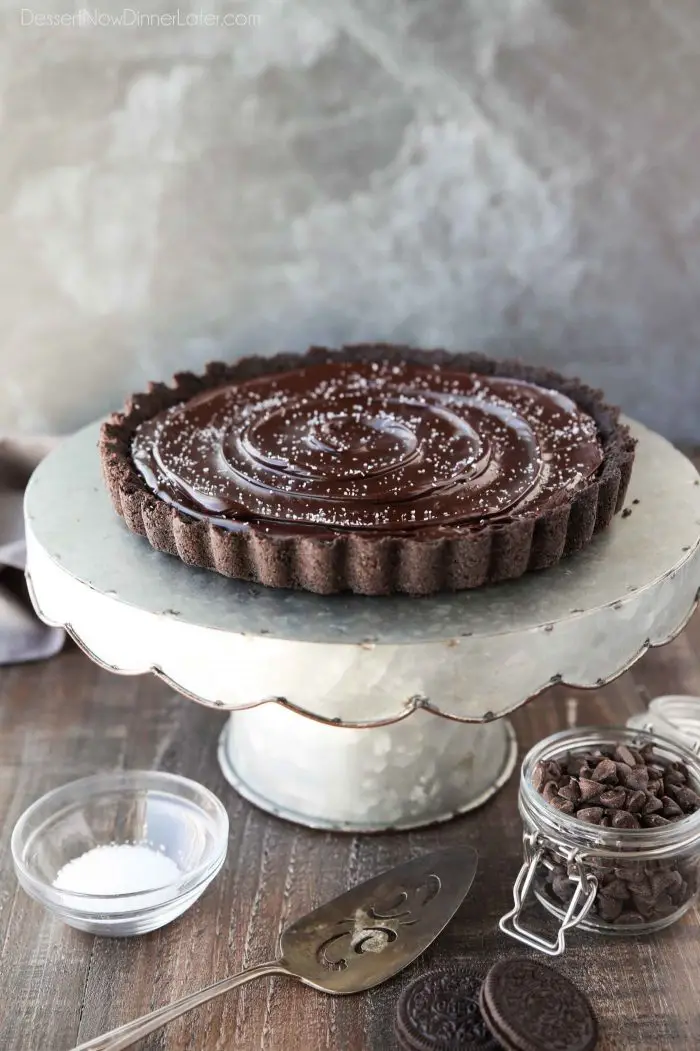 Oreo Crust
Instead of a typical shortbread crust, Oreo cookies are crushed and combined with butter, then baked just enough to create a solid foundation for this chocolate caramel tart.
Technically, you don't have to bake the crust. I didn't in my No-Bake Peanut Butter Pie, but you'll want to refrigerate/freeze it before continuing with the layers.
Love Oreo crusts? Check out these other recipes: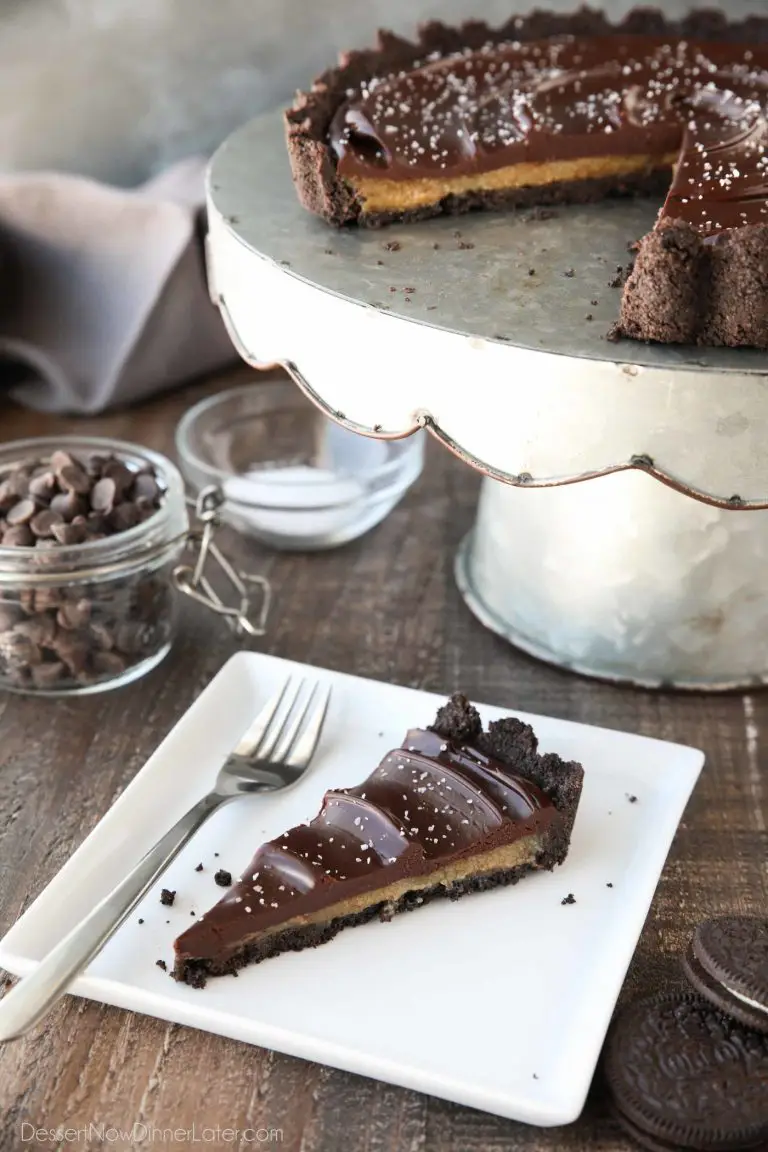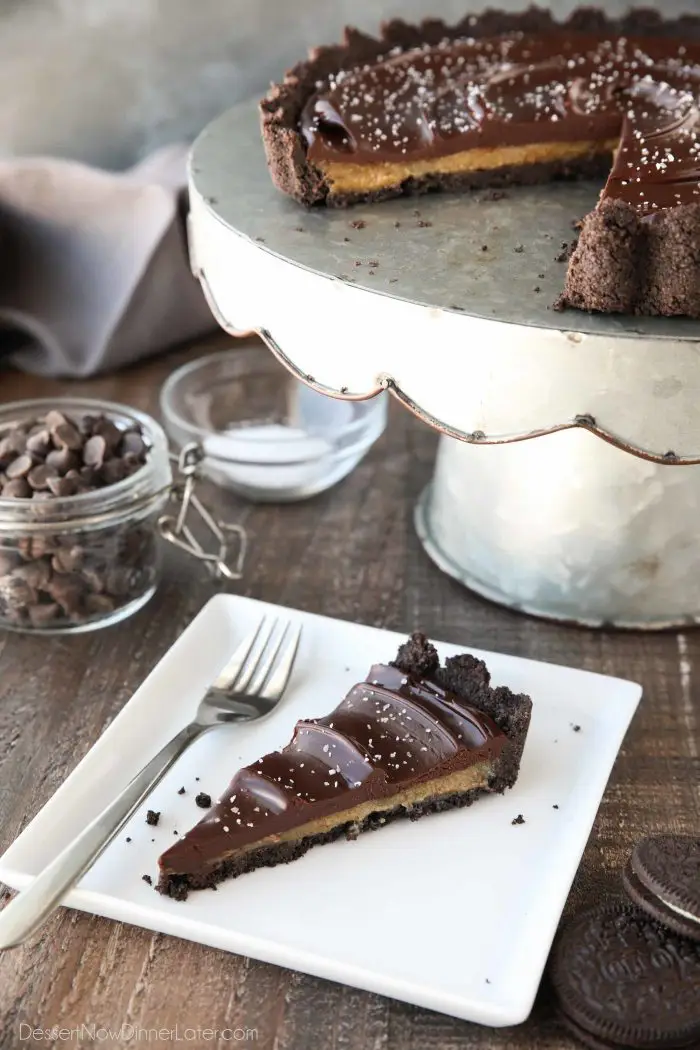 Caramel Filling
The recipe for the caramel in this tart is SUPER easy!
No candy thermometer required!
Butter and brown sugar are cooked until boiling, then warm cream and vanilla are whisked in until smooth.
I'm kind of addicted to caramel ever since I made homemade caramels last year. I have since vowed to make caramel desserts more often.
Caramel just seems to be the holiday flavor that gets forgotten, and it's the perfect middle layer for this chocolate caramel tart.
If you love sweet and salty caramel desserts, these Salted Caramel Cookies or these Caramel Pretzel Chocolate Chip Cookies are absolute perfection.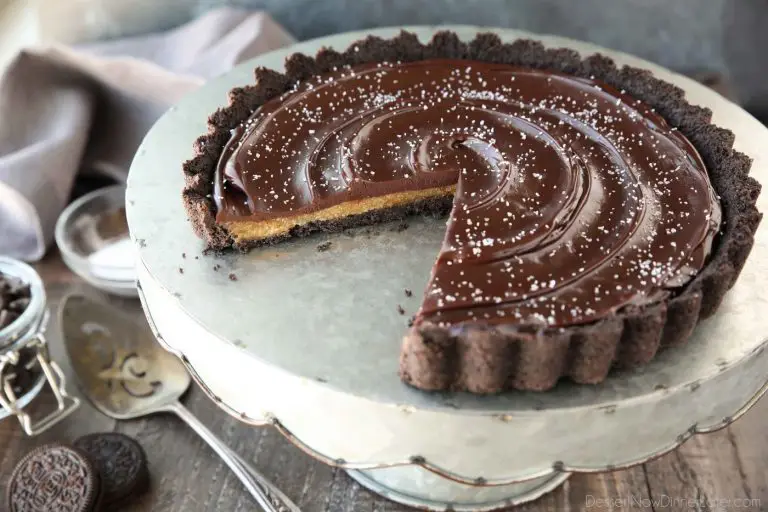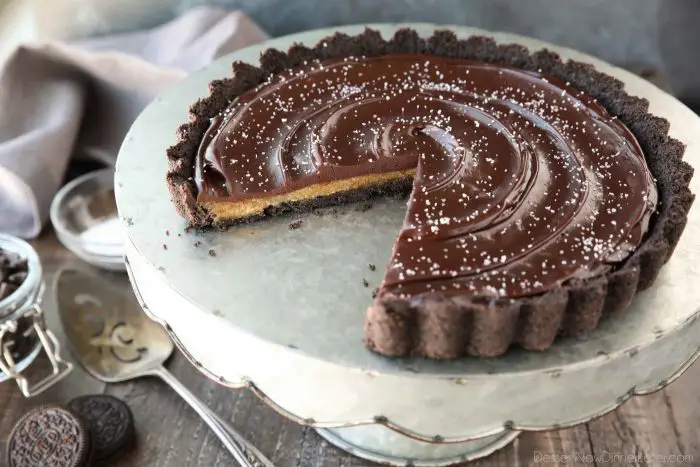 Chocolate Ganache
Chocolate ganache is the final layer in this simple tart. Chances are, if you love chocolate truffles, then you probably love ganache.
Ganache is simply made from chocolate and heavy cream. You can even use white chocolate. The cream gives it a silky smooth texture and glossy sheen. It stays semi-soft even once it has set completely.
Chocolate ganache can be left smooth, or molded and shaped depending on the temperature of it. Ganache will be really smooth and thin when the hot cream is first combined with the chocolate. The longer it cools/sit at room temperature, the thicker it is.
It was a cold day in my kitchen when I made this ganache, so I was able to make a swirled pattern with it after I poured it on top of the caramel layer.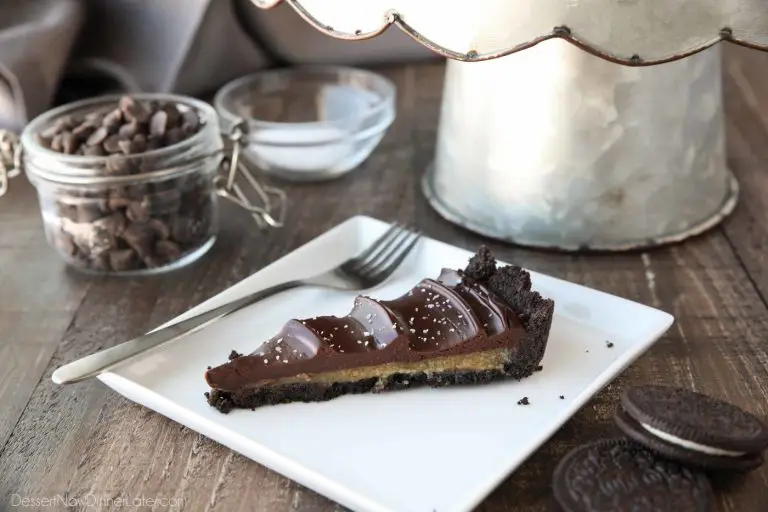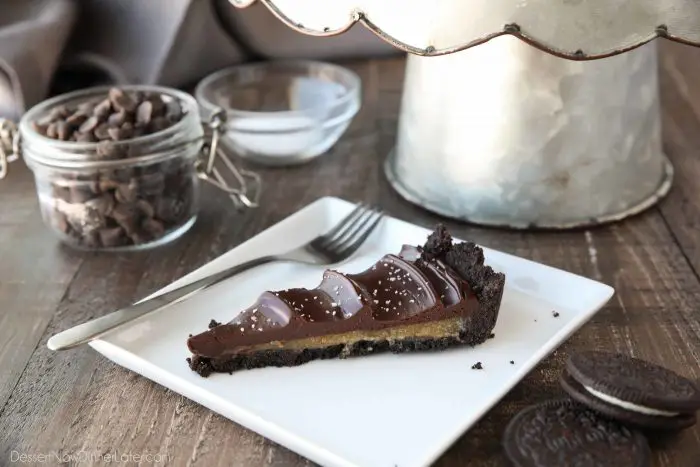 Salt or No Salt?
A generous sprinkling of salt brings out the flavor of the chocolate and tempers the sweetness of the caramel. I highly recommend it.
You can use kosher salt, sea salt, or fleur de sel. Do not skip this! Enjoy!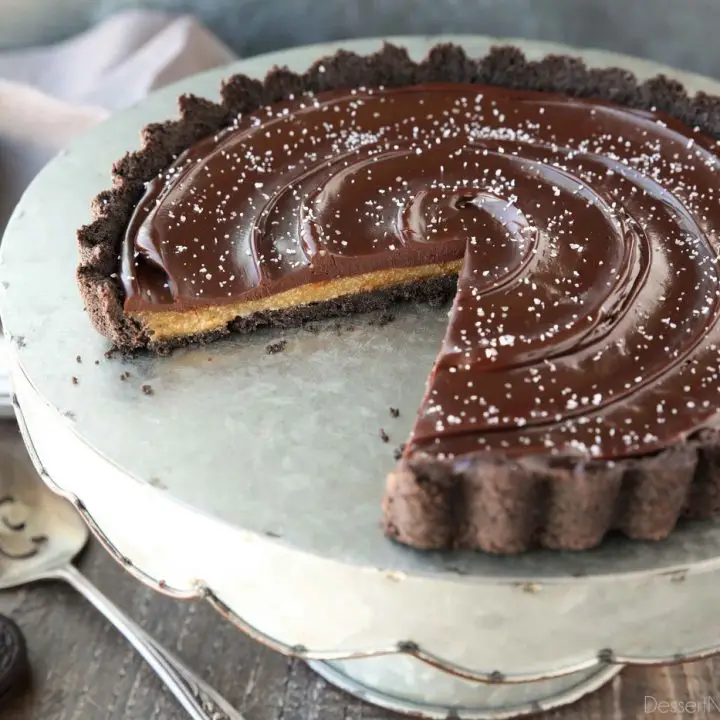 Chocolate Caramel Tart
Prep Time: 20 minutes
Cook Time: 8 minutes
Setting Time: 1 hour
Total Time: 1 hour 28 minutes
Yield: 14 servings
This easy Chocolate Caramel Tart has an Oreo cookie crust, soft caramel filling, and creamy chocolate ganache topped with flaky kosher salt.
Ingredients
Crust:
25 Oreo cookies
5 Tbsp butter, melted
Caramel:
8 Tbsp (1 stick) butter
2/3 cup brown sugar, packed
1/4 cup heavy cream
1 tsp vanilla extract
Chocolate Ganache:
6 oz dark or semi-sweet chocolate chips
1/2 cup heavy cream
kosher salt, sea salt, or fleur de sel
Instructions
Preheat oven to 350 degrees Fahrenheit.
CRUST: In a food processor, pulse Oreos until fine crumbs. Add melted butter. Mix thoroughly. Press into the bottom and up the sides of an 8-inch tart shell. (May also use 9-inch pie dish.) Bake at 350˚F for 8 minutes. Remove and cool slightly.
CARAMEL: Melt butter with the brown sugar in a small saucepan over medium heat, stirring frequently with a spatula until the mixture begins to bubble. Continue cooking and stirring for 1 minute. Simultaneously nuke heavy cream for 30-60 seconds in microwave, until simmering. Remove caramel from the heat and stir in the warm heavy cream and vanilla. *Careful it will bubble up. Pour caramel into the prepared Oreo crust. Then place in freezer for about 30 minutes until chilled and set, but not frozen.
CHOCOLATE GANACHE: Place chocolate chips in a glass bowl. Bring heavy cream to a simmer in a saucepan or for 30-60 seconds in the microwave. Pour hot cream over the chocolate chips, let sit for 1 minute, then whisk until completely smooth.
Pour ganache over caramel, and smooth or swirl with an offset spatula. Allow chocolate to set at room temperature or freeze for 15-30 minutes. Sprinkle with salt (kosher, sea salt, or fleur de sel) before serving. Cut into thin slices -- about 14. Lightly cover tart with plastic wrap and store at room temperature.
Notes
*For a No-Bake Crust: Freeze crust for 10 minutes or until set. Note: Tart will need to be kept in the refrigerator if crust is not baked.