White Chocolate Ganache Filled Gingerbread Macarons
This post may contain affiliate links, meaning that I may receive a commission at no cost to you if you use a link provided. All opinions shared are my own. You can review my full disclosure policy here.
I have a confession to make. Are you ready? Even being a culinary graduate, I have NEVER made French Macarons until now. Can you believe it? How did I get out of that one? Haha. My friends Yvonne (from Tried & Tasty) & Jesseca (from One Sweet Appetite) tried out this foolproof French macaron recipe & had success on their first try, so when they wanted to get together again, I kind of invited myself. Haha. Not really, they invited me, & I am so glad they did. It was hard coming up with which flavor I wanted to do, but these White Chocolate Ganache Filled Gingerbread Macarons are absolutely delicious. The flavors compliment each other so well, it's definitely a "wow" in your mouth!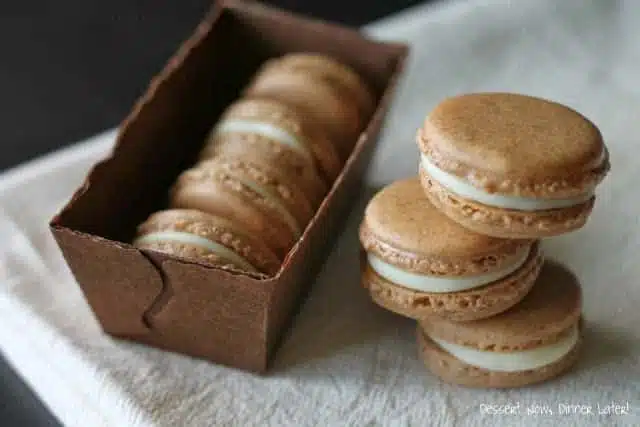 Now, I know french macarons can be intimidating, but if you follow the instructions (with the help of watching Beth's video) you can have success, even on your first try! My only additional tip to add to all of the great ones from Beth, is to use a silicone baking mat instead of parchment paper. Silicone baking mats are rubbery, so they naturally have that traction to them that will help your macaron from spreading too much & rise to create the feet. I got a great deal on a 4 pack of Sil-Eco brand baking mats on Amazon that are just like Sil-Pat mats, just made in China instead of France. I used two of the mats & gifted the other two. Since 4 cost about as much as 1 Sil-Pat, you can afford to be generous like that, & your friends/family will love it as much as you will! Nothing sticks! Okay one last tip! I measured my ingredients, but it's a good idea to scale (weigh) them for more accuracy. If you are not going to scale them, make sure you stir up the dry ingredients before measuring them, so they are not heavy/packed into your measuring cup.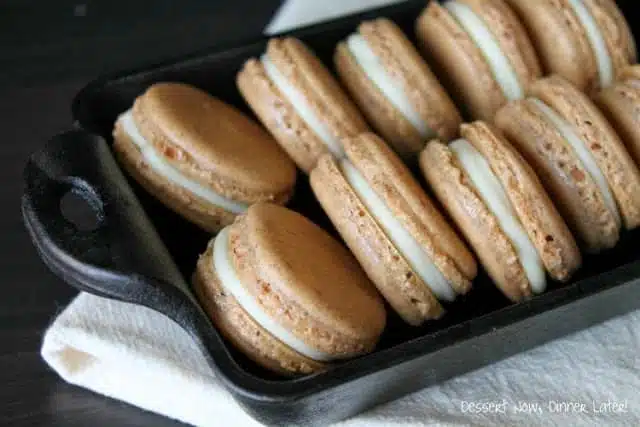 These cookies are adorable to gift for the holidays! Your friends will be impressed with how good they look & taste, & even more impressed that you made them! Good luck, & feel free to ask me any questions or refer to Beth's video to watch how they are made.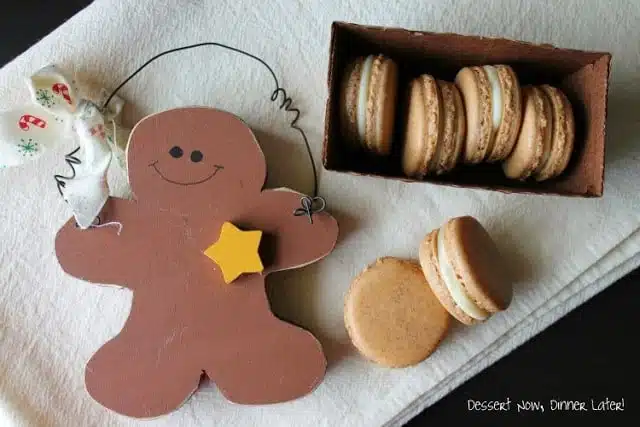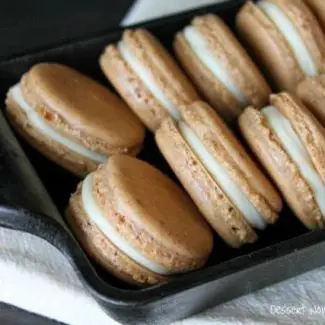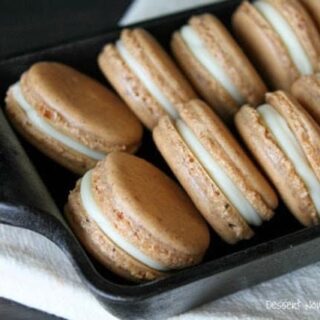 White Chocolate Ganache Filled Gingerbread Macarons
Ingredients
3 egg whites, room temperature (MUST BE ROOM TEMP!)
pinch of salt
1/4 tsp cream of tartar (2ml)
1/4 cup white granulated sugar (50g)
brown food coloring
2 cups powdered/confectioners sugar (200g)
1 cup almond flour (120g (I used natural roasted almond flour, which I think added to the wonderful taste))
1 tsp dried ground ginger
1 tsp dried ground cinnamon
1/4 tsp dried ground cloves
1/4 tsp dried ground nutmeg
6 oz 1 cup good quality white chocolate chips (I used Guittard)
5 Tbsp heavy cream
1 tsp pure vanilla
Instructions
In a stand mixer with the whisk attachment, beat egg whites until foamy. Add salt, cream of tartar, & white granulated sugar for 8 to 10 minutes. Whip until they form a stiff peak that stands straight up. Add food coloring & mix until desired shade.
Sift the powdered sugar & almond flour. It's okay if some almond pieces don't sift through, just toss them in the garbage. You want a really fine powder to create a smooth top to your cookies. Add the spices (ginger, cinnamon, cloves & nutmeg) & mix together with the dry ingredients.
Add the dry ingredients half at a time to the whipped egg whites. Fold with a spatula a total of 65 to 75 turns. Under-mixing can cause lumpy cracked cookies. Over-mixing will create flat cookies that have no feet. Go for just enough turns to not see dry powder, but it should be close to 65 to 75 turns.
Transfer batter to a pastry bag. Pipe out 1" rounds (think the size of a quarter) onto parchment or silicone mat lined baking sheets (using silicone mats is preferred.) Tap the pan hard, 2 to 3 times, to release any air bubbles, which prevents the tops from cracking. Allow them to sit out for 20 to 30 minutes or even up to 1 hour to dry out & be tacky to the touch. This helps develop the feet. When they are dried out they can't spread outwards, & will be forced to rise upward when they bake, creating the feet.
Bake at 300*F for 20 minutes. Do NOT under-bake even if they look done or they will stick to your tray.
Meanwhile, make the filling by bringing the heavy cream & vanilla to a boil in a small saucepan on the stovetop. Once it reaches a boil, remove the saucepan from the heat & pour the hot cream mixture over the white chocolate chips in a bowl. Stir until smooth & melted. Allow mixture to cool & thicken to a piping texture. To speed this process along, place the bowl of white chocolate ganache in the refrigerator, but keep a close eye on it, it can harden quickly.
Reverse cookie shells on their backs & pipe the ganache in a circular motion to cover the base. Top with another macaron shell to create a macaron sandwich. Repeat with all of the cookies. Be gentle because they are fragile! Store in an airtight container.
Nutrition Information:
Yield: 3
Amount Per Serving:
Unsaturated Fat: 0g
In other news, I've teamed up with 11 other bloggers in a virtual cookie exchange. We are each sharing a cookie recipe on our blog today. These twelve cookie recipes will keep you baking until Christmas. Please click on each individual link for the recipe.