Chocolate Cherry Coconutty Macaroons
This post may contain affiliate links, meaning that I may receive a commission at no cost to you if you use a link provided. All opinions shared are my own. You can review my full disclosure policy here.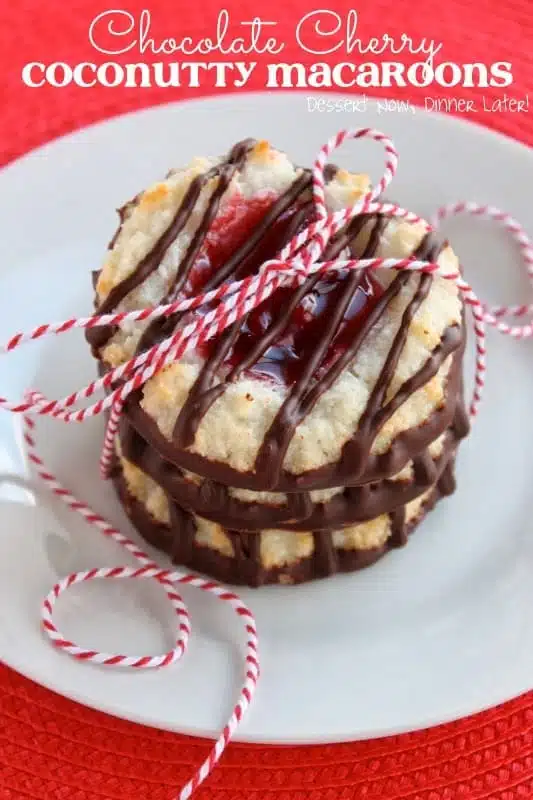 Who likes coconut like I do?! These cookies are so festive and the flavors pair perfectly together. Plus, they are pretty to look at and package nicely, so they make great neighbor gifts!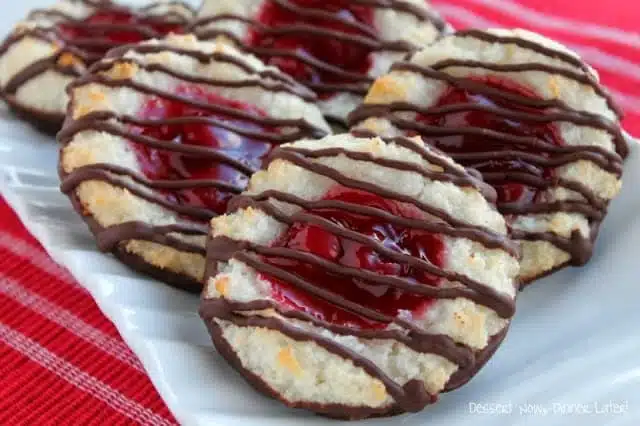 UPDATE: This recipe originally used a cookie mix that is no longer available. It has been altered to use regular ingredients that you can find at any store for the macaroon cookie base. It's a recipe I use and love, but the appearance may vary slightly from the pictures in this post. Enjoy!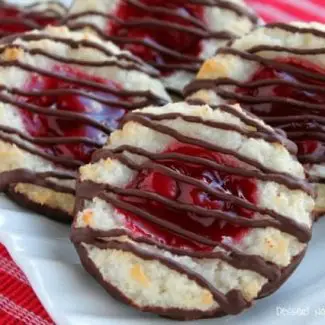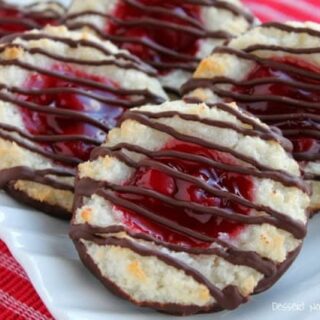 Chocolate Cherry Coconutty Macaroons
Ingredients
14 oz bag sweetened coconut flakes (about 5 1/3 cups)
1/2 cup all-purpose flour
1/4 tsp salt
14 oz can sweetened condensed milk (NOT evaporated milk)
1 tsp vanilla
20 oz can cherry pie filling
1-2 (12oz) bags semi-sweet chocolate chips
1-2 Tbsp shortening, to thin chocolate
Instructions
Pulse coconut flakes in a food processor until small pieces. Combine coconut flakes, flour, and salt in a bowl. Toss together to combine.
Pour sweetened condensed milk and vanilla over dry ingredients and stir with a spatula until thoroughly combined. The mixture should be wet, but come together.
Scoop cookies directly onto a parchment lined baking sheet that has been lightly greased with cooking spray. Flatten each mound with the back of a measuring cup. Make a well into the center of each cookie using the back of a teaspoon.
Spoon a dollop of cherry pie filling in the center of each cookie (about 2 cherries per cookie.)
Bake at 350 degrees Fahrenheit for 12 to 15 minutes or until golden brown. Cool completely.
Melt chocolate chips with shortening in a bowl, using short bursts in the microwave. Start with 30 seconds. Stir. 30 seconds. Stir. 15 seconds. Stir. Etc. until melted. Do not burn the chocolate!
Dip the bottom half of the cooled macaroons in the chocolate. Scrape excess chocolate off the cookies with the side of the bowl, and place the cookies back onto the parchment paper.
After dipping all of the cookies, put the remaining melted chocolate into a zip-top bag and cut off the corner. Squeeze the bag of chocolate over the top of the cookies in a zig-zag pattern.
Allow all chocolate to set before consuming or packaging the cookies to gift to neighbors/friends. To speed this process along, place pan of cookies into the refrigerator until set.
Notes
*Original Recipe made with 1 pouch Shirley J Coconutty Macaroon Cookie Mix & 1 cup HOT water as opposed to coconut flakes, flour, salt, sweetened condensed milk, and vanilla. Same directions except don't flatten, just fill with cherries and bake 20 to 25 minutes instead of 12 to 15.
Nutrition Information:
Yield: 30
Amount Per Serving:
Unsaturated Fat: 0g